WATCH: Joe Montana Weighs In On Tom Brady, G.O.A.T. Debate
By Jason Hall
March 3, 2021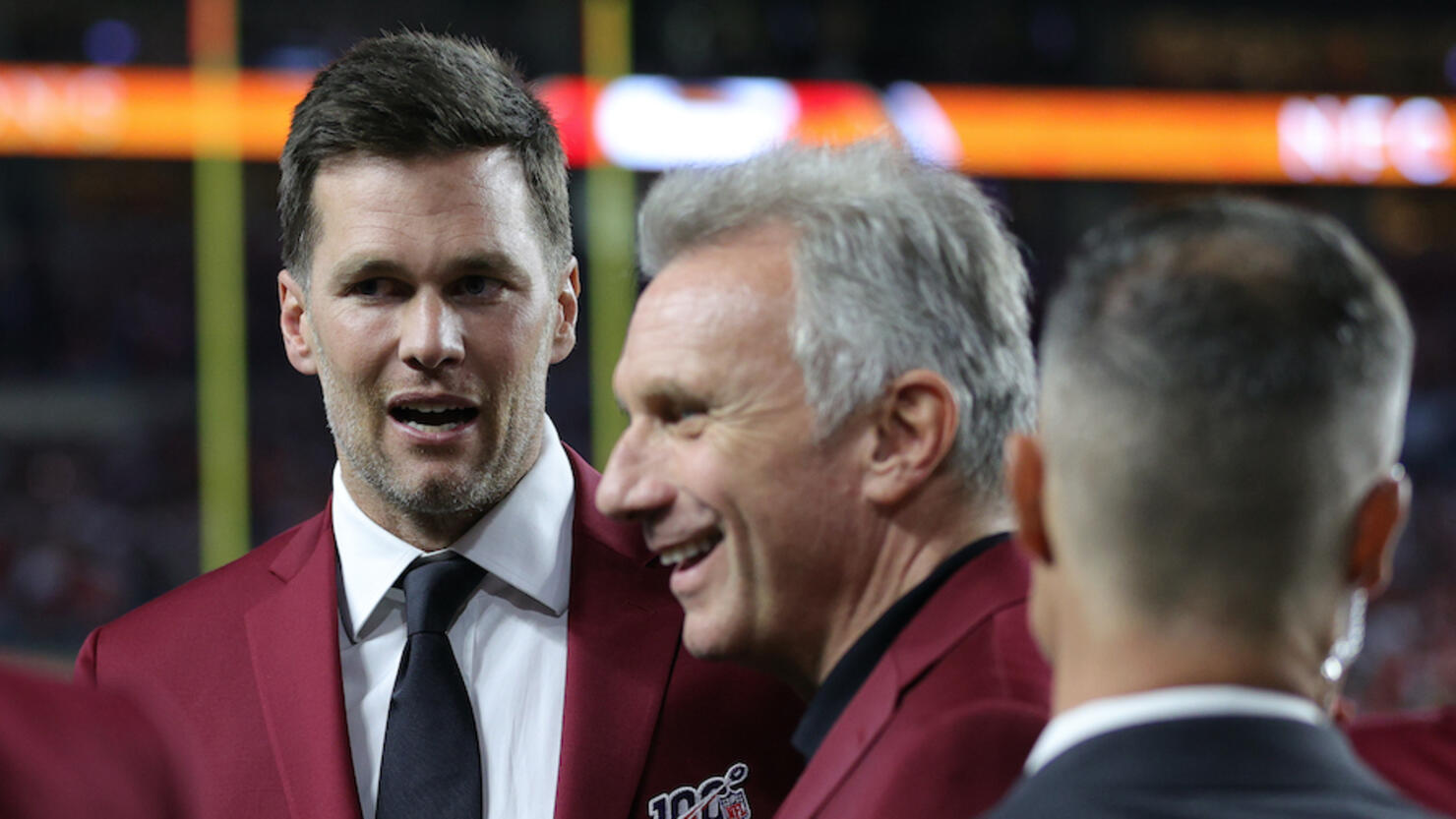 Tom Brady received a huge endorsement in the debate over the "greatest quarterback of all time" on Wednesday (March 3.)
During an appearance on ESPN's 'First Take,' Joe Montana, who had previously held the record for most Super Bowl victories by a quarterback, admitted Brady was his choice in the G.O.A.T. debate.
"I think Tom's taken his place on the top up there a long time ago," Montana said. "He's had a tremendous career, he's fun to watch, and everybody always contests over that, but when you look at what Tom's been able to accomplish in his time that he's played, I think it puts him definitely up there at the top of the list."
Brady surpassed Montana in Super Bowl victories (5) and Super Bowl MVP awards (4) as a member of the New England Patriots during a 34-28 win over the Atlanta Falcons in 2017.
The San Mateo, California native has publicly credited Montana, who spent 14 of his 16 seasons with the hometown San Francisco 49ers, as his childhood football hero.
Last month, Brady added to his legacy with a record seven Super Bowl victories and fifth Super Bowl MVP Award during the Tampa Bay Buccaneers' 31-9 victory over the Kansas City Chiefs in Super Bowl LV.
Following Brady's latest Super Bowl victory, BetOnline created a G.O.A.T. map of the United States gathering geotagged Twitter data during the last week, tracking more than 130,000 tweets, including hashtags and direct keyword phrases, regarding which athlete fans considered to be the greatest ever.
According to the data, Brady was considered the G.O.A.T. of all athletes in 20 of the 50 U.S. states which, unsurprisingly, included most of New England -- where the quarterback spent his first 20 NFL seasons -- and Florida.
The 20 states include: Massachusetts, Rhode Island, New Hampshire, Vermont, Maine, Florida, Pennsylvania, Delaware, Virginia, West Virginia, South Carolina, Michigan, Texas, New Mexico, Arizona, Nebraska, South Dakota, North Dakota, Montana and Alaska.
Several other quarterbacks were selected in state's where they spent the majority of their legendary careers including Montana in California, Peyton Manning in Indiana, Aaron Rodgers in Wisconsin and John Elway in Colorado.
Brady finished Super Bowl LV game with 201 yards and three touchdowns on 21 of 29 passing.
The victory was Brady's first as a member of the Buccaneers after joining the franchise in March following 20 seasons with the New England Patriots.
Brady now owns a 7-3 record all-time in the NFL's biggest game and surpassed his own previous record for most Super Bowl wins by a quarterback (6) set in February 2019. The 43-year-old also broke his own record as the oldest quarterback to both start and win a Super Bowl also set in 2019.
Sunday's win was Tampa Bay's second Super Bowl victory in franchise history. The Buccaneers are also the only team in NFL history to both host and win a Super Bowl in their home stadium.
Photo: Getty Images