Get To Know Pop's Freshest Face JORDY
By Lauren Crawford
March 5, 2021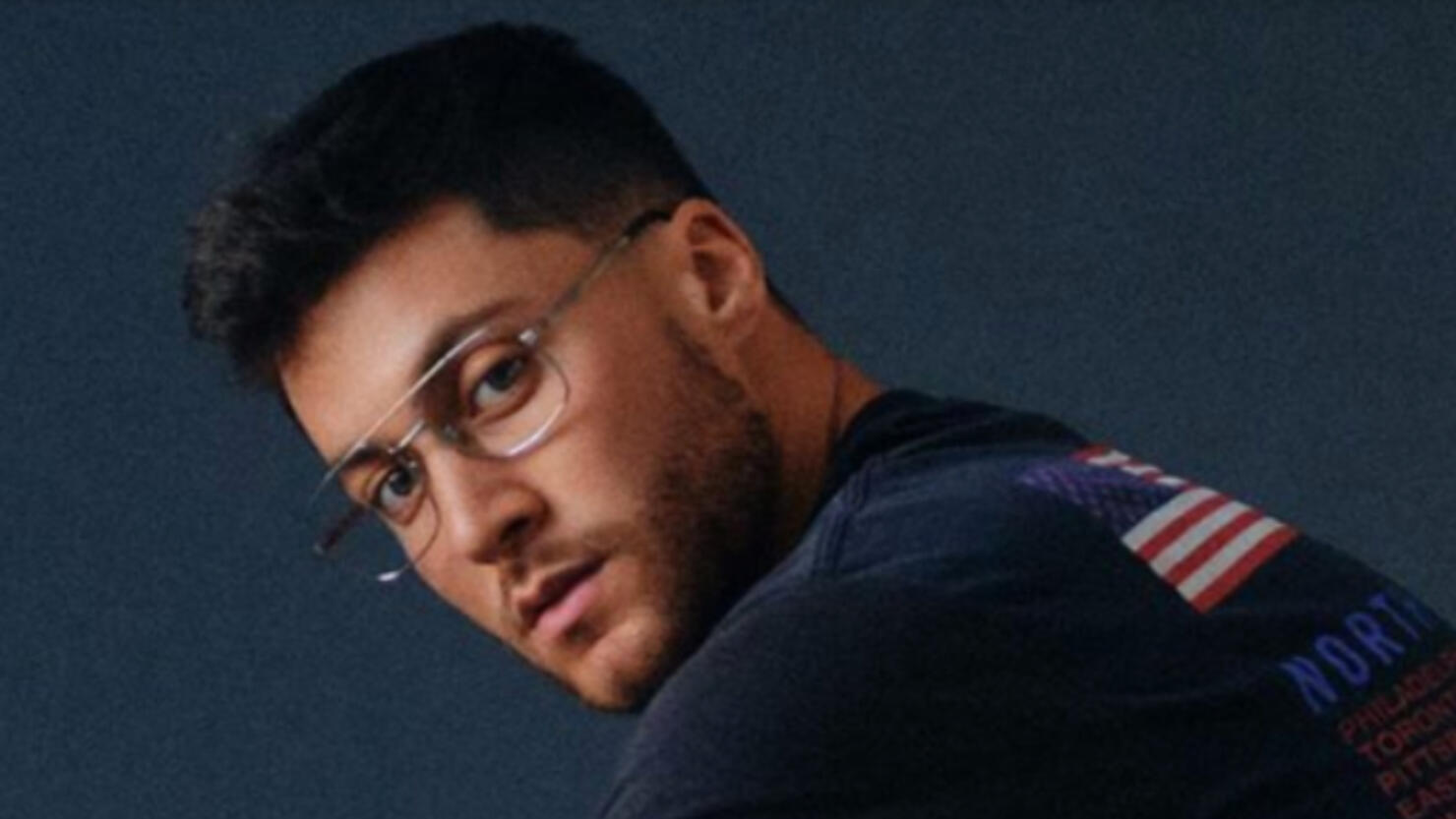 To listen to JORDY's music is to love JORDY'S music.
The 25-year-old Chicago native is one of pop's freshest faces, and since his move to Los Angeles just over three years ago, he's captivated lovers of the genre with his feel-good, relatable, pop boy sound.
JORDY describes himself as a "what you see is what you get" singer-songwriter who wears his heart on his sleeve and writes music that reflects just that. "I want [people] to feel like I'm sitting next to them, having a conversation with them and making them feel safe and warm," he shared with iHeartRadio via Zoom. "I wanna be that friend that you can come to and talk to about anything."
Fans have quickly taken to his conversational songwriting approach as he's amassed over 117K followers on TikTok alone. While JORDY admittedly only began using the platform as a "research tool" to connect with his fans during the pandemic, he's populated a loyal TikTok fanbase that praises his honest and engaging lyrics and "dance like no one's watching" pop beats. A fan fave being his latest single, "Long Distance," which tells the story of his long-distance relationship that started amidst the pandemic.
"It's ironic that this is the song that's kinda popping off because all the songs at the beginning of my career were made because I couldn't do long-distance with my ex, and this song is very full-circle," he explained.
While the track continues to make its way up the pop charts, JORDY hasn't slowed down. In fact, he's been working even harder to create more music for his fans, already releasing two EPs — I Just Want To Be Loved and Long Distance — in 2021.
Keep scrolling to find out more about JORDY and his new music!
Let's talk about your musical journey. How'd you get started, and how have you gotten to where you are now? 
Music was always the goal for me. I was gigging around Boston. I was in a really serious relationship at the time and when I graduated college I thought I was gonna be staying there to be in the relationship to try to make music work from Boston. But the more I sat with it and the more people that were reaching out to me from LA being like, 'You need to move here.' I decided to pack up my stuff and move to LA from Boston. Me and my ex broke up. And so, I got to LA with a freshly broken heart which is great for songwriting, obviously.
Over this past year, I signed a publishing deal, which was exciting as a songwriter. But it's been a really interesting journey in terms of there being no shows. So, I started posting my demos on TikTok and people seemed to really relate to the lyrics.
You call yourself a pop boy, and the name is fitting given that your music is pop at its best — it's feel-good, it's relatable, and it's real. How would you describe your sound? And where do you think you fit in the pop genre?
I saw somebody review 'Long Distance' the other day and they said, 'For fans of Lauv and songs that sound like cotton candy.' And I was smiling so big. So I think I'm gonna stick with that: songs that sound like cotton candy. That's my vibe.
I also have some more emotional ballads out that people have also connected with. It's very important for me to sneak in those emotional ones because, at the end of the day, I'm a crier, I'm an emotional being, and so that's really important for me. 'Long Distance' is actually a happier lyric but most of my songs are like sadder lyrics under a pop beat production, which I love.
As you mentioned, even though your songs have a pop beat, your writing is pretty deep. In regard to the last year, which was emotionally draining for a lot of people, how do you think 2020 impacted you as an artist?
It was very much an adjustment at first. I was very skeptical of the Zoom sessions, but most days I'm writing songs on Zoom. And a lot of the time it's really cool because it's given me opportunities to work with people in the UK, and people in Sweden, and people in Asheville. And so, I actually really think that Zoom sessions will continue after COVID is done because it gives people from different parts of the world opportunities to work together.
As an artist, I have very much just fallen back on the writing because it's all we can do. All we can do is write songs, release them and do as much as we can virtually. And so I honestly think the writing has very much evolved. I've created really dope relationships with people over the computer. This time has also given me a lot of time to reflect on the journey and hone in on the writing.
And you've definitely been writing up a storm. This year you've already released two EPs. What story does each project tell?
We're actually just gonna keep building off of them until we have a final project. So, definitely expect a full EP/mini-album by the end of this whole process. It's all a part of this story of this past year. I don't want to give the title of the project away but I think that a lot of these songs revolve around these relatable situations we find ourselves in as young adults. Whether it's long-distance dating or dealing with body image issues or just feeling super lonely or dealing with anxiety or losing a family member or a friend.
I've always been very vulnerable and comfortable speaking from a personal and vulnerable place and I know that's very hard for a lot of people. So my goal is to always say the things on your mind but you don't feel comfortable saying. I came out at a really young age and have always been used to being very open with who I am as a person and so I feel like I carry that with me with my music and just try to be as honest as I can.
I think that really comes across in your music and it explains why so many people connect to it. Do fans reach out to you about how they've connected to your music?
The 'Long Distance' experience has been really crazy because at the end of the day, I'm a pop artist who is proudly gay and will always be a voice for my community. But I think any queer artist will say nobody wants to be 'the gay artist.' We all like pop songs, and I will always be a voice for my community but it's been really cool to see comments from women all over the world and straight men from all over the world, and people from all over of all different kinds commenting being like, 'This is my life. I went through this.'
I also get comments from gay guys around the world who are saying things like, 'The way you're using pronouns is so casual' and it's like people saying 'I've never heard an artist just drop that so casually.' And I think that to me is what's so special. It's that the song is reaching people of all kinds. But for the people to hear those tiny details that really remind them of themselves, that's so special to me and that's where I get so much fulfillment from because it means a lot to those people and it meant a lot to me to grow up with people, like Sam Smith, Troye [Sivan]; all these queer artists that I've looked up to for so long. I feel like my version of on that bandwagon is just dropping the pronouns in a casual way, like just how I would talk.
Not too long ago, King Princess spoke about not wanting her music to be placed in the "queer pop box." Is that something you relate to?
I just asked myself what is queer pop? Because if queer pop exists then any song from a hetero-artist would be considered straight pop. I relate to King Princess because I think queer artists have a place not just in the queer community but in the mainstream. And I think that pop is pop and so many things are pop. Rock can be pop, hip-hop can be pop. And so I just think sexual orientation really doesn't have anything to do with it. But I also understand it brings people together. It brings the LGBTQ community together, which is the most beautiful in the world. But also, nobody wants to be pigeonholed in that.
We believe that the music can reach people of all kinds. King Princess is absolutely right. Her music obviously reaches the LGBTQ community in such a personal way but I have a lot of straight friends who love her music too. And so I think that's the goal for all of us. We're making music for everyone but we're always gonna champion our community.
I've seen how you take the time to interact with your fans on social media and Youtube. How important is it to you to stay connected to your fan base?
It's so important and it's so fun for the fans who have been here since the very, very beginning. Now that TikTok is popping off, it's so fun to see people say,'I've been here since 'Just Friends' or since 'Close to You.'' Those comments make my life because at the end of the day the TikTok thing wouldn't have popped off if it wasn't for those initial fans who followed me in the first place. They believed in me from the start and so it's very important for me to keep the communication flowing with them. They deserve that because I wouldn't be here if it wasn't for them. So I wanna give them everything I can.
Now let's talk about musical aspirations. What are some of your career goals?
We dream big over here and I really believe in my music. I grew up in the suburbs of Chicago, so I grew up going to Lollapalooza every summer. So getting a 7:30 PM slot for Lollapalooza festival with thousands of people there, that's what I'm manifesting. Just being able to play to crowds like that is the dream for sure. And to continue working with my friends and working with people I love and people who love me. We're totally seeing big picture, big shows, big records, big collaborations. I'm just excited! We're on the way!
This conversation has been edited for length and clarity.