You Can Score A Set Visit On 'Diners, Drive-Ins & Dives' With Guy Fieri
By Emily Lee
March 23, 2021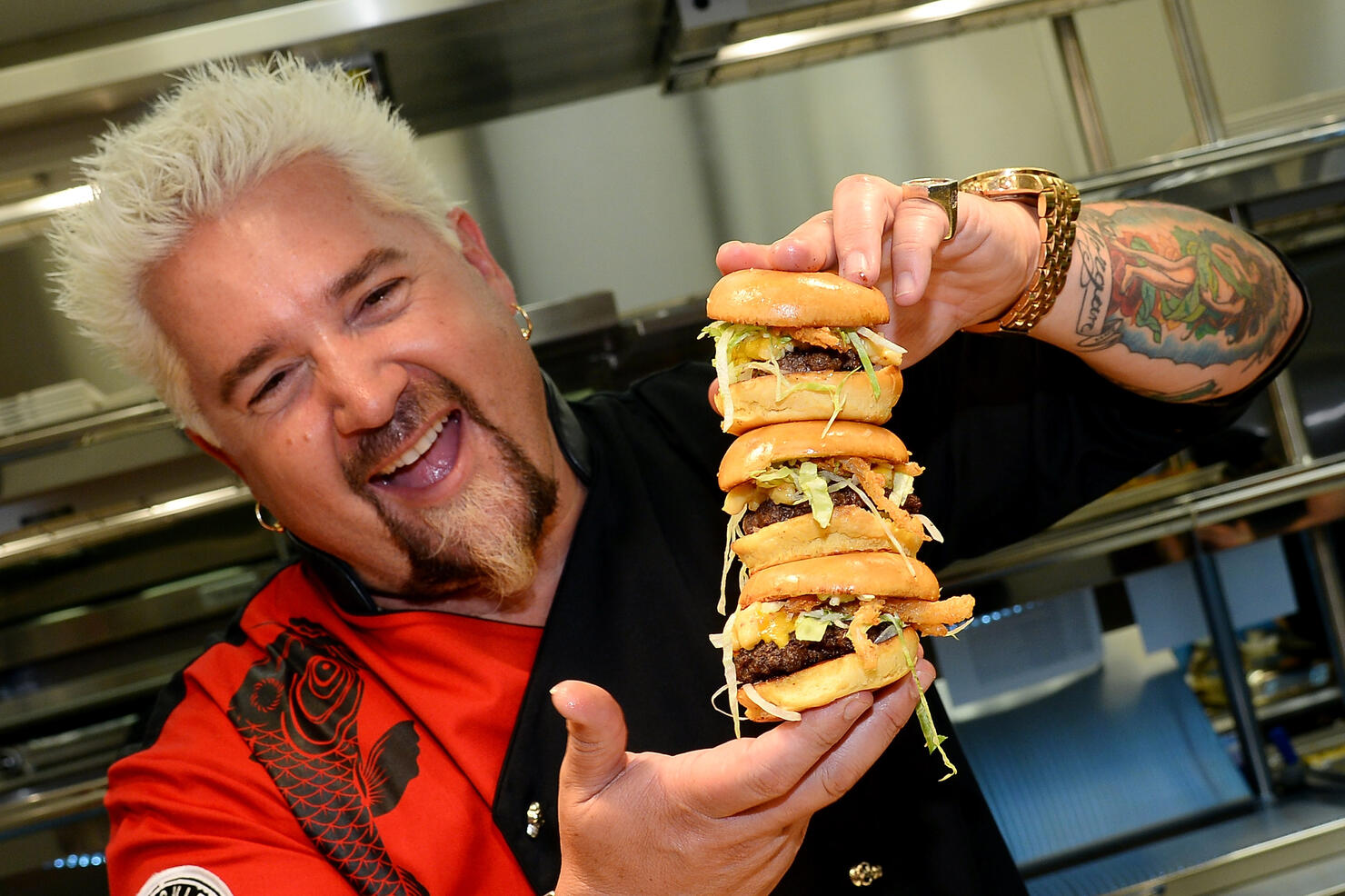 Have you ever dreamed of being on Diners, Drive-ins & Dives with Guy Fieri? Here's your chance.
On Tuesday (March 23), Fieri announced he's teaming up with Dave Portnoy to host an auction aimed to help small businesses amid the ongoing pandemic. Fieri and Portnoy will spearhead the Conscious Collection: A Virtual Fine Wine & Spirits Auction, which will see over100 listings of items up for bidding.
Not only will there be a ton of rare wines and high-end spirits on the auction block, but there will also be a ton of interactive experiences with your favorite celebrities up for auction, as well, including a set visit to Diners, Drive-ins & Dives with Fieri. The Mayor of Flavor Town will throw in a case of Santo Tequila for the lucky winner, too.
"Attention Guy Fieri fans! You and a guest have the chance to enjoy a special VIP visit to the set of Guy's hit TV show, Diners, Drive-Ins and Dives!" The auction page reads. "This unique experience will be scheduled with the winner based on production schedules and availability, and will last approximately two hours and thirty minutes. The winner of this lot will also receive a case of Santo Spirits tequila to celebrate."
Throughout the pandemic, Fieri has tried to assist as many struggling restaurants as possible. According to Forbes, Fieri's Restaurant Employee Relief Fund has raised more than $21.5 million for more than 43,000 restaurant workers in need. "I got a call from Lee Schrager [Senior Vice President, Communications & Corporate Social Responsibility at Southern Glazer's Wine and Spirits,] down in Miami and he said 'Hey I've got an idea. I've got a few auction items I'd love to set you guys up with to raise some money' and I said, 'Let's do it' and called Dave [Portnoy] right away," Fieri said of his decision to join the virtual auction.
"There's so many mom and pop businesses that are the fabric of our community and they all need support," he continued. "This program is about giving money to businesses that are going to stay in business, but they need our help to do so. They need to pay their employees, insurance, rent, electricity — who knows, but we're here to help."
Fieri isn't the only celebrity auctioning off his time to hang with fans, either. Kendall Jenner and Kris Jenner are auctioning off a set visit to their new reality show, while George Clooney is offering four VIP passes to a future movie premiere. You can check out the whole list off auction items and experiences here.
The auction will take place on Friday, April 9th via livestream from 6 to 10 p.m. EST.
Photo: Getty