Hustle, Heart, & Hot Cheetos: What Drives Saweetie On 'This Is Paris'
By Diana Brown
April 1, 2021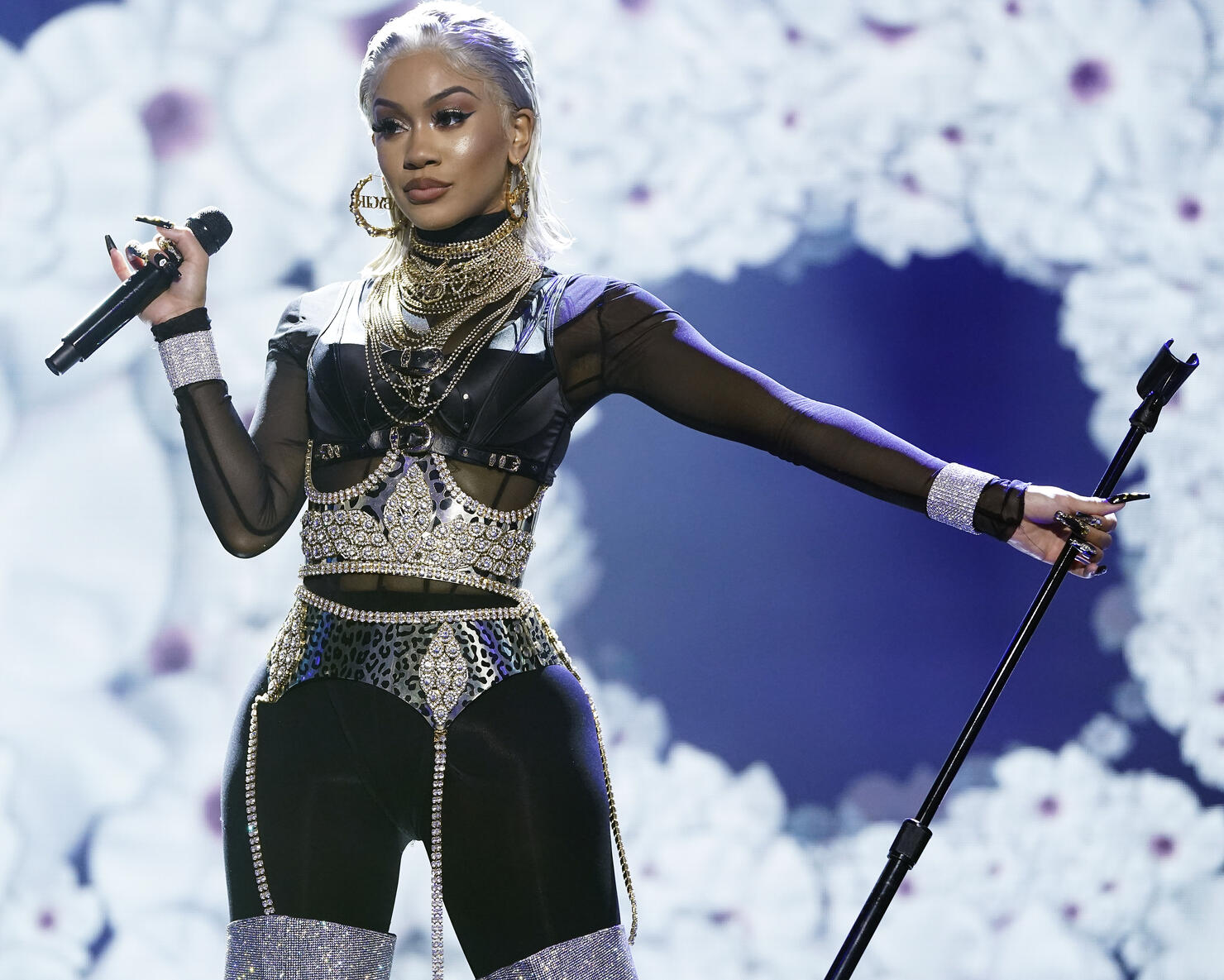 On this episode of This Is Paris, Paris Hilton sits down with rapper and songwriter Saweetie. The pair first met when Paris attended Saweetie's fashion show with Pretty Little Thing in 2018. "It was the dopest collection I've seen them make," Paris says. They chat about everything from wanting to become mothers (but being nervous about giving birth) and the four or five jobs Saweetie worked to put herself through college to how she met Quavo and the time she almost went to jail for stealing clothes, revealing a down-to-earth, driven person determined to succeed (and eat Hot Cheetos). Plus, her favorite concert experience, the time she met Beyoncé, her ultimate bucket list dreams, what she's most grateful for, and more.
Saweetie has been an overachiever her whole life, it seems: She had a 4.0 in high school, played volleyball and ran track, graduated from USC with a 3.6, and took on several jobs as well to pay her way through, working as an office assistant, coding, selling t-shirts, and at a strip club. "Everything I do, I have to do well," she admits. Her drive is obvious as she and Paris talk about her goals and plans; she "likes expensive things," one of her bucket list items is to become a billionaire, and she hopes to build an empire of music, fashion, and philanthropy that has a lasting impact on the world. So far, she seems to be on the right track, with platinum singles, fans all over the globe, and her new album about to drop. Plus, when she met Beyoncé, "she already knew who I was, and I almost died!" 
Paris asks what Saweetie thinks the biggest misconception about her is, and Saweetie says probably her diet: "They say I eat like I've been to jail before," she laughs, referencing meals she enjoys like spaghetti with ranch dressing or ramen noodles in a Hot Cheetos bag. She and Paris were both on Hot Ones and hated "the bomb" – "I feel like that's what Raid tastes like," Saweetie says. But other than that, she loves spicy foods. Plus, how Quavo slid into her DMs, her months of renting rooms off Craigslist and living with six roommates, her mother's work as a video vixen "back when it was a real job," how her fans helped her name her new album, and so much more; learn all about the hidden depths of Saweetie on this episode of This Is Paris.
If you want to be sure you're listening to the podcasts everyone else is checking out, iHeartRadio has you covered. Every Monday, iHeartRadio releases a chart showing the most popular podcasts of the week. Stay up to date on what's trending by checking out the chart here. There's even a chart just for radio podcasts here, featuring all your favorite iHeartRadio personalities like Bobby Bones, Elvis Duran, Steve Harvey and dozens of others.
Photo: Getty Images