Zach Braff & Donald Faison Flashback On 'Fake Doctors, Real Friends'
By Diana Brown
April 6, 2021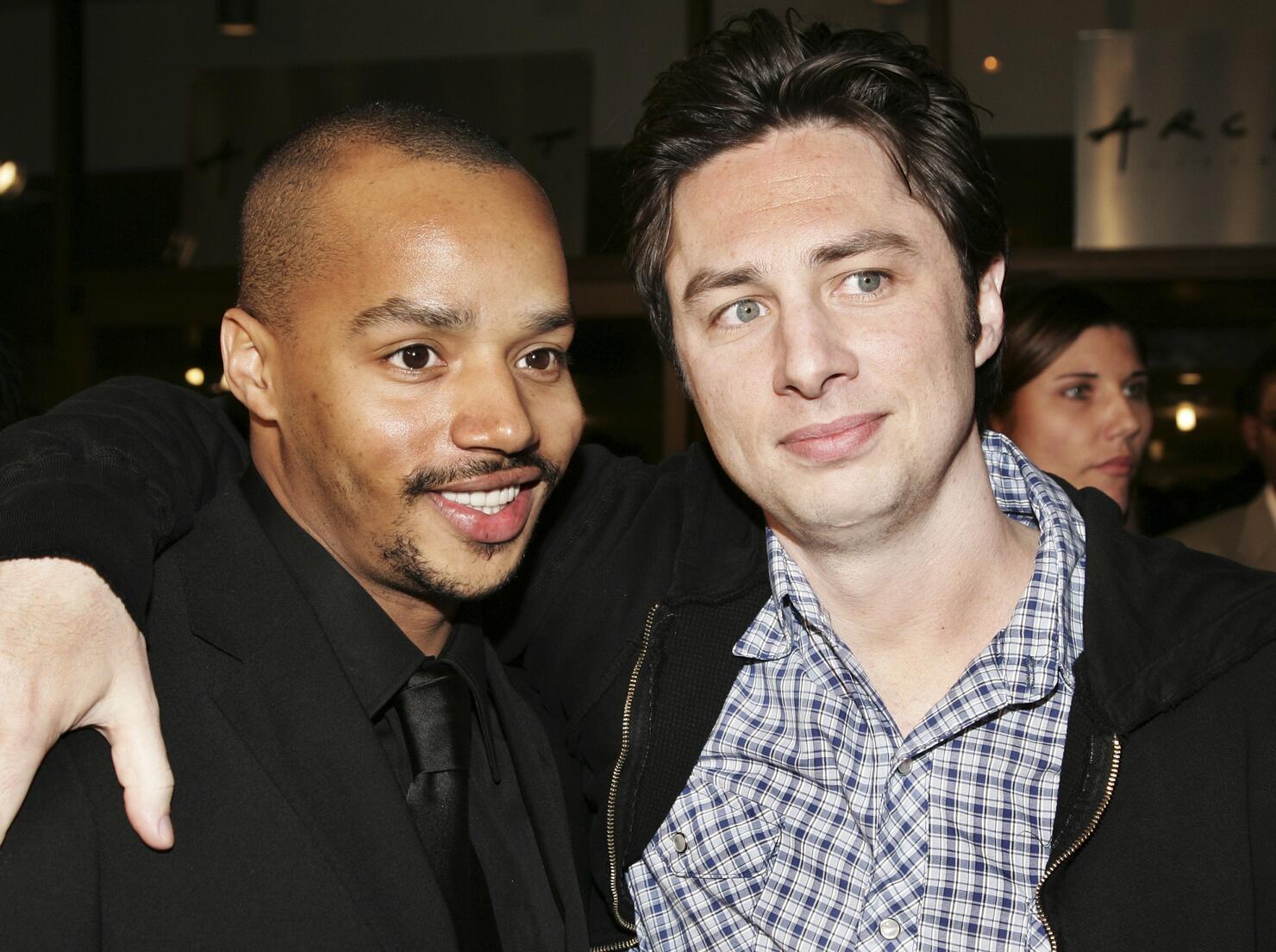 This episode of Fake Doctors, Real Friends is all about the flashbacks as Zach Braff and Donald Faison talk about Scrubs season four episode "My Best Moment," when all the doctors think back on their best moments as healers. Zach and Donald also look back at shooting that episode, as well as the first James Bond movies they ever saw, Zach's work as a PA on music videos back in the 1990s, Donald's wish that he'd gotten tight with Tyler Perry from the beginning, and how they both snuck into the theaters at their high schools to play with the lighting boards. ("Other kids were cutting class to, like, smoke cigarettes," Zach jokes.) Plus, an aspiring director named Natalia gets some great advice about leadership.
Neither of them remembered much about this episode until their rewatch, and they both thought it was especially funny, particularly when "Todd high-fives someone back to life, and Elliott rode a pony to work as part of her commute – and they were not fantasies!" Zach laughs. Turk's surgery fantasy has Donald remembering seeing School Daze at the Apollo Theatre in Harlem, when some of the audience got up and did the step dances with the characters in the movie. "The stereotype of Black people in theaters is true," he chuckles. This is the first episode when we discover Beardface's name, and it gets the guys talking about doing a show with the featured background actors as well as their stand-ins. "They had to go through all the same s**t we did, but none of it ever made it to film," Donald points out. 
Then, Natalia calls in to ask Zach how she can overcome insecurity about being a director. Zach says he still feels nervous to this day when he's directing, and says the way he gets over it is to "be super-prepared" but also willing to admit when he doesn't know the best solution to something, and turn to his team for an answer. "As a director, one of your main jobs is inspiring people to do their best work," he says. So hiring the best team you can, and then letting them be good at what they do, makes it hard for a director to fail. Plus, the Double Heimlich, hot grandmas, that weird gum J.D. buys in Chinatown, and more; hear the entire hilarious conversation on this episode of Fake Doctors, Real Friends.
If you want to be sure you're listening to the podcasts everyone else is checking out, iHeartRadio has you covered. Every Monday, iHeartRadio releases a chart showing the most popular podcasts of the week. Stay up to date on what's trending by checking out the chart here. There's even a chart just for radio podcasts here, featuring all your favorite iHeartRadio personalities like Bobby Bones, Elvis Duran, Steve Harvey and dozens of others.
Photo: Getty Images