Here's Why Hines Ward Is Trending Amid Julian Edelman's Retirement
By Jason Hall
April 14, 2021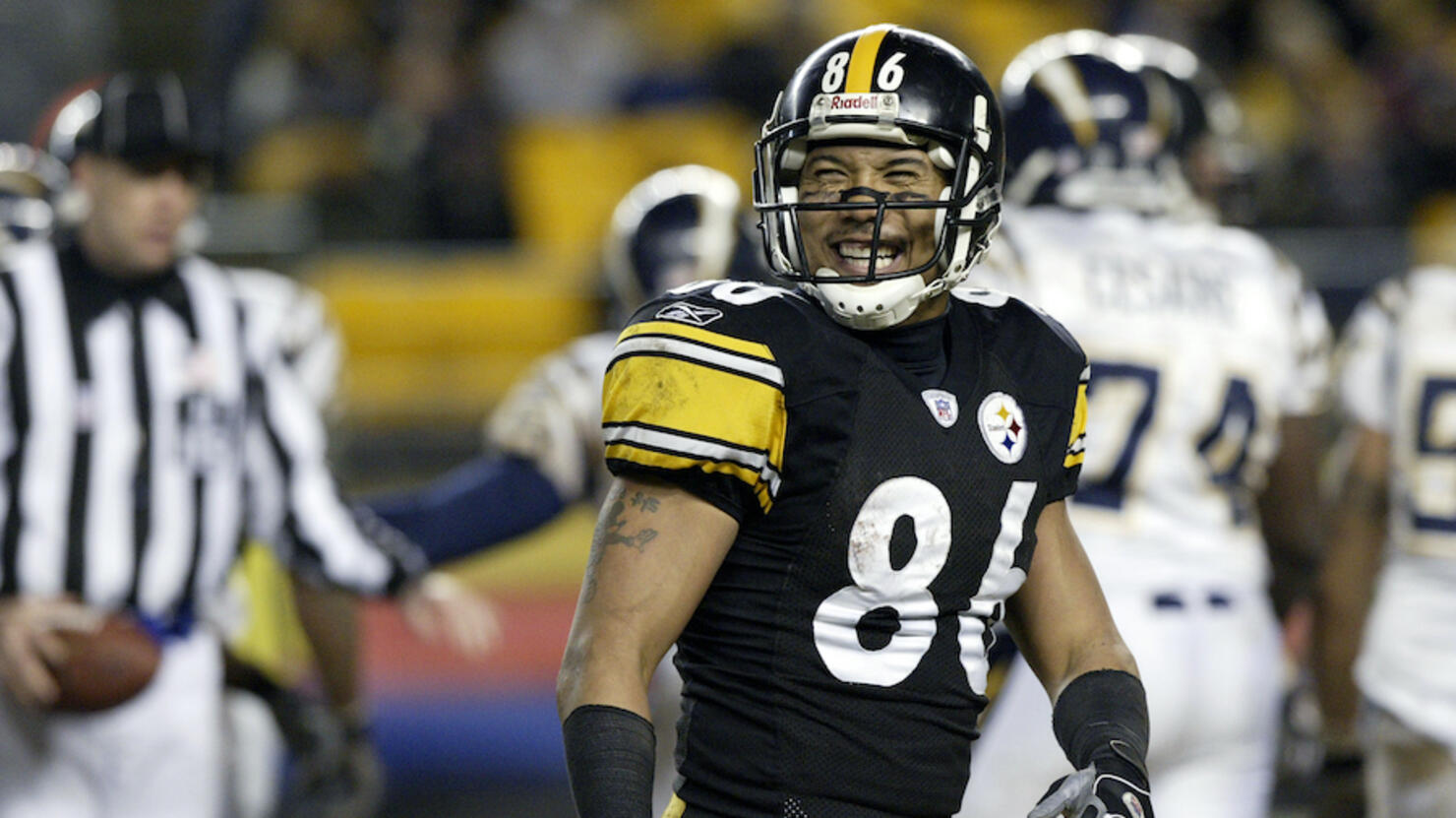 Pittsburgh Steelers legend Hines Ward isn't in the Pro Football Hall of Fame, which is a fact that's considered ridiculous to many football fans, let alone those in Western Pennsylvania.
But it may have come as a surprise to many prior to it trending on social media this week.
Ward, the all-time leading receiver in Steelers franchise history, has been brought up amid discussions of fellow former wide receiver Julian Edelman's recent retirement and potential Hall of Fame candidacy.
Football fans and analysts, including 105.9 The X's Mark Madden, have used Ward's absence from the Pro Football Hall as an argument against Edelman's chances for enshrinement.
Ward finished his NFL career with 1,000 receptions for 12,083 yards and 85 touchdowns in 14 seasons, which is significantly more than Edelman's 620 receptions for 6,822 yards and 36 touchdowns during his 12-year career.
Both receivers also have a Super Bowl MVP and multiple Super Bowl victories, though Edelman has a 3-2 advantage in championships.
"Ward's stats badly trump Edelman's save the playoff numbers. Ward has 380 more catches, 49 more touchdowns, four Pro Bowls to Edelman's none, three second-team All-Pro selections to Edelman's none," Madden wrote via TribLIVE.com. "Ward was no post-season slouch, either: He got a Super Bowl MVP, just like Edelman. But nobody thinks Ward is making the Hall of Fame, except perhaps Ward."
Ward's name was trending shortly after Edelman's retirement announcement on Monday, with others pointing out his significant statistical advantage and questionable Hall of Fame absence.
love Julian Edelman...

but compare his career to Hines Ward, who can't make the final ballot in HOF voting the last 5 years

catches
Hines 1,000
Julian 620

yards
Hines 12,083
Julian 6,822

TDs
Hines 85
Julian 36

Super Bowl MVPs
Hines 1
Julian 1

Pro Bowls
Hines 4
Julian 0

— Warren Sharp (@SharpFootball) April 12, 2021
This Julian Edelman HOF conversation is absolutely comical to me. The guy has 36 TDS. If Hines Ward and Torry Holt aren't in.. miss me with this entire conversation captain. Sorry, but not really.

— Shelfy (@RealShelfy) April 12, 2021
If Julian Edelman is a Hall of Famer, so is Hines Ward.

— Andrew Fillipponi (@ThePoniExpress) April 12, 2021
Hines Ward was a gamer for the @steelers his entire career.

Postseason
88 REC (5th all-time)
10 REC TD (4th)
1,181 REC YDS (8th)

Regular Season
1,000 REC (14th)
85 REC TD (16th)
12,083 REC YDS (26th)

Super Bowl XL MVP
4X Pro Bowl pic.twitter.com/galRWJ76RP

— NFLonCBS (@NFLonCBS) April 13, 2021
Hines Ward >> Julian Edelman.. by a long shot.

— SteelerNation (@SteeIerNation) April 14, 2021
Edelman shared a video of himself on the field of Gillette Stadium announcing his decision on Monday (April 12) afternoon following reports that the New England Patriots released him from his contract after a failed physical.
"It was a hard decision, but the right decision for me and my family," Edelman said. "And I'm honored and so proud to be retiring a Patriot. ... It's been the best 12 years of my life."
Edelman has spent his entire 12-year NFL career with the Patriots and ranks second in franchise history for career receptions (620), fourth in receiving yards (6,822) and ninth in receiving touchdowns (36.)
Photo: Getty Images