Dee Snider Says Iced Earth's Jon Schaffer Is A 'Terrorist' For Capitol Riot
By Andrew Magnotta @AndrewMagnotta
April 19, 2021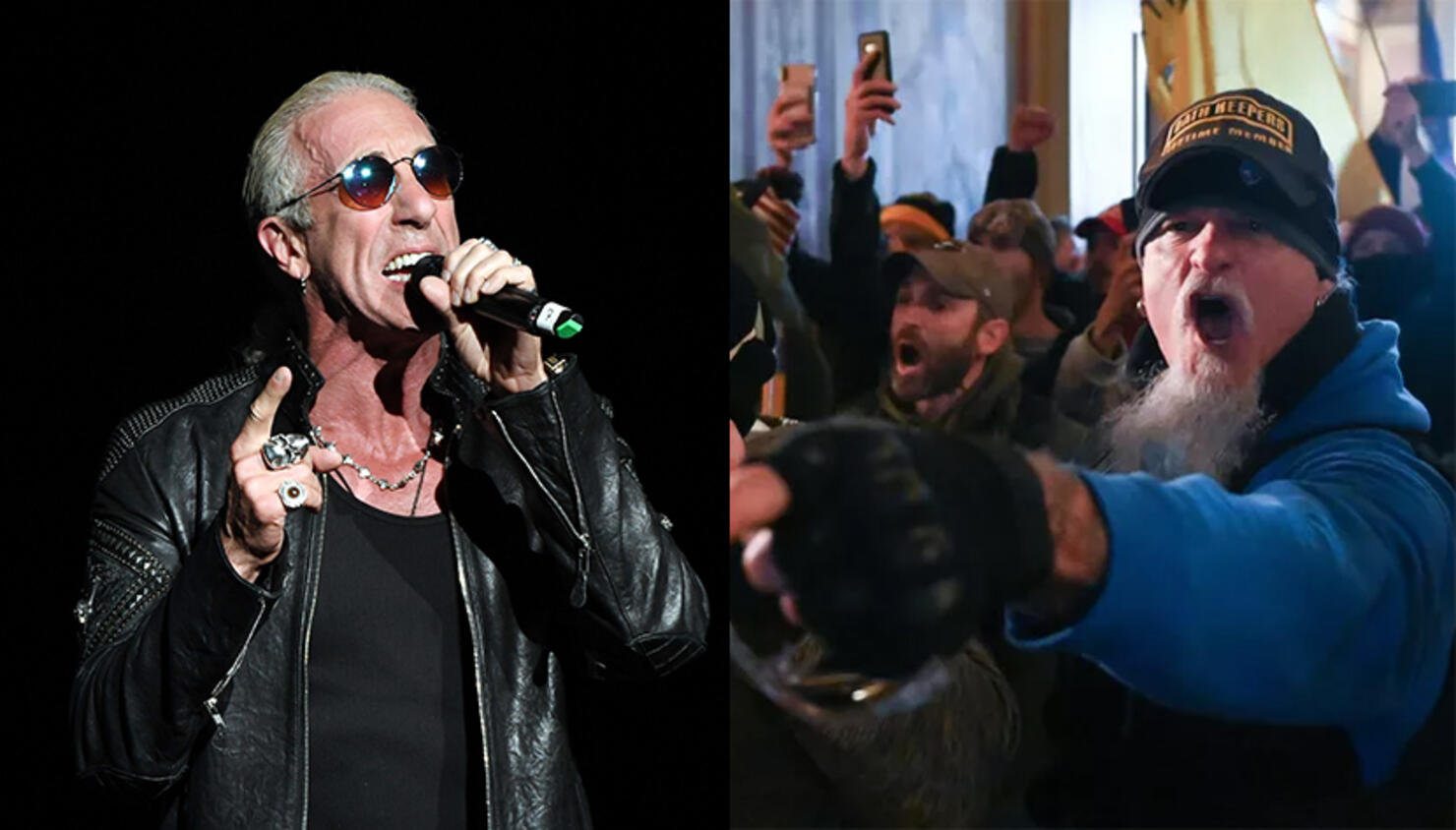 Twisted Sister frontman Dee Snider has no sympathy for Iced Earth guitarist Jon Schaffer, who is heading to prison after pleading guilty to taking part in the January 6 insurrection at the U.S. Capitol.
A well-known heavy metal musician, Schaffer is also a "founding lifetime member" of the ring-wing militia group the Oath Keepers, which has come under scrutiny for its part in the deadly riot in Washington D.C. this past winter. Schaffer is pictured in many photos from the insurrection. He turned himself in on Jan. 18.
Schaffer was charged with six felonies but pleaded guilty to only two — obstruction and another charge related to his possession of bear spray in the Capitol — after entering a plea deal with prosecutors, in which he agreed to cooperate and potentially testify against his alleged coconspirators.
Snider shared a CNN article on Schaffer's plea deal via Twitter, expressing his disgust at both the guitarist's participation in the insurrection and his apparent late-hour flip in exchange for sentencing leniency.
"This PIECE OF S--T IS AN EMBARRASSMENT TO THE METAL COMMUNITY!" Snider wrote. "First he shames up with his terrorist actions ... in DC, and THEN he becomes a rat to his own people for a lighter sentence. MAN THE F--K UP! Own your s--t! If you do the crime, do the time!"
Schaffer faces up to 30 years behind bars, but prosecutors agreed to recommend a jail sentence between 3.5 and 4.5 years based on his cooperation with investigators.
Snider continued, asserting that committing a crime and then flipping on your accomplices is emblematic of a "problem with today's society. Everyone is so 'tough' until they get caught. Then they are quick to blame everyone else."
THIS PIECE OF SHIT IS AN EMBARRASSMENT TO THE METAL COMMUNITY! First he shames us with his terrorist actions on in DC, and THEN he becomes a rat to his own people for a lighter sentence! MAN THE FUCK UP! Own your shit! If you do the crime, do the time!https://t.co/jTo6EFVSDN

— Dee Snider🇺🇸 (@deesnider) April 18, 2021
Schaffer publicly supported Donald Trump's administration throughout its four-year term. After the 2020 election was called for Joe Biden last November, Schaffer attended a pro-Trump rally in D.C. where he told the German publication Die Welt that the establishment of American politics "will go under. They mess with the wrong people, believe me."
Beyond Twisted Sister, Snider is also famous for a visit to the U.S. Capitol, though his was legal, diplomatic, non-violent and successful.
Snider became a music industry folk hero in 1985 after testifying before Congress in opposition to the Parents Music Resource Center's (PMRC) effort to censor music recordings due to references to sex, drugs, violence and the occult.
Much of the industry feared reprisals for opposing the PMRC, but Snider was one of a handful who publicly rejected what they saw as a violation of rights guaranteed by the First Amendment. Snider's testimony was perhaps the most headline-grabbing at the time as he showed up to the hearing in ripped jeans and a sleeveless shirt. He read his remarks from a crumpled piece of paper.
Photo: Getty Images