Gene Simmons Says KISS's Success Is Still Mind-Boggling To Him
By Andrew Magnotta @AndrewMagnotta
June 14, 2021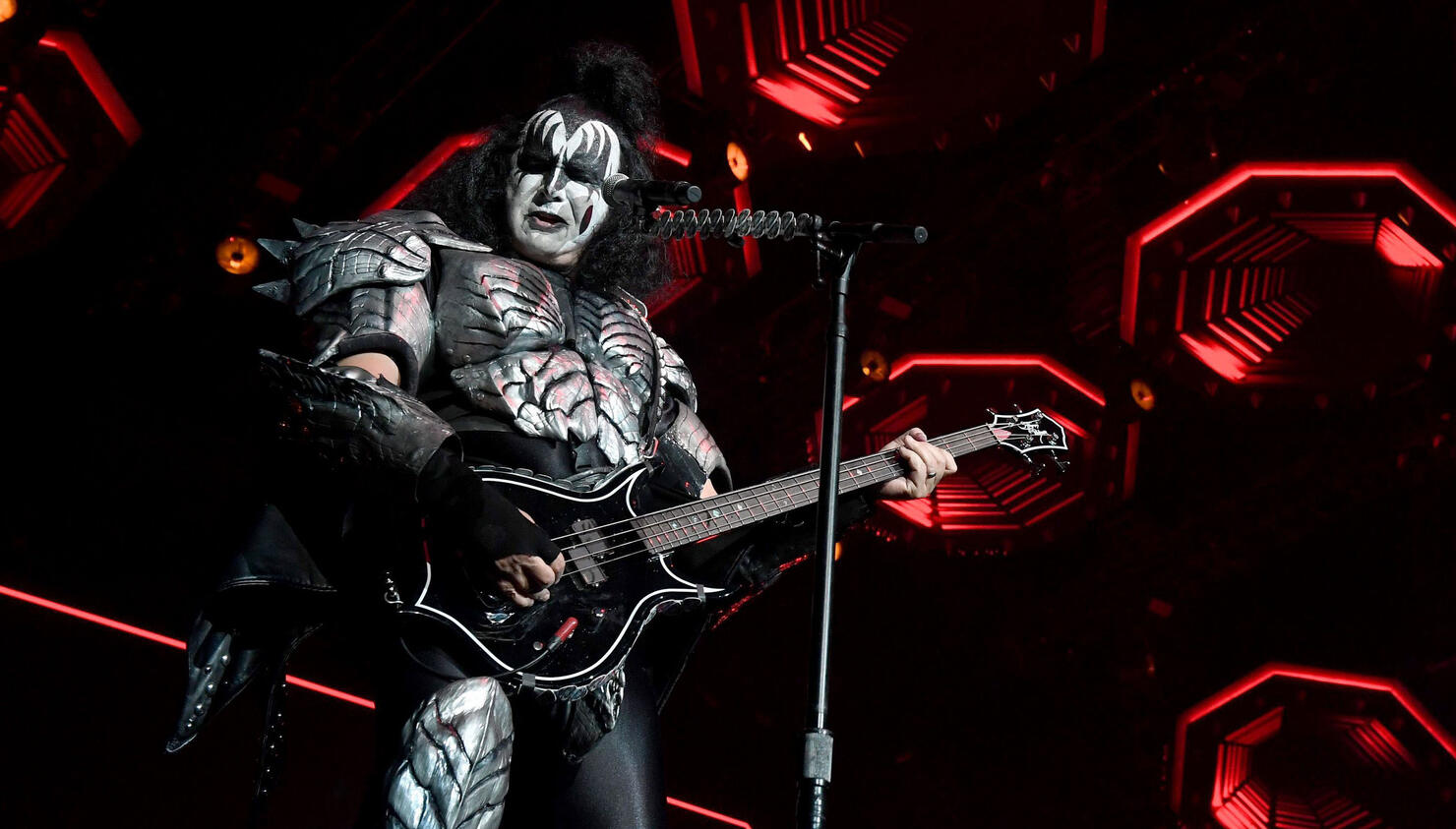 Photo: Getty Images North America
Gene Simmons isn't one to downplay his successes, but even he can't help but be humbled by how far KISS has taken him.
Music fans have long been charmed by Kiss's ferocious rise in the '70s from a rat-infested rehearsal space to worldwide acclaim, but Simmons tells Q104.3 New York's Jim Kerr and Shelli Sonstein that the view from the proverbial Kiss rocket ship is "even crazier."
The Rock and Roll Hall of Famer says he struggled for years to articulate what it means for Kiss to be so successful for so long. He offered an analogy to explain his perspective.
"So there's a rocket going up with an astronaut going to the moon or someplace out there. Everybody's watching this astonishing spectacle, the pyro and the rocket going up and they're describing it to the astronaut like, 'Boy, it's amazing. You've never seen anything like it!'
He goes, 'Oh yeah? From my perspective looking down on the planet, you have no idea.' It's just beyond anything, especially for a kid that wasn't born in America. I was born in Israel. ... English was my third language. ... So this Kisstory [documentary] thing is really a celebration of the American dream if you really want to get to the nitty-gritty. And we've got this four-hour documentary, which is the headline at the TriBeCa Film Festival."
Kiss's career-spanning two-part A&E Biography: Kisstory documentary premiered over the weekend at the TriBeCa Film Festival. The documentary will make its world-premiere on television on A&E June 27 - 28.
The biography includes rare photos and footage and interviews with the band, its collaborators, its management and a number of notable superfans, including Tom Morello and Dave Grohl.
Despite his persona, Simmons says staying humble when it comes to his music career has always been a point of emphasis for him. He looked back on how much Kiss accomplished in just its first year, and how fortunate he was to be a part of it.
"We put together the band at 10 East 23rd Street [in New York City]. It took us about a year to go 10 blocks up and headline Madison Square Garden. And I'll never forget this. Everybody played there ... Madison Square Garden. When we played there in the '70s, three shows sold out, broke all kinds of records and everything. I took a cab to Madison Square Garden earlier on and they started selling tickets and there were two opening bands and all that ... I went to the front — you know I had tickets — and I walked to the front, through the crowd ... and I walked backstage, put on makeup and walked onstage. ... I didn't want to lose that touch. The magic of, yes, you can be a fan. Everybody that became famous was once a fan of somebody, don't lose that innocence, that connection. I still remember that."
Listen to the interview via the player above or here via iHeartRadio.
Kiss's 'End of the Road' tour resumes this August. Get all the tour dates here.