Surveillance Video From Inside And Outside Shows Miami Building Collapse
By Jason Hall
June 24, 2021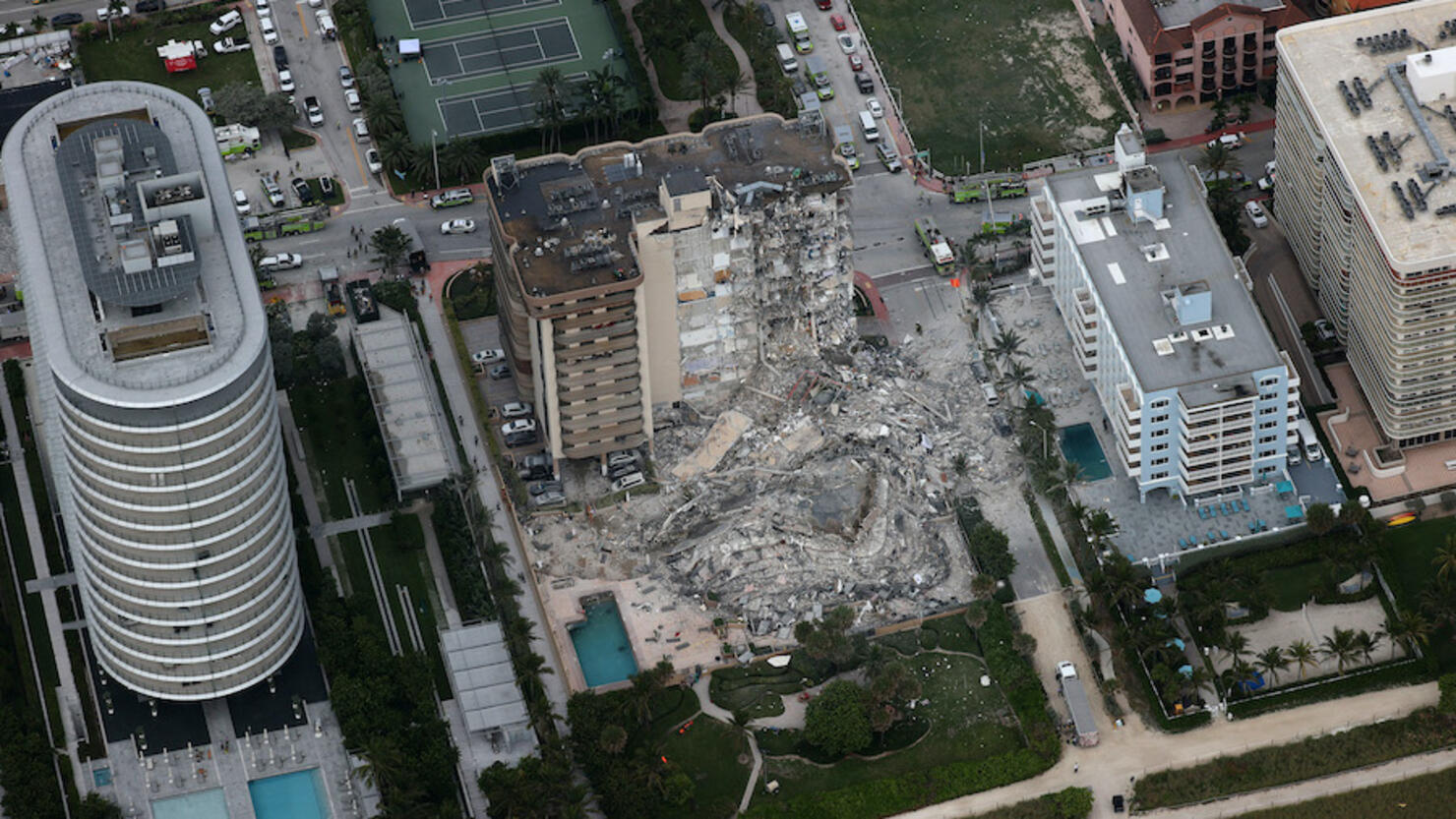 Video footage from inside and outside showed the collapse of building in Miami on Thursday (June 24) morning.
At least one person had died and rescue efforts have been paused due to a severe storm after the partial collapse of the Champlain Towers South Condo, a 12-story Surfside condominium, NBC Miami reports.
A Miami-Dade fire official told WSVN that 35 people were pulled form the Champlain Towers South Condo on Thursday as rescue efforts were paused.
NBC Miami reports about 55 apartment units collapsed during the incident.
WSVN also obtained surveillance video of the moment the condo collapsed, which can be viewed below.
JUST IN: 7News has obtained surveillance video of the moment the Champlain Towers South Condo collapsed in Surfside early this morning.

According to a fire official, 35 people were pulled from the collapsed building. Search and rescue efforts ongoing. https://t.co/Ac7KgnJOSO pic.twitter.com/oeczbumRG9

— WSVN 7 News (@wsvn) June 24, 2021
Twitter user @_rosiesantana also shared camera footage she said was taken from inside her condo located "on the side of the collapse."
@AgendaFreeTV I am a resident of one of the condos on the side of the collapse. This is a video from my camera footage inside from the start of the collapse until the lose of connection (I was away from the building today). Towards the end, you hear the structure failing pic.twitter.com/UzBJQogUxp

— rosie✨ (@_rosiesantana) June 24, 2021
NBC Miami also captured video of firefighters rescuing the boy, whose condition was not immediately clear as of Thursday afternoon.
Firefighters were also seen using a ladder to rescue other individuals who were caught in sections of the building that were still standing at the time.
"I just can't put into words, it looks like a bomb hit, it looks like something in one of these Third World countries that just literally collapsed, like a pancake straight down, and there's just an incredible pile of rubble," a witness who saw the entire collapse told NBC Miami.
Miami Beach Police and Miami Beach Fire were also assisting the Surfside residence after the collapse on Thursday morning.
MBPD and @MiamiBeachFire are assisting the Town of Surfside at a partial building collapse located at 8777 Collins Avenue in Surfside, Florida. Multiple police and fire agencies from across Miami-Dade are assisting. Please follow @MiamiDadeFire for updated information. pic.twitter.com/8tORIfZfjY

— Miami Beach Police (@MiamiBeachPD) June 24, 2021
Officials told NBC Miami that residents were being moved to the Surfside Community Center and all streets in the area of the collapse were closed.
The Champlain Towers South Condos are located at 8777 Collins Avenue and were built in 1981.