Gigi Gorgeous, Nats Getty, & Paris Hilton 'Turn Pain Into Purpose'
By Diana Brown
July 13, 2021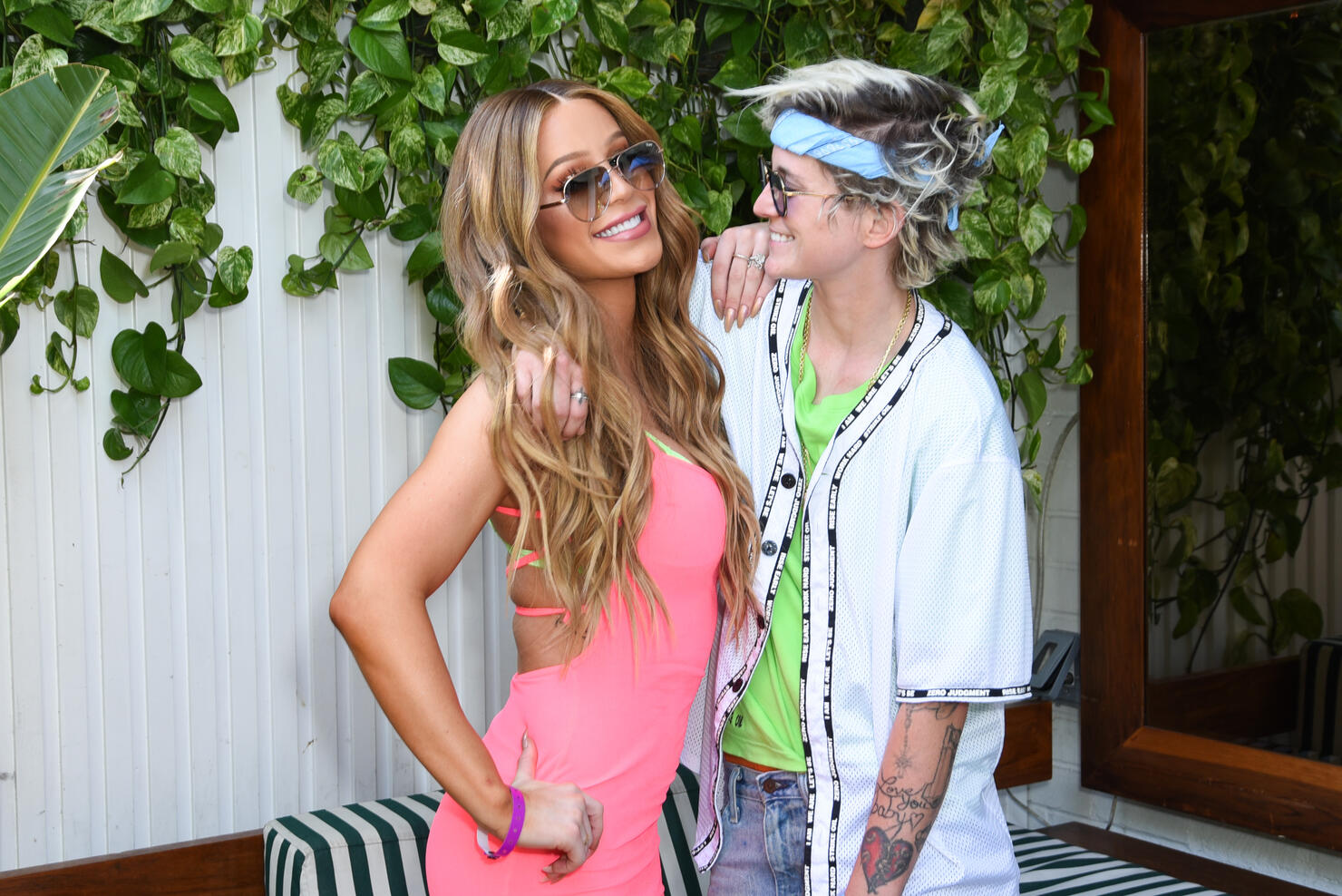 Photo: Getty Images North America
On this episode of This Is Paris, Paris Hilton talks with her friends Gigi Gorgeous, Canadian YouTube star, and her spouse, designer Nats Getty. Paris hears all about their amazing Pride celebrations, Nats' insane proposal, their beautiful wedding, and all about Nats' recent transition and top surgery. Plus, they talk about Paris's documentary detailing her abuse at a boarding school in Utah – Nats had also gone to a similar institution as a teenager and when he watched the documentary, he realized he had never dealt with his own trauma around that experience. And Gigi has to ask Paris how she feels about Britney Spears testifying about her conservatorship and saying she "didn't believe" Paris's story.
Nats tells Paris how he cried watching her documentary. "We share a lot of the same trauma….I hadn't dealt with any of that, and when I met Gigi, that's when my healing process really began," he says. "Falling in love with Gigi helped me fall in love with life again." He spent six months planning to propose, and also had strong feelings about the wedding, but it was all perfect. Even so, they plan to marry again, now that Nats has transitioned. He says he feels "amazing" now that he's had his top surgery. "It's one of the best decisions I've ever made," he says. "I'm just so much happier. I feel so much more me." Gigi remembers when Nats told her he wanted to transition, "a switch went off in my brain, I was like 'Yes, yes, yes.'" 
Gigi asks Paris about Britney's comment during her testimony, but Paris says she knows Britney didn't mean it the way the media portrayed it. Britney was trying to explain that famous people are often perceived to have perfect lives, so when they speak out about trauma or abuse, people don't really believe it. Britney herself didn't believe Paris at first, so why would anyone believe her? "She was just using it as an example," she says. Nats says it's "a fair comparison," saying sometimes beautiful and fierce people "are the people who have the darkest secrets." They're all proud of Britney for using her voice, as they all have done, to stand up for herself and others. "Turning your pain into purpose is so powerful," Paris says. Plus, Gigi's book, her new podcast Queerified, their super-fun art parties, the time Gigi tried to emulate The Little Mermaid and it went terribly wrong, her larcenous past stealing cosmetics from Mac, and so much more; hear this fun and fierce interview on this episode of This Is Paris.
If you want to be sure you're listening to the podcasts everyone else is checking out, iHeartRadio has you covered. Every Monday, iHeartRadio releases a chart showing the most popular podcasts of the week. Stay up to date on what's trending by checking out the chart here. There's even a chart just for radio podcasts here, featuring all your favorite iHeartRadio personalities like Bobby Bones, Elvis Duran, Steve Harvey and dozens of others.
Photo: Getty Images