All The National Ice Cream Day Freebies & Deals You Need To Know
By Emily Lee
July 16, 2021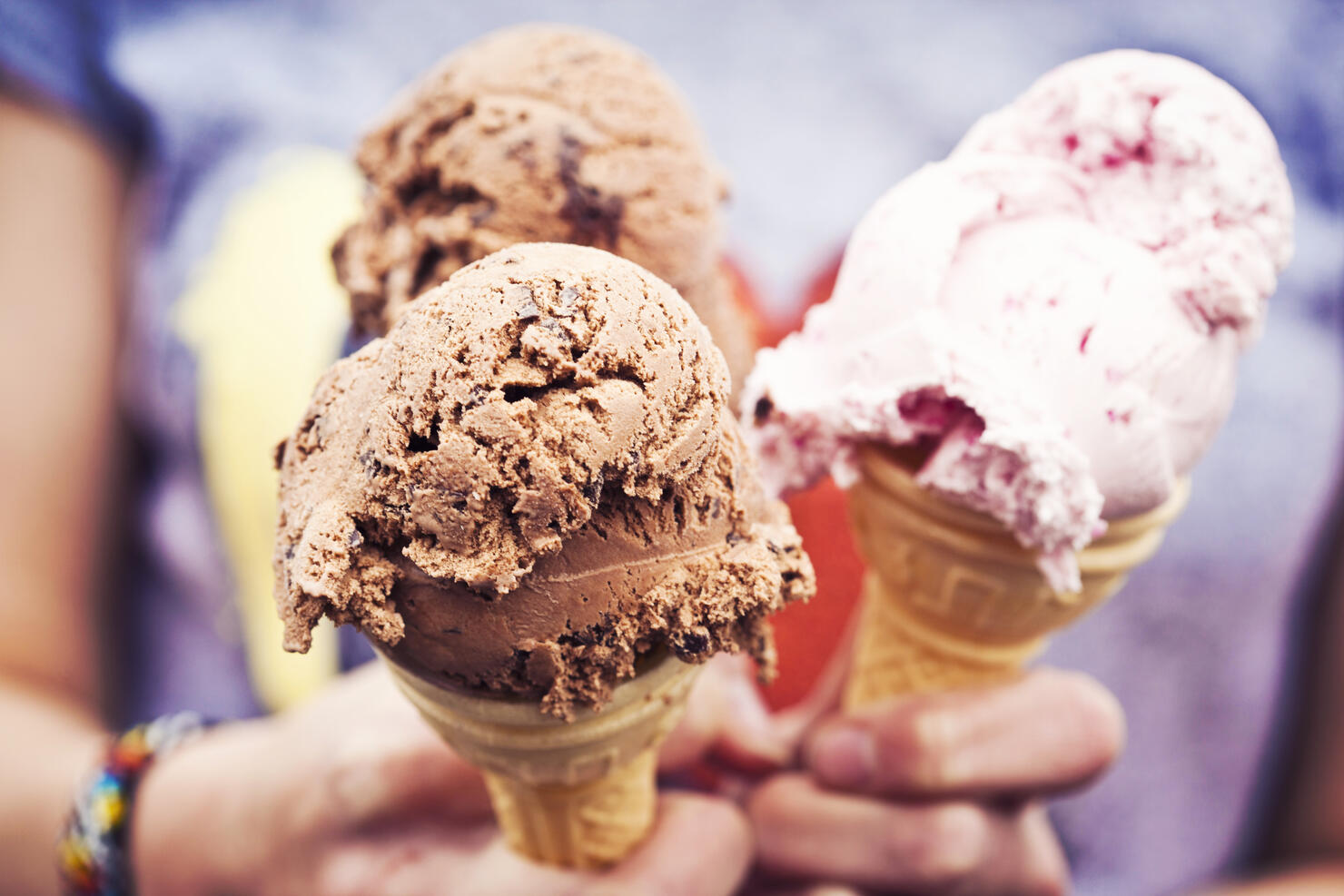 Sunday (July 18) is National Ice Cream Day. In honor of the special occasion, a ton of your favorite ice cream spots have limited-time deals. Offers.com rounded up all the best freebies, deals and specials you need to know for National Ice Cream Day.
Alden's Organic: Available at over 10,000 stores nationwide, including Whole Foods and Kroger, Oregon-made Alden's Organic is offering $1 off any one of their delicious ice cream and dairy-free frozen treats.
Baskin-Robbins: Technically, the entire month of July is National Ice Cream Month and Baskin-Robbins is doing it up proper by launching a new lineup of sea-inspired Creature Creations® and a brand-new, summer-inspired flavor of the month. With their new Creature Creations® Into the Sea flavors featuring a Dolphin, Shark and Sea Turtle, they are fittingly calling July's decadent, sweet-and-salty flavor of the month Beach Day. Enjoy them throughout the month of July as a scoop (in a themed cup) or order an entire ice cream cake with your favorite sea creature.
Blue Bell: Using the occasion of National Ice Cream Month, Blue Bell is launching a new flavor sure to become a fan favorite. Those of us who can't get enough coconut cream pie are going to go bananas for Blue Bell's Coconut Cream Pie Ice Cream —a blend of coconut French ice cream with flakes of coconut, pie crust pieces and a toasted coconut whipped topping swirl—it will be available only for a limited time, in pint and half-gallon sizes.
Carvel Ice Cream: In yet another delicious matchup, Carvel is launching a new, limited-time lineup of Churro Ice Cream treats. And to celebrate, on July 18, they are offering fans who purchase a new Churro product a special card. Each card will contain a surprise offer on a Carvel menu item, which can be redeemed through August 30. The surprise offers on the cards include:
BOGO Sundae: Buy one, Get One free sundae (soft serve only).
BOGO Cup/Cone: Buy One, Get One free cup or cone (soft serve only).
FREE Jr. Cone with any $5 (or more) purchase (soft serve only).
$1 Off the purchase of a Sundae Dasher.
One FREE topping with the purchase of any size cup of ice cream.
You'll also want to get in on a chance to win FREE ice cream for a year. Visit Carvel.com/icecreamday to enter and perhaps be one of 10 lucky Carvel fans who will win free ice cream for a year.
Coconut Bliss: Now through July 18, celebrate National Ice Cream Day with a deliciously creamy, dairy-free frozen dessert from Coconut Bliss. Get $20 off any order of bars, pints or cookie sandwiches from the 100% plant-based ice cream alternative made in Oregon that is dairy-free, egg-free, gluten-free, GMO-free, soy-free and preservative-free. Want to have some fun making your own Bliss? Get the Blissmaker DIY kit from Coconut Bliss on sale for $129.95, regularly $179.95.
Coolhaus: Creating premium ice cream cookie sandwiches and pints, and known for their uniquely innovative flavors and modern twists on the classics, Coolhaus is celebrating National Ice Cream Day by offering 35% off any Coolhaus treat at Whole Foods stores and online on Amazon through July 20. Plus, all Amazon Prime Members get an extra 10% off.
Dairy Queen: One day only—July 18—enjoy $1 off any size Dipped Cone (excluding kid cones) at Dairy Queen with the DQ mobile app. Includes Chocolate Dipped Cones.
DoorDash: DoorDash wants you to get to know its new convenience store: DashMart. So, how's this for an introduction? 1 million FREE pints of ice cream. From July 15 through July 18, order $20 or more from DoorDash and get a FREE pint of ice cream or other qualifying ice cream item (exclusions apply). It's super easy. Just open your DoorDash app or go on the website, select DashMart or your local convenience store, add your favorite ice cream item to your cart, use the promo code ICECREAM when checking out and get your ice cream for FREE.
Further introductions to DashMart can be made in 18 cities across the U.S. by taking advantage of their Ice Cream Sundae Kit. Starting July 15, for just $14.99, get a custom kit that includes two DashMart Ceramic Bowls, two Rainbow Confetti Spoons, a DashMart Metal Ice Cream Scoop, hot fudge sauce and rainbow sprinkles.
Friendly's Restaurant: In honor of National Ice Cream Day, sign up for Friendly's Sweet Rewards Club and get a FREE medium sundae. Once you are a Sweet Rewards Club member, get a FREE sundae on your birthday and then after you buy five medium or large sundaes, get the next one for FREE.
Goldbelly: National Ice Cream Day is the perfect time to give some thought to that special, hard-to-buy-for someone in your life. For a limited time, get Goldbelly's Ice Cream Monthly Subscription on sale for $79, plus FREE shipping. Regularly $89 a month, this yummy, creative gift delivers monthly hand-selected ice cream treats from the nation's most beloved creameries. And nowhere does it say that YOU can't be that special someone.
Graeter's: From July 1 through July 31, Graeter's Rewards Members can enter the Graeter's coloring contest and receive FREE ice cream. Just download the coloring sheet from the app or website, create your own perfect masterpiece, fill in the information, return your work of art to your favorite Graeter's location, and you'll receive a FREE single dip sugar cone just for entering. Then, each store will be giving away a $25 gift card and a Graeter's T-shirt first place prize, a second place prize of a $15 gift card and a $10, third place prize.
GoPuff: Available from July 12 through July 18, in celebration of National Ice Cream Day, enjoy not one, but two Ben & Jerry's and Talenti pints for just $8 from your go-to delivery service, GoPuff. Or, dive into a Good Humor 6-pack and get 25% off, also available through July 18.
Instacart: Until July 31, enjoy a sweet deal from Instacart. Spend $20 on select Dreyer's ice cream products, and save $5 or unlock free delivery.
Jeni's Ice Creams: Every Thursday until Aug. 5, a new flavor will be hitting Jeni's Ice Cream shops that are reminiscent of the nostalgic frozen treats worth chasing after on a hot summer night. They are calling it the Ice Cream Truck Collection, and the flavor to hit first is Rocket Pop ice cream. Follow the flavors on Jeni's Instagram account and get the collection shipped to you, nationwide, from Jeni's.
Killer Creamery: Throughout the month of July, Killer Creamery, the all-natural, zero-sugar ice cream company, is giving you a variety of ways to score killer deals on their healthy desserts. Order from Amazon and get 15% off. In the intermountain and southwest regions of the U.S., Albertsons will have a BOGO deal, while all other Albertsons stores will be selling pints—in flavors like Brownie Points, Caramel Back, Peanut Blubber, Jam Session and more—for just $3.99.
Lidl: If National Ice Cream Day is on your radar, there's a good chance you'd be interested in being one of three winners to receive a one-year's supply of Lidl ice cream in the form of a Lidl gift card. The total gift card value is $335. For your chance at being one of three winners, between July 12 and 17, using the hashtag #HowDoYouGelatelli, share your favorite Lidl Gelatelli product on Twitter. The winners will be chosen at random and will be announced on National Ice Cream Day, July 18. 
Marble Slab Creamery: Slab Happy Reward Members will be rewarded with $5 off Marble Slab Creamery Ice Cream Kits this month when using the code: ICECREAM5. If you're not already a Marble Slab Happy Reward Member, just download the app, complete your profile and earn your $5 after making your first purchase.
Monkey Joe's: In honor of National Ice Cream Day, get out of the summer heat at Monkey Joe's on July 18 and enjoy one FREE ice cream cup per paid adult admission, while supplies last.
Nada Moo: Follow Nada Moo on Instagram for a chance to win FREE ice cream for one year, a FREE Vitamix 7500 blender and FREE poolside essentials (up to $1,200 value). The giveaway closes on Wednesday, July 14 at 11:59 p.m. PST. Two winners will be selected at random from the email list and emailed to claim their prize on Thursday, July 15.
Rite Aid: If you're looking to celebrate National Ice Cream Day with a touch of nostalgia, head to Rite Aid and snag the Thrifty Stainless Steel Cylindrical Ice Cream Scoop on sale for $19.99 (regularly $24.99).
Rori's Artisanal Creamery: July 18 is the day to grab the kids and head to Rori's Artisanal Creamery in Santa Barbara, Montecito, Carpinteria, Camarillo, or Santa Monica for all day Kids' Happy Hour where you can get a FREE scoop for the kids when you purchase one for yourself.
Salt & Straw: Make an easy commitment on National Ice Cream Day by going on the Salt & Straw website and signing up to receive email from them. They'll reward you with 10% off your first order.
Whole Foods Market: In a show of sweeping support for National Ice Cream day, from July 7 through July 20, Whole Foods Market will be discounting all ice cream and frozen treats by 35%. And Amazon Prime Members will save an extra 10%.
Steak 'n Shake: Shake lovers will want to get over to Steak 'n Shake Steakburgers on weekdays from 2 p.m. to 5 p.m. to get half price on all shakes and drinks. And if you haven't joined their Rewards Club, do it, and a FREE milkshake will be your first reward.
Yasso: Join the mailing list of the frozen Greek yogurt brand Yasso and get 25% off your first order of their bars, sandwiches and Poppables.
Yogurtland: Real Rewards members will be receiving 3x the points at Yogurtland on all in-store and online orders on July 18 in honor of National Ice Cream Day.
How will you be celebrating National Ice Cream Day?