Elliott & J.D. Belong Together On 'Fake Doctors, Real Friends'
By Diana Brown
July 28, 2021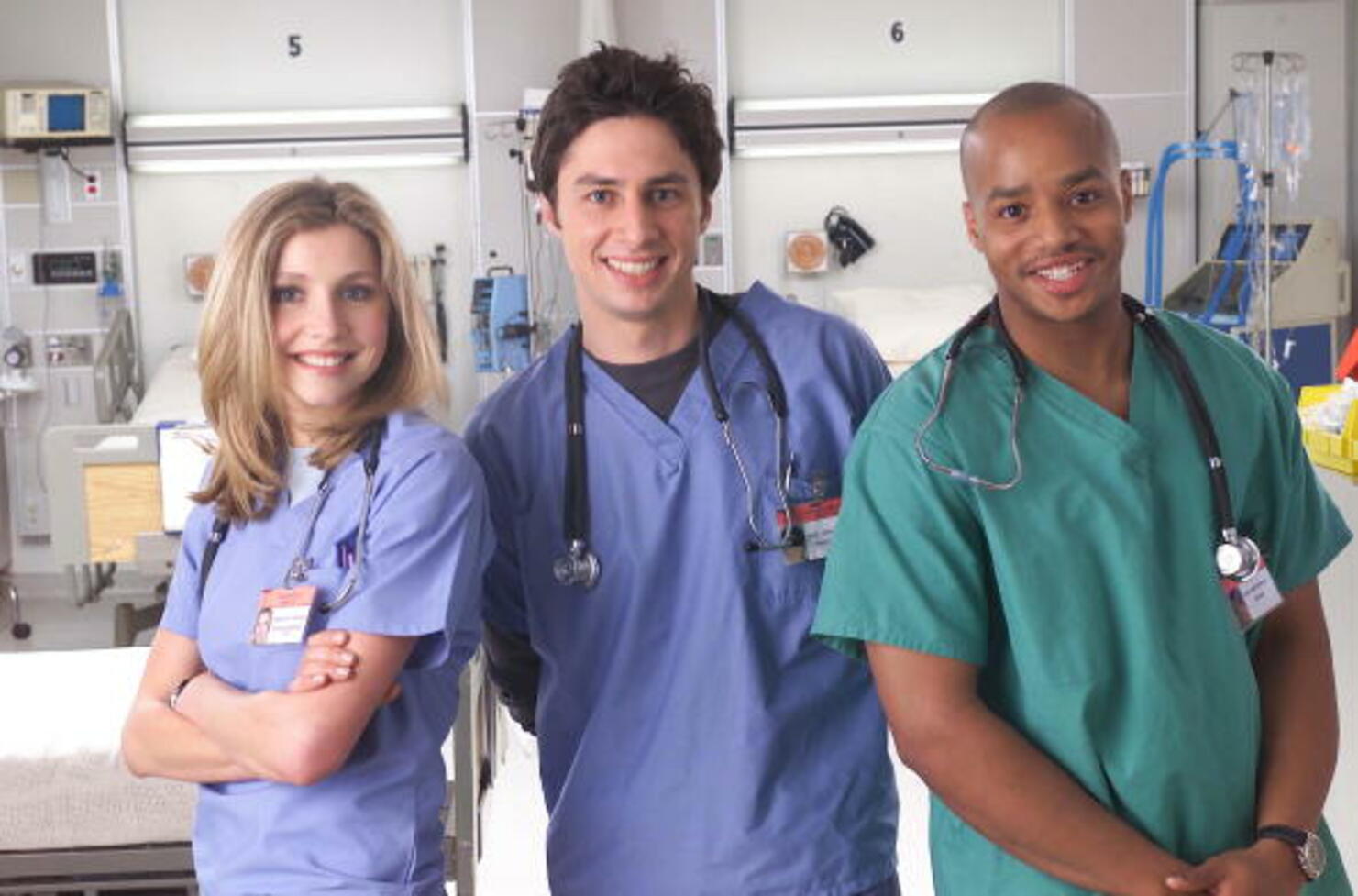 Photo: Getty Images North America
On this episode of Fake Doctors, Real Friends, Zach Braff and Donald Faison talk about the Scrubs episode "My Day at the Races," especially Donald's martial arts skills, Zach's ocean experience filming the triathlon, and the foreshadowing that J.D. and Elliott will get back together someday. Plus, lingerie always looks better when it's too small, what sexual fantasy would someone describe to you that would make you instantly break up with them, and is Billy Joel really that old? Then Bill calls in from Washington State to ask about their favorite speeches in cinema history and get some advice on moving in with his girlfriend for the first time.
Zach shares the story of filming in the freezing cold waters of the Pacific Ocean, and Donald says the triathlon for J.D. "was more like a walkabout. He's having a moment where he's trying to figure out what he's going to do, he needs a place to live, he's alone." So he goes through a quest, only to realize that he had the help he needed all along, but he and Elliott were too busy pretending to be superficial friends that he couldn't realize it. Zach agrees, saying he thinks the characters put themselves in a really hard position by trying to be friends and also work together everyday and pretending they don't matter to each other isn't working. "They're asking a lot of each other…..and finally Elliott breaks down and says, 'I don't know how to be fake with you. I need you.'" 
Then at the end of the triathlon, Elliott actually carries J.D. over the finish line – a major indication, to Zach, that the writers were starting to foreshadow that the two of them may end up together after all. "You definitely can tell she has feelings for him. She puts the dude on her back and carries him!" Donald agrees. "Because that's what you do with a partner," Zach says. "You lift them up. You carry them when they need to be carried." Plus, Elliott's elaborate sexual fantasy, Donald's rendition of the E.T. score, and they're ready for some singers to do covers of the many ditties on the podcast, please and thank you. Hear the whole hilarious conversation on this episode of Fake Doctors, Real Friends.
If you want to be sure you're listening to the podcasts everyone else is checking out, iHeartRadio has you covered. Every Monday, iHeartRadio releases a chart showing the most popular podcasts of the week. Stay up to date on what's trending by checking out the chart here. There's even a chart just for radio podcasts here, featuring all your favorite iHeartRadio personalities like Bobby Bones, Elvis Duran, Steve Harvey and dozens of others.
Photo: Getty Images