Dan + Shay Delve Into Their Songwriting Inspirations At Album Release Party
By Kelly Fisher
August 18, 2021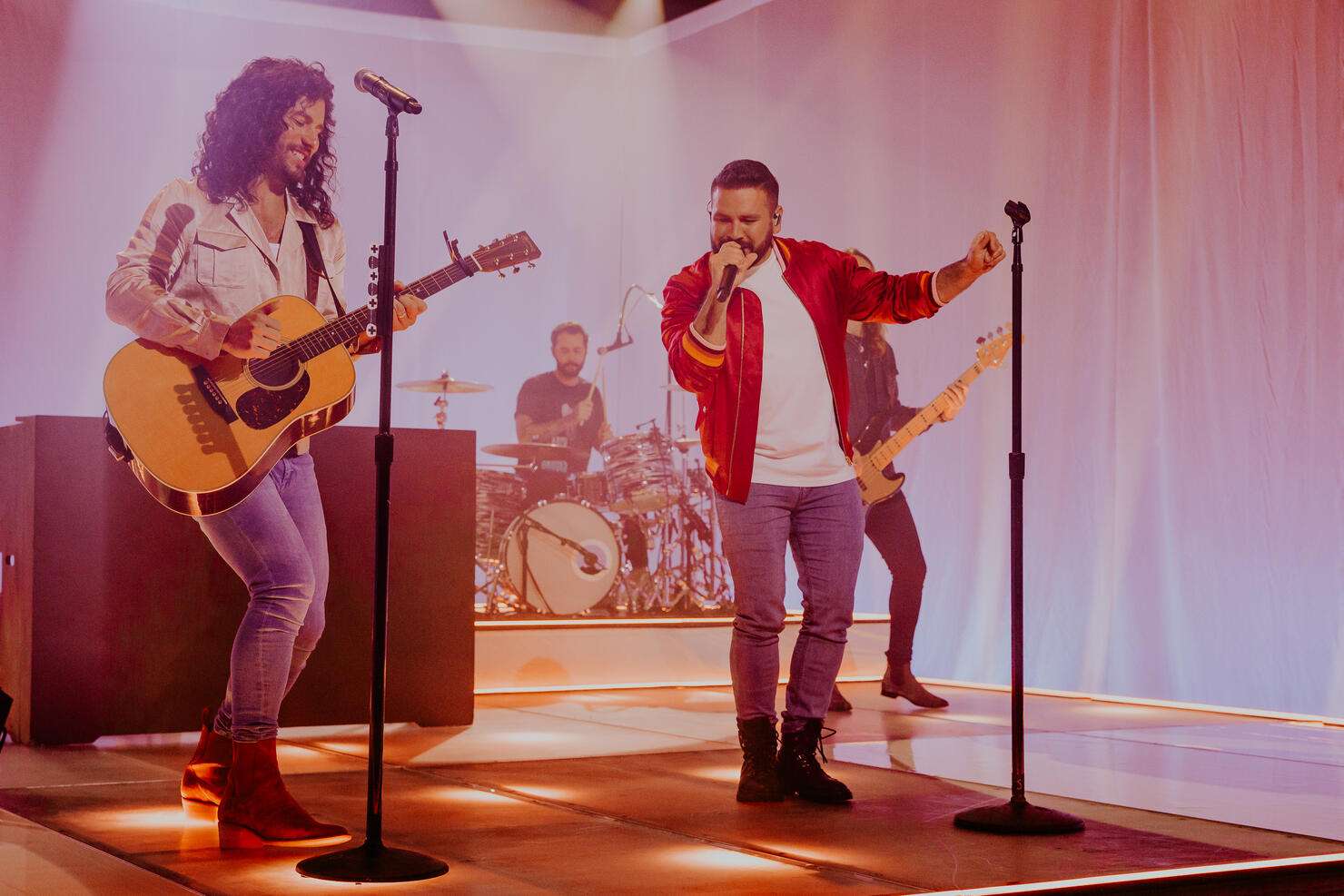 Photo: Adrianna Casiano for iHeartRadio
Dan + Shay just debuted their latest album Good Things, and the singing-songwriting country duo marked the occasion with an exclusive iHeartRadio Album Release Party.
Bobby Bones hosted the release party on Tuesday (August 17), which included performances by the beloved duo in front of a virtual audience. Dan + Shay — the award-winning team of Dan Smyers and Shay Mooney — kicked off the listening event with "I Should Probably Go To Bed," which released last year. They also delivered fan-favorite songs like 2018's "Tequila" along with new tracks from Good Things "Glad You Exist" and "Steal My Love."
Dan + Shay have been drumming up the hype for their fourth full-length album, especially since sharing on their social media channels on July 6 that they "just finished our best album yet." It's a bold statement they still stand behind. Taking a question from a fan, Smyers reiterated that the three words he would use to describe the Good Things album is "our best yet."
Good Things finally dropped on Friday (August 13), marking the duo's latest project since their self-titled album in 2018. Now, fans can listen to all 12 songs, including the ones Dan + Shay unveiled on social media with music videos ("Good Things" and "Lying"), the previously-released "Glad You Exist" and others. Speaking with Bones throughout the release party, Smyers and Mooney delved into what it's like to get back to recording music, reflected on filming their latest music videos, dished on the stories behind their latest songs, and more.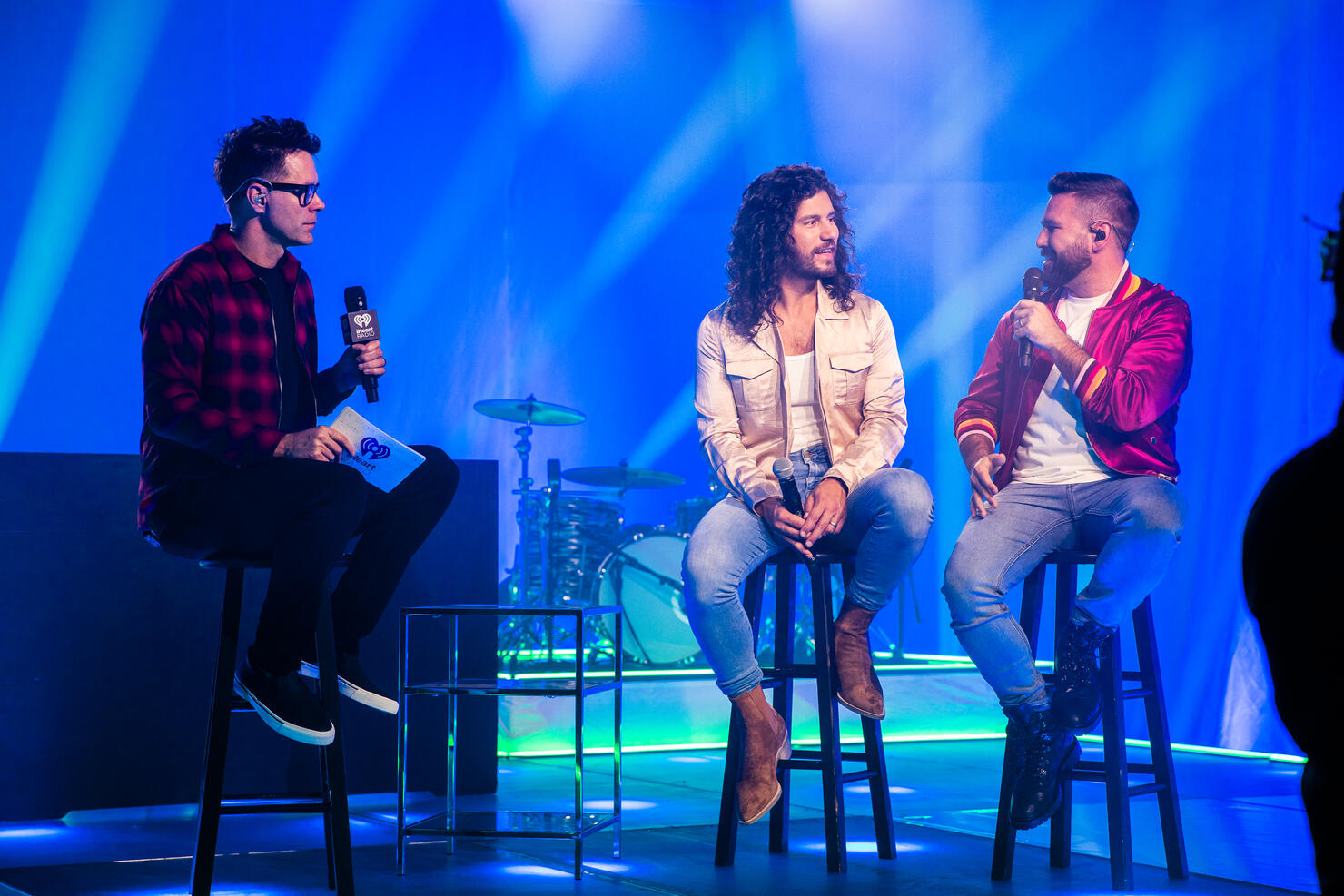 Photo: Adrianna Casiano for iHeartRadio
Fans eagerly wondered whether Dan + Shay's latest album would include any wedding-worthy tracks to follow "From The Ground Up." Luckily, the duo delivered: "That is always, to us, one of the biggest honors of people using our songs in their weddings," Mooney replied. "There is a song that comes to mind…There's a song called 'You' on the album that I think will be the next Dan + Shay wedding hit." Bones noted that the duo performed at his wedding last month, but he and his wife opted for a cover song inspired by Full House (which "went pretty viral," Smyers said). Fan questions also revealed which artists Dan + Shay would collaborate with (Smyers name-dropped Adele and Carrie Underwood), what it was like to collaborate with Justin Bieber on "10,000 Hours," and more.
Since they first announced the upcoming album, Dan + Shay have premiered the music video to the album's title track "Good Things," and released what they called "the most fun" music video they've made for their new song "Lying." "We got out of our comfort zones tremendously," Smyers told Bones of the music video (he previously revealed that the last time he hadn't danced since his 7th grade talent show, "when me and some of the guys on the basketball team danced to *NSYNC"). Smyers added that "we needed lessons" from Bones, who won Dancing With The Stars in 2018.
Bones also included a nod to the late legend Bill Withers, known for "Ain't No Sunshine," "Lovely Day" and other classic songs. Withers is credited as one of the writers on Dan + Shay's "Lying," and Smyers explained how the duo included Withers as a writer on the track: The duo realized after a songwriting session on the road that a riff had a "'Lean On Me' vibe," so Dan + Shay contacted Withers' team to properly credit their subconscious inspiration.
Though Dan + Shay celebrated their current album for most of the release party, they also dove into the iHeartRadio box to reminisce on other moments throughout their career. Smyers and Mooney uncovered the Good Things album cover, a photo from Joe Jonas and Sophie Turner's wedding (where they sang), and a memento from hitting 1 billion total audience spins on "Tequila" across iHeartRadio stations.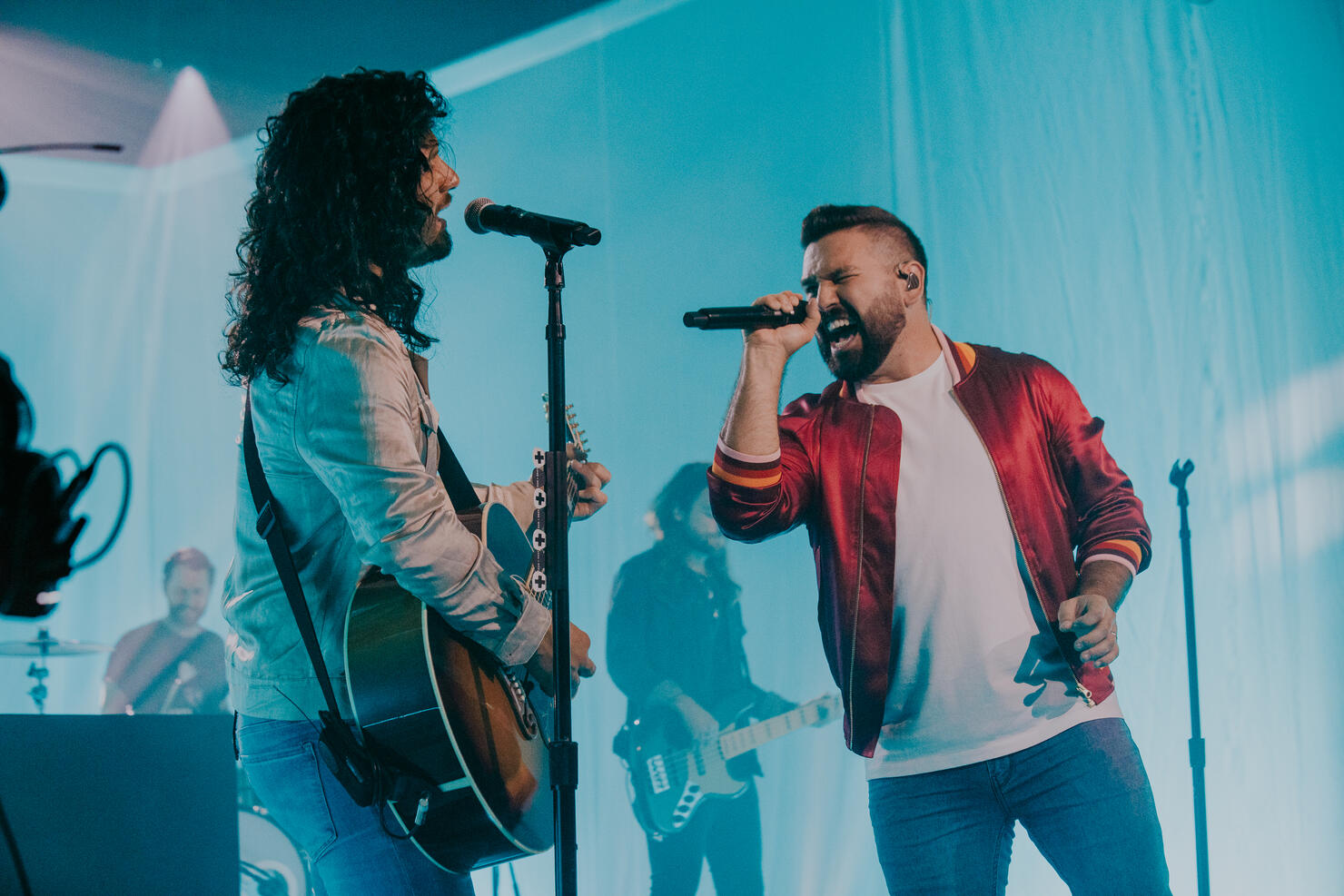 Photo: Adrianna Casiano for iHeartRadio
Now that Dan + Shay are looking ahead to hitting the road again on their arena tour, Mooney explained what it was like to take a hiatus during the COVID-19 pandemic — and what it's like to come back. He explained, in part:
"That was the hardest year and a half or so of our lives. You work your entire life as an artist to hopefully one day get to that point where you're playing arenas, that's kind of like, that's the top. Everybody wants to do arenas and it was an incredible feeling… we were ready to play and got three shows in and obviously the rug was pulled out from under our entire industry, from everybody.
"But man, it feels to me just like it's new and fresh again. I feel like we were on the road for so long that — we didn't get jaded by any means, but — when you're so busy like that it's hard to take a moment and really appreciate what we're doing, and I feel like that is one thing that the pandemic and all the time that we had off kind of gave back to us, was an appreciation (because) what we get to do is not normal, and a moment to just breathe and be like, 'I can't believe that we get to do this.'"