Phoebe Bridgers Says She's 'Slightly Terrified' About Going On Tour
By Katrina Nattress
August 30, 2021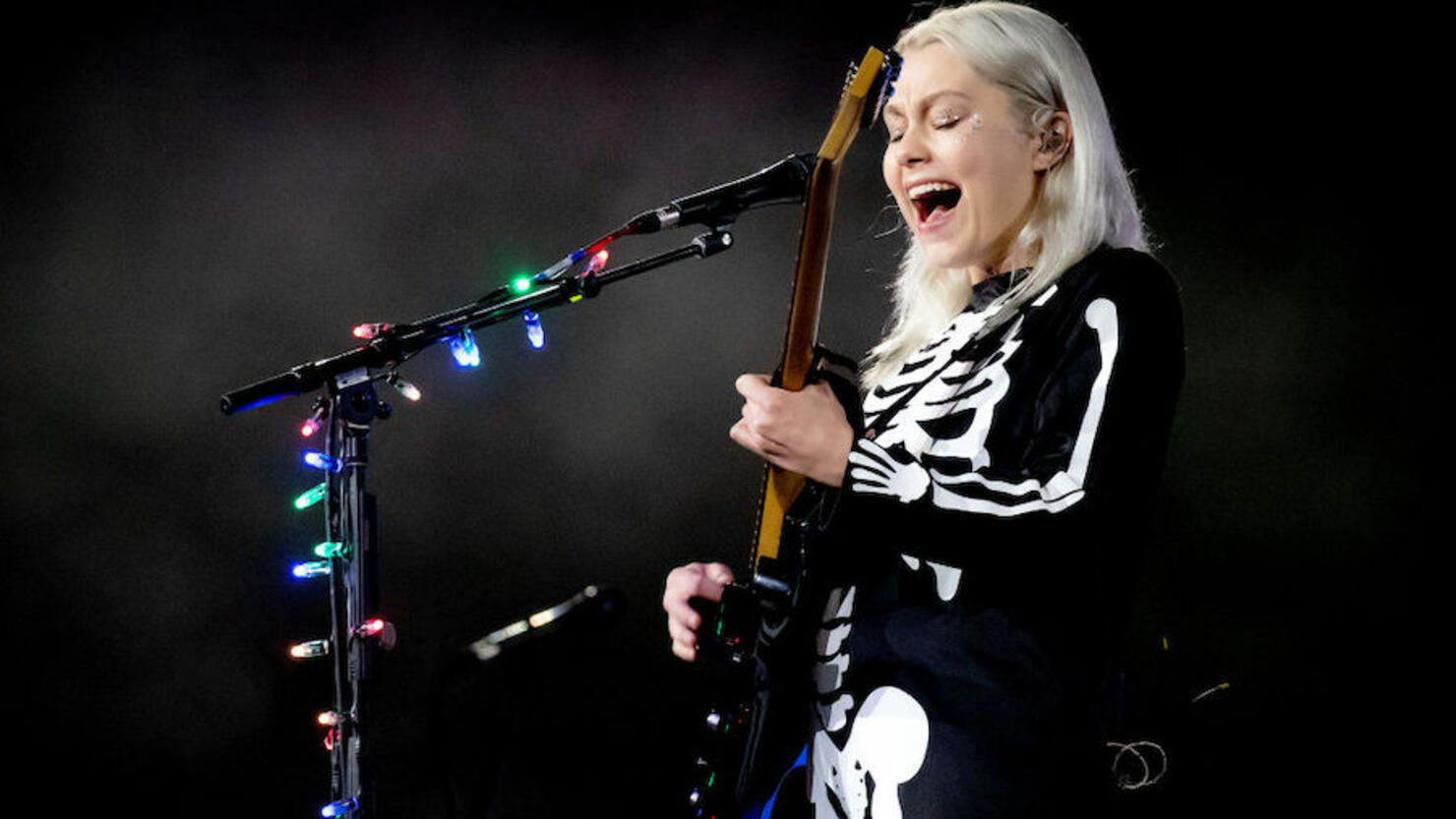 Photo: Getty Images North America
Before heading out on her Reunion Tour (which was recently changed to all outdoor venues), Phoebe Bridgers stopped by the Comedy Bang! Bang! podcast to chat with host Scott Aukerman about a list of topics including her album Punisher, the backlash she received for smashing her guitar on Saturday Night Live, the person she would love to piss off most (spoiler alert: it's Kid Rock), and how she feels about hitting the road this fall for the first time in two years.
"I am slightly terrified, to be real, because I did it for three years straight really before the pandemic, and I got really good at it," Bridgers explained before getting sidetracked. When the topic once again arose, she continued: "The weirdest part about this experience is you put out a record normally and you're immediately on tour. It'll have been two years since we played a show when we start playing. I've also been wearing a skeleton costume like every day of my life for two years. I'm so done."
For this tour, she'll be wearing the designer skeleton costume made for her SNL performance, but she's only got one and admitted she's going to "smell like a trash can."
Listen to the full conversation and see Bridgers' tour itinerary below.
Phoebe Bridgers Reunion Tour Dates
09-03 St. Louis, MO - Chesterfield Amphitheater ^
09-04 Manchester, TN - Bonnaroo Music & Arts Festival
09-05 Louisville, KY - Iroquois Amphitheater ^
09-08 Indianapolis, IN - TCU Amphitheater at White River State Park *
09-10 Chicago, IL - Pitchfork Music Festival
09-11 Minneapolis, MN - Surly Brewing Festival Field *
09-12 Madison, WI - Breese Stevens Field *
09-14 Detroit, MI - The Aretha Franklin Amphitheatre *
09-15 Lewiston, NY - Artpark Amphitheater *
09-17 Pittsburgh, PA - Stage AE Outdoors *
09-18 Columbus, OH - Express Live *
09-19 Charlotte, NC - Charlotte Metro Credit Union Amphitheatre *
09-21 Raleigh, NC - Red Hat Amphitheater *
09-22 Philadelphia, PA - Skyline Stage at the Mann
09-23 Dover, DE - Firefly Music Festival
09-25 New York, NY - The Governors Ball Music Festival
09-26 Boston, MA - Leader Bank Pavilion *
09-27 Boston, MA - Leader Bank Pavilion *
09-29 Cleveland, OH - Jacobs Pavilion at Nautica *
10-02 Austin, TX - Austin City Limits Music Festival
10-04 Birmingham, AL - Avondale Brewing Company
10-09 Austin, TX - Austin City Limits Music Festival
10-16 Berkeley, CA - The William Randolph Hearst Greek Theatre
10-21 Los Angeles, CA - Greek Theatre
10-22 Los Angeles, CA - Greek Theatre
10-24 Atlanta, GA - Shaky Knees Music Festival
^ with Muna
* with Bartees Strange