WATCH: Tom Brady Hilariously Throws Shade At Former Teammate Mike Vrabel
By Jason Hall
September 2, 2021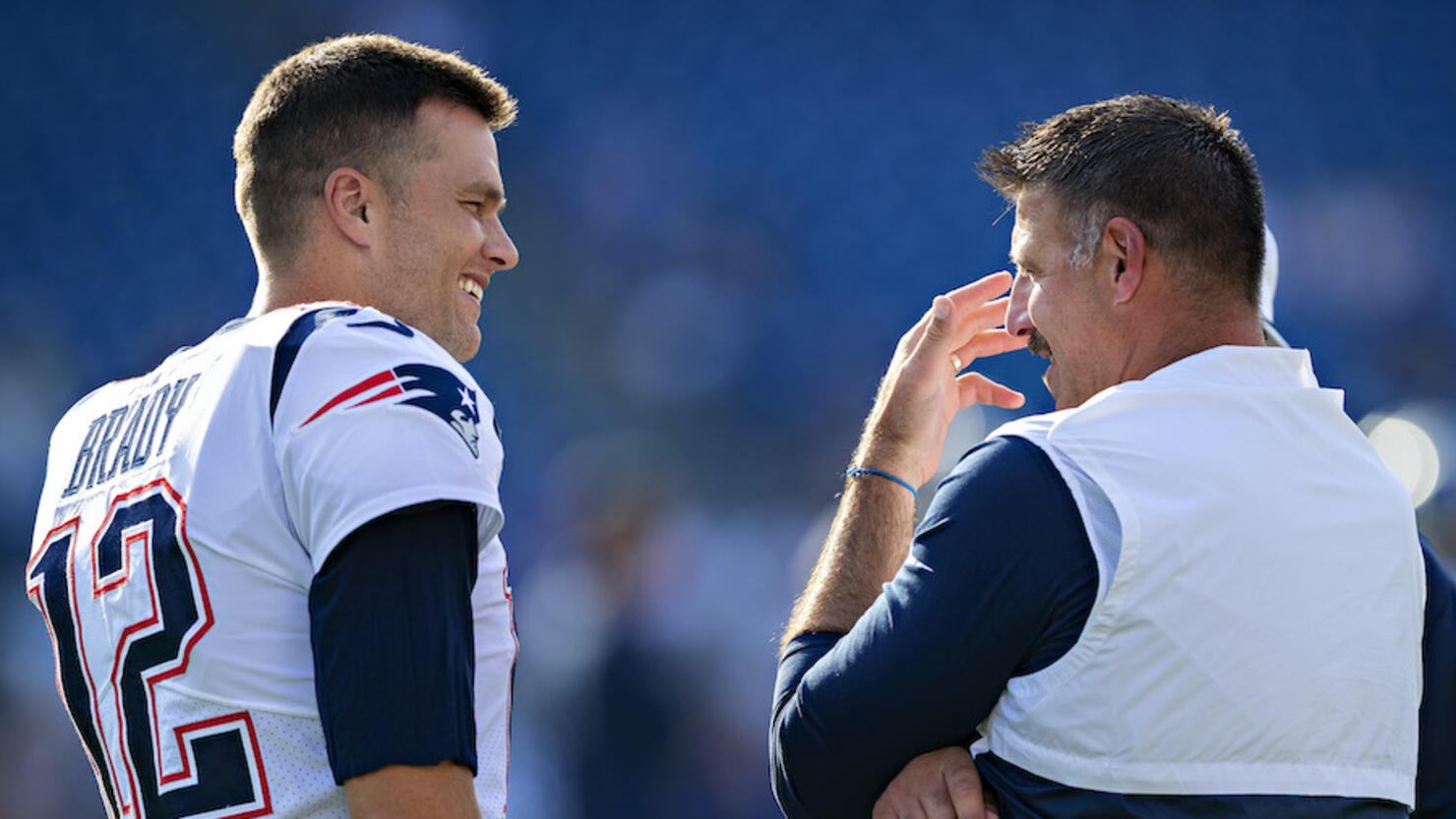 Tom Brady continues to throw playful jabs at his former teammates.
During the latest recent episode of the Tampa Bay Buccaneers' YouTube series In the Current, Brady joked about his "healthy competition" with former New England Patriots teammate Mike Vrabel, the current head coach of the Tennessee Titans, who participated in a joint practice with Brady's Buccaneers prior to a preseason game between the two teams last month.
"Mike's kind of an a*****e if you get to know him. He went to Ohio State, you know, obviously I don't like him," Brady said, jokingly referring to the coach's alma mater being arch rivals with the University of Michigan, which the quarterback attended from 1996-99. "There's a healthy competition between us always even though he's kind of fat and out of shape now. You know, physically he's really declined to a pretty sad state."
Brady initially threw playful jabs at Vrabel while speaking to reporters during the Bucs and Titans' joint practice on August 18.
"(Vrabel is) not as rambunctious as he used to be," Brady said via the Tennessean. "He was much more chattery as a player. He complained a lot when I didn't throw him the ball, like a typical diva receiver. He's mellowed out as a coach a little bit."
Of course, Brady is referencing Vrabel being used in special offensive packages as a receiving option, which included catching a touchdown pass thrown by Brady in two separate Super Bowls.
Vrabel finished his NFL regular season career with 10 receptions for 14 yards, all of which were touchdowns.
The Titans coach was also mentioned by Brady in the latest 'Madden NFL 22' ad released earlier this week.
The ad features Brady attempting, and failing, to recruit some of his favorite retired former New England Patriots teammates including Vrabel, Julian Edelman, Randy Moss, Wes Welker, Mike Vrabel, Willie McGinest, Tedy Bruschi and Chad 'Ochocinco' Johnson.
"Vrabes, coaching's overrated bro," Brady says while talking on the phone in the commercial.
The two players were teammates in New England for eight seasons (2001-08).
In February, Brady finished Super Bowl LV with 201 yards and three touchdowns on 21 of 29 passing, winning a record fifth Super Bowl MVP Award, which surpassed his own previous record set in Super Bowl LI (2017.)
The victory was Brady's first as a member of the Buccaneers after joining the franchise in March following 20 seasons with the New England Patriots.
Brady now owns a 7-3 record all-time in the NFL's biggest game and surpassed his own previous record for most Super Bowl wins by a quarterback (6) set in February 2019. The 43-year-old also broke his own record as the oldest quarterback to both start and win a Super Bowl also set in 2019.
The win was Tampa Bay's second Super Bowl victory in franchise history. The Buccaneers are also the only team in NFL history to both host and win a Super Bowl in their home stadium.