Elton John on Charlie Puth, 'Lockdown Sessions' & Much More
By Sierra Marquina
September 10, 2021
We officially have Elton John and Dua Lipa's "Cold Heart" on repeat and there are so many more tracks to come. The icon joined Ryan Seacrest on-air on Friday, September 10, to chat his latest album, Lockdown Sessions, and shared the album was the last thing he'd think would come from quarantine.
Lockdown Sessions includes collabs with everyone from Nicki Minaj to Miley Cyrus and Lil Nas X, but Elton said it all started with Charlie Puth.
"I never envisioned doing an album during lockdown," Elton told Seacrest. "In fact, that's the last thing I was thinking about, but … when we were first in lockdown, I met Charlie Puth. …I found out he lived very close to me and I went up to his house and wrote a song … and then the next day I went to my publisher's house … and I did a track via zoom with Surfaces who I got to know about through 'Sunday Best.'"
Elton added next he was working in England and via Zoom with the likes of Rina Sawayama, Gorillaz, Miley Cyrus, SG Lewis, Lil Nas X and Glen Campbell.
"And I thought 'I have quite a bit of music,'" he continued. "… I thought I've come full circle. … It was just like a really wonderful moment," he adding, referring to working with other artists like he did prior to becoming the legendary Grammy winner he is now. "I thought 'I'm doing exactly what I did before I became Elton.'"
Watch back the full interview in the video above for more, including to hear what new musicals Elton has in store and how quarantine changed his outlook on life.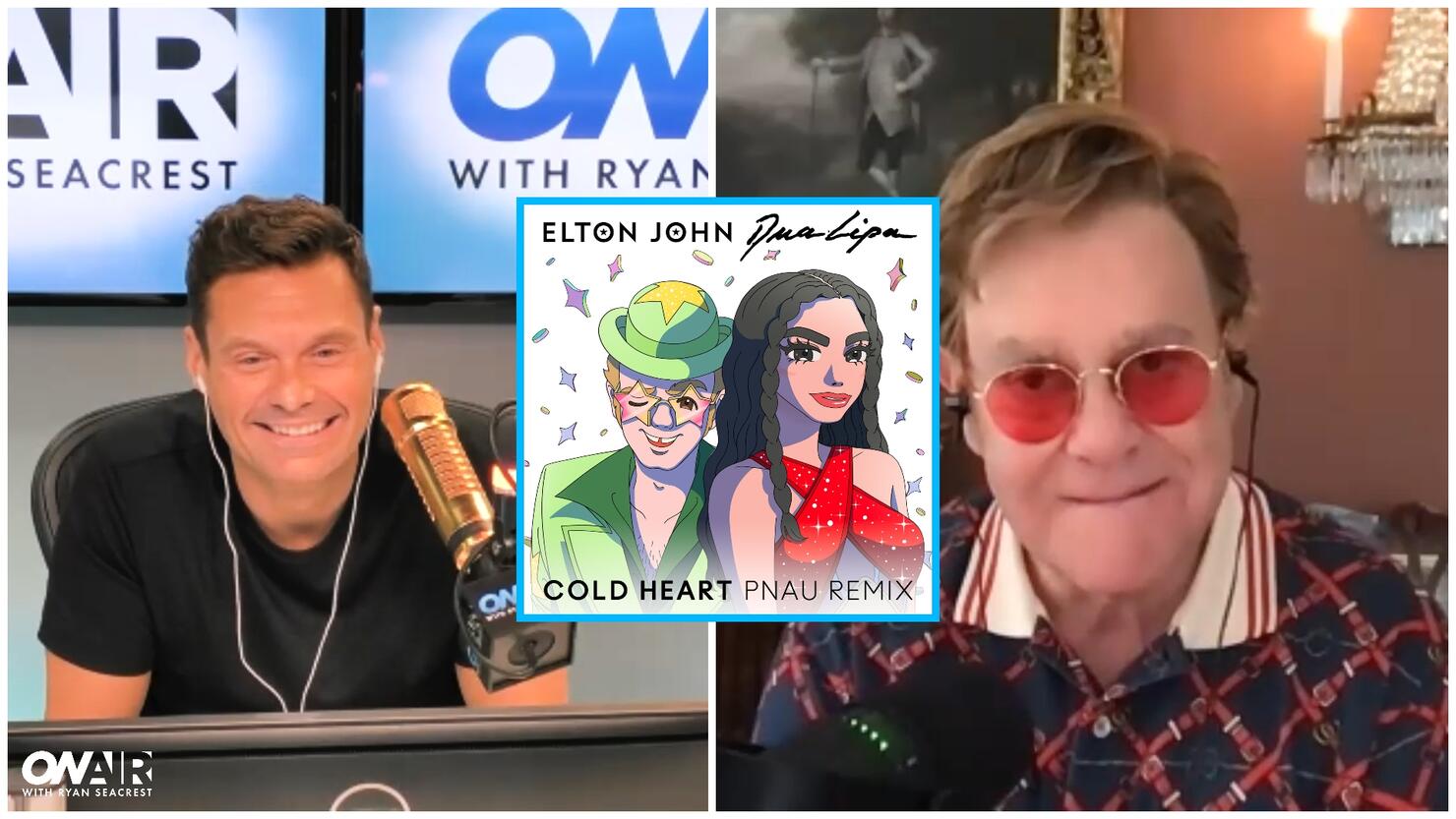 Photo: Credit: OAWRS Zoom
Check out the tracklist for Lockdown Sessions below:
1. Elton John & Dua Lipa – "Cold Heart (PNAU Remix)"
2. Elton John, Young Thug & Nicki Minaj – "Always Love You"
3. Surfaces feat. Elton John – "Learn To Fly"
4. Elton John & Charlie Puth – "After All"
5. Rina Sawayama & Elton John – "Chosen Family"
6. Gorillaz feat. Elton John & 6LACK – "The Pink Phantom"
7. Elton John & Years & Years – "It's a sin (global reach mix)"
8. Miley Cyrus feat. WATT, Elton John, Yo-Yo Ma, Robert Trujillo & Chad Smith – "Nothing Else Matters"
9. Elton John & SG Lewis – "Orbit"
10. Elton John & Brandi Carlile – "Simple Things"
11. Jimmie Allen & Elton John – "Beauty In The Bones"
12. Lil Nas X feat. Elton John – "One Of Me"
13. Elton John & Eddie Vedder – "E-Ticket"
14. Elton John & Stevie Wonder – "Finish Line"
15. Elton John & Stevie Nicks – "Stolen Car"
16. Glen Campbell & Elton John – "I'm Not Gonna Miss You"