Luke & Lorelai Forever On 'I Am All In'
By Diana Brown
September 10, 2021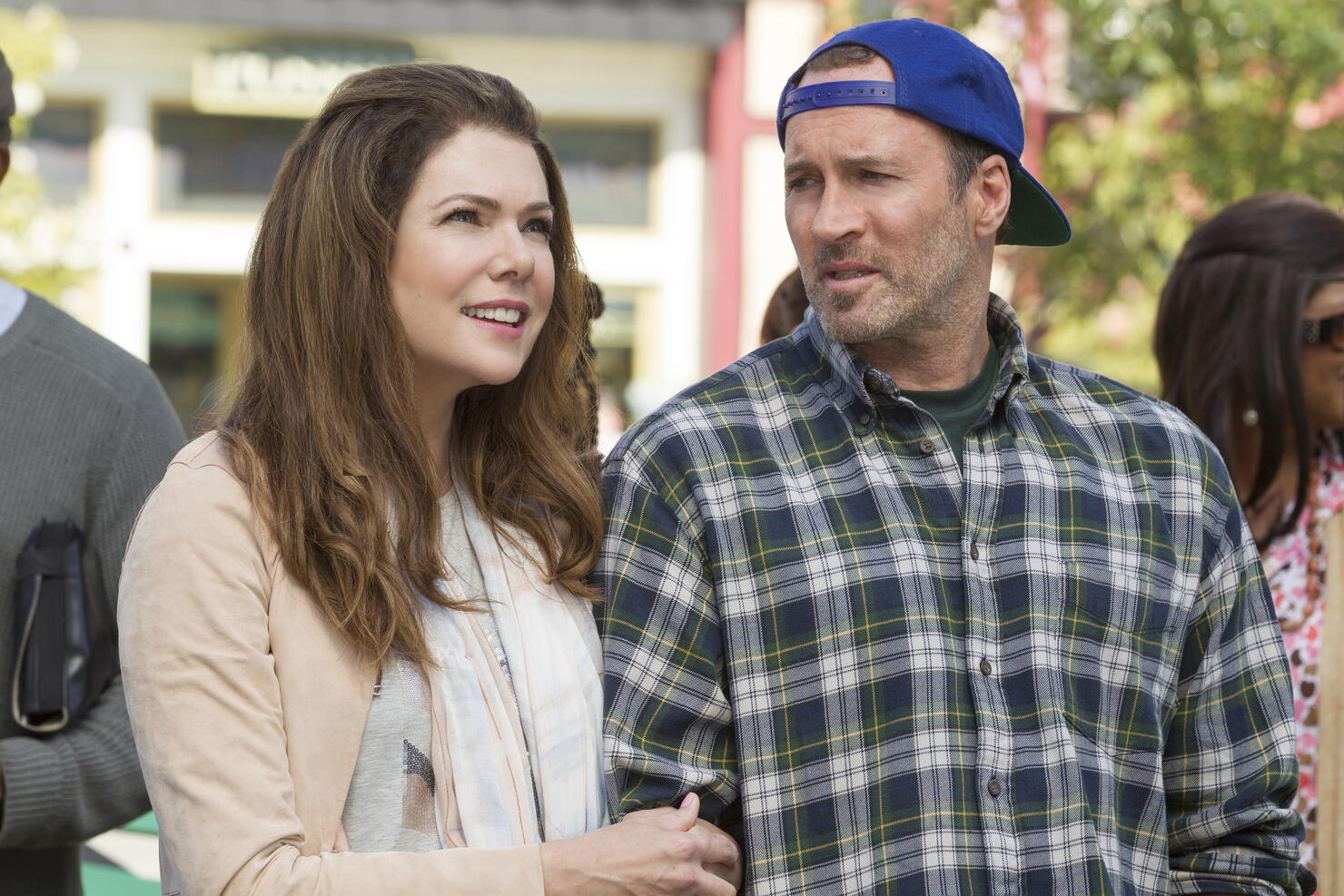 Photo: Saeed Adyani/Netflix
On this episode of I Am All In, Scott Patterson and his producers Amy, Riley, and Danielle, get in the Christmas spirit with Gilmore Girls season one, episode ten, "Forgiveness and Stuff." As usual, Scott dissects performances, character motivations, and the strength of the storylines with real gusto; there's something very charming about how personally he takes Max Medina hitting on Lorelai or how much he thinks Luke likes Emily but is a little bit afraid of her. Plus, his true awe of his castmates' performances: "I don't want to sound sexist but women are just better actors than men," he complains when they start talking about Kelly Bishop. "They can do anything with a camera. It's not even fair."
Amy loves that Emily Gilmore knows right away that Luke and Lorelai have feelings for each other: "She knows you two are a thing, one hundred percent. She knew when she met you previously, and she knows in this one." For everyone, the foreshadowing of their iconic love story was strong in this episode; so many moments, from the "Santa burger," to Luke immediately throwing everyone out of the diner to drive Lorelai to the hospital, to Lorelai giving him the blue baseball cap Luke wears for the rest of the series, their genuine connection shone through. "The chemistry….is real, it's palpable," Amy says, and Riley agrees: "He loves her so much it's not even a second thought – literally no hesitation whatsoever." Scott says Luke was just trying to be a good friend and a good guy. "Just be the supportive person. That's the soul of a great relationship anyway – be a friend," he adds. 
So why does it take Luke so long to make a move? Scott thinks he's afraid. "That's his forever woman, there's nobody else for him, but he doesn't want to make a move yet, he wants to make sure it's solid." Partly because he doesn't want to jeopardize their friendship, but also because he knows it would mean big upheavals for Rory. "He really is a selfless guy and he's very, very careful with her," Scott says. "But wouldn't life be so much sweeter with her?" Speaking of great love stories, how about Emily and Richard? Plus, Jane Lynch, Jimmy Hoffa, "Jingle Bells," and so much more Gilmore Girls goodness on this episode of I Am All In.
If you want to be sure you're listening to the podcasts everyone else is checking out, iHeartRadio has you covered. Every Monday, iHeartRadio releases a chart showing the most popular podcasts of the week. Stay up to date on what's trending by checking out the chart here. There's even a chart just for radio podcasts here, featuring all your favorite iHeartRadio personalities like Bobby Bones, Elvis Duran, Steve Harvey and dozens of others.