Simone Biles Wows Met Gala Red Carpet With 98-Pound Dress
By Regina Park
September 14, 2021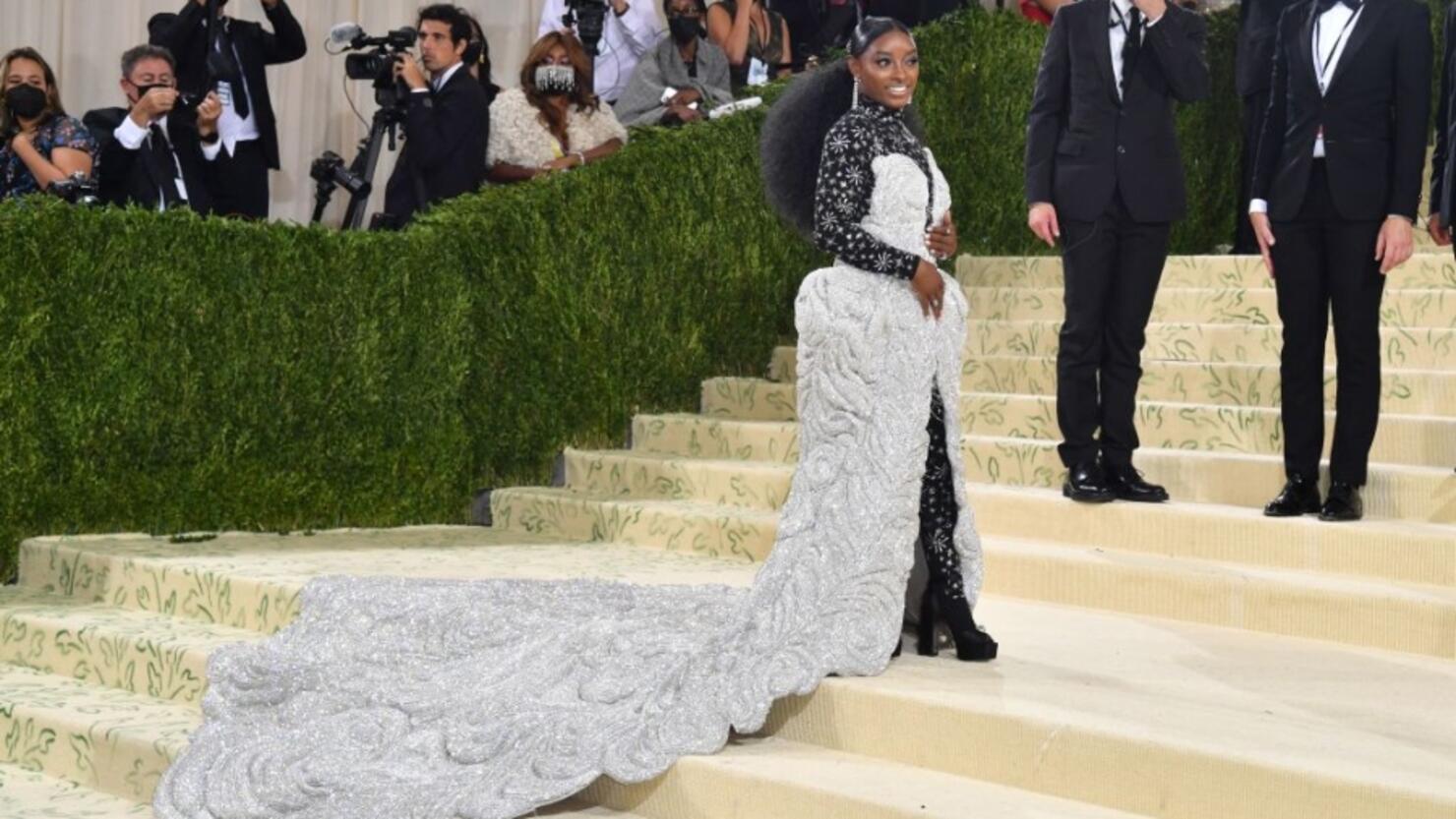 All eyes were on the Met Gala Monday night (September 13) as celebrities walked the red carpet of fashion's biggest night. 
This year's theme "American Independence" was celebrated with eye-catching looks and towering ensembles. Of note was Simone Biles' crystal-embellished gown that weighed a whopping 98 pounds. 
According to Jessica Testa of The New York Times, the dress featured "more than 17,000 feet of Swarovski glass crystal chains and nearly 200 feet of tulle." The showgirl-inspired gown is the creation of Beckett Fogg and Piotrek Panszczyk of the New York-based design label Area, who said the heavy duty crystal skirt was woven in a wave to mimic feathers.
The dress took about 6,650 hours and 100 workers to complete. Six men carried the skirt as Simone walked up the steps of the museum.
The skirt of the dress is detachable and the star athlete probably set it aside before sitting down at her table inside the museum. Underneath, Simone wore a knitted night sky body suit and black chunky heels.
Panszczyk told The Times the piece is based on the concept of performance and the work that goes into it –– much like the routines Biles does in competition. 
"People are all about entertainment, but they don't really understand the craftsmanship that actually goes into something before it's even entertainment," Panszczyk said. 
Fogg noted that the dress was also a testament to the woman wearing it. 
"Especially with Simone, I think it's beautiful to create something so strong for something so delicate and beautiful," Fogg said.
Get the latest news 24/7 on The Black Information Network. Listen now on the iHeartRadio app or click HERE to tune in live.