All The Pumpkin Spice Deals & Freebies You Need To Know For Fall
By Emily Lee
September 21, 2021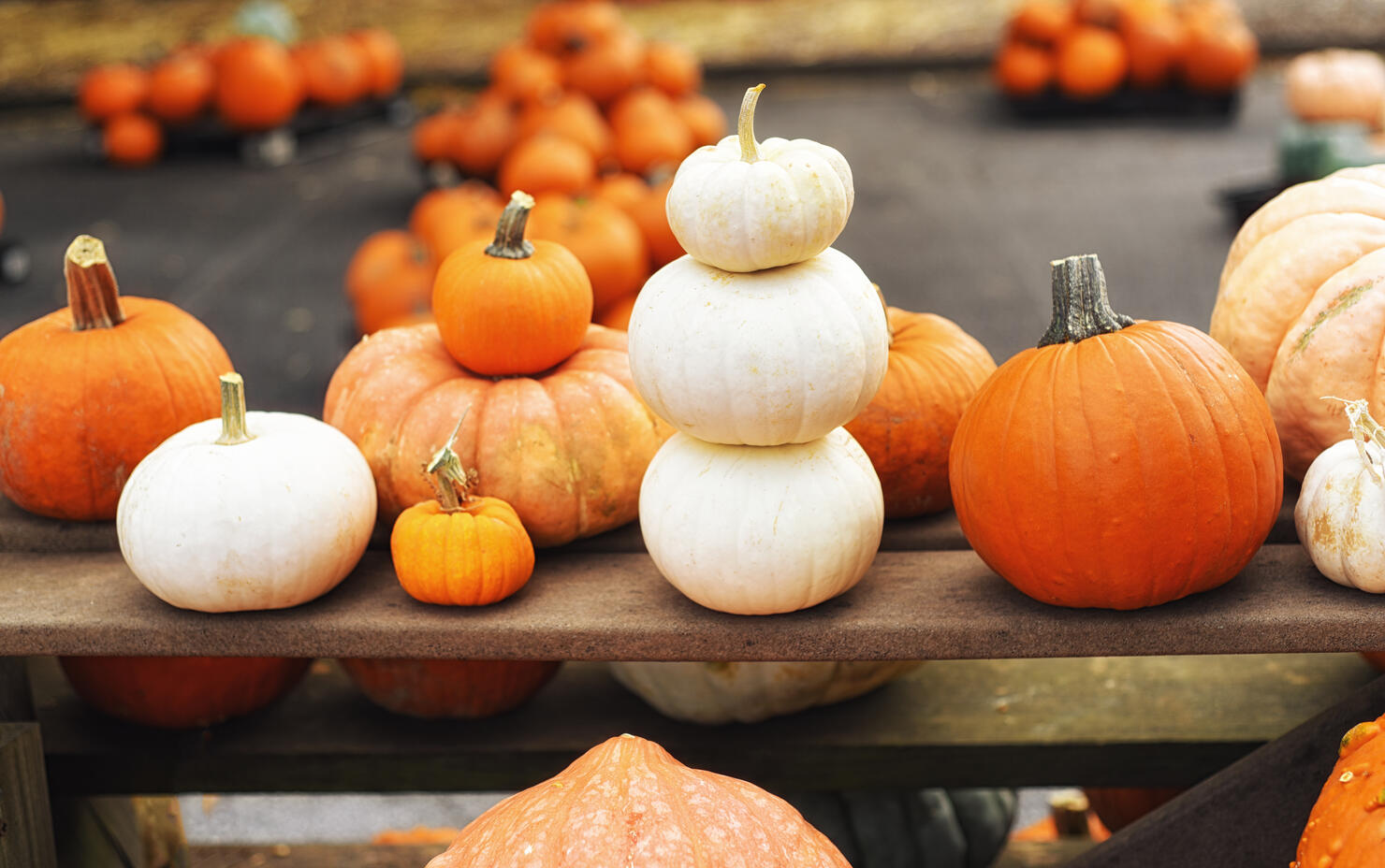 It's officially pumpkin spice season!
With the first day of fall on Wednesday (September 22), it's time to start indulging in all the best pumpkin-flavored treats and drinks around—if you haven't already started. From classics like pumpkin spice latte from Dunkin' to pumpkin-flavored dog treas at Chewy (yes, even dogs like pumpkin spice!), there is something for everyone to enjoy. Thanks to Offers.com, we have the full rundown of all the best deals and freebies on pumpkin spice treats this fall.
Bed Bath & Beyond: Here's a great deal for brewing your pumpkin spice coffee at home. A 48-count box of Green Mountain Coffee® Pumpkin Spice Keurig® K-Cup® Pods is on sale for $20, marked down from $29.99 (or 33% off) at Bed Bath & Beyond.
Bobo's: The 100% whole grain oat bar, beloved in a variety of flavors, is coming at you this fall with their limited-edition Pumpkin Spice Bar. Bobo's, the small-batch bakery that uses wholesome ingredients to deliver simple, nutritious oat bars, will be making their irresistible Pumpkin Spice Bars available at Kroger, Target, Whole Foods and at Bobo's online, where shipping is FREE.
Carousel Cakes: Sure to work its way onto your list of fall holiday food traditions, the award-winning Pumpkin Cheese Pie from Carousel Cakes is 10-inches of the best combination of New York cheesecake and gently spiced pumpkin pie. It feeds between 8 and 10 people and is available on Goldbelly for $39.
Chewy: No need for jealous puppies in the house. At Chewy, you'll find Greenies Dental Dog Treats is offering a limited-edition pumpkin spice flavor for pups from 5 to 100 pounds. A regular, 12-count packet is available at Chewy for $17.99.
Crate & Barrel Whip up a batch of tantalizing Pumpkin Spice Quick Bread to go with your favorite PSL, courtesy of Crate & Barrel for just $12.95. After you add the milk, oil and eggs, you'll have 12 servings of pumpkin spice and vanilla melt-in-your-mouth autumn delight.
Dairy Queen: No way was Dairy Queen going to let our pumpkin spice dreams melt. For a limited time, starting Aug. 30, both the Pumpkin Pie Blizzard Treat and Pumpkin Cookie Butter Shake will be back at participating Dairy Queen locations nationwide. As a quick refresher, the Pumpkin Pie Blizzard Treat has real pumpkin pie pieces and the Pumpkin Cookie Butter Shake combines pumpkin purée and cookie butter. And both are a delicious reason for the season.
Disney's Hollywood Studios: Available at Fairfax Fare and Catalina Eddies, from Aug. 10 through Oct. 31, get your hands on the Pumpkin Spice Shortbread Cookie when hanging at the Disney Hollywood Studios this fall.
Dunkin': Available hot or iced, starting Aug. 18, you'll find the Dunkin' version of the pumpkin spice latte —coffee, pumpkin and vanilla flavors, topped with whipped cream, caramel drizzle and cinnamon sugar—along with an entire lineup of fall favorites, in store and ready to delight. Don't forget the pumpkin donuts, muffins and MUNCHKIN Donut Holes. We sure won't.
English Tea Store: You don't have to be a coffee lover to enjoy piping hot pumpkin spice season. Snag a 16.9-ounce jar of Silly Cow Farms Pumpkin Spice Flavor Hot Chocolate on sale from $9.99, marked down to $7.99 at the English Tea Store.
Instacart: Pumpkin spice lovers will not be disappointed by the variety of offerings they'll find from their favorite stores, ready to be delivered by Instacart, including (but by no means limited to):
Flipz Pumpkin Spice Flavored Pretzels.
Libby's Pure Pumpkin.
Special K Pumpkin Spice Breakfast Cereal.
Jet-puffed Pumpkin Spice Marshmallows.
Nature's Path Pumpkin Spice Waffles.
New Instacart customers enjoy FREE delivery on any order.
Keurig: Enjoy Starbucks® Pumpkin Spice in easy to use K-Cup® from Keurig. Sign up for an auto-delivery subscription from Keurig and save 25%. The subscription price for a 66-count box is $39.35 and shipping is FREE.
KIND: You'll want to grab an entire box of these KIND, Limited-Edition Caramel Almond Pumpkin Spice Bars while you can. Made with real pumpkin, whole nuts, cinnamon, nutmeg, cardamom and no artificial sweeteners, the KIND bars you count on for wholesome nutty fuel are available in Caramel Almond Pumpkin Spice for a limited time only. Order from KIND and get 20% off your order. You can also get a 12-count box on Amazon for $19.99.
Nuts.com: A new and creative way to enjoy the taste of pumpkin comes in the form of Pumpkin Spice Malted Milk Balls from Nuts.com. At the center is a standard, firm malt ball, but the twist comes from a sweet pumpkin-pie-flavored layer that covers a layer of semi-sweet dark chocolate. Just $10.99 for a 1-pound bag. Become a Nuts.com subscriber, spend $29 or more and receive FREE shipping.
PBfit: Real peanut flavor with 7g of protein without the fat and calories? That's PBfit. The peanut butter protein powder is made from roasted, pressed peanuts, and of course, they just announced they are bringing back Pumpkin Spice PBfit. Find it on Amazon and start your day, fuel your day, end your day, with a pumpkin spice peanut butter smoothie.
Shipyard: Your morning coffee can transport you to a pumpkin patch, so why shouldn't your evening bottle of brew as well? The Pumpkinhead Ale from Shipyard is a crisp wheat ale with hints of cinnamon and nutmeg, making it perfect for sitting around a fire pit on a cool fall night. You'll find a 6-pack at Total Wine & More for $9.99. Also check out their special Mix & Match any two and save $10 on over 50 spirits.
Stonewall Kitchen Store: Slather the Stonewall Kitchen Maple Pumpkin Butter all over your favorite bread, biscuit or scone. Great on its own or as a "secret" recipe ingredient, it should be a staple for your autumn cooking, baking and eating activities. Get the 12.25-ounce jar on Amazon for $6.95, or head to the Stonewall Kitchen Family of gourmet brands for more delicious pumpkin treats.
Target: While you are grocery shopping at Target, be sure to pick up your favorite pumpkin spice treats. This is what's on our list so far:
Pumpkin Spice Cheerios Family Size Cereal – 18.5-ounces, $3.79.
Starbucks Ground Coffee – 11-ounce bag, $7.49.
Kit Kat Candy, Pumpkin Pie Miniatures 9.7-ounce bag $5.99.
Coffee-Mate Pumpkin Spice Liquid Coffee Creamer – 16-ounce bottle, $2.28.
Special K Cereal, Pumpkin Spice 17.7-ounces, $3.89.
Starbucks Pumpkin Spice Cold Brew Coffee Concentrate 32-ounces, $7.99.
Get FREE shipping on Target orders of $35 or more.
Tim Hortons: A plethora of all things pumpkin spice begins in earnest at Tim Hortons on Aug. 25. Hot drinks, cold drinks, frozen drinks and sweet treats abound. Check out the offerings:
Pumpkin Spice Latte (available hot or cold).
Pumpkin Spice Iced Capp.
Pumpkin Spice Muffin.
Pumpkin Spice Timbits.
Pumpkin Spice Glaze Donut.
Tootie Pie Company: Handcrafted in Texas Hill Country, you'll want to find an occasion to order their Pumpkin Spiced Rum Cake soaked in rum and topped with cinnamon fondant. Serving 8 to 10 people (or just one if sharing isn't your thing), it can be ordered from the Tootie Pie Company for $45.
Trader Joe's: If you simply cannot choose a pumpkin spice treat and need some inspiration, there is no better place than the unofficial pumpkin spice headquarters, also known as Trader Joe's. There is a good chance you'll find at least nine out of nine of the following in our pantry's rotation this fall:
Pumpkin Rolls.
Mini Hold the Cone, Pumpkin Ginger.
Pumpkin Cream Cheese Spread.
Pumpkin Bisque Soup.
Pumpkin Pie Spice.
Spiced Madeleine Cookies.
Pumpkin Spice Pretzel Slims.
Pumpkin Spiced Pumpkin Seeds.
Pumpkin Frosted Toaster Pastries.
Walmart: Exclusively at Walmart later this fall, you're going to want to check out the limited-edition Nissan Cup Noodles Pumpkin Spice flavor. It offers a sauce-based blend of sweet, savory flavors and special pumpkin seasoning. Look for it in late October. And while you're walking the grocery aisle at Walmart, throw in some Pillsbury Grands! Pumpkin Spice Rolls for $3.88 and Philadelphia Pumpkin Spice Cream Cheese Spread for $3.13, just to make sure all of your pumpkin bases are covered.
Happy pumpkin spice season!