Dua Lipa Receives iHeartRadio Titanium Award For 'Levitating'
By Emily Lee
September 21, 2021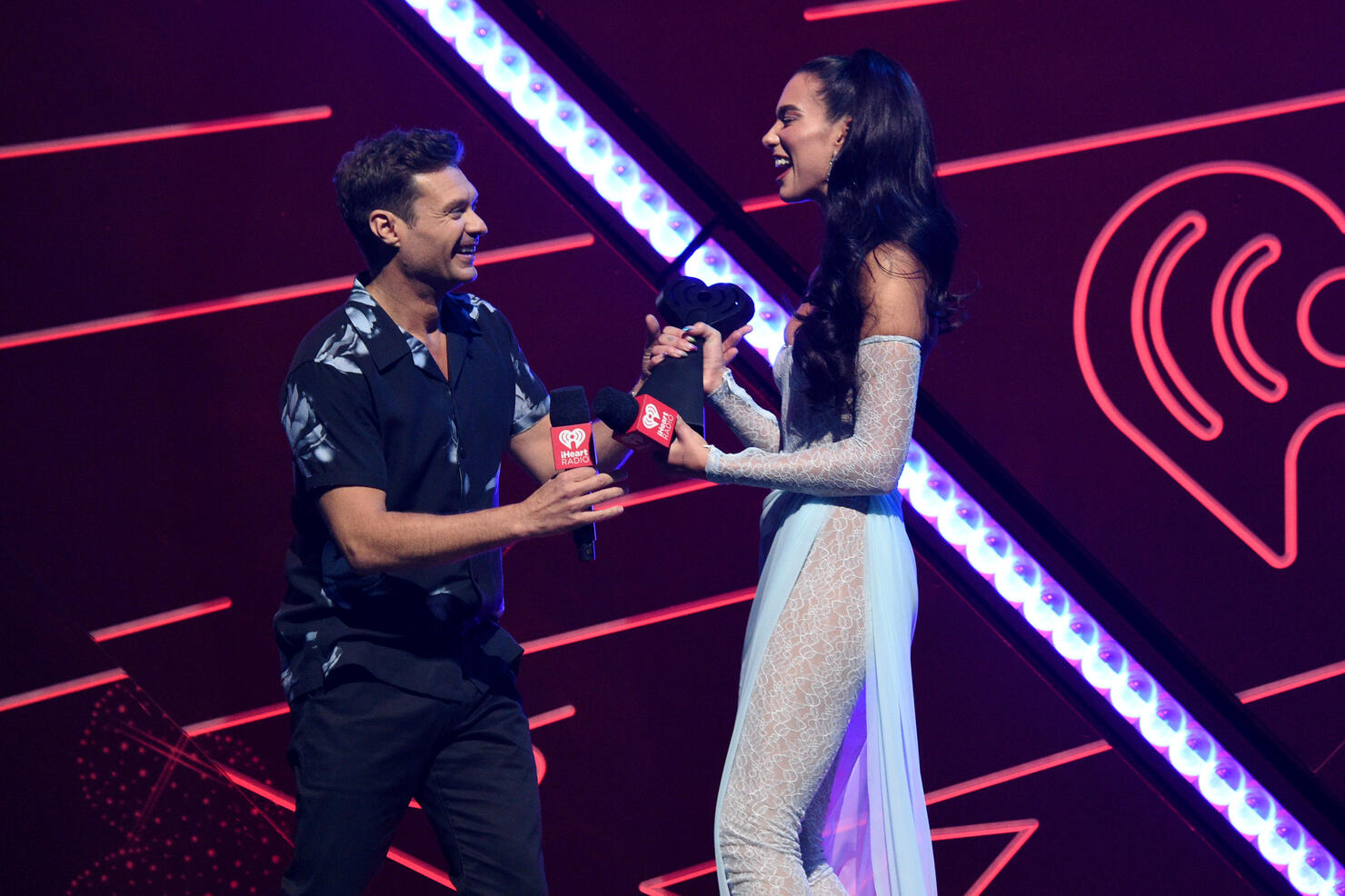 Dua Lipa must be "levitating" after receiving a special honor at the iHeartRadio Music Festival on Friday (September 17). After opening the show at the T Mobile Arena in Las Vegas, the 26-year-old pop star was brought back on stage to be awarded the iHeartRadio Titanium Award.
The Titanium Award celebrates songs that hit one billion audience spins across iHeartRadio stations. Lipa received this latest Titanium Award for 'Levitating.' She previously received the Titanium Award twice in 2020, as well, for 'Break My Heart' and 'Don't Start Now.'
"This is a very rare honor to achieve," Ryan Seacrest said of hitting one billion streams. "When Dua Lipa walked into iHeartRadio and played her new album Future Nostalgia for us, we all knew it was great. No one could've predicted it would spawn not one, not two, but three of these coveted trophies."
Seacrest then invited Lipa to join him on stage so he could hand over the award. "Thank you so much. This is amazing," Lipa said with a huge smile on her face. "What an amazing place to accept this award. Thank you so much to my fans and listeners for making this possible. I love you guys. Thank you, iHeart. I mean, what more can I say? Thank you, thank you, thank you. I'm going home a very happy girl."
During her set that same night, Lipa performed her biggest hits from both her self-titled album and the Grammy-winning Future Nostalgia. She kicked things off with 'Physical,' followed by 'New Rules,' 'Love Again,' 'Hallucinate' and 'Levitating.' She saved one of her biggest hits for last, closing out her setlist with 'Don't Start Now.'
Lipa made sure to take a moment to appreciate being back on stage after the long hiatus. "Vegas, this is amazing," she told the crowd. "This is my first time back on stage since 2020, so it's been a long while. I hope you guys are having a good time."
The 'Cold Heart' singer will be embarking on a North American arena tour next year. The Future Nostalgia tour will see the pop star headline iconic venues like New York City's Madison Square Garden and Los Angeles' The Forum for the first time ever. She will be joined by Megan Thee Stallion, Caroline Polachek, and Lolo Zouaï.
If you missed any of the action this weekend, you can relive the 2021 iHeartRadio Music Festival by tuning in to The CW Network on Saturday, October 2nd and Sunday, October 3rd from 8-10pm ET/PT for a two-night television special.