Canelo Alvarez Reveals Apparent Reason For Presser Brawl With Caleb Plant
By Jason Hall
September 22, 2021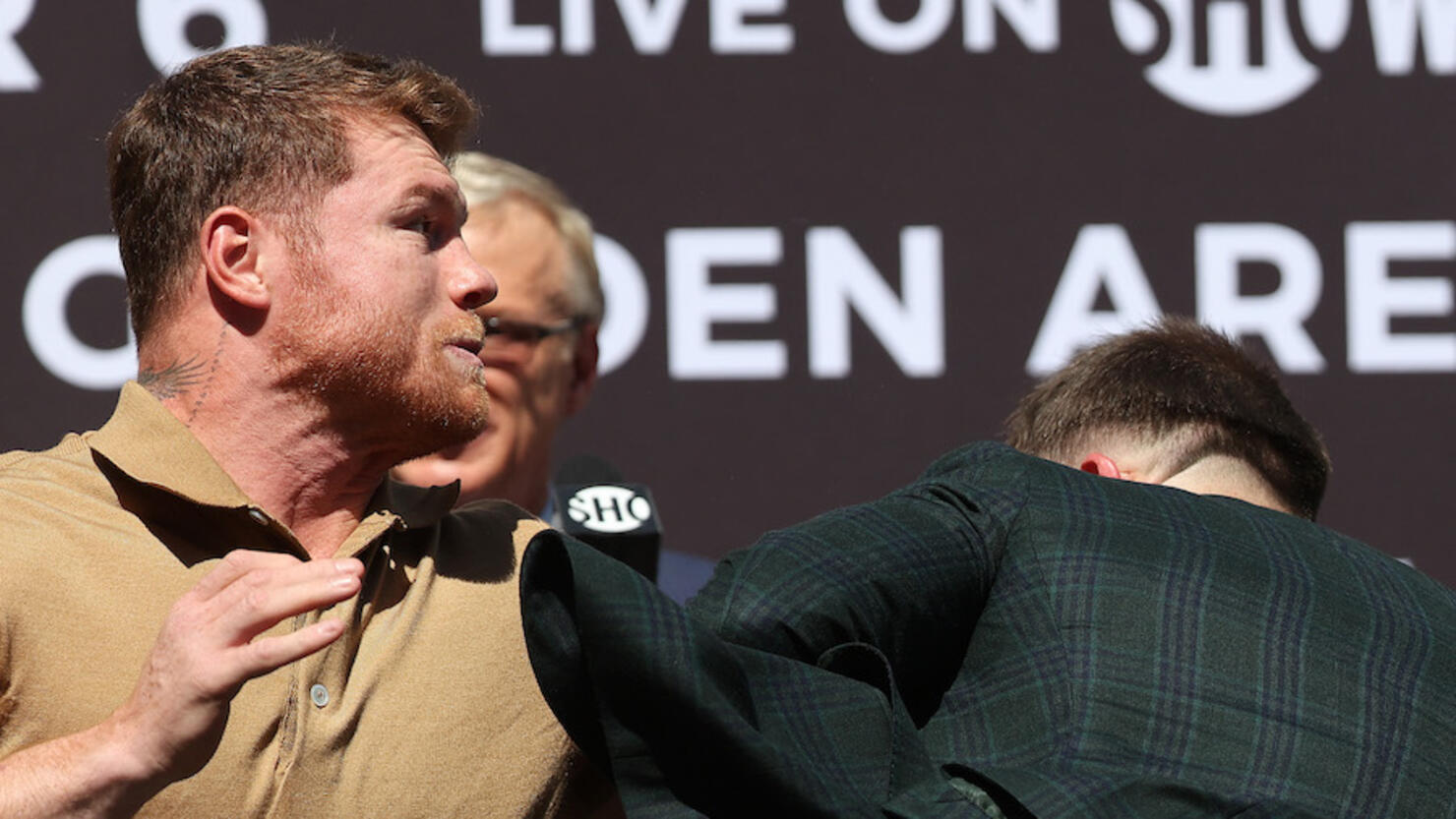 Canelo Alvarez revealed the apparent cause of his pre-press conference brawl with upcoming boxing opponent Caleb Plant, athough it may have come with some confusion.
"Don't talk about my mom," Alvarez tweeted with a video of the incident on Tuesday (September 21).
However, the champion boxer may have actually misunderstood the intent of the insult.
"He [was] talking about my mom, he said 'you motherf*****,'" Alvarez told Showtime after the incident, which was reshared by Barstool Sports' Dan 'Big Cat' Katz via Twitter. "So, you cross the line right there. So that's why I push him and he come back with a left hook."
A physical incident between the two boxers took place during their press conference Tuesday promoting their November 6 super middleweight championship match at MGM Grand in Las Vegas.
The two men had a stare off and appeared to mixed words before Alvarez shoved Plant and Plant retaliated with a left hook, which Alvarez dodged before throwing multiple punches in retaliation, prior to being separated by numerous bystanders.
The incident occurred before either boxer addressed reporters during Tuesday's press conference.
Alvarez (56-1-2, 38 KO) enters the upcoming bout holding the WBA, WBO, WBC and The Ring super middleweight titles after jumping between weight classes during the past few years.
Plant (21-0, 12 KO), a native of Ashland City, Tennessee, has held the IBF 168-pound super middleweight championship since defeating Jose Uzcategui on January 13, 2019.
"Only thing better than proving people right is proving people wrong and I've been doing that my whole life," said Plant, who is currently listed by Fanduel Sportsbookas a (+670) underdog, during Tuesday's press conference.
"'There's only one thing better than proving people right and that's proving people wrong," Plant added. "I don't need anyone to believe in because those people do believable things. I set out to do unbelievable things and I will win on Nov. 6th."