Brian Laundrie's Parents Acted In 'Odd Way' During Search: Report
By Jason Hall
October 23, 2021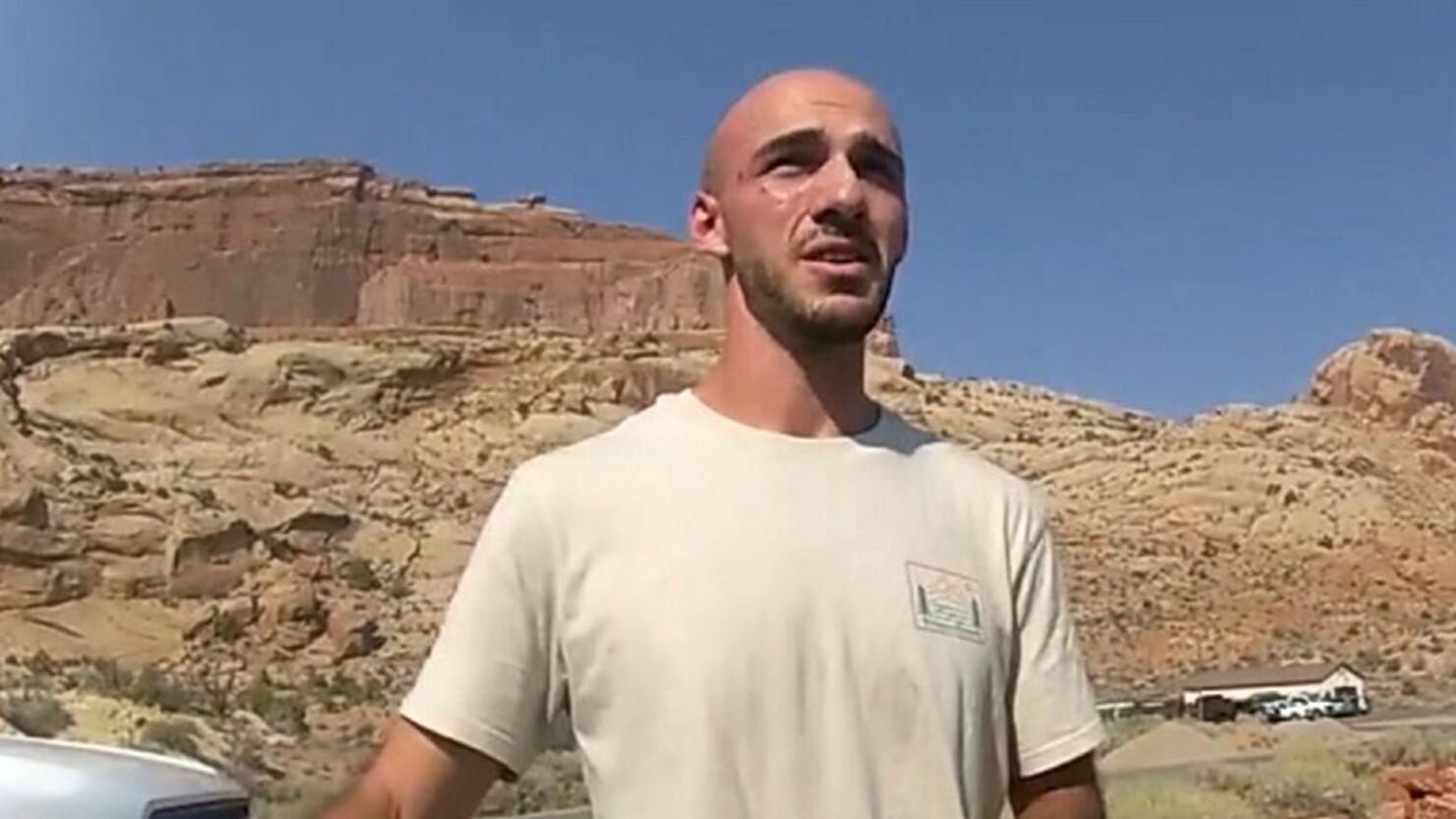 Photo: Moab City Police Department
Former Federal Bureau of Investigation Deputy Director Andrew McCabe believes the parents of Brian Laundrie -- the fiancé of Gabrielle 'Gabby' Petito and the lone person of interest in her death -- acted suspiciously throughout the search for their son prior to his remains being discovered earlier this week.
McCable told CNN that Chris and Roberta Laundrie had "conducted themselves in a very odd way that's generated a lot of suspicion right from the beginning," noting that their recollections of key events have been inconsistent with law enforcement authorities' versions.
On Friday (October 22), former FBI agent Stuart Kaplan told DailyMail exclusively, "There's no doubt that Brian Laundrie's parents are fully engaged with law enforcement," adding, "I do believe that there was some sort of agreement where they accepted immunity in exchange for their full cooperation."
Retired FBI agent Jennifer Coffindaffer told DailyMail that if the Chris and Roberta Laundrie could face obstruction of justice charges if they had any knowledge of their son's actions or whereabouts, but authorities would need concrete evidence to prove such.
"That evidence could include text messages telling him to run or telling him they were going to destroy evidence,' Coffindaffer said. "There's no blood involved in a strangulation but there could be some cells on his clothing. I think the strongest possibility would be an obstruction charge on the cleaning of the Petito van."
Without evidence, however, prosecutors cannot force the Laundries into revealing any possible information their son told them during the 12 days between his return to Florida from his cross-country trip without Petito and his own eventual disappearance.
"They can't be compelled. But you would hope, especially since now that it appears their son is dead, that if they are decent people they will disclose what they know," Coffindaffer said. "The guilt builds and I would not be surprised at all if one of them came forward, eventually, although it could take a long time."
On Thursday (October 21), the FBI confirmed that human remains found in Florida on Wednesday (October 20) are those of Brian Laundrie, the lone person of interest linked to Petito's death.
"The FBI is grateful for the tremendous investigative support from our partners: North Port Police Department, Sarasota Police Department, Jackson Police Department, Charlotte County Sheriffs Office, Lee County Sheriffs Office, Sarasota County Sheriffs Office, Teton County Sheriff's Office, Teton County Search and Rescue, the Florida Wildlife Commission, the National Park Service, and the U.S. Forest Service," FBI Denver announced in a news release shared on its verified Twitter account.
#UPDATE: On October 21, 2021, a comparison of dental records confirmed that the human remains found at the T. Mabry Carlton, Jr. Memorial Reserve and Myakkahatchee Creek Environmental Park are those of Brian Laundrie. @FBITampa pic.twitter.com/ZnzbXiibTM

— FBI Denver (@FBIDenver) October 21, 2021
On Wednesday, Steven Bertolino, the attorney for the Laundrie family, said "the probability is strong" that the human remains discovered on Wednesday were Brian's and confirmed the 23-year-old's parents have been part of the team searching for him during an appearance on CNN.
"It's quite sad, you can imagine as a parent, finding your son's belonging alongside from the remains. That's got to be heartbreaking. And I can tell you that they are heartbroken," Bertolino told Chris Cuomo.
The FBI confirmed the discovery of human remains, as well as items -- including a backpage and notebook -- belonging to Laundrie in the Carlton Reserve campsite in Venice, Florida on Wednesday, where Laundrie's parents had previously claimed their son was last seen hiking in after he returned to Florida from a cross country trip without Petito.
On October 12, Teton County Coroner Dr. Brent Blue -- who performed an autopsy on Petito -- announced her death was ruled as a death by strangulation and the manner of death to be a homicide during a press conference on Tuesday (October 12).
Dr. Blue said Petito's death is believed to have occurred 3-4 weeks prior to her remains being found on September 19 and confirmed to match her days later.
Dr. Blue confirmed the ruling was made while working alongside local and federal authorities. No other information will be released in adherence with state law.
Laundrie has been the center of a publicized search by the Federal Bureau of Investigation and local authorities at the Carlton Reserve for the past month.
Dr. Blue said local law enforcement would decide who would be charged in connection to Petito's homicide case.
On October 7, Chris Laundrie joined authorities in their search of Carlton Reserve for his son, according to family attorney Steven Bertolino.
Remnants of a campsite that appeared to have been recently used were reportedly the focus of the search, a source close to the Laundrie family told CNN's Chris Cuomo last Wednesday (October 6).
On September 30, police released additional bodycam footage which shows Petito telling an officer that an argument with Laundrie got physical.
The newer footage stems from the incident on August 12 in Moab, Utah in which police made contact with Petito and Laundrie after a bystander called the Moab Police Department and reported seeing a man hitting a woman.
Officers pulled over the van Laundrie and Petito were traveling in on their cross-country trip and Petito told officers that she intially slapped Laundrie before he retaliated.
"I guess, but I hit him first," Petito said when asked by an officer if Laundrie hit her in the face.
"Where did he hit you? Don't worry. Just be honest," the officer asked.
"Well, he grabbed my face," Petito said.
"Did he slap your face? Or what?" the officer responded.
"Well like, yeah he grabbed me with his nail, and I guess that's why I definitely have a cut right here because I can feel it when I touch it, it burns," she said, while holding her jaw and crying.
The video then shows Laundrie recanting his side of the incident.
"She gets really worked up, and when she does she swings, and she had her cellphone in her hand, so I was just trying to push her away," Laundrie said.
The new video adds to previously released bodycam footage showing the couple addressing the incident with police, which an officer described as a mental health crisis, not a domestic assault, according to a police report.
The city of Moab announced on September 28 an independent investigation will be conducted on officers' handling of the situation involving Petito and Laundrie.
Last month, an arrest warrant was issued for Laundrie after a grand jury indicited him for his "use of unauthorized devices" during the events following the death of Petito.
The indictment obtained by CNN accuses Laundrie of using a debit card and PIN number for accounts that didn't belong to him between August 30 to September 1 in order to make purchases totaling more than $1,000.
A source close to Laundrie's family told CNN the 23-year-old left his own wallet and cell phone behind when he was last seen leaving his parents' Florida home 10 days ago after he initially returned to the area from a cross-country road trip without Petito, who was reported missing on September 11.
The source added that Laundrie's parents were concerned he might harm himself at the time he left their home.
An attorney for Laundrie's family emphasized that the arrest warrant isn't related specifically to Petito's death, rather incidents committed by Laundrie afterward.
"It is my understanding that the arrest warrant for Brian Laundrie is related to activities occurring after the death of Gabby Petito and not related to her actual demise," Steve Bertolino said in a statement. "The FBI is focusing on locating Brian and when that occurs the specifics of the charges covered under the indictment will be addressed in the proper forum."
"While this warrant allows law enforcement to arrest Mr. Laundrie, the FBI and our partners across the country continue to investigate the facts and circumstances of Ms. Petito's homicide," added FBI Special Agent in Charge Michael Schneider. "We urge individuals with knowledge of Mr. Laundrie's role in this matter or his current whereabouts to contact the FBI."