Frank Iero Shares The Hilarious 40th Birthday Present His Dad Gave Him
By Katrina Nattress
November 2, 2021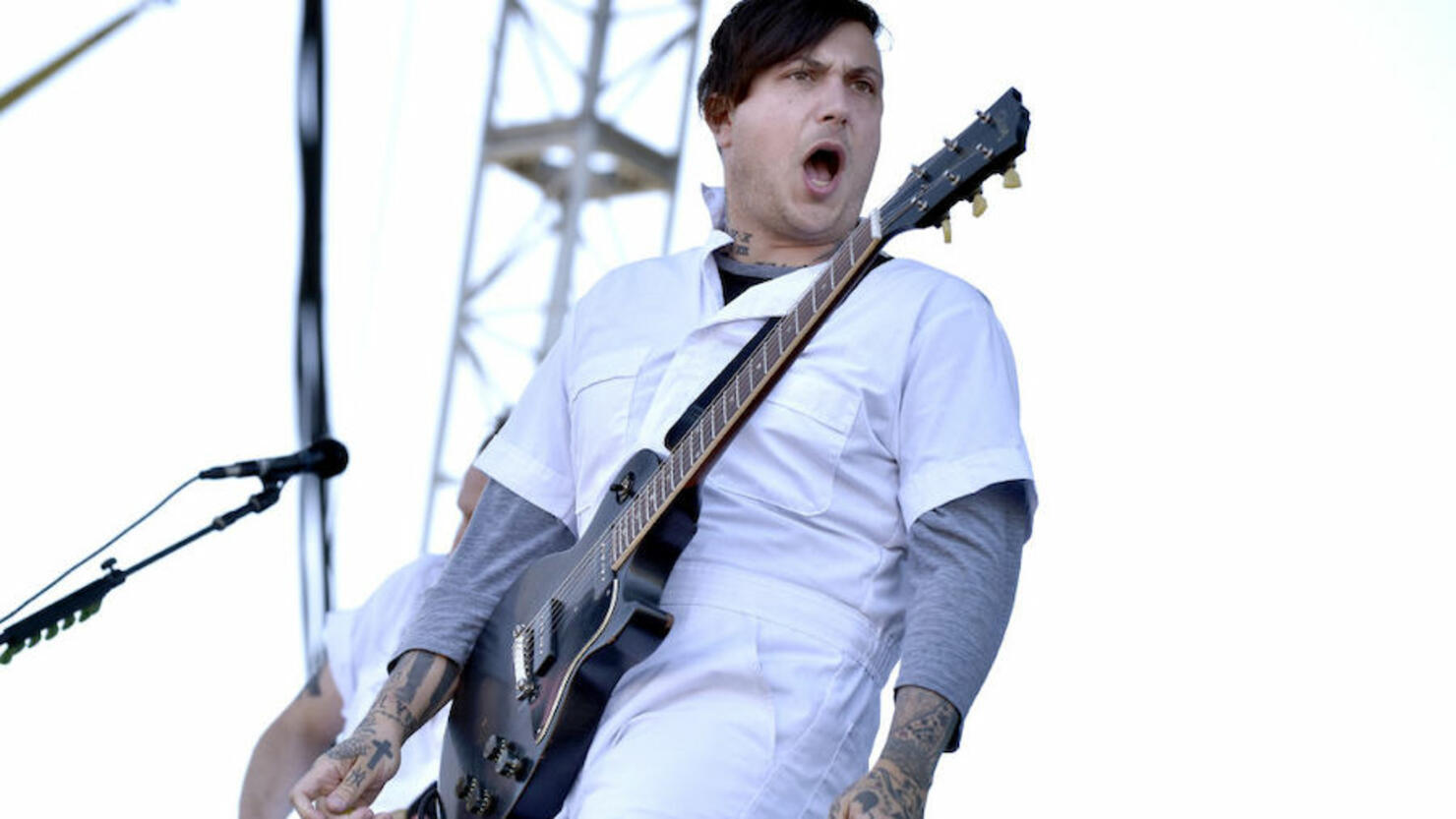 Photo: Getty Images North America
It's fitting that Frank Iero's birthday is on Halloween. What's not so on-brand for the My Chemical Romance guitarist is the gift his dad gave him to celebrate the big 4-0 this year.
He took to Instagram to share the hilarious present: a sweatshirt and matching baseball hat that say "Genuine Antique Iero. Been There, Done That, Can't Remember."
"yes, i turned 40 years old on sunday," he captioned the photo. "yes, based on some of the gifts i received this year i believe my dad has started shopping through either catalogs or facebook ads."
See the funny post below.
My Chemical Romance plan to finally embark on their long-awaited reunion tour next year. Check out a full list of dates below.
My Chemical Romance Tour Dates
03/12/2022 – Western Springs, NZ @ The Outerfields at Western Springs
05/17/2022 – St. Austell, UK @ Eden Sessions
05/19/2022 – Milton Keynes, UK @Stadium MK
05/21/2022 – Milton Keynes, UK @ Stadium MK
05/22/2022 – Milton Keynes, UK @ Stadium MK
05/24/2022 – Dublin, IE @ Royal Hospital Kilmainham
06/04/2022 – Bologna, IT @ Sonic Park Fest
06/21/2022 – Bonn, DE @ KUNST!RASEN
06/22/2022 – Bonn, DE @ KUNST!RASEN
08/29/2022 – Philadelphia, PA @ Wells Fargo Center
09/05/2022 – Toronto, ON @ Scotiabank Arena
09/07/2022 – Boston, MA @ TD Garden
09/13/2022 – Detroit, MI @ Little Caesars Arena
09/15/2022 – St Paul, MN @ Xcel Energy Center
09/20/2022 – Newark, NJ @ Prudential Center
09/21/2022 – Newark, NJ @ Prudential Center
09/24/2022 – Sunrise, FL @ BB&T Center
09/27/2022 – Houston, TX @ Toyota Center
09/28/2022 – Dallas, TX @ American Airlines Center
09/30/2022 – Denver, CO @ Ball Arena
10/03/2022 – Tacoma, WA @ Tacoma Dome
10/05/2022 – Oakland, CA @ Oakland Arena
10/07/2022 – Las Vegas, NV @ T-Mobile Arena
10/11/2022 – Los Angeles, CA @ The Forum
10/12/2022 – Los Angeles, CA @ The Forum
10/14/2022 – Los Angeles, CA @ The Forum
10/15/2022 – Los Angeles, CA @ The Forum