How Celebrities Are Bringing Back '70s Fashion
By Ariel King
November 4, 2021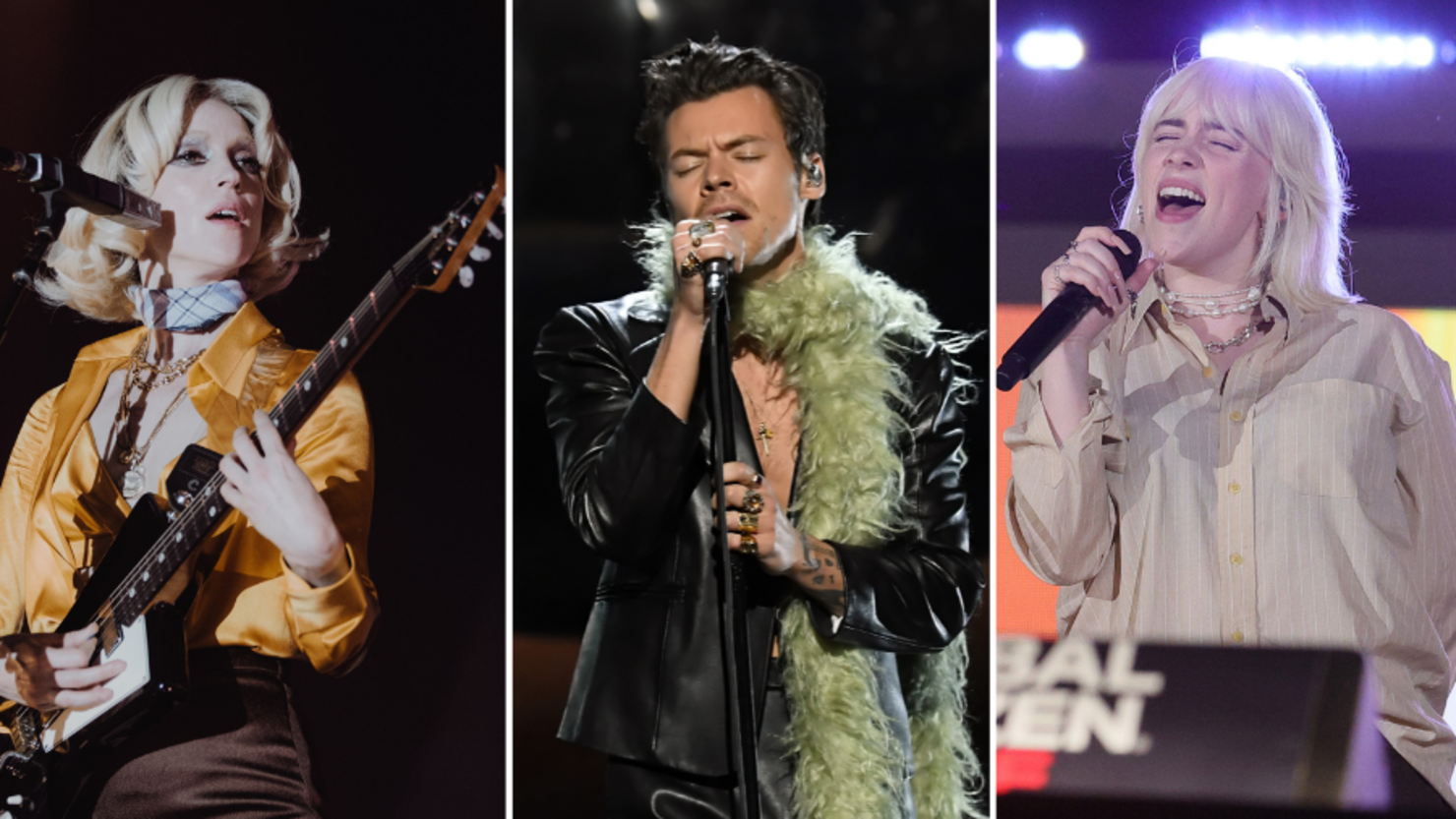 The 1970s saw glitzy disco aesthetics and an abundance of polyester button-downs and rock-riddled flair jeans. As many know well, fashion trends tend to cycle, and updated versions of past favorite styles can make their way onto runways and city streets. As a disco revival begins to bubble within the music industry, it's only fitting that the fashion would be showing up on stage as well. We've taken a look at a few artists who are not only including '70s influences in their music, but also in their fashion choices.
1. Harry Styles' entire wardrobe
Harry Styles dons fluffy feather boas, sparkling button-downs that reveal his whole chest, and a regular abundance of sequins, and an aim to bend gender norms. While he's had this look for several years, the '70s-styled influence has remained prevalent as he's embarked on his Love On Tour. Decked out with rings on every finger and eye-catching suspenders, Styles looks as though he might have just strut right out of Studio 54.
2. Miley Cyrus is teasing her own disco era
After proving her chops as a modern-day rockstar, Miley Cyrus is getting ready for her Plastic Hearts follow-up, and the superstar is teasing that she may be making her own dive into disco. With her mullet growing out into a shag (yet another '70s classic), Cyrus has long been at the forefront of '70s fashion. Her 2019 Glastonbury performance helped to usher in the trend on the rock end of things, with her performance of Led Zeppelin's "Black Dog" paying homage to the ultimate '70s icons. While her Plastic Hearts era saw slightly more of an '80s dazzle, Cyrus seems to be leaning into the '70s more as she gets ready to roll out her next project.
3. Billie Eilish traded out her signature black-and-green locks for a blonde shag
Billie Eilish joined in on the '70s trend when she traded in her iconic black-and-green hair for a shag of her own. Dying her hair to a bubbly blonde and trading out her darker, grunge-toned coloring for muted tones that match the '70s landscape, Eilish's change brought back the '70s in a big way. While it had already been a TikTok trend to cut a shag at home prior to Eilish's switch, her change in hairstyle managed to inspire the look to return in full force, and only increased its popularity.
4. Dua Lipa has become the modern-day Disco Queen
Dua Lipa's sophomore album, Future Nostalgia, was filled to the brim with disco-themed hits. And while the singer has dabbled in fashion from every decade, you can't release a disco album without a disco wardrobe. Dua Lipa stands as another artist who looks as though they would be spending all night dancing in Studio 54, with her to-die-for sequined looks making everyone itch to rip the shirt straight off her back.
5 . Camila Cabello got her own shag cut
The shag cut is becoming the most popular hairstyle of the early 2020s, with Camila Cabello joining in on the trend, too. With sweeping bangs that frame her face, the look trades out Cabello's signature long locks that she's stuck with for years. Like many others who have opted to chop their hair in exchange for a trendy shag cut, the look frames Cabello's face well.
6. St. Vincent regularly stuns with her '70s-inspired looks
St. Vincent regularly stuns with her '70s-era look, and her entire Instagram feed is dedicated to her consistent fashion statements. With her boots, blazers, and large furry coats, St. Vincent just might be easing her way into becoming the Queen of '70s fashion with her regular style. She even strapped on a pair of go-go boots for a few performances. St. Vincent's look melds '60s mod fashion with '70s disco style, creating a unique and eye-catching blend.
7. Florence + The Machine
Florence + The Machine looks as though she may have just time traveled from the 1970s. With hair cascading down her back and flowing red bangs, the singer regularly dons '70s fashion. In fact, some of her posts look as though they could have been taken back at the height of the rock 'n' roll era, with her steely stares and floral backgrounds made to look as though they were shot for an album cover in 1970.
8 . Halsey goes full-vintage for About Face Beauty
Halsey is teasing some '70s fashion of her own as she sweeps back her hair and shows off a glittery new look. Her photos highlight yet another disco look, with her sparkling sequins showing off all of her glitz and glam. Halsey's new photos look as though she may have just stepped off of the set of Dallas, and show off a stunning '70s charm.