Jason Aldean Gets 'A Big Thrill' Singing With Carrie Underwood
By Lauryn Snapp
November 15, 2021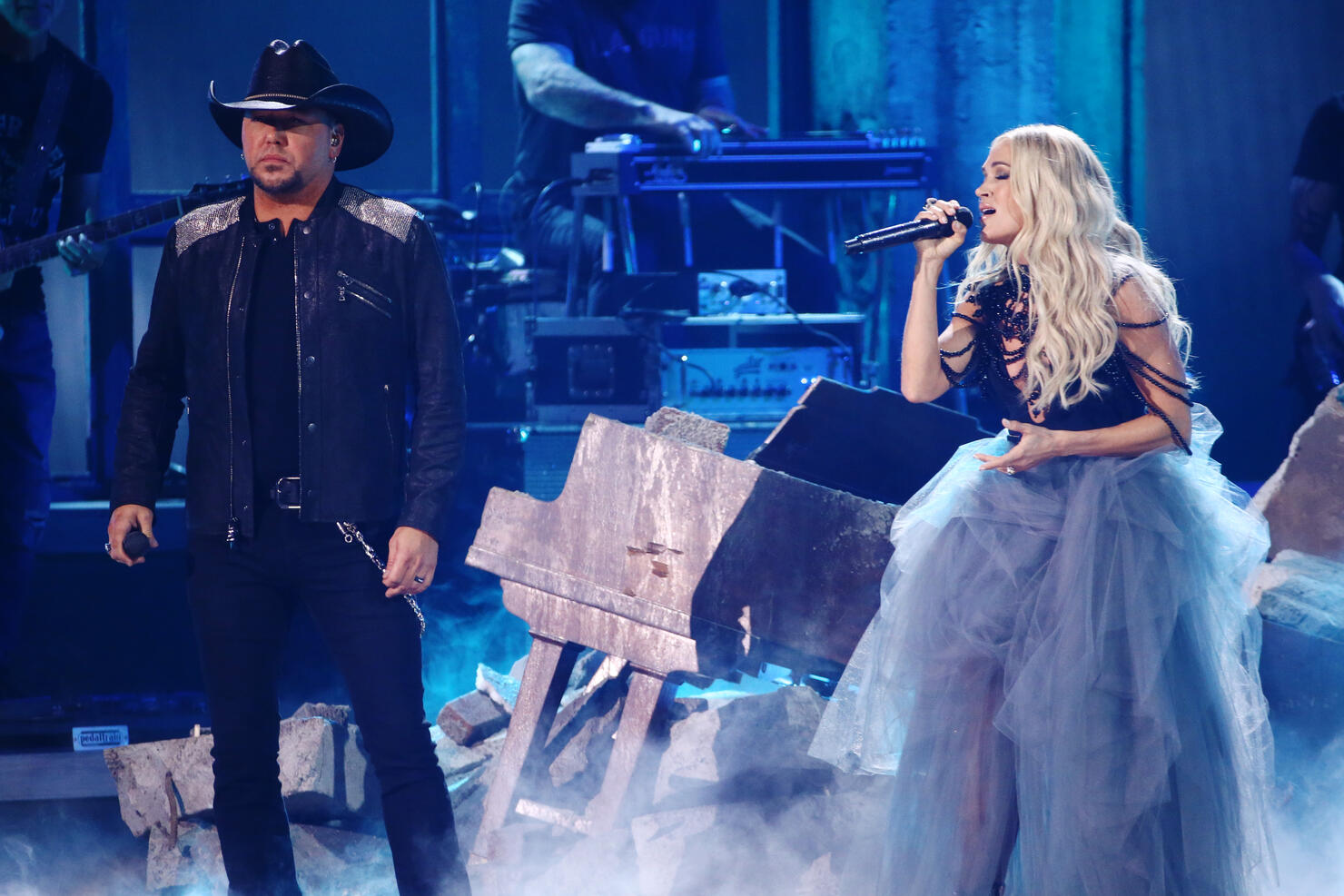 Jason Aldean and Carrie Underwood sound flawless together and recently wowed fans during the 2021 CMA Awards performing their duet, "If I Didn't Love You," for the first time.
In a recent interview with Cody Alan, Jason revealed what it was like to work with Carrie, calling the entire experience "a big thrill."
"Well, the way that song came about. It kind of happened quick," says the "Burnin' It Down" singer.
"We reached out to Carrie to try and get her on board, and the first thing she wanted to hear was my vocal on the song," reveals Jason. "So, I went in quick and threw a vocal on it."
Jason had name checked Carrie previously as a dream duet partner and had been waiting for the right song. "If I Didn't Love You" was it and Jason struck while the iron was hot, quickly sending Carrie the track. Carrie agreed and was in the studio only a few days later.
"I was in the studio when we cut her vocal a few days later. She wasn't in there when I recorded," says Jason. "I don't feel like that really happens anymore - when you can get two people, [recording] at the same time."
Still, the experience had magic.
"I really wanted to be there when she was recording and doing her part," says the "You Make It Easy" singer. "As soon as she started singing, it was obvious that we felt like we had something special."
"To get it out there and get the reaction it got, it was great," says Jason as he reflects on the fan's reaction. "It was fun to watch and obviously a big thrill for me to get to perform with her."
Click the link below and get a first-hand listen to Jason teaming up with Carrie at the CMA Awards on November 10th. "If I Didn't Love You" is found on Jason's current album, 'Macon,' available now.
Do you enjoy country stories like these? Bookmark www.CMTCody.com and check back daily for exclusive interviews, trending topics, and the latest from country's hottest stars. Connect with Cody Alan on socials by following along on Twitter and Instagram @CodyAlan.
Photo Credit: Getty Images.