Thomas Rhett's Most Charming Parenting Moments
By Megan Stinson
November 18, 2021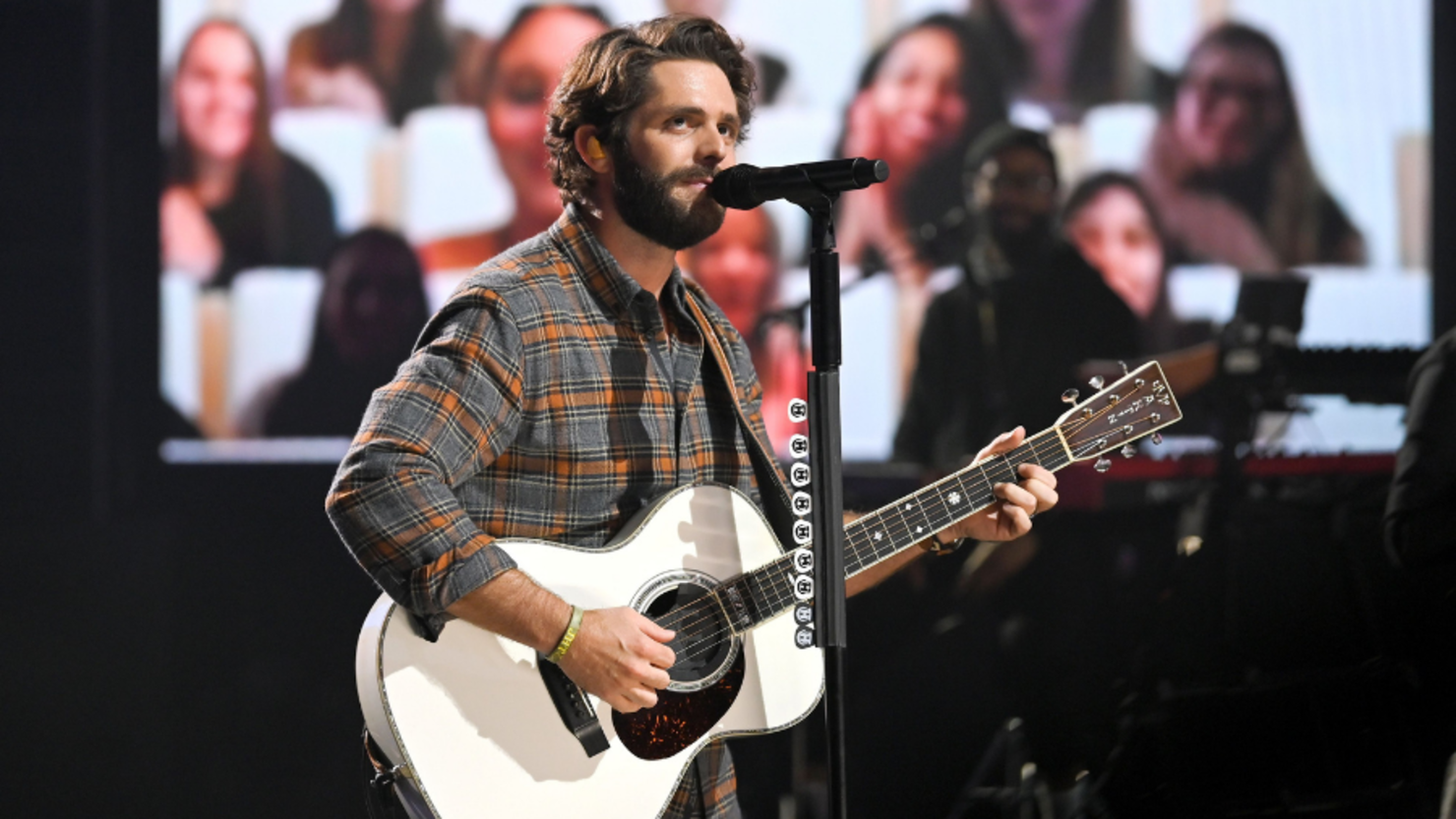 After announcing the birth of his fourth daughter, Lillie Carolina Akins, on November 17, iHeartRadio is taking a look back on some of Thomas Rhett's most charming parenting moments over the past few years. Rhett shares four girls with his wife, Lauren Akins, Willa Gray (6), Ada James (4), Lennon Love (1), and now Lillie Carolina (3 days). After having so many daughters, Rhett has shown that not only is he a country superstar, but he's a superstar dad!
1. Thomas Rhett comes up with his Parenting album tracklist
With so many daughters that he has to wrangle, Thomas Rhett came up with a tracklist for his "new album" called Parenting. His tracklist was filled with hits that poked fun at some of the most relatable aspects of being a dad, such as having to make sure his daughters weren't using bad words, knew that they needed to close the toilet seat, and more!
2 . Thomas Rhett sometimes dislikes his daughters' favorite toys
Rhett's second youngest, Lennon Love, often likes to throw all of her blocks onto the floor, making a mess of things. While Rhett can admit that the game gives her a lot of joy, as the one who winds up having to clean everything up, he'd rather she had some other game that she preferred playing.
3. He got his whole family to bring Star Wars to life for Halloween
Rhett and his entire family looked absolutely stunning as they took on the entire Star Wars cast as their Halloween costume. The family's fits welcomed Darth Vader, San Holo, Luke Skywalker, R2D2, Obi Wan, Leah, Chewbacca, and C3-PO. The family was sure to get lots of candy, and seemed as though they enjoyed their night.
4. He taught his daughters "no fear"
When Rhett's oldest, Willa Gray, had to draw something she had learned from a friend, she said she learned "no fear" from her dad. The country singer took to Instagram to show the photo she drew of her and her parents, and revealed that he was "borderline crying." With a dad who travels across the country and takes to the stage in front of hundreds of people almost every night, Willa Gray is sure to have learned quite a lot about not letting fear hold her back.
5. He helped Willa Gray write her first song
Willa Gray is also hoping to follow in her dad's footsteps, and Rhett helped the little one write her first song. Aptly titled "Willa Gray's First Song," the tune saw the little one talking about wanting to stay up all night and have sleepovers with her friends. She may have seen a little shy on camera, but with her dad in her corner, she's sure to become country music's next big star!
6. He'll perform for his daughters – even when they ignore him
Rhett's daughters are pretty unfazed about having a famous country singer in their midst. While he may give them special performances in their kitchen, it appears as though Willa Gray and Ava James have no care. The two will look on at their iPads and nibble at their food, completely ignoring their dad. Perhaps this is the first glimpse into their teenage years as Rhett tries to get their attention by singing them a song.
7. He released the sweet song "Things Dad's Do" for Father's Day
Rhett's song "Things Dad's Do" finds the country singer going through the number of chores children need to do in order to help around the house. The song found him reflecting more on his relationship with his own father, but with four daughters, Rhett needed a strong influence for how to be a good dad. "You'll get embarrassed when he ruins your cool/When he pulls out his camera on your first day of school/And that's just a few things dads do," Rhett sang. With his oldest, Willa Gray, recently turning six, Rhett has likely been sure to have at least experienced that particular lyric on the little one's first day of school.
8. He's made sure his fans know every dime he makes goes towards his daughters and their future weddings
When Rhett announced he and Akins were expecting their fourth, Lillie Carolina, the country singer made sure fans were aware that every dime they spent on merch and his live shows would eventually go towards his daughter's future weddings. With four girls, he's sure to have a lot on his plate, but he seems to love being a dad more than anything else.
9. He'll show off his Dad poses on Instagram
Rhett almost always has a little girl hanging in his arms. As he posted a photo that saw him looking out over a beach with his binoculars, the country singer held his third little girl, Lennon Love. With his guitar and girls, Rhett's guaranteed to always have his hands full, both in the ---- sense and the literally.
10 . He always makes sure they get to enjoy some pizza and sweets
Probably everyone's favorite thing as a little kid was getting their hands on some pizza and sugary sweets. Rhett appears to find joy in caving in to give his girls whatever they want, and he'll always make sure that they can get some sugar after they've had a bite to eat. And sometimes they'll get lucky, and that bite will come from a tasty pizza!