Will 'Scrubs' Cast Be Seen On 'Ted Lasso'? Bill Lawrence Weighs In
By Diana Brown
December 14, 2021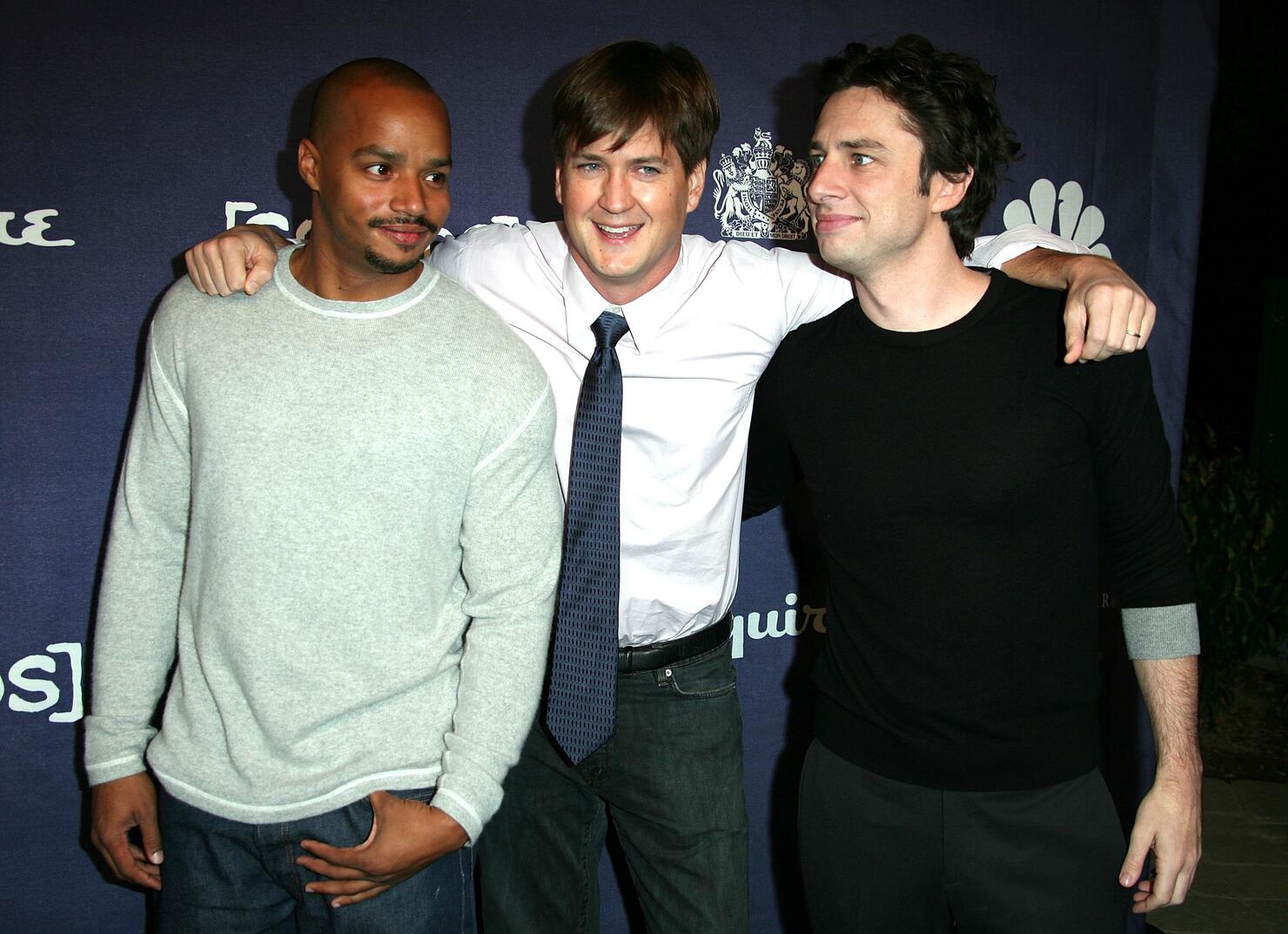 Zach Braff and Donald Faison are rewatching their hit sitcom Scrubs on their podcast Fake Doctors, Real Friends and sometimes they stumble on a question about the writing, plot choices, filming details, or something else that makes them want to reach out to creator Bill Lawrence for help. So they do, and he replies with a pre-recorded answer that usually contains some loving insults for the boys or claims that the podcast is actually his creation. In this episode, it's Zach and Donald's call-in guests Will and Derek who get to ask Bill, and they get a better answer than they bargained for.
Will and Derek are such huge fans of Scrubs and the Fake Doctors podcast that they actually started their own podcast, The Rewatch Podcast Rewatch Podcast, where they listen to episodes of Fake Doctors and review them. They began the show mainly to capture producer Joelle Monique's attention so they would hopefully be allowed to call into the show one day – "So we sort of feel like the dog that caught the car," Will laughs. They make Zach and Donald crack up with the details of their show, which includes an ongoing count of how many times Donald says, "You know what I'm saying?" They even had one of Zach and Donald's call-in guests as a guest on their show to talk about her experience. 
One of the things they've discussed on their show is that all of Bill Lawrence's shows – Scrubs, Spin City, Cougartown, Ted Lasso – are part of a shared universe, similar to the Marvel Cinematic Universe. They point to several examples, including how Sam Lloyd plays Ted in both Scrubs and Cougartown, or a pizza delivery guy they believe to be a "variant" of J.D. Is Bill Lawrence a benevolent god of his extended universe? Zach and Donald aren't sure, so they decide to send it up the ladder to Bill himself. Bill replies that his TV universe was "confusing" because the show Scrubs exists in some of his other shows, and Cougartown also featured an App App voiced by Zach. However, "I do like to believe there is a system," and he's working on something now that "may revolve around seeing the Scrubs cast on Ted Lasso. That would solidify the multiverse." Could it be true? Hear it from Bill himself, plus much more Scrubs goodness on this episode of Fake Doctors, Real Friends. 
If you want to be sure you're listening to the podcasts everyone else is checking out, iHeartRadio has you covered. Every Monday, iHeartRadio releases a chart showing the most popular podcasts of the week. Stay up to date on what's trending by checking out the chart here. There's even a chart just for radio podcasts here, featuring all your favorite iHeartRadio personalities like Bobby Bones, Elvis Duran, Steve Harvey and dozens of others.