WATCH: Stefon Diggs Caught Cursing At Patriots Fans During Bills' Win
By Jason Hall
December 28, 2021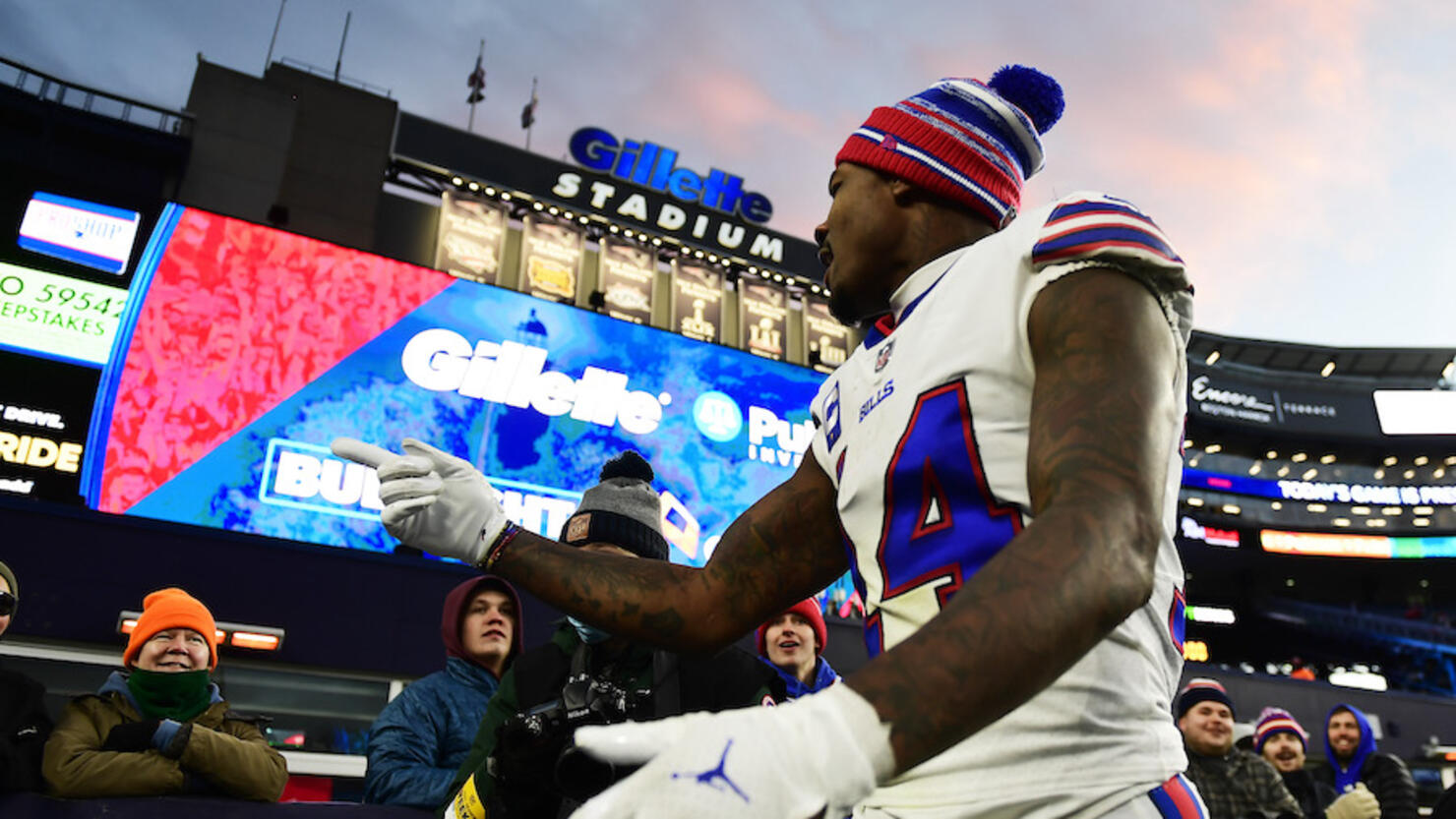 Buffalo Bills wide receiver Stefon Diggs was caught on camera cursing at New England Patriots fans after the Bills' 33-21 win at Gillette Stadium on Sunday (December 26).
Quarterback Josh Allen connected with the Pro Bowl wide receiver on a 12-yard touchdown pass with 1:45 remaining in the second quarter, which extended Buffalo's lead to 17-7.
During his celebration, Diggs walked over to the stands behind the end zone and pointed at several fans while saying, "you, you, you, you and you, shut the f*** up" clearly on a hot mic during CBS' live broadcast, which was shown in a video shared by Patriots fan Ben Brown on Twitter.
Diggs finished Sunday's game with seven receptions for 85 yards and the second quarter score, which was Allen's second of three passing touchdowns.
The Bills added to their halftime lead by outscoring the Patriots 16-14 in the second half, which was capped off by a 2-yard touchdown reception by Dawson Knox with 2:30 remaining in the fourth quarter.
Sunday's win puts the Buffalo back in first-place in the AFC East Division standings with a 9-6 record, which ties the Patriots, though the Bills' 4-1 record against division opponents serves as a tiebreaker.
Buffalo and New England split their two head-to-head regular season matchups with each team earning a road victory in 2021.
The Patriots defeated the Bills, 14-10, during their Monday Night Football matchup on December 6.
Buffalo currently ranks fourth in the AFC with remaining home games against the Atlanta Falcons (7-8) and the New York Jets (4-11).
New England currently ranks sixth in the conference with its final home game against the Jacksonville Jaguars (2-13) on January 2 and on the road agains the Miami Dolphins (8-7) on January 9.