Steve Vai Elaborates On 'Pizza Incident' That Caused His Tour Postponement
By Andrew Magnotta @AndrewMagnotta
February 10, 2022
Steve Vai will reemerge later this year on his 'Inviolate' tour with a surgically repaired left hand and a twice surgically-repaired right shoulder.
The guitar innovator recently postponed his first tour in two years to allow him more time to recover from the second and hopefully final shoulder procedure.
As Vai has previously explained, his shoulder has taken a beating from years of intense guitar playing. During the initial pandemic shutdowns, his doctor repaired torn ligaments in the joint.
(Vai's recovery from the first surgery led to his stunning one-handed guitar piece, "Knappsack.")
Unfortunately, the damage to his shoulder was more severe than previously understood. As Vai tells The Mitch Lafon and Jeremy White Show, he needed a second surgery after aggravating his shoulder issue while cook for a couple of longtime mates from David Lee Roth's solo band.
"[The first surgery] healed, you know, in two or three weeks," Vai explained. "After a surgery like that I could play the guitar, but it takes a year to really heal. So you know, six months into it I'm thinking I'm doing great and you forget that you gotta be careful. I was not pulling a pizza out [of the oven] but putting it in and you know you get those big spatulas ... and I put the flour on the spatula, but it was really sticky dough."
Vai added that his guests/witnesses on that particular day were bassist Billy Sheehan and drummer Gregg Bissonette. As he jostled his pizza peel trying to free the sticky dough, he reinjured his shoulder.
The familiar pain in his shoulder didn't dissipate with time, and Vai admits that playing his new Hydra instrument monstrosity didn't help matters. Thinking more deeply about the world tour he was planning to embark on this year, Vai returned to the doctor looking for good news. But he didn't get it.
"It wasn't so bad that I couldn't consider doing the tour, but as I was starting to prepare, the Hydra aggravates it. It just got worse and worse to the point where the doctor said it's not going to get better. 'You're going to go out to do 250 shows and you're going to be in trouble; get it fixed.'
"So it was kicked off by the pizza incident. And that pizza sucked; it was terrible. Didn't taste very good at all. [Laughs] I got robbed, I tell ya."
Watch the full conversation via the player above or listen to it here on iHeartRadio.
Vai's tour is now set to begin in September after he's had time to fully rehab. Get all the dates here.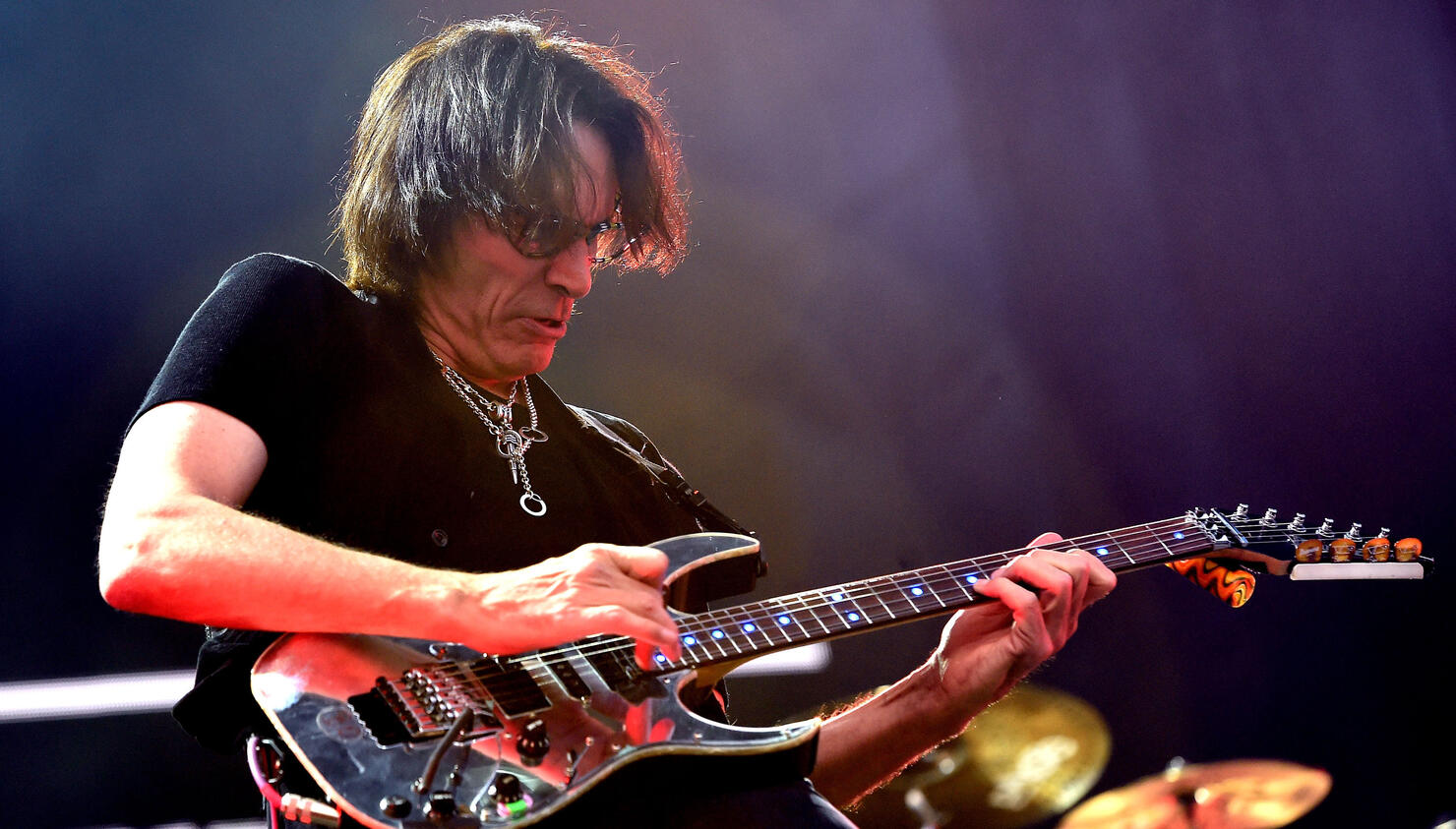 Photo: Getty Images North America