Mickey Guyton Performs Stunning Rendition Of National Anthem At Super Bowl
By Emily Lee
February 13, 2022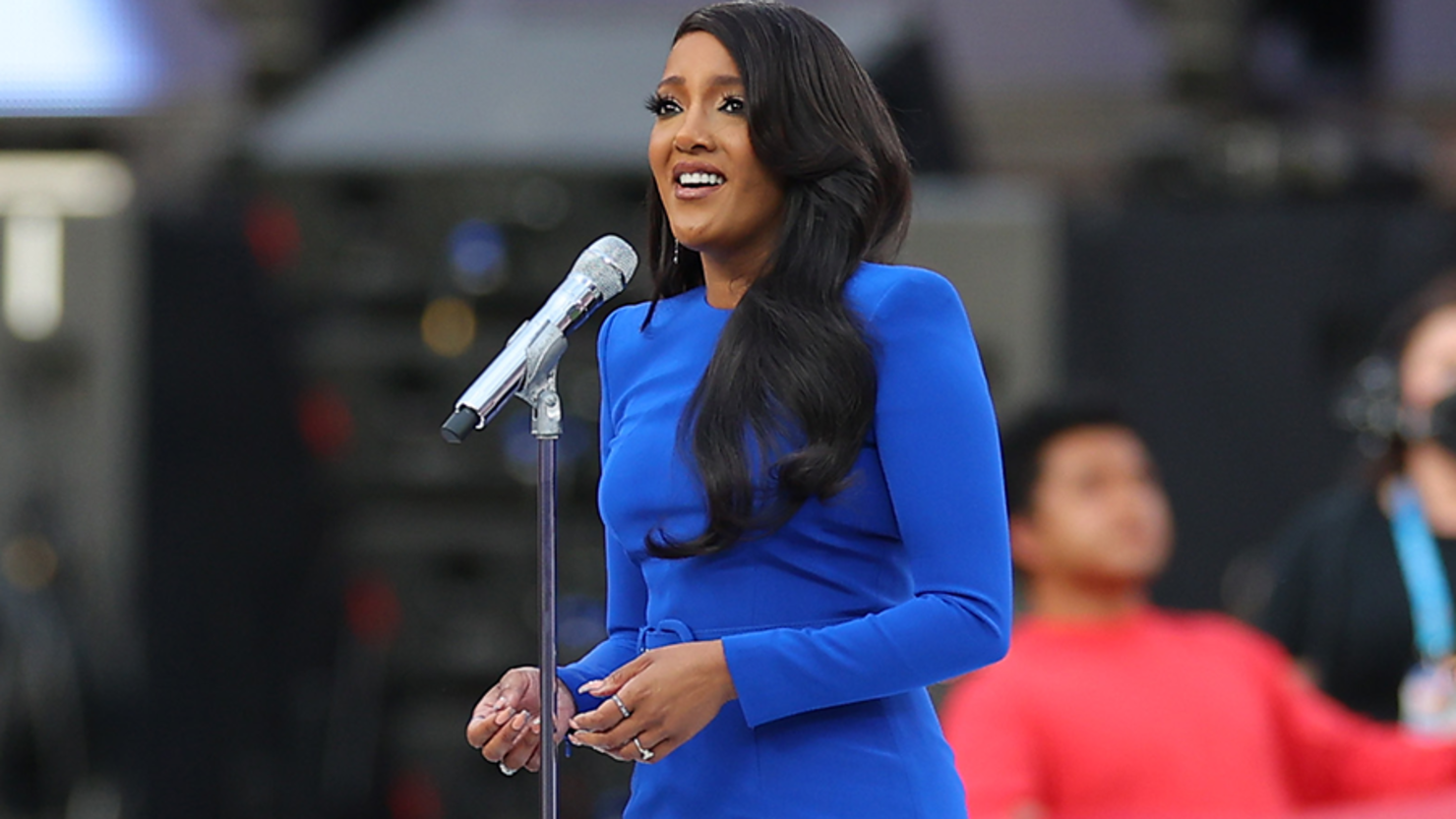 What a way to start the big game!
On Sunday (February 13), Mickey Guyton performed the National Anthem at Super Bowl LVI. The big game, which saw the Los Angeles Rams and Cincinnati Bengals face-off, was held at SoFi Stadium in Los Angeles.
In a stunning blue gown, Guyton belted out the patriotic lyrics in front of the players, the fans, and the millions tuning in at home and around the world. She was joined by a chorus, dressed all in white, for the rousing rendition of the anthem. The U.S. Air Force Heritage Team flew over SoFi stadium as Guyton belted out the final notes.
Last week, Guyton shared the moment she heard the happy news that she'd be performing the National Anthem. She learned of the decision while on a call with producer Jesse Collins. During the video, Guyton lets out a scream of excitement. "Woke up this morning still in disbelief that I'm singing the National Anthem at the Super Bowl!!!" she captioned the sweet video. "This is how I found out. Thank you [Jesse Collins] for making this black girl from Texas dreams come true."
Guyton is one of a lucky few country artists who have gotten the chance to sing the National Anthem at the Super Bowl. She joins the ranks of the follow artists:
1974: Charley Pride
1993: Garth Brooks
2000: Faith Hill
2003: The Chicks (formerly the Dixie Chicks)
2010: Carrie Underwood
2017: Luke Bryan
2021: Eric Church with Jazmine Sullivan
During a recent appearance on The Late Show With Stephen Colbert, Faith Hill shared her excitement over Guyton's performance: "Amazing artist. I have not met her, but I am such a huge fan and supporter, and she is going to slay it. She's gonna slay it."
She definitely did slay!