Twitter Reacts To Dwayne 'The Rock' Johnson's Super Bowl LVI Intro
By Jason Hall
February 13, 2022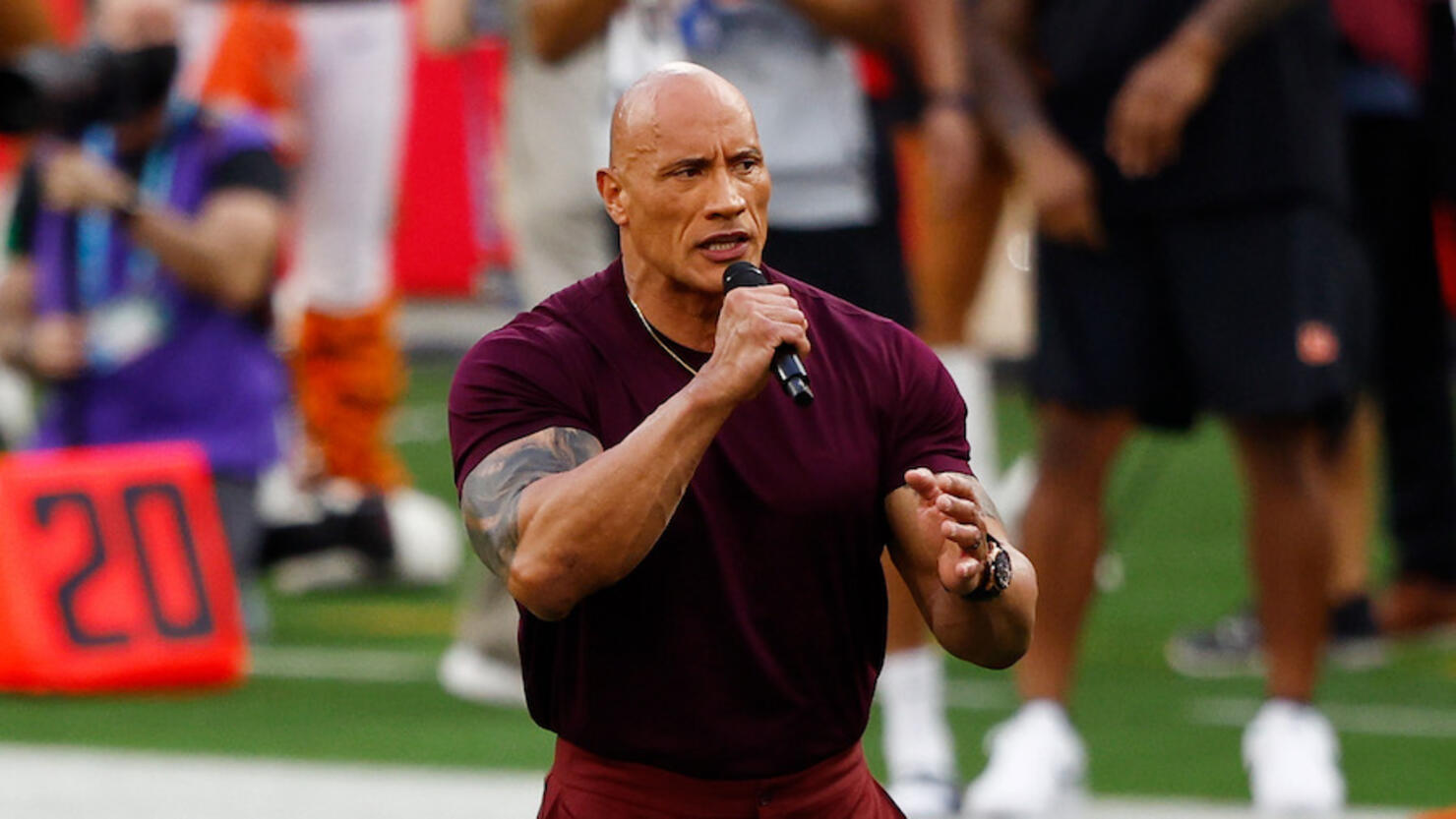 Numerous A-list celebrities attended Super Bowl LVI in Los Angeles, but the reigning king of the box office stole the show before kickoff.
Dwayne 'The Rock' Johnson provided a pregame on-field promo synonymous with his legendary professional wrestling career at SoFi Stadium on Super Bowl Sunday (February 13).
Johnson was also featured in a pregame opening tease honoring "unprecedented day in sports media history" in which NBC Sports would air both Super Bowl LVI and the 2022 Winter Olympics on the same day.
"Today, we celebrate something that's never happened in 4.5 billion years on planet earth: Super Gold Sunday," Johnson said in the opening tease. "The Super Bowl and the Olympic Games. The biggest game of the year and the greatest spectacle in sports."
Johnson's historic on-field appearance was trending on Twitter in the minutes leading up to and after the kickoff of Super Bowl LVI as millions (and millions) of fans watched the game.
If the rock would've said "CAN YOU SMEEEEEEEELLLLL WHAT THE ROCK IS COOKIN" i woulda went crazy 🤣🤣

— Budda Baker (@buddabaker32) February 13, 2022
The Rock is dressed like a 1983 Cadillac

— Bunkie Perkins (@BunkiePerkins) February 13, 2022
Disappointed the Rock didn't suggest the whole crowd celebrate by taking a sip of delicious Teremana tequila

— BUM CHILLUPS AKA SPENCER HALL (@edsbs) February 13, 2022
Oh! That's why @TheRock is late to my super bowl party. I was like where is Dwayne???

— Ben Schwartz (@rejectedjokes) February 13, 2022
if Mankind would have interrupted The Rock's opening kickoff segment everyone who was alive to witness the 1999 Empty Stadium halftime show would have gone absolutely mad and by everyone i mean me.

— Rob Perez (@WorldWideWob) February 13, 2022
Super Bowl LVI is currently underway at SoFi Stadium.
The Los Angeles Rams are the second NFL team to appear in a Super Bowl held at their own home stadium following the Tampa Bay Buccaneers, who appeared in and won Super Bowl LV at Raymond James Stadium last February.