Mark Tremonti Finds His 'Happy Place' Singing Sinatra For Charity
By Andrew Magnotta @AndrewMagnotta
May 27, 2022
Alter Bridge/Creed guitarist Mark Tremonti raised lots of questions when he announced his Tremonti Sings Sinatra tribute to Frank Sinatra earlier this year.
But whatever your preconceptions about Tremonti as an artist, you will find Tremonti Sings Sinatra as a formidable, loving and multi-layered tribute to one of the 20th century's most beloved artists and pop culture figures.
Tremonti Sings Sinatra will make you fall in love with Ol' Blue Eyes all over again, and as Mark tells Q104.3 New York's QN'A, he wouldn't have it any other way.
"There are just so many sides to Sinatra," Mark says. "Whatever he was passionate about, he chased it down. That was inspiring to me to watch. He was a passionate guy and he had no borders on what he was going to try to accomplish in his life and he tackled it all."
Mark is a longtime Sinatra fan who got deeply invested in the icon's music a few years ago, in an obsession undoubtedly spurred on by the joy he found in singing along to that iconic repertoire.
But Mark he dove deeper into Sinatra's life and career, he learned that Sinatra was more than a singer and actor; he was also a philanthropist who reportedly raised over $1 billion for charity in his lifetime.
Mark himself has worked with many charities over the years, but when his daughter Stella was diagnosed with Down Syndrome last year, it meant he had a new cause to champion. And he also knew how he could lend a hand.
"I said, 'You know what? There's a reason for my obsession. I'm going to record an album of Frank Sinatra songs and I'm going do it for charity for Down's Syndrome through NDSS (the National Down Syndrome Society),'" he explained.
Mark made his new album through the Take a Chance for Charity organization, dedicated to bringing public figures outside their comfort zones to bring attention to causes important to them. All the proceeds from Tremonti Sings Sinatra will go to NDSS, and Mark is already mulling a follow-up album.
Read the full QN'A below.
Tremonti Sings Sinatra is available everywhere today (May 27). For more on Tremonti Sings Sinatra and Mark's partnership with NDSS, go here.
Follow Mark on Facebook, Twitter and Instagram for more updates.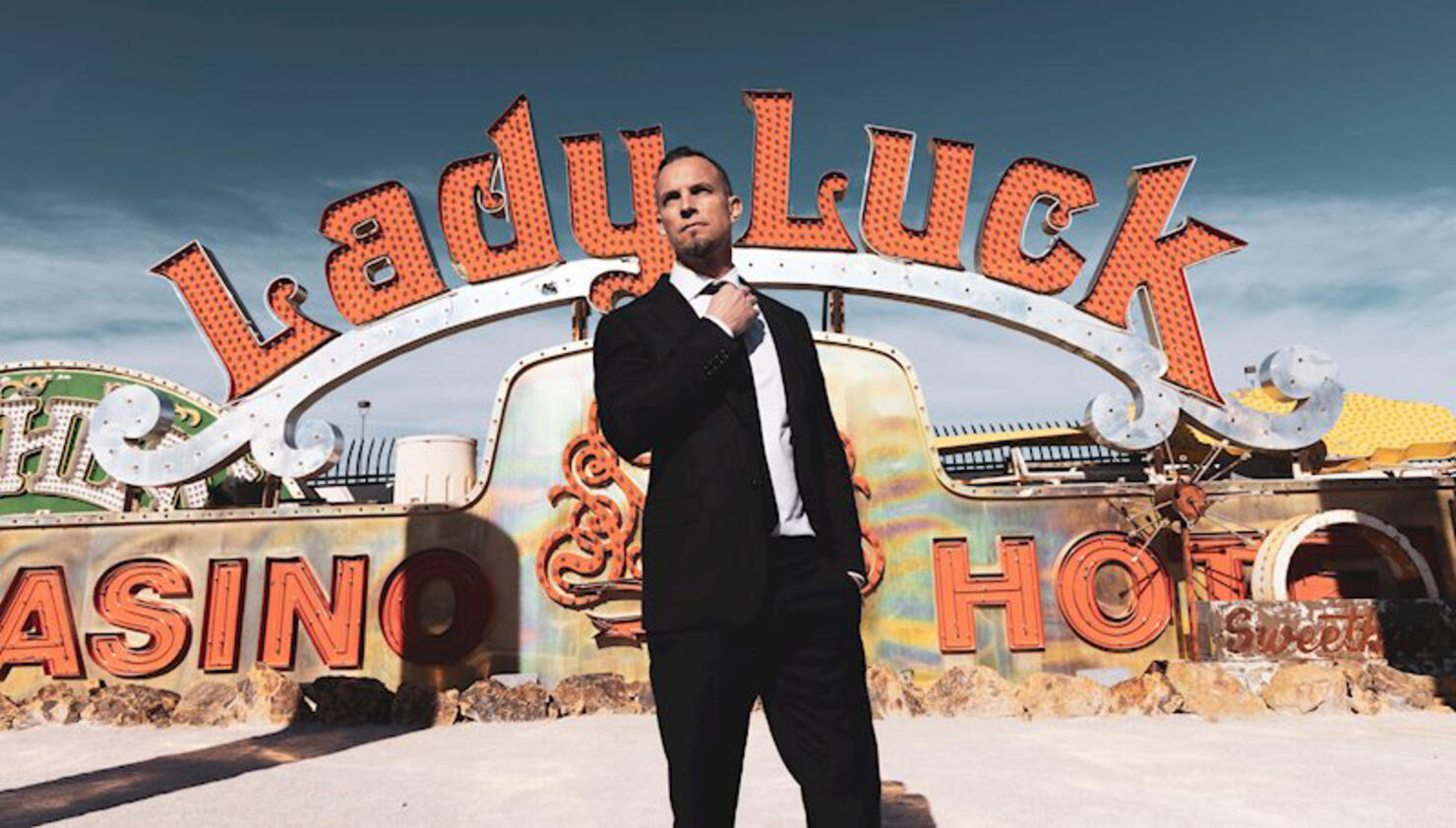 (The following transcription has been edited for clarity and brevity.)
I had a lot of questions when I first heard about this album. Let's start with those: Why you? Why Frank Sinatra? Why now?
Well, I've been a fan of Frank Sinatra my whole life. But about three years ago, I really became kind of obsessed and went way down the rabbit hole. I read a bunch of books, watched all the movies, tried to emulate what he was doing.
Just like as a young guitar player, I'd hear another player and try to play just like them, I did the same thing with Sinatra's vocals. I really went deep and practiced non-stop, but then I kind of came to a point where I'm like, 'All right. I'm getting this, but what am I going to do with it?'
Then my daughter [Stella] was diagnosed with Down Syndrome, so the stars kind of aligned there. I said, 'You know what? There's a reason for my obsession. I'm going to record an album of Frank Sinatra songs and I'm going do it for charity for Down Syndrome through NDSS.'
It's one of those things where it was just meant to be in my brain, you know?
Were you familiar with Sinatra's movies before?
Not really. I just became a fan of learning about his life; his life was fascinating.
A lot of songs on this album, like "I Fall in Love Too Easily," I came across that song from Anchors Aweigh [1945], the movie with Gene Kelly.
There are just so many sides to Sinatra. Whatever he was passionate about, he chased it down. That was inspiring to me to watch. He was a passionate guy and he had no borders on what he was going to try to accomplish in his life and he tackled it all.
I admit that I breathed a sigh of relief after I realized that this was not an album of 'rock' versions. Was it refreshing for you to do something so distant from rock?
Yeah, it was amazing. Fifteen out of the 17 or 18 guys we tracked with were all musicians that performed with Frank Sinatra. It was an honor just to be aside them and it was so different of a process than a rock record. The songs you hear are one take from start to finish of this band playing.
Nowadays, you can ProTools the hell out of any band and make it 100 percent perfect. But that's not what this was about. I told the producer I wanted this to sound real, I want this to sound like the old '50s, '60s Capitol Records recordings. There's not a bunch of edits and tuning and this and that, this is the band playing for real.
These guys would play the song once together just to get the arrangement, to see if anybody had any questions. Then they'd play through it two more times and be done.
All 14 songs we got done in six days. With a rock record, 14 songs would take you two months.
The very first session we did "Luck Be a Lady" and "That's Life." I can't remember exactly when that was, but we'd have a month or so in between sessions. It was one of the most exciting times of my life preparing for these recordings.
Did you play any of the guitar on the record? How did you get connected to so many former members of Frank's live band?
I did not play guitar. I wanted just to focus on the vocals. Dan McIntyre did an excellent job on the guitar; he was actually my manager's childhood guitar teacher. That was one of our ins with the actual guys that played with Sinatra.
You know Frank Sinatra wasn't a songwriter; he sang other people's songs. Carey Deadman did a lot of arranging for Sinatra towards the end of his career, so he was the one who put all the charts together for everybody. Then he would give me digital versions of what the song was going to be so I could practice with them. They all sounded great to me right off the bat, so I didn't really have to mess with anything.
The album is very true to Sinatra's original recordings, but there are some new arrangements. How did you decide which songs were going to be reinterpreted?
We had to do a batch of songs that were different from the original arrangements that Frank Sinatra did because we wanted to get these songs played on [the radio] and they need original versions.
We did "My Way" completely different with a nylon-string guitar approach. We did "I Fall in Love Too Easily" with a rhythm section. We did the same with "All or Nothing At All" and "The Song Is You." "In The Wee Small Hours" has more of a big band vibe than the original version.
We tried to do our own thing for about half the record, the other half we tried to stay true to the original.
Did you find that you had to wear a suit to get into the headspace to perform with this band?
The first sessions, I wore a suit. I wore a suit most of the time, but the video for "Fly Me to the Moon" I was wearing a damn hoodie.
I would go up to Chicago, wear my suit and then the next day, I'd be like, 'Ah, we're all friends here, let me just be comfortable today.' Now looking back on it, I wish I wore my suit for that day too so it had that classy look to it.
I think the next song that we're going to put out might be "My Way," and I think I was wearing at least a tie for that.
I took my earrings out. I haven't had my earrings in for about a year now, since I've been doing this.
I know you've been working on your vocals for a long time, in Alter Bridge and your solo band. Tell me about some of the challenges you faced trying to pull off this record as a singer.
I really had to dive in with every single word. One of the first things that I did was of course Google 'Frank Sinatra vocal lessons.' You know, all the vocal lessons that I saw, nobody sounded anything like Frank Sinatra, which blew my mind.
You'd have these great vocal teachers trying to teach you how to sing like Frank Sinatra, but they sound like they're Chris Cornell doing it. You kind of have to have that vocal range to be able to do it.
That's what served me well in this process. I could practice eight hours a day if I wanted to without blowing my voice out because his range was not a high range, and I could hit the notes. If anything, his range is super low.
If you listen to the record on "Wave," that's the lowest note I think that he ever record, when he goes 'Togeth-uhhh.' That note is hard to hit when you're onstage, I'm sure.
But the hardest thing was his phrasing, the way he moved his phrases. He'll never sing the same thing twice. If you memorize the first verse in a song, the second verse is not going to be phrased the same way. He's gonna play with it.
He approached his vocals like a guitar player or a saxophone player would approached their instrument. They had swagger with it, they moved it around, they didn't play it by the book.
I think Sinatra always admired the people in his bands and respected them and loved the way they phrased their instruments. I think he was just trying to be another instrument in that room. I think he learned a lot of his vocal approach by watching Tommy Dorsey play the trombone. He admits openly that he would sit there and be baffled by how he never seemed to take a breath. So he would learn how to breathe and how to phrase by watching Tommy Dorsey.
So I would sit down with my laptop, and I would listen to the songs and I would type out the words the way he pronounced them. 'Cause he would dig into certain vowels, and I would make notes on where he would throw his vibrato and where he would take his breaths.
Each and every word I would study where it was put timewise, how it was pronounced, how the vibrato if there was any on it, and how much air he put on it.
Earlier in his career he used a lot of air … he was very breathy. In his old age he was more straight head [voice], the deep, rich voice just coming out. So I tried to learn both ways, as exact as I could, his approach on all these songs. It was a fun process.
Were the musicians you worked with on this album aware of your career up to this point, with Creed and Alter Bridge and Tremonti? Was it weird to be known in the room as 'the singer'?
You know there's a funny video on YouTube on the story behind this project. There's a clip of Mike Smith the bandleader and he's like, 'When I was approached about this project I did a little research on Mark.' And there's a clip of me playing a festival over in Europe and a song called "Wish You Well" where there's a massive moshpit.
So these guys didn't know what they were getting into. When you hear me sing in Tremonti, I'm [scream] singing. I think they were all pleased that I wasn't going to come in the room and completely destroy Frank's legacy [laughs] with this project.
Is this project the first time you worked with NDSS?
For my whole adult life, me and my wife have been a part of so many charities in town, coming through. We'd always go to the events and our friends have hosted a lot of these events and invited us. It always feels good to help all these charities, but it feels so much better to have your own.
Since our daughter was born with Down's Syndrome, it's like I have a new purpose in life. Like I said, she's all over the room [holds up photo]. She inspires me to try to be a better person, and for the rest of my life, this is my new cause. I want to push other people to do Take a Chance for Charity.
I did this record to be the start of this new organization called Take a Chance for Charity, where other artists — whether it be a musician, a painter or a dancer, whatever it is, an actor — to do something outside the box that their fanbase would not expect them to do, to raise money for charity.
If people go to TremontiSingsSinatra.com, they'll see all the how-tos and all the directions on how to do that.
You seem to have enjoyed this Sinatra project so much? Are you thinking of doing another album?
Since I put this record out, a lot of people have said, 'Hey, it'd be great to see a Christmas album.' I would love to do that. That's really one of the first ways that I figured I could sing like Frank Sinatra was singing Christmas songs.
It would be an awesome project. If this is successful enough, I'll definitely get back in the studio and do it again. I'd like to do Volume 2 of Sinatra, though. I left so many songs off the table for this record that it really bummed me out that we could only do 14.
What are your plans for the rest of the year, from this album to Alter Bridge, Tremonti, etc.
I just got off tour with Tremonti and jumped right into the studio with Alter Bridge.
The day this record comes out, May 27, I go to Europe to start a European tour with Tremonti. Then I get home and we plan on hopefully getting some Sinatra shows put together. Maybe some Tremonti shows, who knows?
There's a window in between July and October that's kind of in the planning stage. Then, this winter, maybe some Sinatra and Alter Bridge shows, as well.
How about a Tremonti/Sinatra double-bill? One set heavy metal, one set Sinatra music.
I think both fanbases might clash a little bit, but a lot of the Tremonti fans have welcomed this.
I think the Sinatra thing is great because I see heavy metal guys going, 'I love Sinatra!' You'd never think that. It just makes people happy, this kind of music.
I've seen a lot of reviews like, 'I don't know what it is about this music; it just puts a smile on my face.' That's how it is for me, it's like my happy place this music.