Penn State Moves Up, Michigan State Falls Out Of Week 4 AP Top 25 Poll
By Jason Hall
September 18, 2022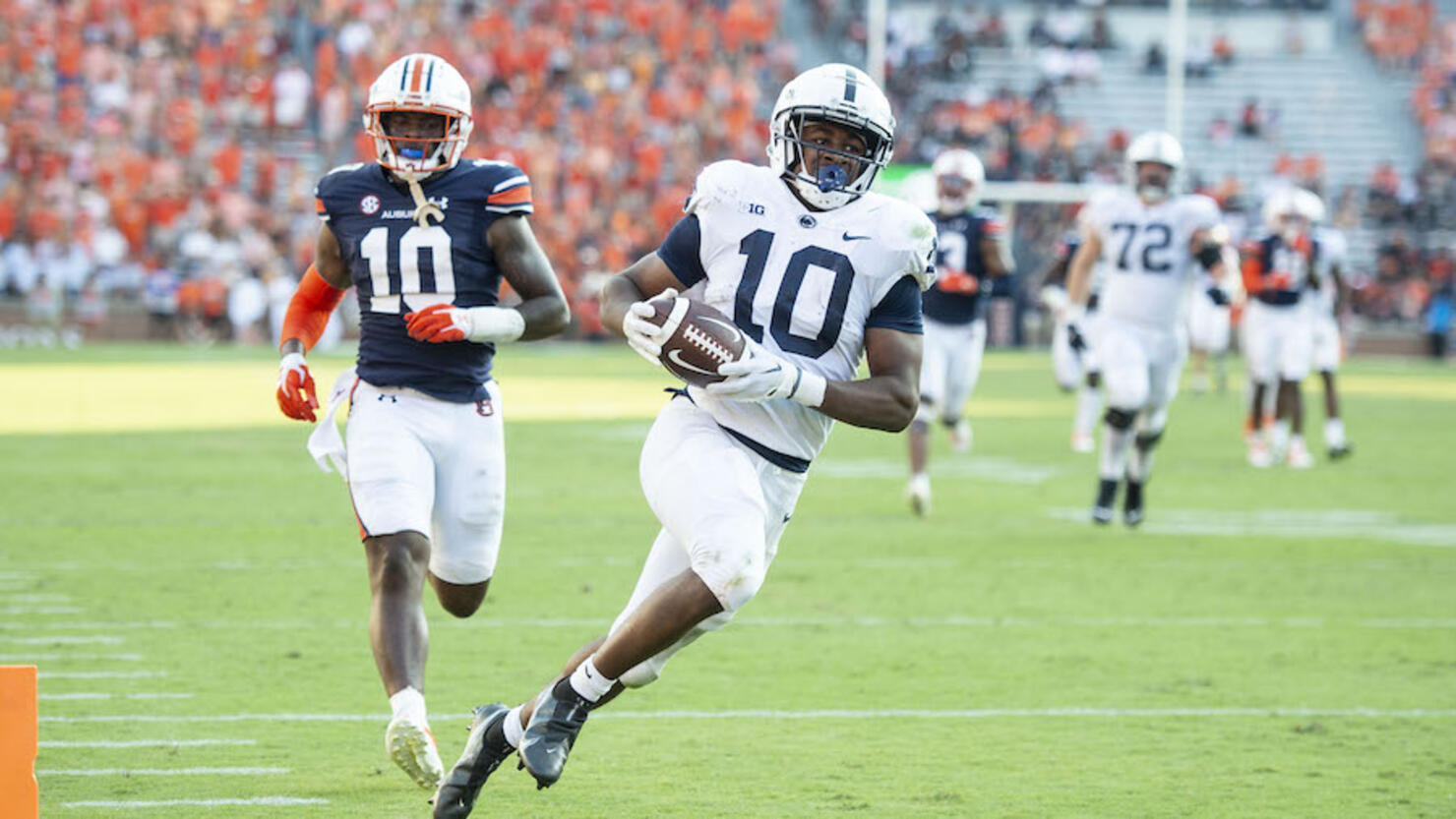 The Penn State Nittany Lions were one of the biggest movers in the Associated Press Top 25 poll for Week 4 while one of their conference rivals had the biggest falls.
The Nittany Lions ranked No. 14 overall during Sunday's (September 18) AP Poll release following a 41-12 rout at Auburn on Saturday (September 17).
Michigan State, who went into Saturday's game ranked No. 11 overall, fell out of the Top 25 following a 39-28 road loss against previously unranked Washington, who ranked No. 18 overall on Sunday.
Tennessee continued to climb up the AP Poll, moving up four spots to No. 11 overall following a 63-6 win against Akron at Neyland Stadium Saturday night.
The entire AP Top 25 poll for Week 4 is listed below:
Georgia (SEC)- 3-0 (-)
Alabama (SEC)- 3-0 (-)
Ohio State (Big Ten)- 3-0 (-)
Michigan (Big Ten)- 3-0 (-)
Clemson (ACC)- 3-0 (-)
Oklahoma (Big 12)- 3-0 (-)
USC (Pac-12)- 3-0 (-)
Kentucky (SEC)- 3-0 (+1)
Oklahoma State (Big 12)- 3-0 (-1)
Arkansas (SEC)- 3-0 (-)
Tennessee (SEC)- 3-0 (+4)
NC State (ACC)- 3-0 (+4)
Utah (Pac-12)- 2-1 (+1)
Penn State (Big Ten)- 3-0 (+8)
Oregon (Pac-12)- 2-1 (+10)
Ole Miss (SEC)- 3-0 (+4)
Baylor (Big 12)- 2-1 (+4)
Washington (Pac-12)- 3-0 (-)
BYU (IA Independents)- 2-1 (-7)
Florida (SEC)- 2-1 (-2)
Wake Forest (ACC)- 3-0 (-2)
Texas (Big 12)- 2-1 (-1)
Texas A&M (SEC)- 2-1 (+1)
Pittsburgh (ACC)- 2-1 (-1)
Miami (FL) (ACC)- 2-1 (-12)