Watch Kelsea Ballerini Surprise Carrie Underwood's Crowd For A Major Moment
By Kelly Fisher
November 3, 2022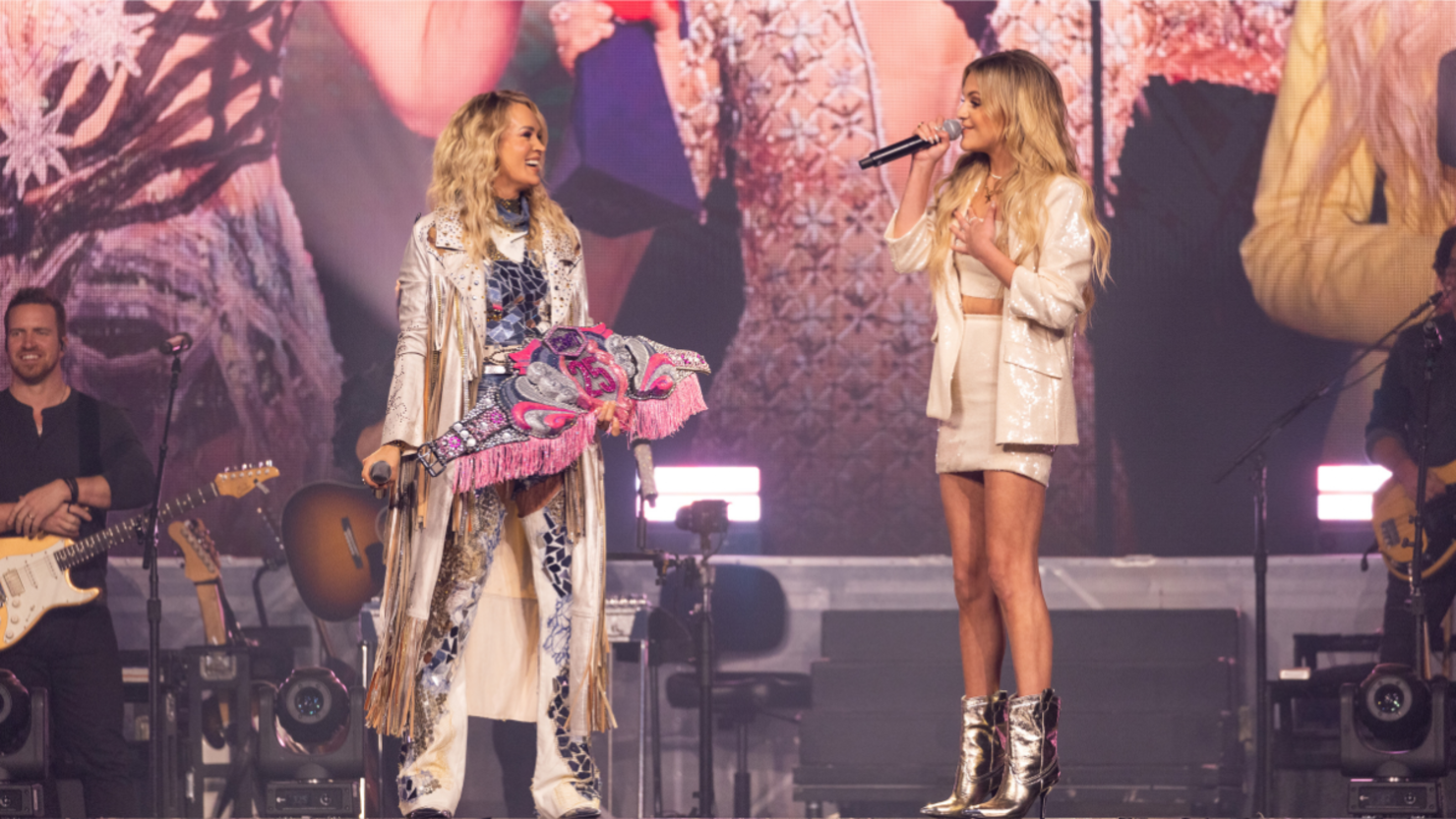 Kelsea Ballerini joined Carrie Underwood onstage for a major announcement on Wednesday night (November 2).
Ballerini surprised the crowd at Underwood's sold-out "Denim & Rhinestones Tour" stop at Moody Center in Austin, Texas, where she revealed that the CMT Music Awards would switch locations in 2023. Next year's awards show, which Ballerini will return to host, will take place at the same Austin venue where Underwood performed her epic "Denim & Rhinestones Tour" concert that evening. Underwood — who holds the title of the "winningest artist in CMT history" with 25 CMT Music Awards, per a press release from CMT — was the first performer confirmed for the 2023 show. 
"I'm very excited to present you with something," Ballerini told the "Hate My Heart" powerhouse as she surprised the Austin crowd in a clip shared by CMT and CBS. The Subject To Change star presented Underwood with a giant championship belt, decorated with rhinestones and pink fringe. "Do you guys know that out of the history of the CMT Awards, this queen has the reigning highest number of CMT Awards ever? …It's 25, to be exact. 
"How much do we love Austin?" Ballerini asked the audience as she continued with her announcement. Responding to the roar of the cheering concertgoers, she revealed: "Well then I guess it's a really good time to tell you that April 2, on CBS, for the first time ever, the CMT Awards are going to be at the Moody Center."
That's when Ballerini, who had shared teasers of a big announcement on her social media channels earlier in the day, confirmed that she would return to host the annual awards show. She also named Underwood as the first confirmed performer of the highly-anticipated show. Underwood explained into the mic: "Let's do it, Austin!"
"Both Austin and Nashville are two of the world's greatest music cities and we couldn't be more excited to announce the return of the CMT Music Awards on CBS than with co-host Kelsea Ballerini surprising Carrie Underwood, our most awarded artist, in the middle of her incredible live performance at Moody Center – the exact venue where we'll all be back exactly five months from today!" shared Margaret Comeaux, John Hamlin, Leslie Fram and Jason Owen, Executive Producers of the CMT Music Awards. "Our fans are in for an unforgettable night of music with plenty of surprises, as the Live Music Capital meets Music City for the first time ever on a national stage in what will be a true country music extravaganza."
Watch Ballerini join Underwood on the Moody Center stage for the surprise announcement here: