Super Bowl Halftime Collaborations That Were Totally Unexpected
By Shayna Spero
February 3, 2021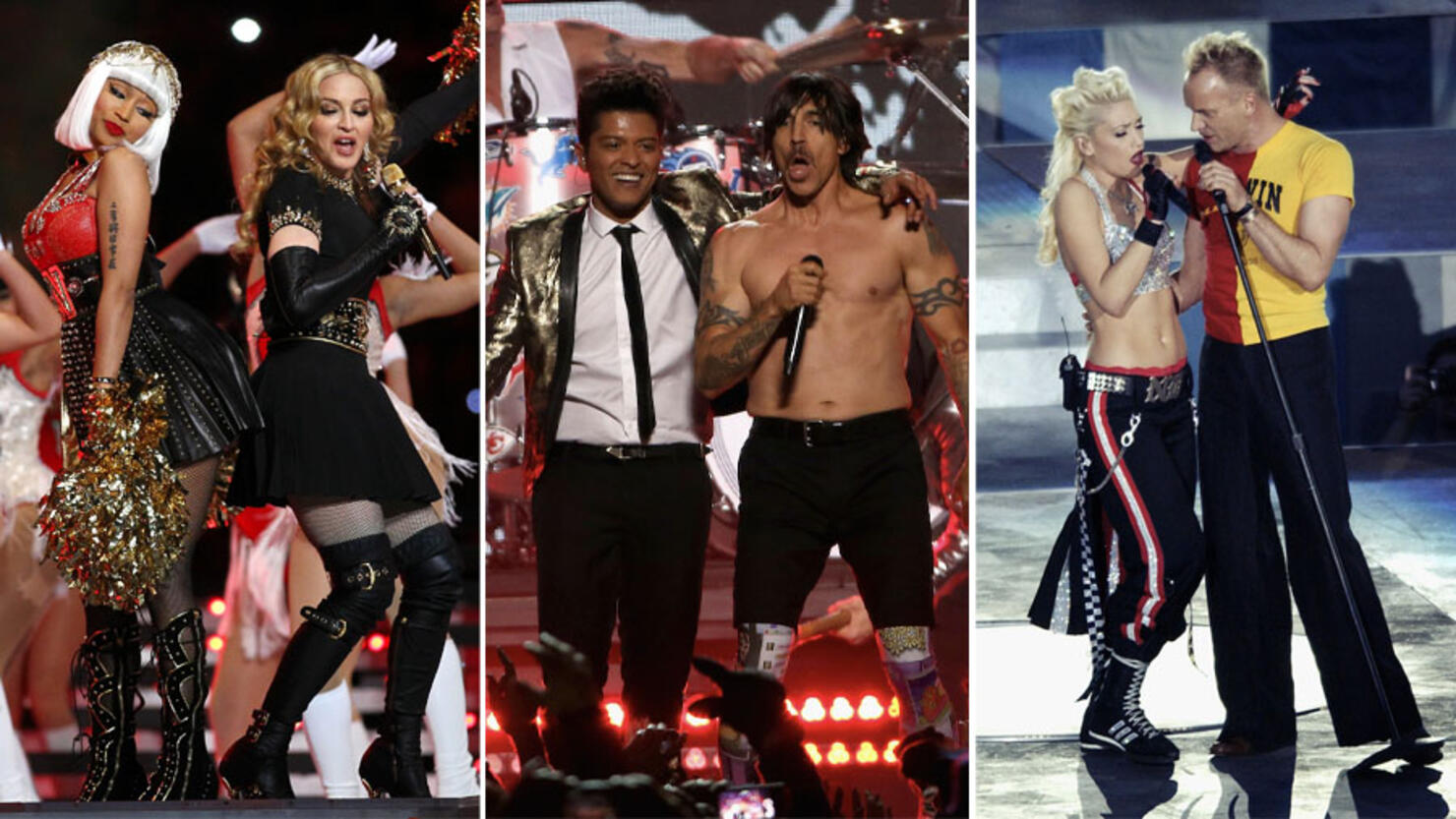 The Super Bowl isn't just about the touchdowns, tough tackles and Hail Marys. Since Michael Jackson's extravagant performance changed the halftime show game in the early '90s, viewers also have a show-stopping halftime performance to look forward to every year.
Not only has the NFL scored some major superstars like Prince, Madonna, Beyoncé, Britney Spears and The Rolling Stones, but the mid-game show is also known for its genre-crossing performances that take the stage. In honor of the upcoming Super Bowl LVI this Sunday (February 13), iHeartRadio has compiled a list of the most unexpected halftime performances to date. Before Eminem, Dr. Dre, Snoop Dogg, Kendrick Lamar and Mary J. Blige takes the stage this Sunday, check out these one-of-a-kind collabs below.
1 of 23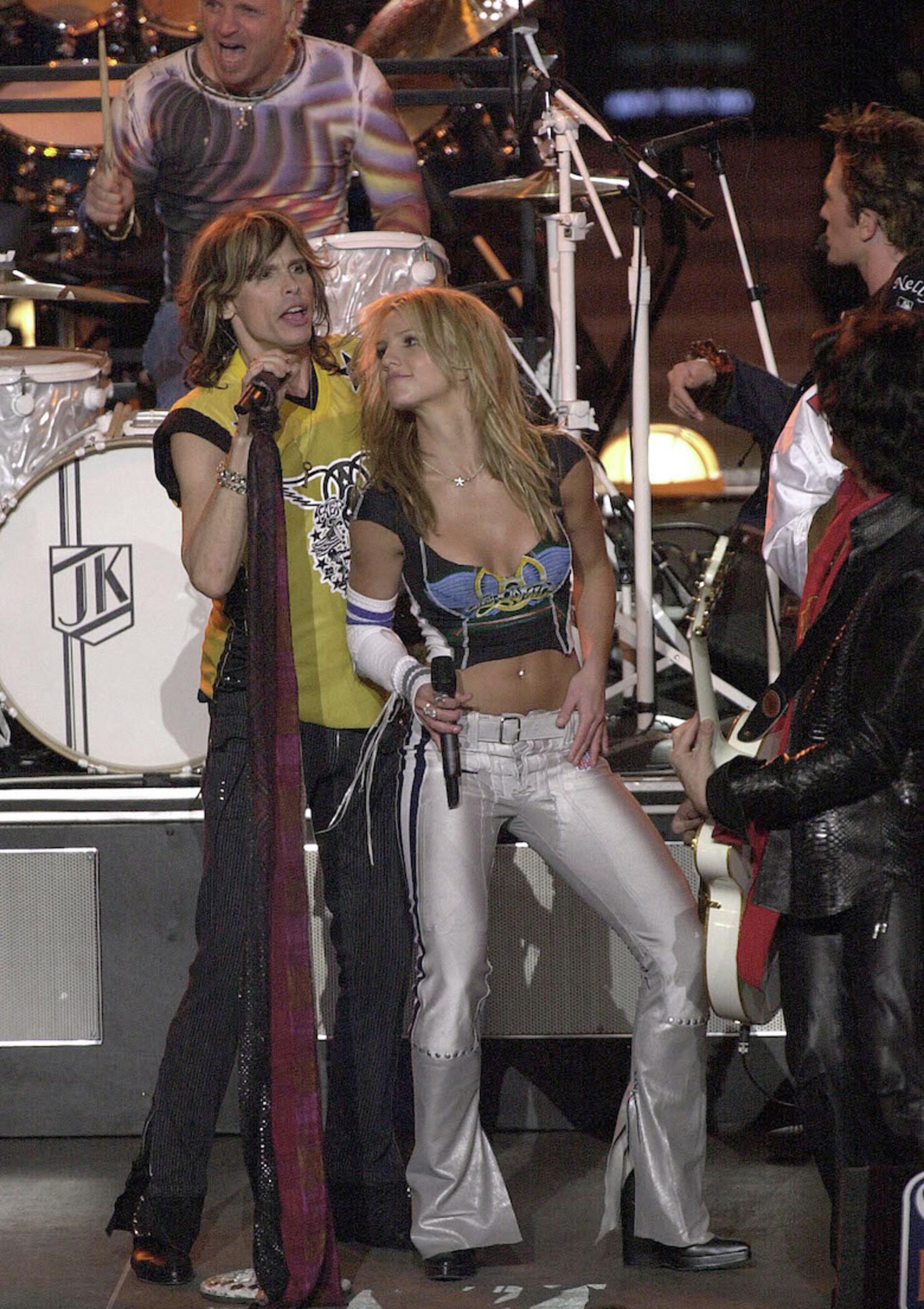 1. Britney Spears, *NSYNC, Aerosmith, Nelly and Mary J. Blige - Super Bowl XXXV, 2001: In 2001, when pop princesses and boy bands were ruling the world of music, it was fitting that Britney Spears and *NSYNC would come together on one of the biggest stages. What made this show legendary was the addition of Aerosmith, Mary J. Blige and Nelly for a performance of "Walk This Way".
Photo: Getty Images
2 of 23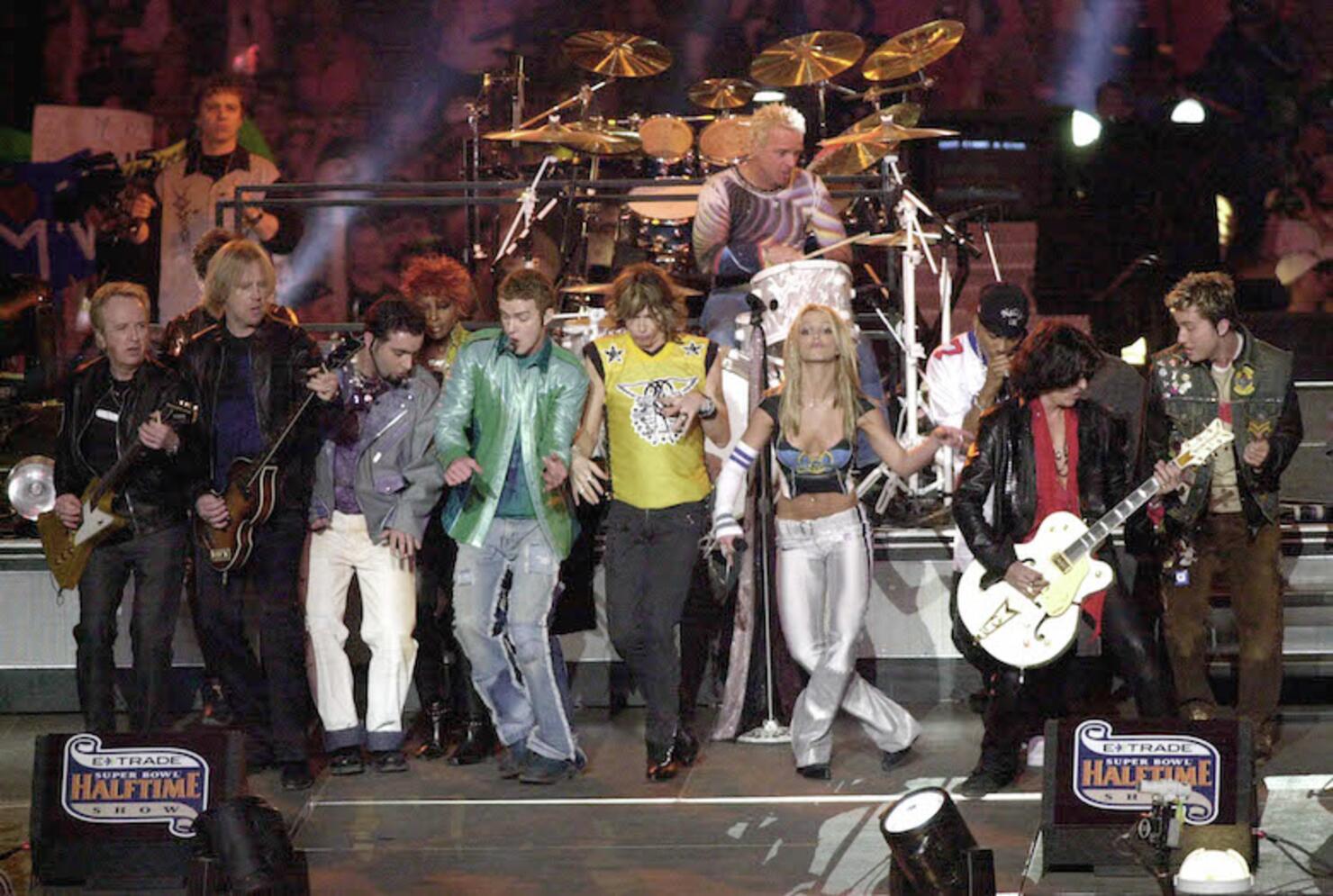 3 of 23
Madonna, LMFAO, Nicki Minaj and M.I.A. - Super Bowl XLVI, 2012: Dressed as a Greek goddess, the singer performed crowd pleasers like "Vogue" and duets of "Like A Prayer" and "Express Yourself" with Cee Lo Green. The stage then turned into one big party with dance duo LMFAO for a mashup of "Party Rock Anthem" and her track, "Music". Rappers Nicki Minaj and M.I.A. also joined the Queen of Pop onstage for their verses on "Give Me All Your Luvin".
Photo: Getty Images
4 of 23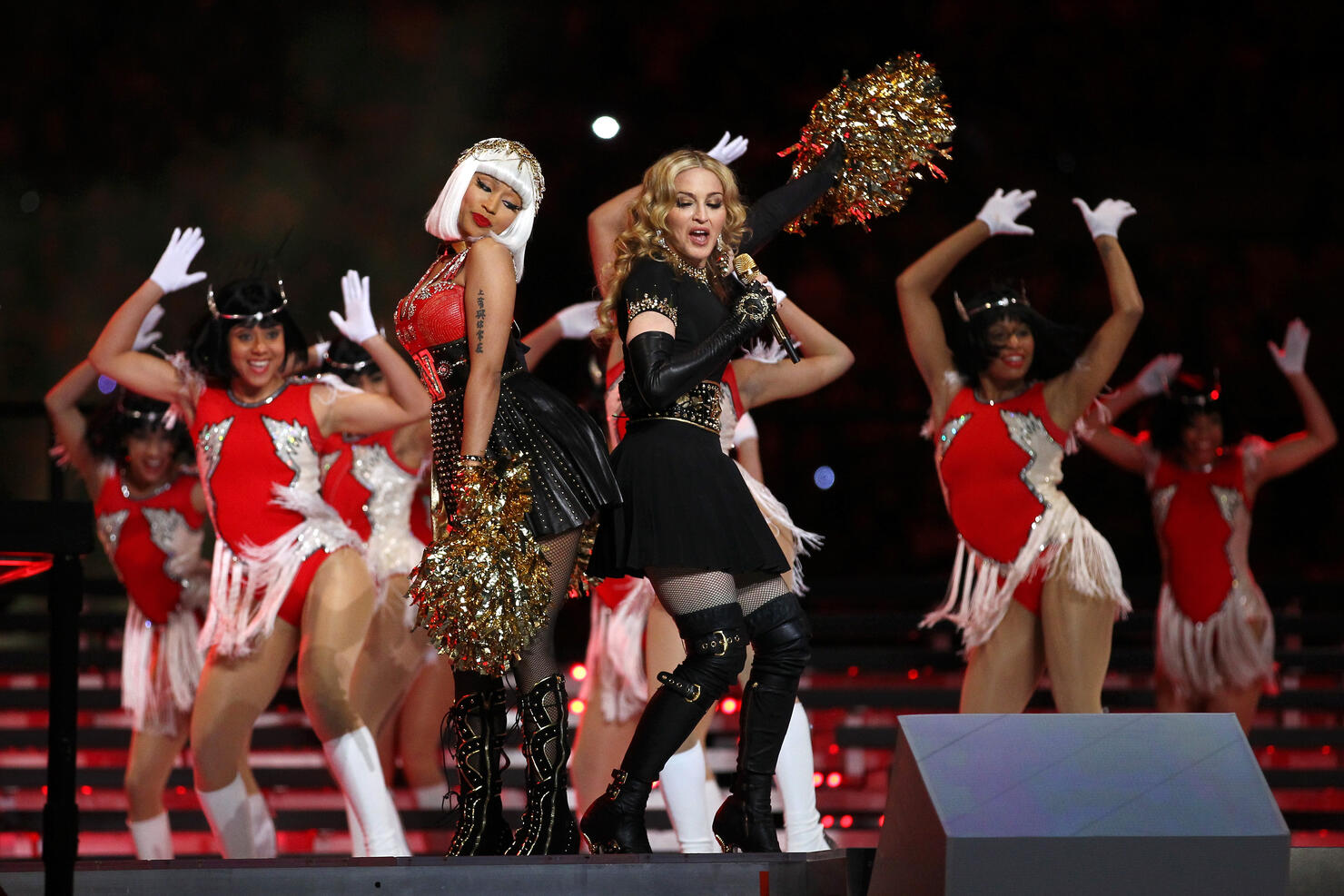 5 of 23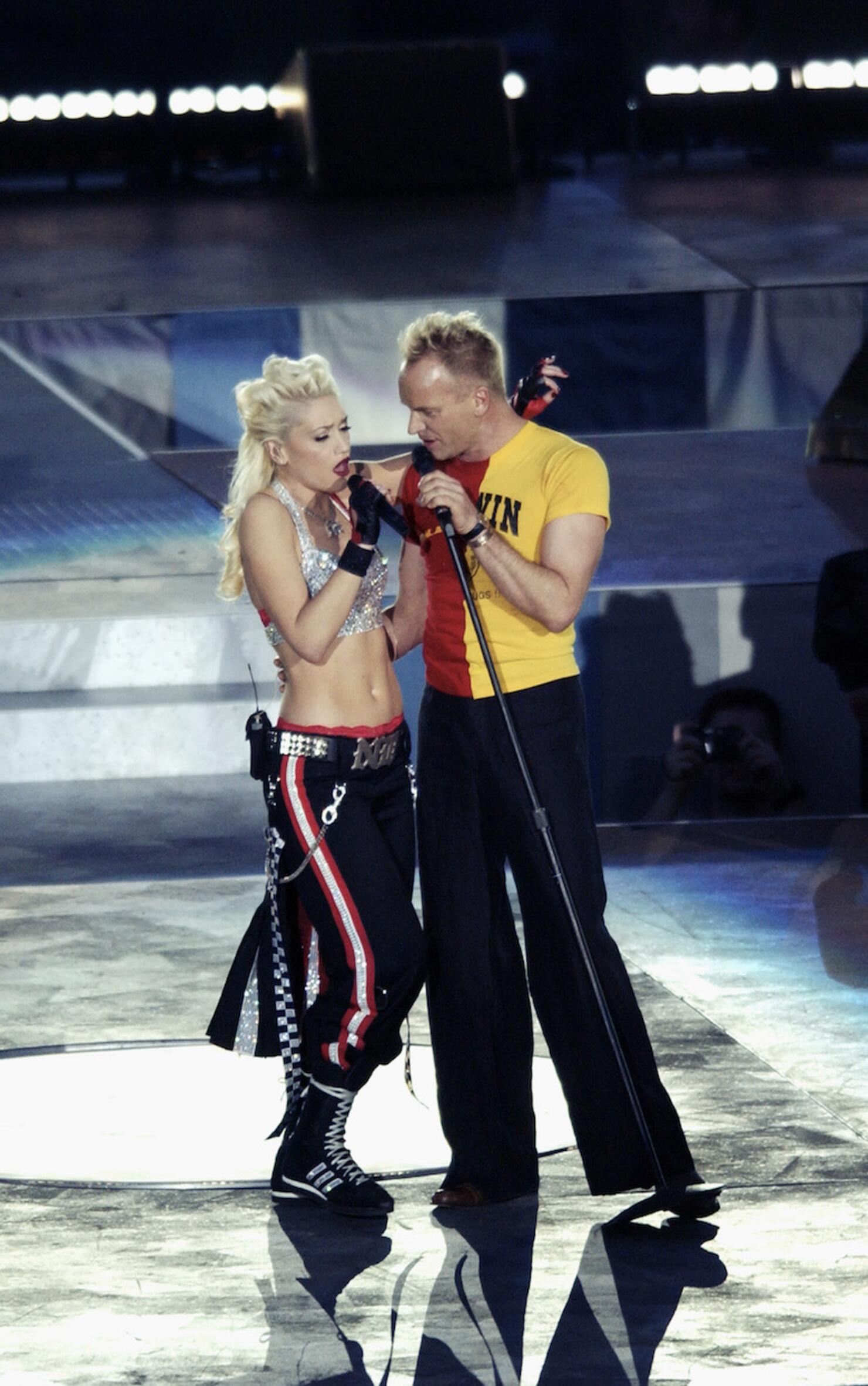 Shania Twain, No Doubt and Sting - Super Bowl XXXVII, 2003: Country legend Shania Twain kicked off the 2003 halftime show before No Doubt's duet with Sting for an updated "Message In A Bottle".
Photo: Getty Images
6 of 23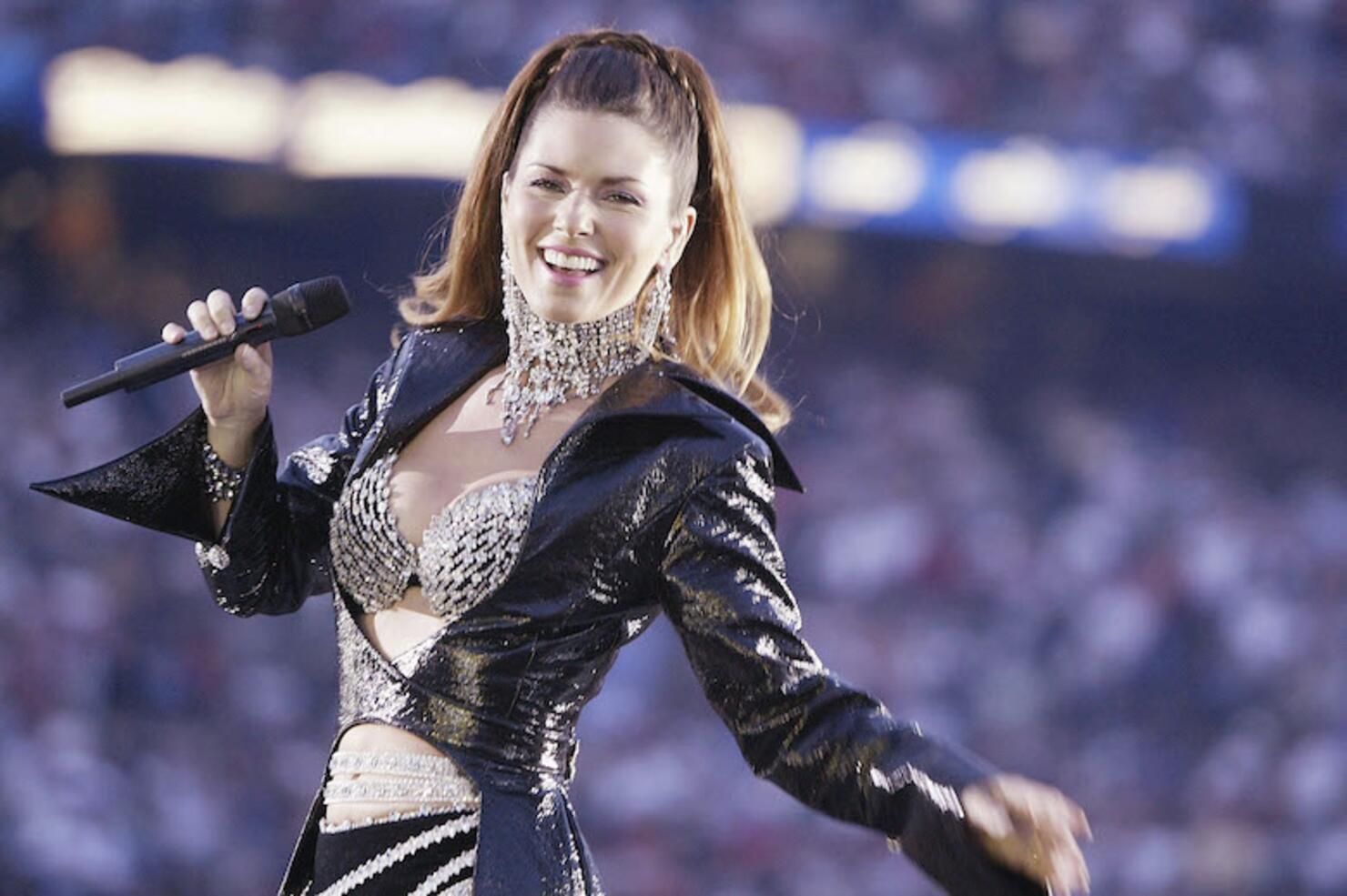 7 of 23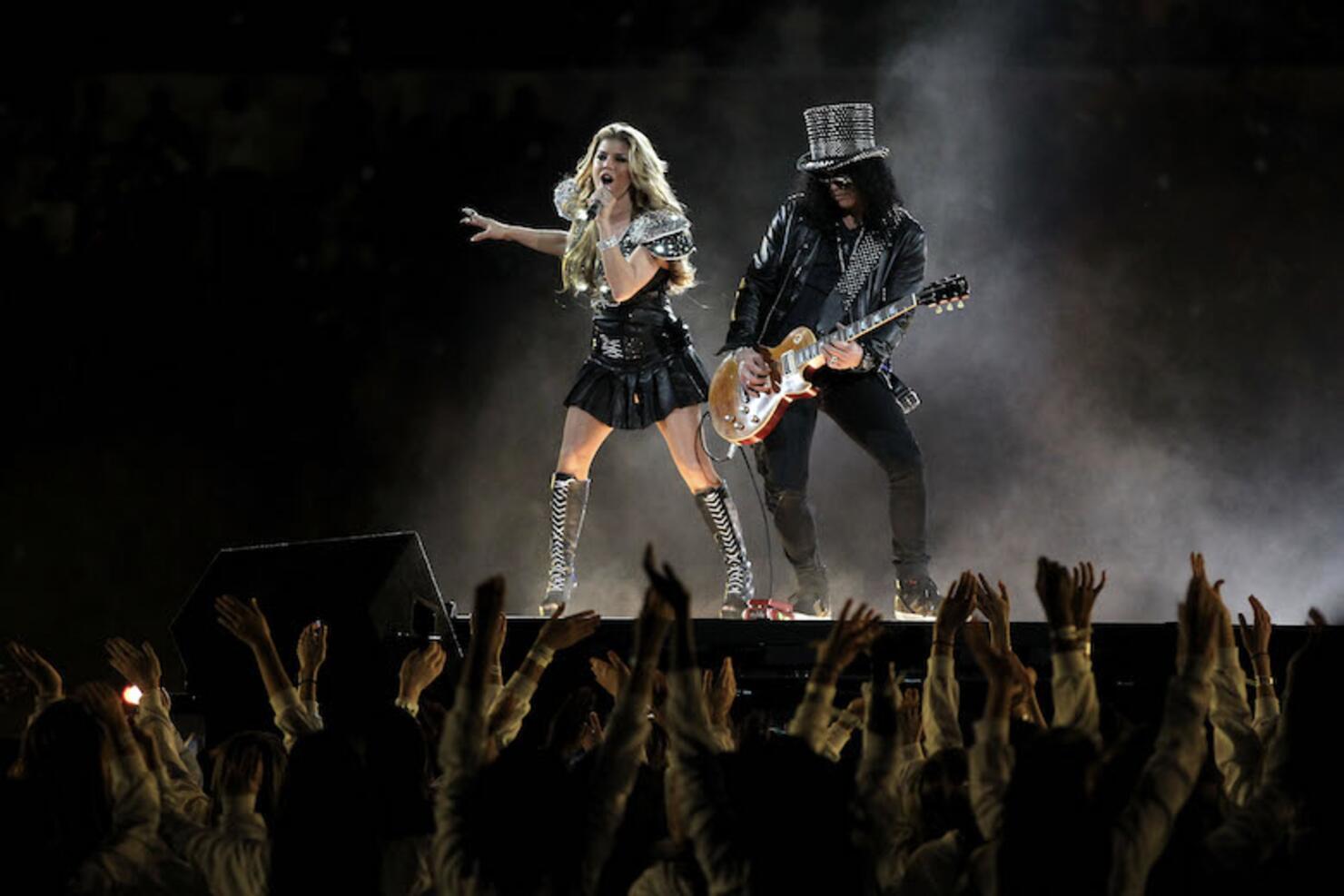 Black Eyed Peas and Slash - Super Bowl XLV, 2011: The Black Eyed Peas delivered a medley of their greatest hits and were joined by Usher to perform his song "OMG". Later on in the show, former Guns N' Roses guitarist Slash ascended the stage from below to play the classic GNR track, "Sweet Child o' Mine" as BEP frontwoman Fergie sang alongside him.
Photo: Getty Images
8 of 23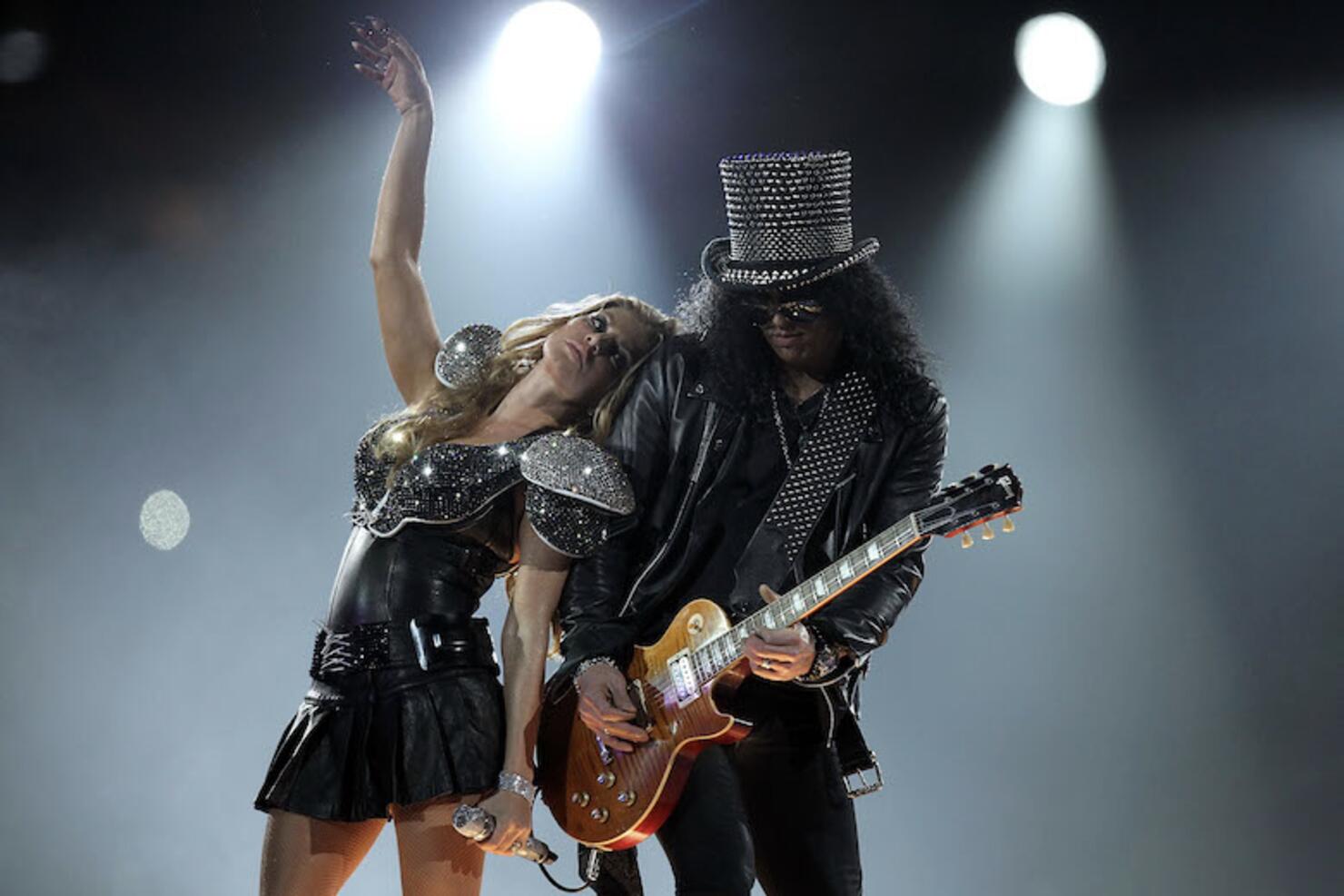 9 of 23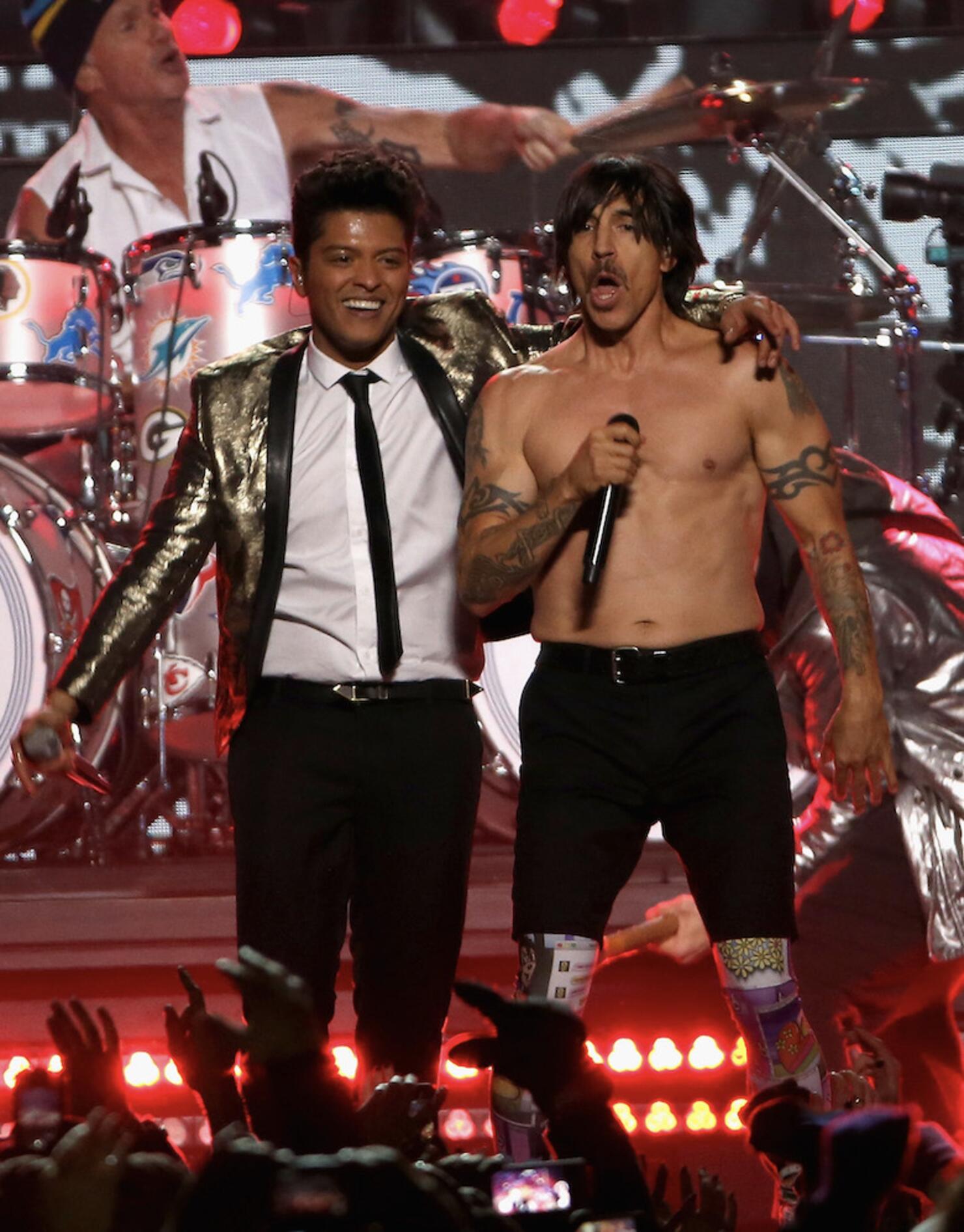 Bruno Mars and Red Hot Chili Peppers - Super Bowl XLVIII, 2014: Bruno Mars' halftime show broke records with it's 115+ million viewers, making it the most watched performance at that time. He also delivered a surprise performance alongside The Red Hot Chili Peppers to collaborate on their track, "Give It Away".
Photo: Getty Images
10 of 23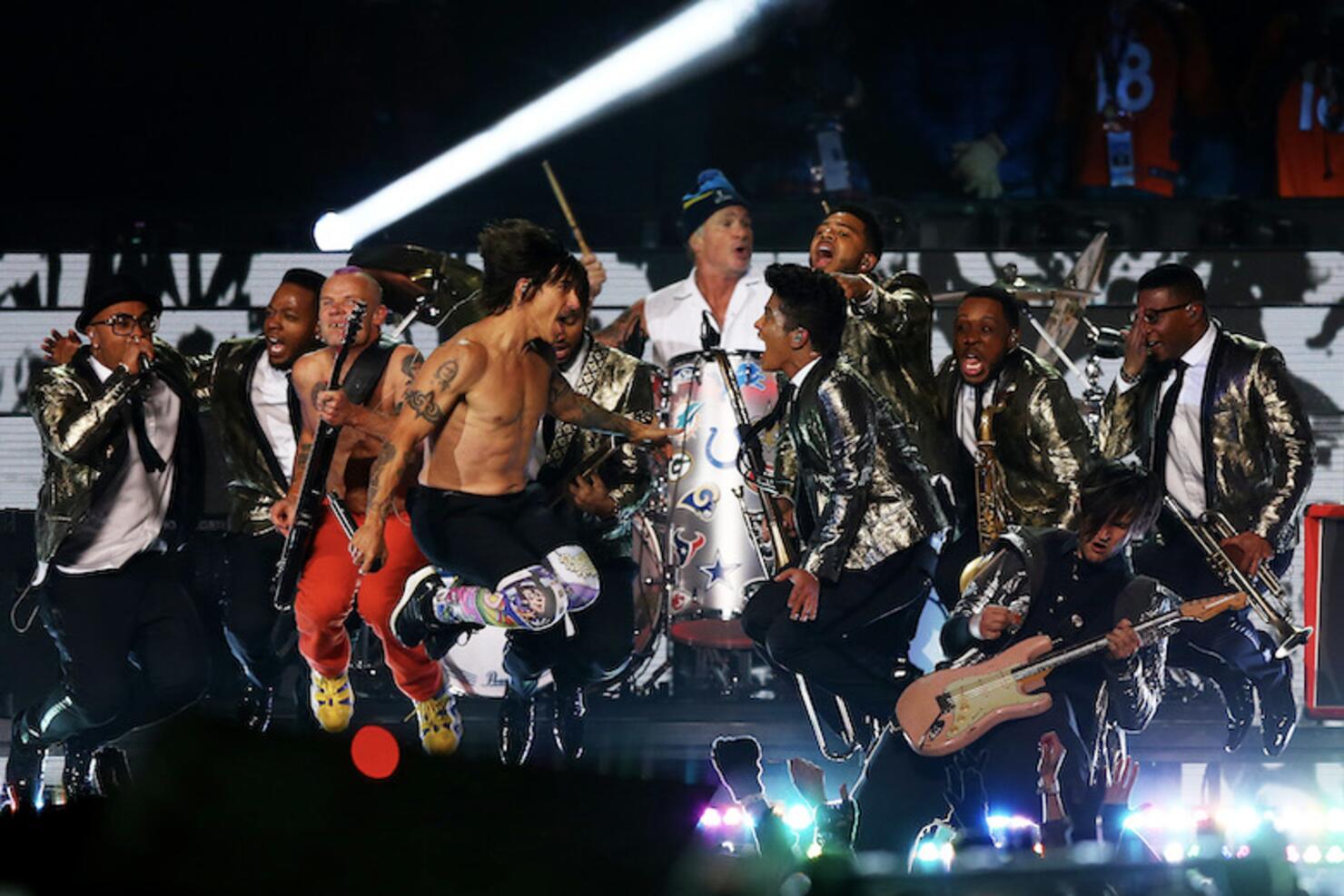 11 of 23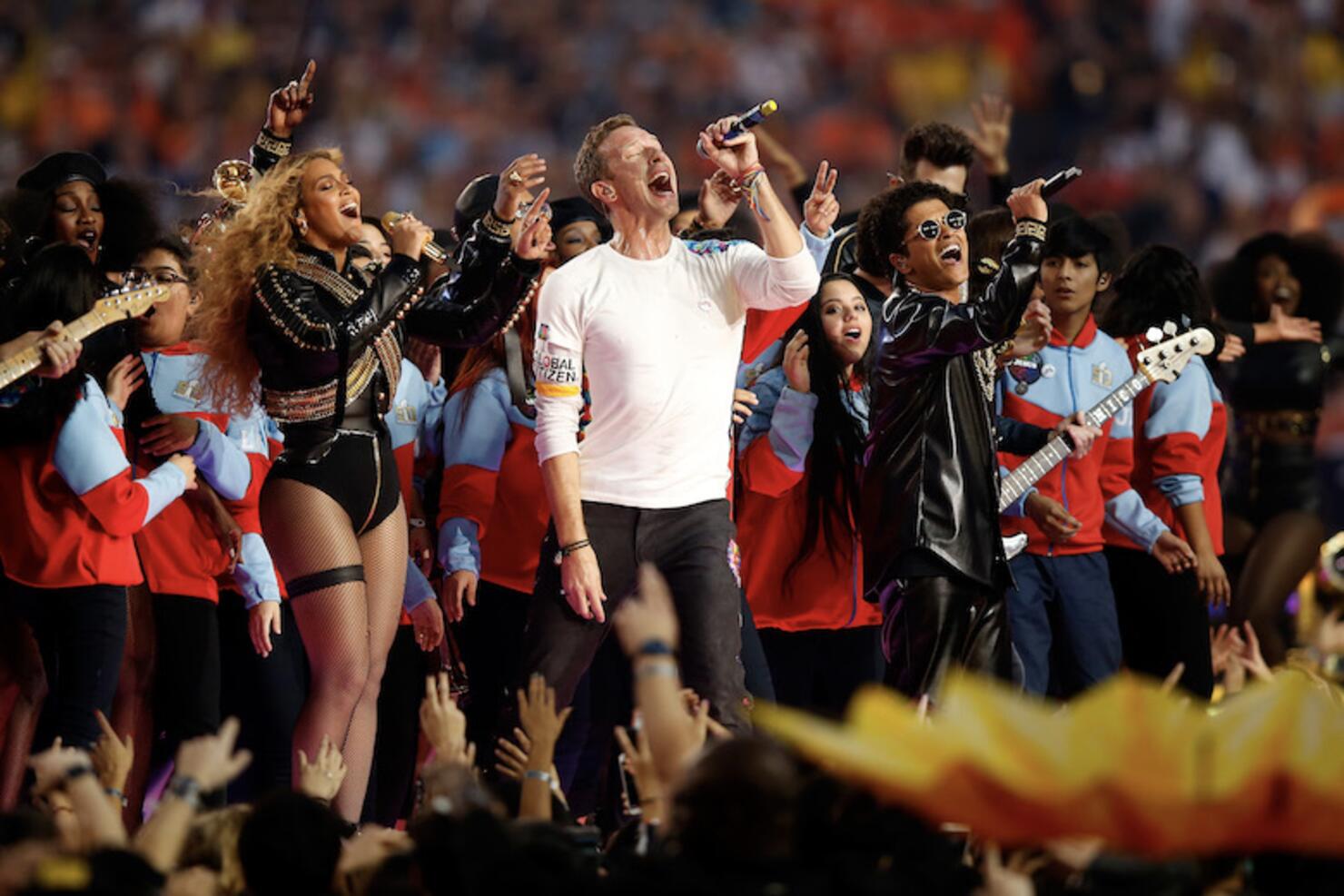 Coldplay, Beyoncé and Bruno Mars - Super Bowl 50, 2016: Coldplay opened the Super Bowl 50 halftime show with a colorful display of hits like "Viva La Vida" and "Paradise". Two years after his headlining halftime act, Bruno Mars crashed the show with a high-energy performance of "Uptown Funk" before engaging in a dance-off with Queen Bey herself. The three superstar acts closed the show together with Coldplay's "Up&Up".
Photo: Getty Images
12 of 23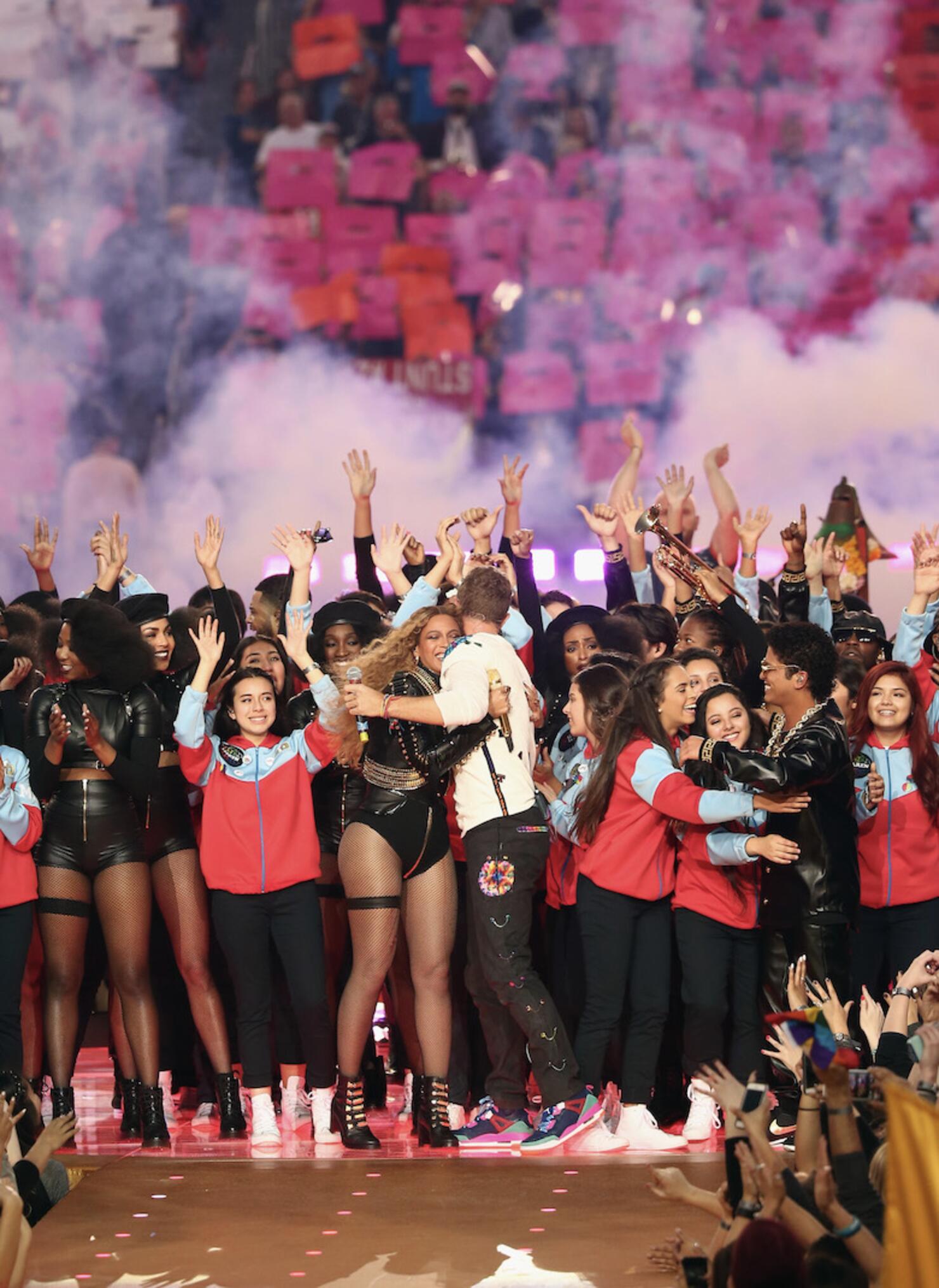 13 of 23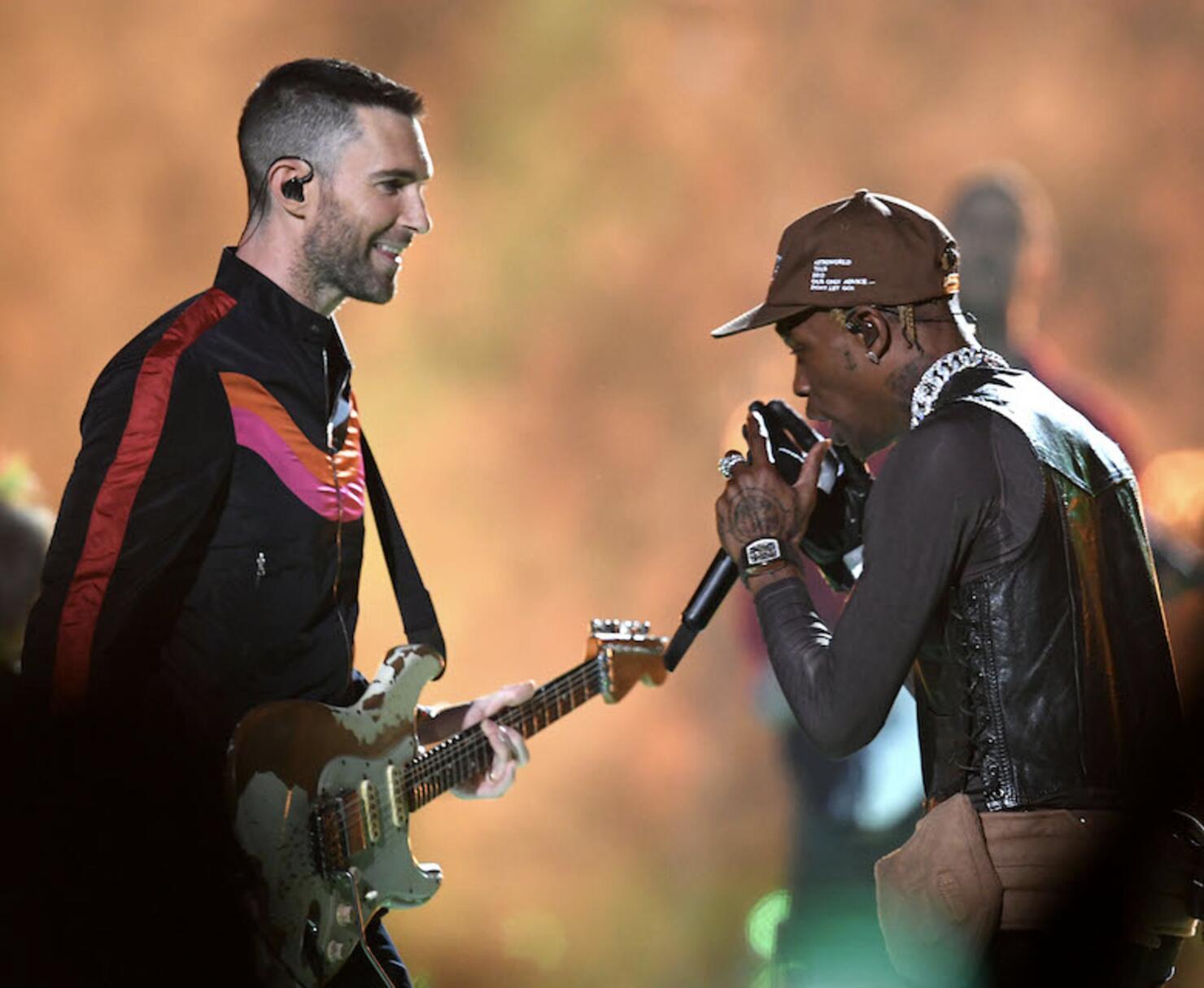 Maroon 5, Travis Scott and Big Boi - Super Bowl LIII, 2019: Although this lineup came as no surprise, due to an announcement by the NFL a month prior, the genre-crossing performance of Travis Scott's "Sicko Mode" with Maroon 5 as a backing band is definitely a collaboration to remember. Big Boi also joined the halftime show in style as he rode up in a Cadillac convertible, performing his hit "I Like The Way You Move".
Photo: Getty Images
14 of 23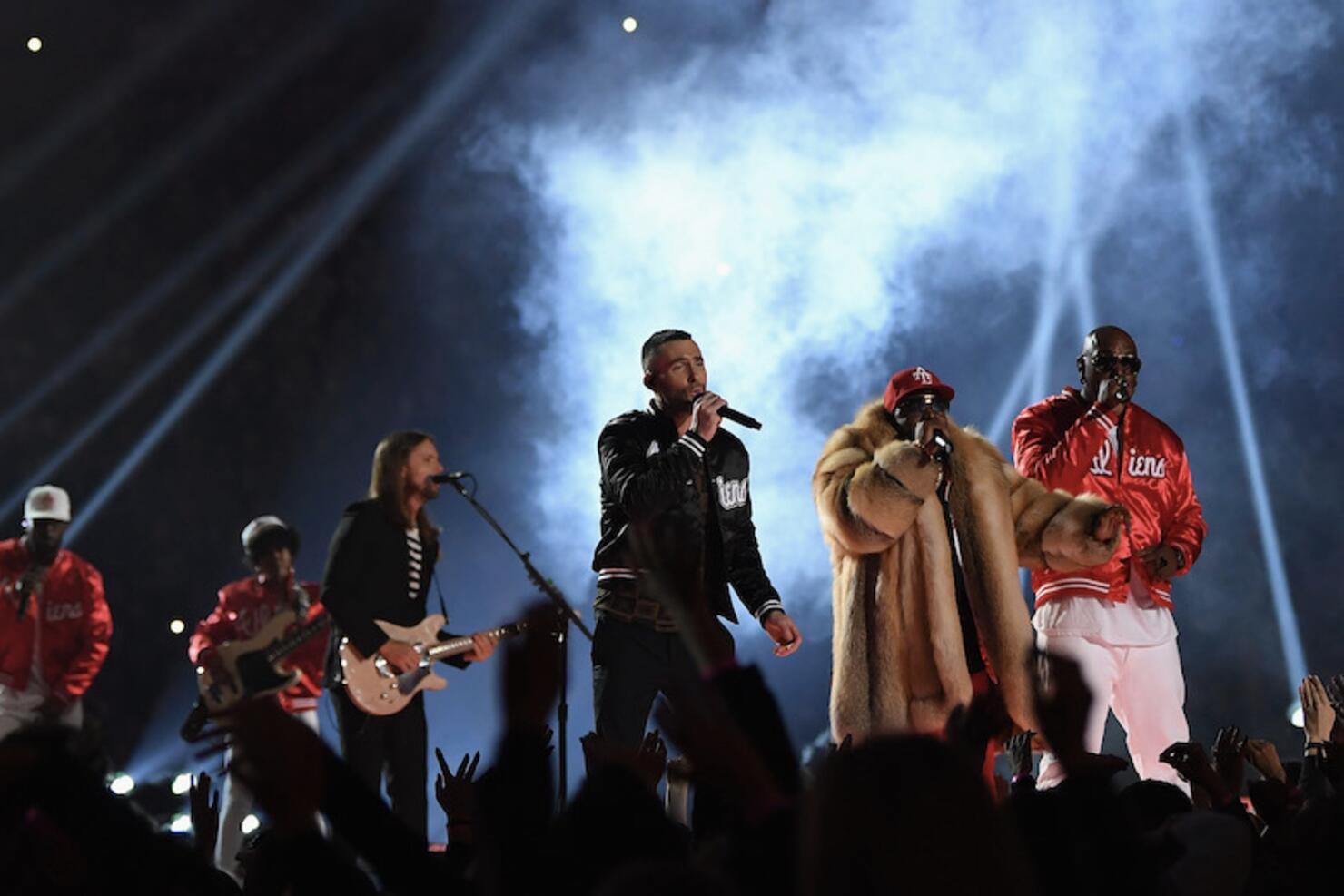 15 of 23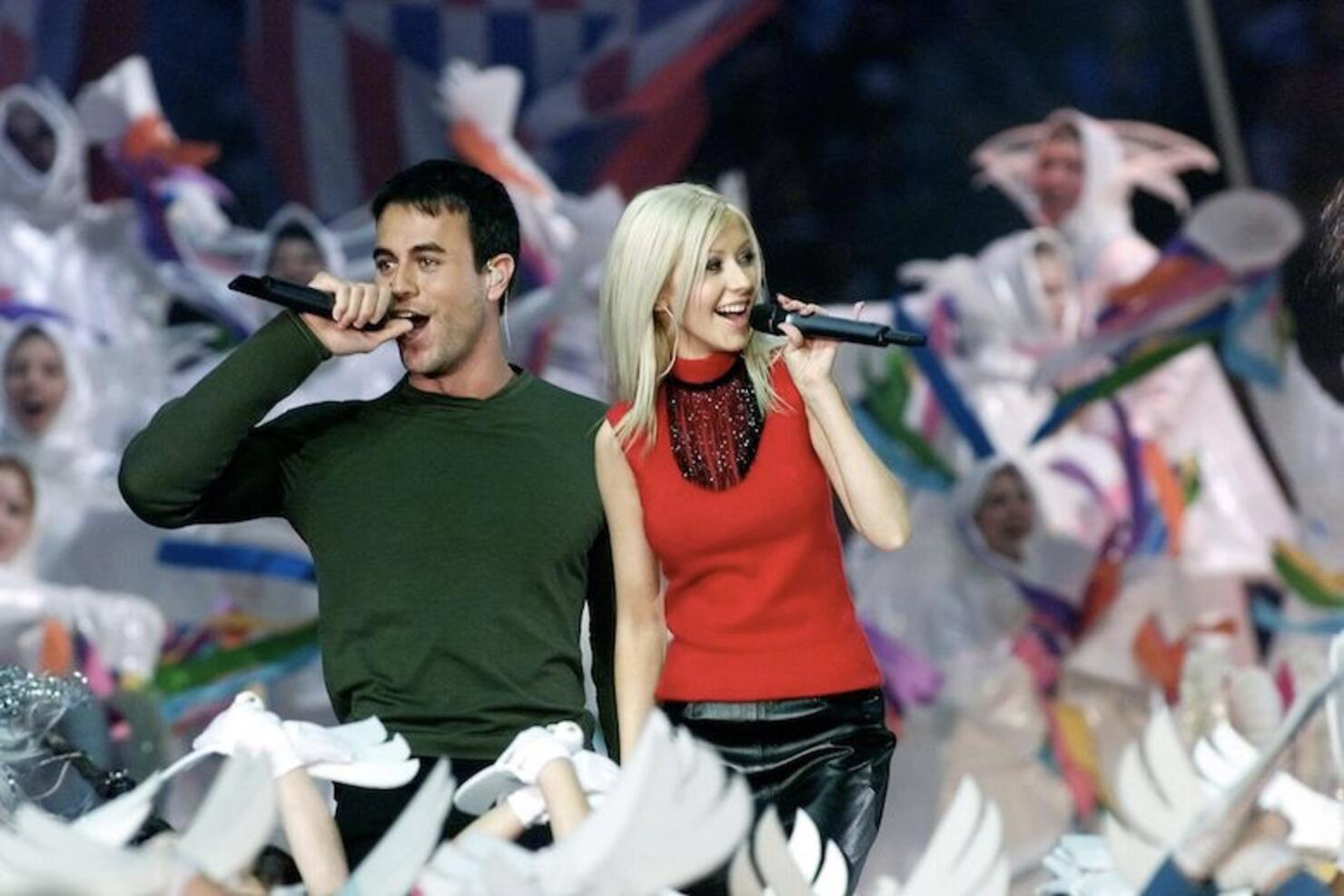 Phil Collins, Christina Aguilera, Enrique Iglesias and Toni Braxton - Super Bowl XXXIV, 2000: In 2000, the Super Bowl's 10 minute halftime show was produced by Disney and named The Millennium Celebration. Designed to mirror the spectacular Millennium Celebration taking place at Walt Disney World's EPCOT park, original songs, with elements of their Reflections of Earth and Tapestry of Nations shows, were performed by Christina Aguilera, Phil Collins, Enrique Iglesias, and Toni Braxton for one of the most unique halftime shows in the last 20 years.
Photo: Getty Images
16 of 23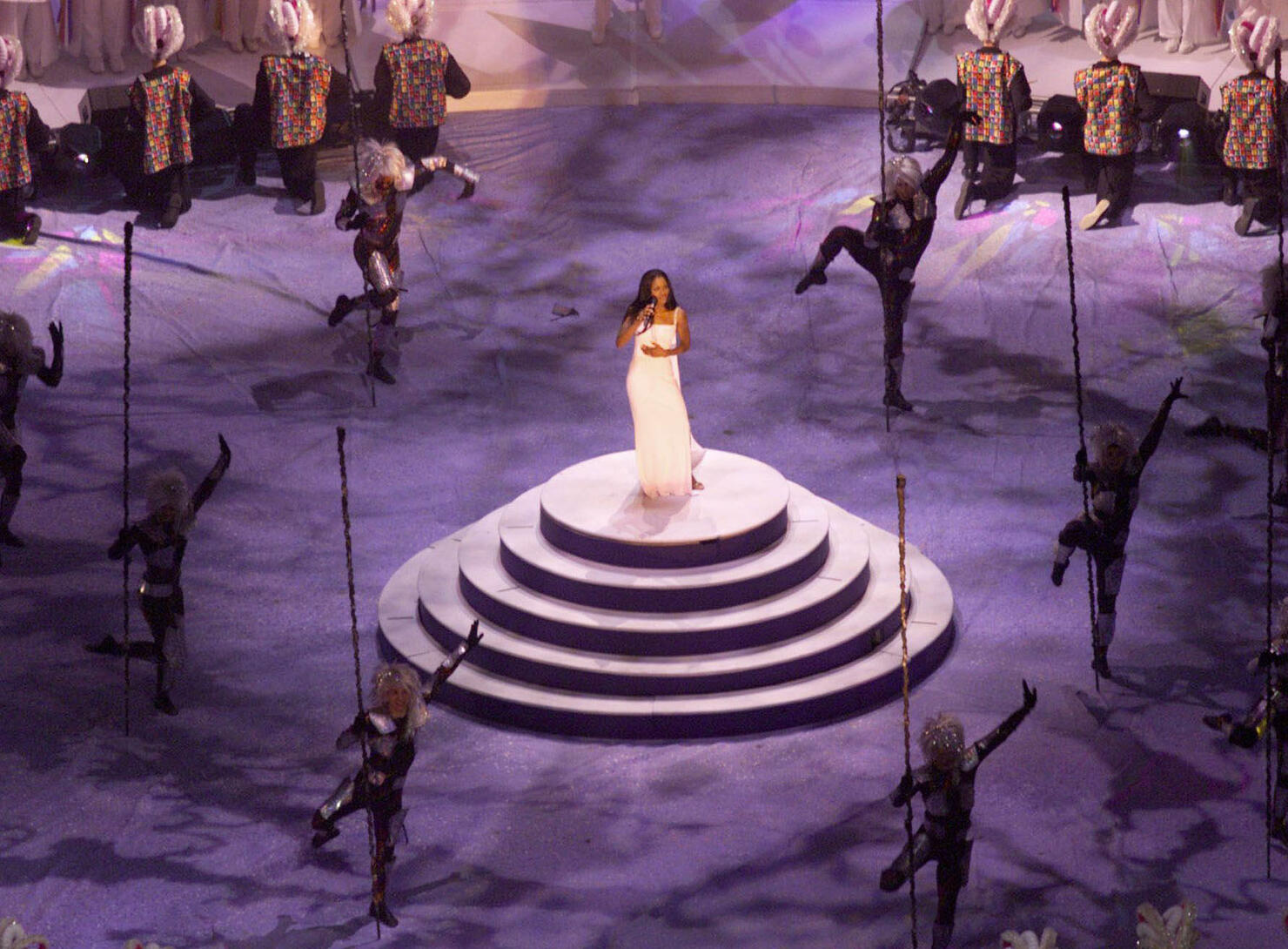 17 of 23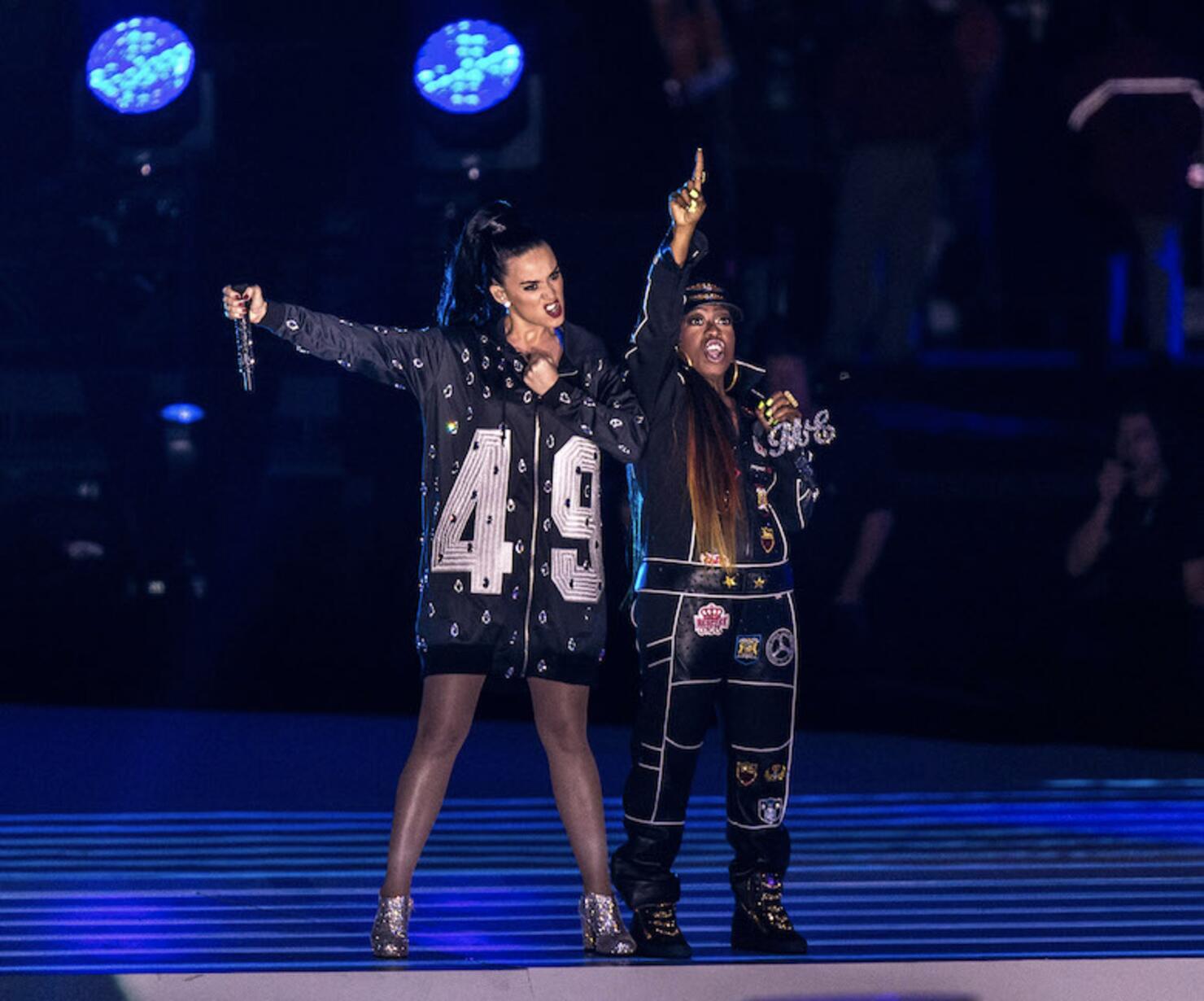 Katy Perry, Missy Elliott and Lenny Kravitz - Super Bowl XLIX, 2015: Katy Perry pulled out all the stops for her theatrical halftime show. She performed "I Kissed A Girl" in a fiery dress with Lenny Kravitz on guitar. And if you weren't paying close attention to the rumor mill in early 2015, you were probably surprised to see the pop singer joined by hip-hop legend Missy Elliott for an unexpected collaboration that we all loved to see. Missy performed her mega hit "Get Ur Freak On" with Katy as her hypewoman.
Photo: Getty Images
18 of 23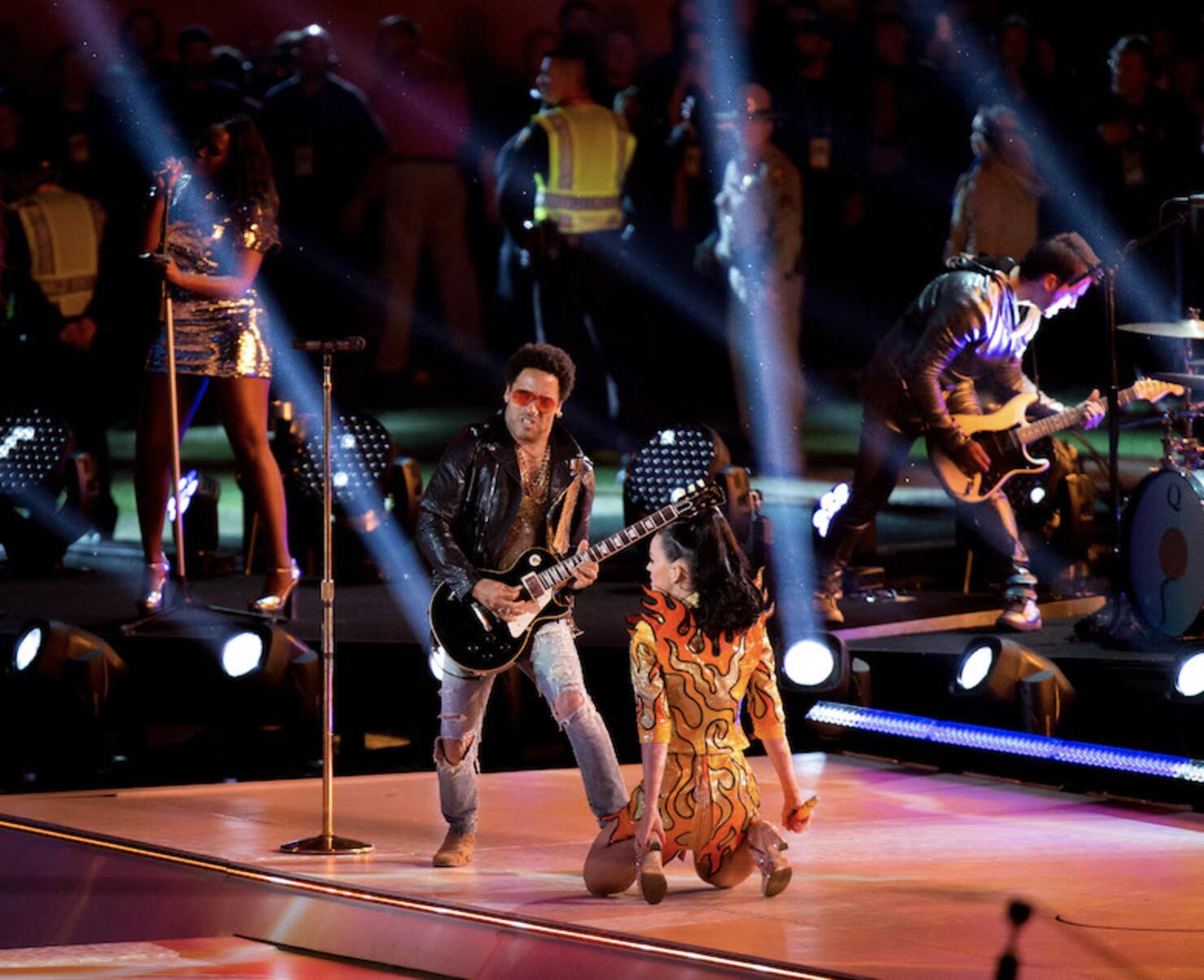 19 of 23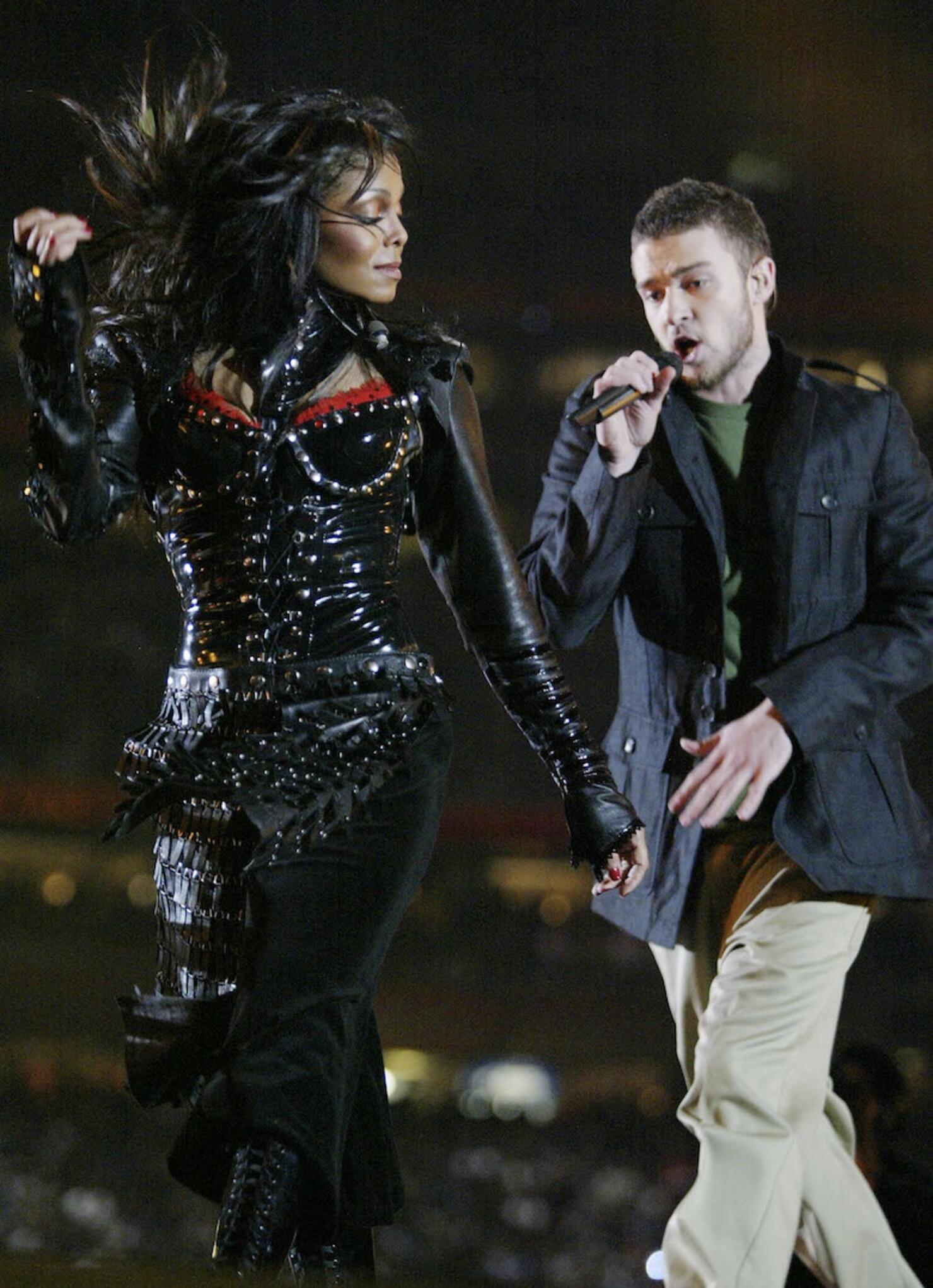 Janet Jackson, Justin Timberlake, P. Diddy, Nelly, Kid Rock and Jessica Simpson: Although the 2004 show had a lineup stacked with an unexpected collaboration of artists and a stellar performance from Janet Jackson, the real talk of the event was her infamous wardrobe malfunction with surprise-guest, Justin Timberlake.
Photo: Getty Images
20 of 23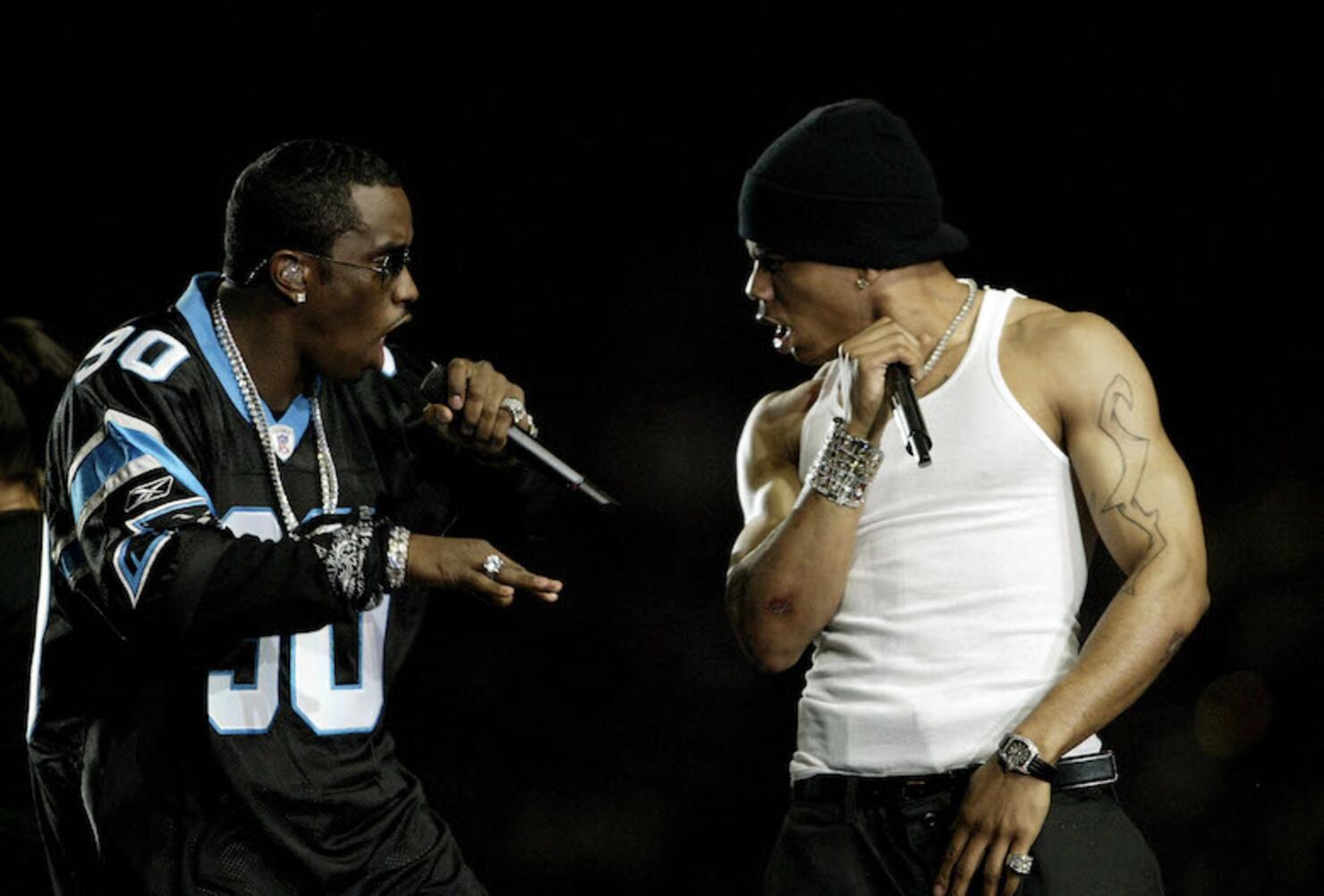 21 of 23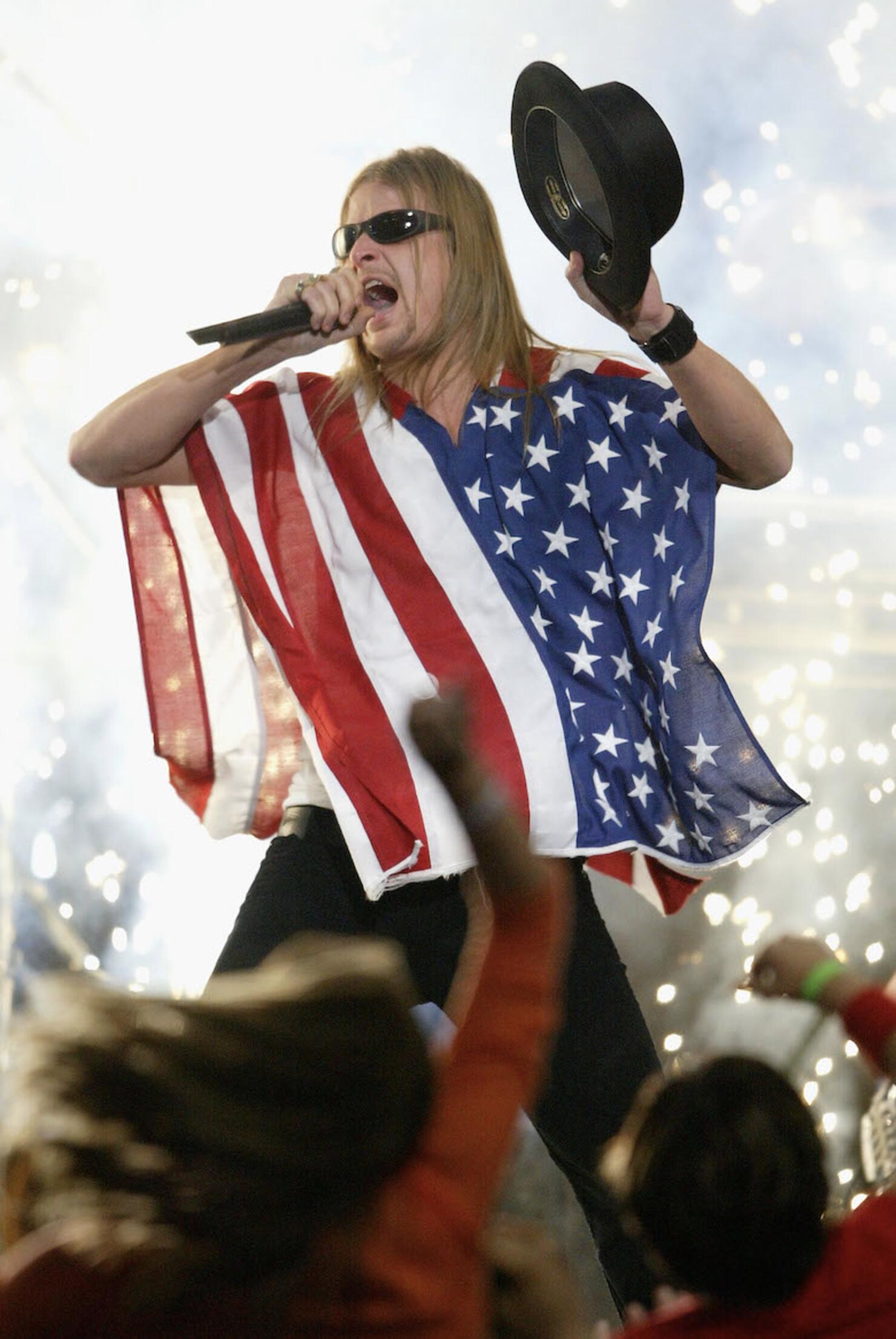 22 of 23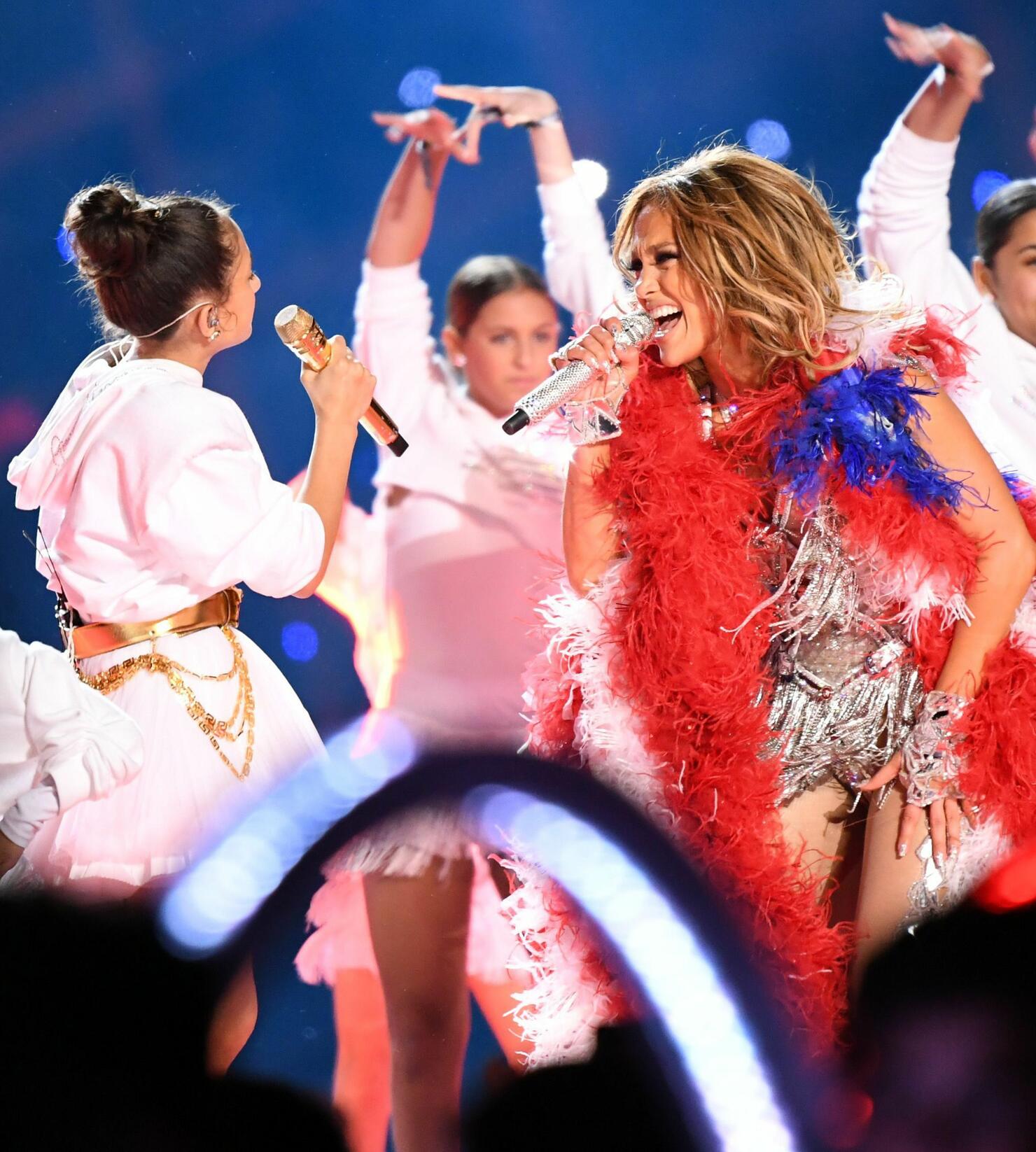 Jennifer Lopez, Shakira, Bad Bunny and J Balvin - Super Bowl LIV, 2020: The 2020 halftime show was filled with eye-catching matching outfits, an iconic collaboration, and throw back songs from the early 2,000s. They performed songs like "Hips Don't Lie" by Shakira and "Jenny From The Block'' by Jennifer Lopez. A special guest surprise was made by Lopez's daughter, Emme Maribel Muñiz, who was just 12 years old at the time.
Photo: Getty Images
23 of 23