Dierks Bentley Reveals How Many Times He Recorded 10th Album To Perfect It
By Kelly Fisher
January 12, 2023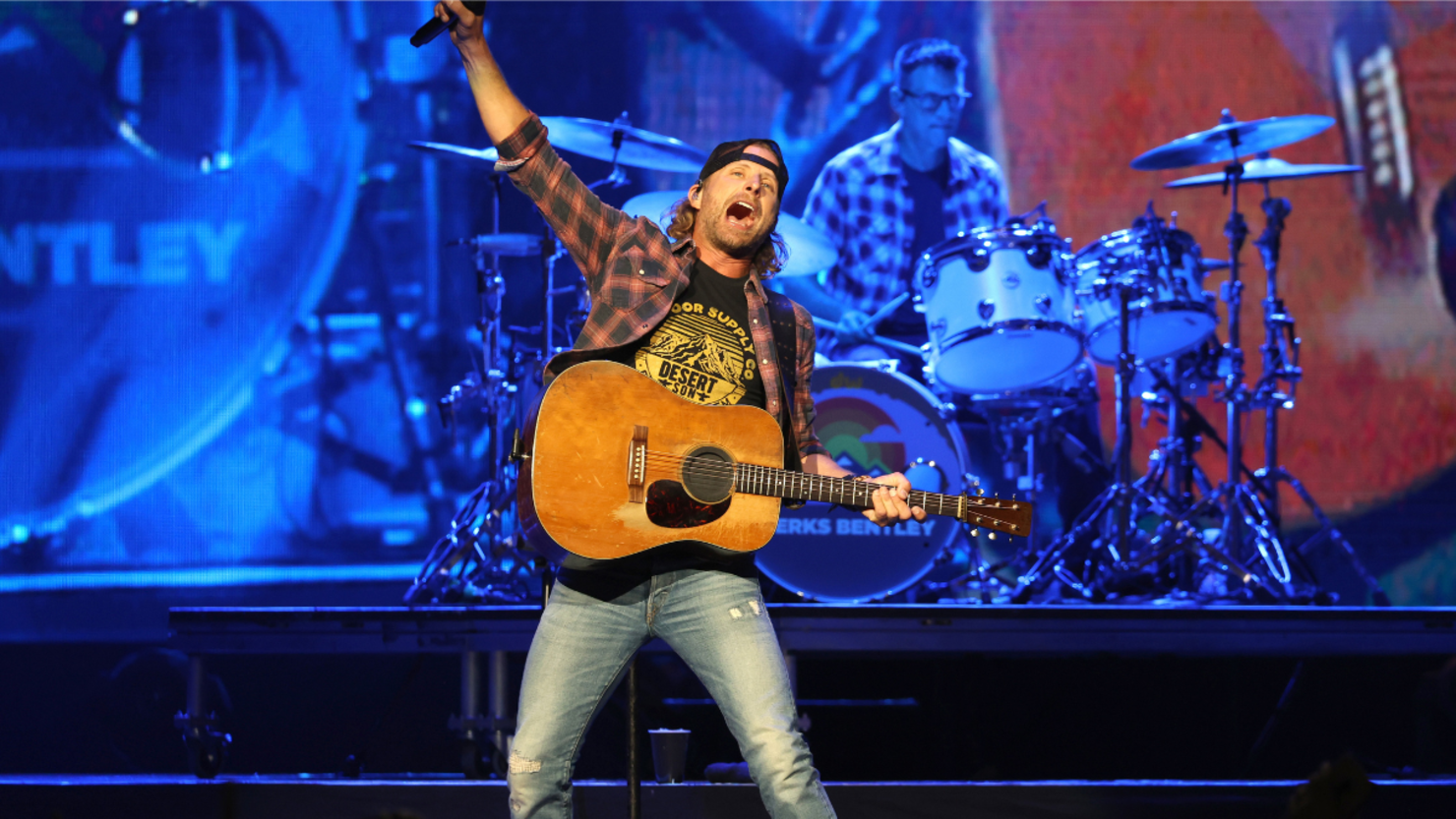 Dierks Bentley finally revealed the release date — and the title — of his long-awaited 10th LP, a project set to debut from the result of "an especially careful production process, one helmed by the artist himself for the first time."
Bentley is set to release Gravel & Gold on February 24, he announced on his social media channels on Thursday (January 12). The country hitmaker reflected on the journey of his decades-long career and the making of his 10th album (which he ditched and re-recorded multiple times) as he readied fans for Gravel & Gold. The upcoming collection is Bentley's first full-length project since releasing The Mountain in 2018.
"It's been a long road: a 20-year journey filled with highs and lows, twists and turns," Bentley said. "My love for country music, that's what's always kept me going. Town to town, show to show. Small clubs to packed arenas. I worked hard, I took chances, went for things.
"The journey isn't where I've been, it's the thing I carry with me into my 10th album," he continued. "I wrote. I recorded. It wasn't good enough. I threw it out, and started over — twice. I had to get it right. For the fans, for me. It had to be the best country music I've ever made. Everyone showed up: my heroes and my friends. We did it together. It's the love, the lessons, the Gravel & Gold."
"It is the 10th album. I went into the studio three different times, worked with a lot of different producers and finally just ended up putting together my own team," Bentley added in a statement shared by his record label. "I mean, I'm just thankful. I feel like for me for COVID, it was like a red light. For all of us, we were all just stuck there and I kinda got out of my car and just left it in park for a little bit, and I was able to come back and do it in late '21 and '22 and really be focused on finishing the record and getting it done the right way. And I don't know. Hopefully everyone loves it."
Earlier this week, Bentley hinted in a vague tweet that he would make a "big announcement" this week. Anticipation stirred among fans who have been waiting for the announcement for months, as Bentley began to release new tracks throughout 2022.
Bentley kicked off his next era with "Gold," the lead track from his forthcoming album. He previously explained that the gratitude-focused song captured the message that there's "lots of special moments to cherish even in the middle of the tough stuff."
He followed that debut with "High Note," which he introduced as a "bluegrass super jam," featuring Billy Strings, Charlie Worsham, Jerry Douglas on dobro, Sam Bush on mandolin and guitar star Bryan Sutton.
"Selfishly I've always wanted to have my cake and eat it too," Bentley said in a press release on Friday (January 13). "I'm in the bluegrass space. I'm in the traditional country space. It's always been important to me to have the love and support of this community in Nashville, particularly the older establishment and the Opry - and to know that I'm able to do that but also get out on the road and play the big venues too? It doesn't get any better than that for me."
GRAVEL & GOLD Track List:
1. "Same Ol' Me"
2. "Sun Sets In Colorado"
3. "Heartbreak Drinking Tour"
4. "Something Real"
5. "Still"
6. "Beer At My Funeral"
7. "Cowboy Boots" (Featuring Ashley McBryde) 
8. "Gold"
9. "Walking Each Other Home"
10. "Roll On"
11. "All The Right Places"
12. "Ain't All Bad"
13. "Old Pickup"
14. "High Note" (Featuring Billy Strings)
"2020 was a chance for me to give my guitar and the road a little rest. It gave me the chance to spend a lot more time adventuring outdoors with family and friends, but also alone. It also gave me time to reset and rekindle my love of Country music and a lot of the types of songs and sounds that I fell in love with when I first got to Nashville," Bentley said in a statement when he released "Gold." "I think you'll hear that in this first track, but it carries across the whole album."