Bed Bath & Beyond Is Closing 87 Stores Amid Financial Troubles
By Bill Galluccio
February 2, 2023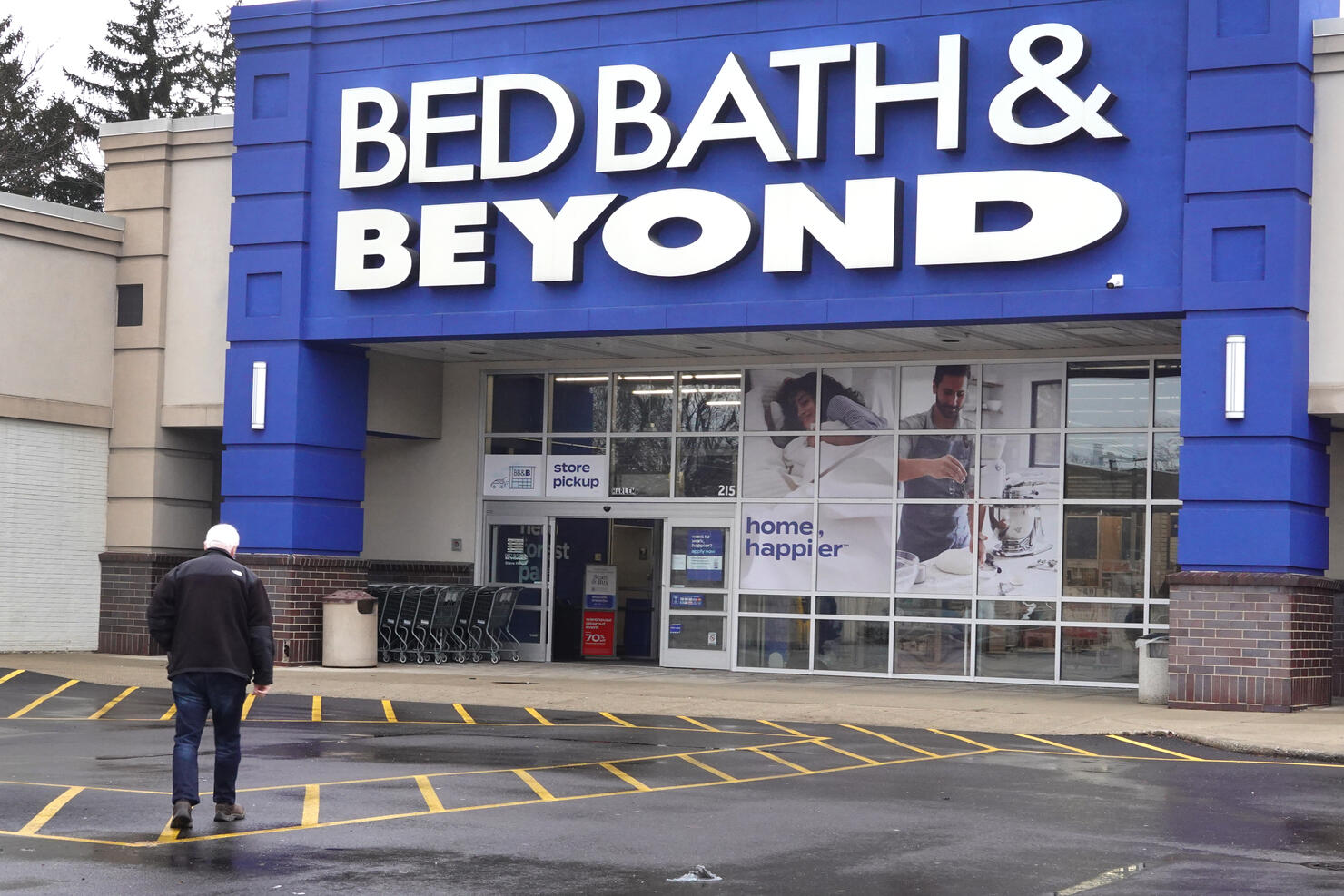 Bed Bath & Beyond announced it is closing 87 stores in 30 states as it continues to struggle to pay its bills. In addition, five buybuy Baby locations will be closed, as will all Harmon stores.
Previously, Bed Bath & Beyond was planning to close 150 of its lowest-performing stores.
On Wednesday (February 1), the retailer missed its $28 million interest payments on $1 billion in bonds. The company now has a 30-day grace period to make the payment or risk defaulting.
The company is expected to file for bankruptcy in the coming weeks.
"As we continue to work with our advisors to consider multiple paths, we are implementing actions to manage our business as efficiently as possible," a Bed Bath and Beyond spokesperson told CNN. "This store fleet reduction expands the company's ongoing closure program."
Here is the complete list of the 87 closures.
6850 US Highway 90 Anchor D in Daphne, Alabama
4122 McCain Blvd. in North Little Rock, Arkansas
1834 South Signal Butte Road in Mesa, Arizona
1905 Calle Barcelona Suite 100 in Carlsbad, California
10822 Jefferson Blvd. in Culver City, California
2385 Iron Point Road. in Folsom, California
1405 East Gladstone Street in Glendora, California
14351 Hindry Avenue in Hawthorne, California
72459 Highway 111 in Palm Desert, California
10537 4S Commons Drive, Suite 170, in San Diego, California
165 S. Las Posas Road in San Marcos, California
1865 North Campus Avenue, Building #15 in Upland, California
3125 South Mooney Blvd. in Visalia, California
1605 Fall River Drive in Loveland, Colorado
16531 Washington Street in Thornton, Colorado
20 Hazard Avenue in Enfield, Connecticut
2260 Kings Highway in Fairfield, Connecticut
835 Queen Street in Southington, Connecticut
1065 Silas Deane Highway in Weathersfield, Connecticut
2239 East Semoran Blvd in Apopka, Florida
20560 State Road 7 in Boca Raton, Florida
371 North Congress Ave. in Boynton Beach, Florida
320 Brandon Town Center Dr. in Brandon, Florida
4631 North University Dr. in Coral Springs, Florida
14824 South Military Trail in Delray Beach, Florida
1460 West 49th St. in Hialeah, Florida
6001 24 Argyle Forest Blvd in Jacksonville, Florida
3221 City Station Drive, Suite 125 in Jacksonville, Florida
397 North Alafaya Trail in Orlando, Florida
540 North State Road 7 in Royal Palm Beach, Florida
1 Buckhead Loop in Atlanta, Georgia
3615 South Federal Way in Boise, Idaho
9650 South Ridgeland Avenue in Chicago Ridge, Illinois
5786 Northwest Highway in Crystal Lake, Illinois
215 Harlem Avenue in Forest Park, Illinois
1584 South Randall Rd. in Geneva, Illinois
3232 Lake Ave., Suite 125 in Wilmette, Illinois
2515 Corridor Way Suite 5 in Coralville, Iowa
15335 West 119th Street in Olathe, Kansas
4350 Summit Plaza Drive in Louisville, Kentucky
200 Harker Place, Suite 200 in Annapolis, Maryland
12641 Ocean Gateway Suite 240 in Ocean City, Maryland
200 Clifton Blvd in Westminster, Maryland
3 Abbott Park in Burlington, Massachusetts
820 Providence Highway in Dedham, Massachusetts
458 State Road, Rt 6, Suite 100 in North Dartmouth, Massachusetts
665 Merrill Road in Pittsfield, Massachusetts
600 South Street West, Suite 13 in Raynham, Massachusetts
7961 Southtown Center in Bloomington, Minnesota
10770 Sunset Hills Plaza in St. Louis, Missouri
155 Promenade Blvd. in Bridgewater, New Jersey
276 Route 202/31 in Flemington, New Jersey
1160 Route 23 North in Kinnelon, New Jersey
1121 Highway 34, Suite A in Matawan, New Jersey
190 Hamilton Commons in Mays Landing, New Jersey
8 Centerton Road in Mt. Laurel, New Jersey
5131 Sunrise Highway in Bohemia, New York
850 Third Avenue in Brooklyn, New York
459 Gateway Drive in Brooklyn, New York
72 15 25th Avenue in East Elmhurst, New York
251 East Main Street in Elmsford, New York
1490 Union Turnpike in New Hyde Park, New York
2020 South Road, Suite 3 in Poughkeepsie, New York
3064 Route 50 in Saratoga Springs, New York
1455 East Lasalle Drive in Bismarck, North Dakota
3750 Easton Market in Columbus, Ohio
1700 Oxford Drive in Bethel Park, Pennsylvania
3739 William Penn Highway in Monroeville, Pennsylvania
1261 Knapp Road in North Wales, Pennsylvania
160 Quinn Drive in Pittsburgh, Pennsylvania
205 West Blackstock Road in Spartanburg, South Carolina
5523 Highway 153, Suite 112 in Hixson, Tennessee
870 South White Station Road in Memphis, Tennessee
420 East FM 3040 Suite 300 in Lewisville, Texas
6400 West Plano Parkway, Suite 125 in Plano, Texas
2112 SW HK Dodgen Loop in Temple, Texas
1678 West Redstone Center Drive in Park City, Utah
1324 Greenbrier Parkway in Chesapeake, Virginia
24670 Dulles Landing Dr. Unit 150 in Dulles, Virginia
12100 Fairfax Towne Center in Fairfax, Virginia
6642 Loisdale Rd. in Springfield, Virginia
4900 Monticello Ave, Suite 4 in Williamsburg, Virginia
2540 South Pleasant Valley Road in Winchester, Virginia
7809B Vancouver Plaza Dr #102 in Vancouver, Washington
1630 West Poplar Street in Walla Walla, Washington
395 Target Way in Morgantown, West Virginia
3575 Rib Mountain Drive in Wausau, Wisconsin