Davante Adams Hints At Reunion With Aaron Rodgers
By Jason Hall
February 2, 2023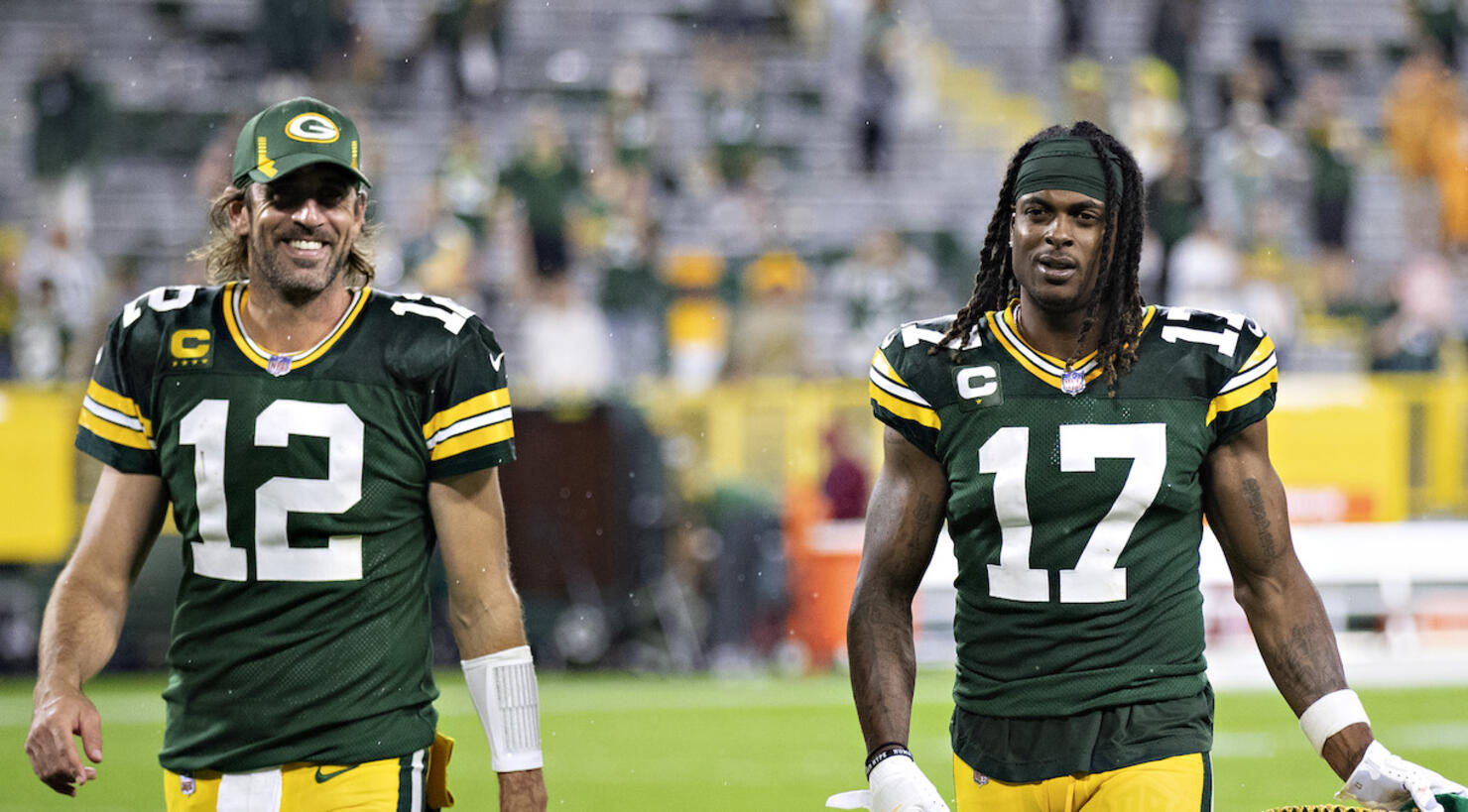 Las Vegas Raiders wide receiver Davante Adams hinted at a potential reunion with former Green Bay Packers teammate Aaron Rodgers amid reports of a potential trade involving the quarterback.
Adams answered 15 questions from Twitter followers late Wednesday (February 2) night, which included addressing which neighborhood Rodgers was "moving to."
"Mine," Adams quote-tweeted in response to the question.
Adams spent his entire NFL career with Rodgers and the Packers before joining the Raiders as part of a five-year, $141.25 million sign-and-trade deal this past offseason. Rodgers addressed the "surprising" departure of his primary receiver, which took place after he'd already signed an extension with the Packers, during an appearance on the Pat McAfee Show's 'Draft Spectacular' last April.
"It was a little surprising with Davante," Rodgers said. "Obviously when I made my decision [to re-sign] I was still thinking he was gonna come back. I was very honest with him about my plans and my future and where I saw my career going as far as how many years I was going to play.
"But I felt like he was gonna be back. It didn't, obviously, turn out that way but I have so much love for 'Te and appreciate the time we spent together."
On Tuesday (January 31), Rodgers addressed "conversations" regarding a potential trade centered around him during his weekly appearance on the Pat McAfee Show.
"It sounds like there's already conversations going on that aren't involving me, which is interesting...I'm not a part of those conversations right now," Rodgers said. "When I make up my mind one way or another then you guys and the Packers, not in that order, and everyone else will know at some point."
On Sunday (January 29), league sources told ESPN's Adam Schefter that the Packers would prefer "to move on from" Rodgers amid reports of a potential offseason trade.
The Packers are also reportedly committed to finding a trade partner and had "their next plan ready to go" should Rodgers request a trade, according to NFL Network's Tom Pelissero.
Rodgers signed a three-year, $150 million extension with the Packers last offseason amid previous reports of being disgruntled with the franchise. The 39-year-old was coming off back-to-back MVP seasons ahead of the 2022 NFL season, which resulted in Green Bay missing the playoffs after clinching a postseason berth during the previous three consecutive seasons and 11 of the past 13 years.
The Raiders are in the market for a quarterback after benching and publicly acknowledging their decision to move on from veteran starter Derek Carr late in the 2022 NFL season. Carr and Adams were teammates at Fresno State and the quarterback was reported to be a major factor in the receiver's decision to join the Raiders last offseason.