Jason Aldean Gears Up For Dozens Of 'Highway Desperado Tour' Stops In 2023
By Kelly Fisher
February 13, 2023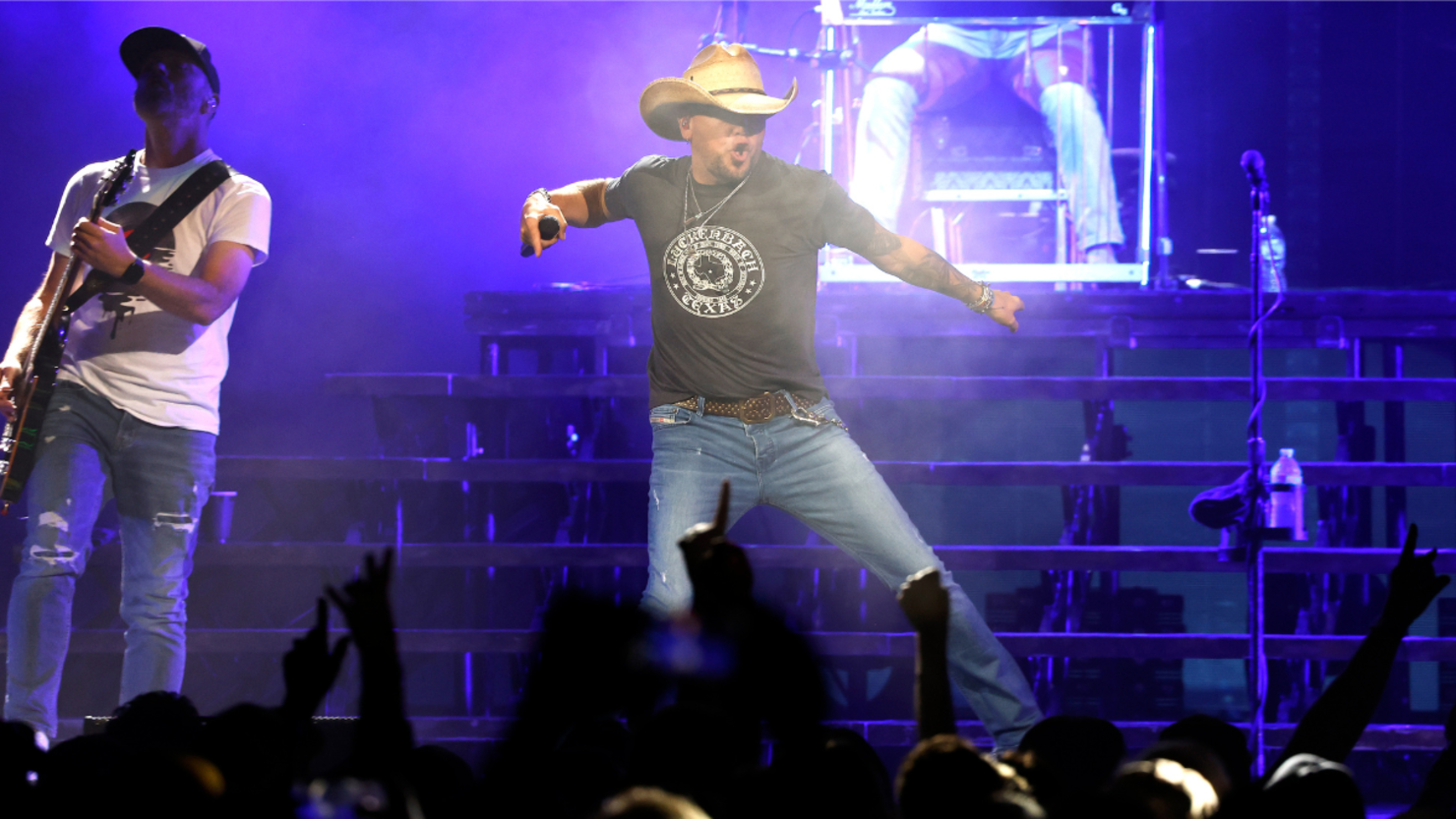 Jason Aldean is gearing up for a massive, nationwide tour in 2023. The "That's What Tequila Does" artist unveiled dozens of tour stops on his social media channels on Monday morning (February 13). He's set to kick off the "Highway Desperado Tour" in mid July, spanning through late October.
"Highway Desperado Tour, let's ride! 💥," Aldean posted. "Tickets on sale THIS Friday, Feb 17 at 10am local venue time."
The "Highway Desperado Tour" is also set to include special guests Mitchell Tenpenny, Corey Kent and Dee Jay Silver. Aldean's latest album to release is Georgia, his 15-track follow-up to Macon. The two installments make up a massive, 30-track project that serves as a tribute to the country superstar's hometown. The two-part collection is packed with tons of fan-favorite songs, including "Trouble With A Heartbreak," "Rock And Roll Cowboy," "That's What Tequila Does," "If I Didn't Love You" (a power ballad featuring Carrie Underwood), and live renditions of previously-released anthems throughout Aldean's career.
See Aldean's announcement here, and see the list of tour stops below.
7.14 — Bethel, NY
7.15 — Hartford, CT
7.16 — Sarasota Springs, NY
7.20 — Cuyahoga Falls, OH
7.21 — Cincinnati, OH
7.27 — Columbia, MD
7.28 — Hershey, PA
7.29 — Mansfield, MA
8.4 — Charleston, SC
8.5 — Atlanta, GA
8.6 — Tuscaloosa, AL
8.10 — Charlotte, NC
8.11 — Raleigh, NC
8.18 — Sioux Falls, SD
8.19 — Welch, MN
8.24 — Estero, FL
8.25 — Jacksonville, FL
8.26 — Orange Beach, AL
9.7 — Toronto, ON
9.8 — Clarkston, MI
9.9 — Tinley Park, IL
9.14 — Rogers, AR
9.15 — St. Louis, MO
9.16 — Noblesville, IN
9.21 — Wheatland, CA
9.22 — Portland, OR
9.23 — Auburn, WA
9.28 — Mountain View, CA
9.29 — Irvine, CA
9.30 — San Bernardino, CA
10.5 — Phoenix, AZ
10.6 — Albuquerque, NM
10.7 — Denver, CO
10.12 — Kansas City, MO
10.13 — Oklahoma City, OK
10.14 — Fort Worth, TX
10.19 — Columbus, OH
10.20 — Louisville, KY
10.21 — Toledo, OH
10.27 — West Palm Beach, FL
10.28 — Tampa, FL