Netflix's 'You' Delivers Epic Taylor Swift Moment Fans Can't Get Enough Of
By Dani Medina
March 11, 2023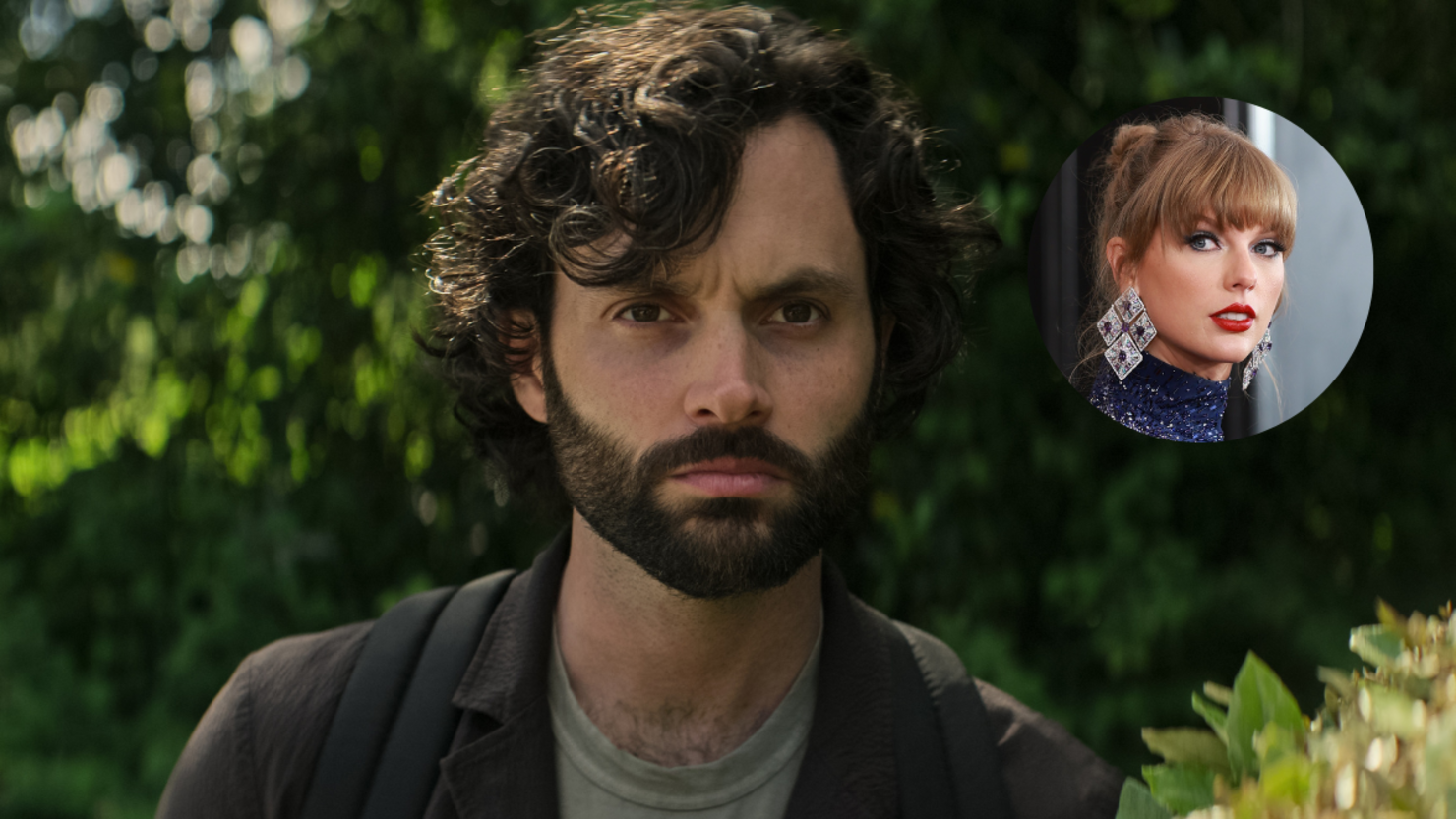 Photo: Netflix, Getty Images
This article contains spoilers for Season 4 of You on Netflix.
Is Joe Goldberg a Swiftie?!
The newest season of You (Season 4 Part 2 just dropped on Netflix on March 9) features an unforgettable moment that Taylor Swift fans just can't get enough of. In the season finale, Penn Badgley's character opens a new chapter of his life to the tune of "Anti-Hero."
"The Midnights track plays under a season-ending montage that checks in with everyone who survived Joe's most recent killing spree — before unveiling the new-old life Joe has made for himself with Kate (Charlotte Ritchie) in New York City," according to Netflix.
It's not until Joe finally embraces his "darker side" in the season's final episode that the popular lyrics — "It's me, hi. I'm the problem, it's me" — set the tone for his actions.
Choosing the song was a "fortuitous twist of fate" for the showrunners who, in addition to being Swifties, were able to snag the track just in time for the closing sequence. "I watched the 'Anti-Hero' video for the first time and I realized we've been talking about (Joe) in that way (in the writers' room). And then I remembered seeing Penn's (first-ever) Tik Tok also, to be weirdly sort of meta about it," said showrunner Sera Gamble.
I am screaming!! Anti Hero by Taylor Swift on #YouNetflix 🫠 Joe Goldberg is the problem. Always. Period. Catch Anti Hero on episode 10 of You Season 4.. remember last season they played EXILE from folklore.. iconic 👏🏻 pic.twitter.com/mlQaI7Snhm

— midnighTS Tour Updates ✨ (@tsworldtour13) March 9, 2023
Fans on social media were excited, to say the least, when they heard "Anti-Hero" in the season finale.
"I started to fly when anti hero played," one user wrote.
"the way i burst out laughing and giggling when anti-hero started playing in part 2 of you season 4," said another.
"you s3 ending with exile and you s4 ending with anti-hero? joe goldberg is a taylor swift stan #YouNetflix," another fan wrote.
This marks the second time You has featured a T-Swift track. In the Season 3 finale, "exile" was playing as the episode came to a close when Joe gunned it for Europe. "I sent a little note saying how much the fans of our show talk about 'exile' and how meaningful that is," Gamble said. "I acknowledged that ('exile') was a really important addition to the show and that we wanted to pay homage to that (with 'Anti-Hero'). And look, we have people in our writers' room who just show up to work in Taylor Swift T-shirts — true Swifties abound in the You-verse — so we just made a fan appeal, basically."
There's also a viral moment from the show — although it didn't make the cut to the show because it was done on set — where Joe is seen inputting the code to his glass safe. The code? 12-13-89, Swift's birthday!