Vince Gill Reveals 3 Country Music Hall Of Fame Inductees Of 2023
By Kelly Fisher
April 3, 2023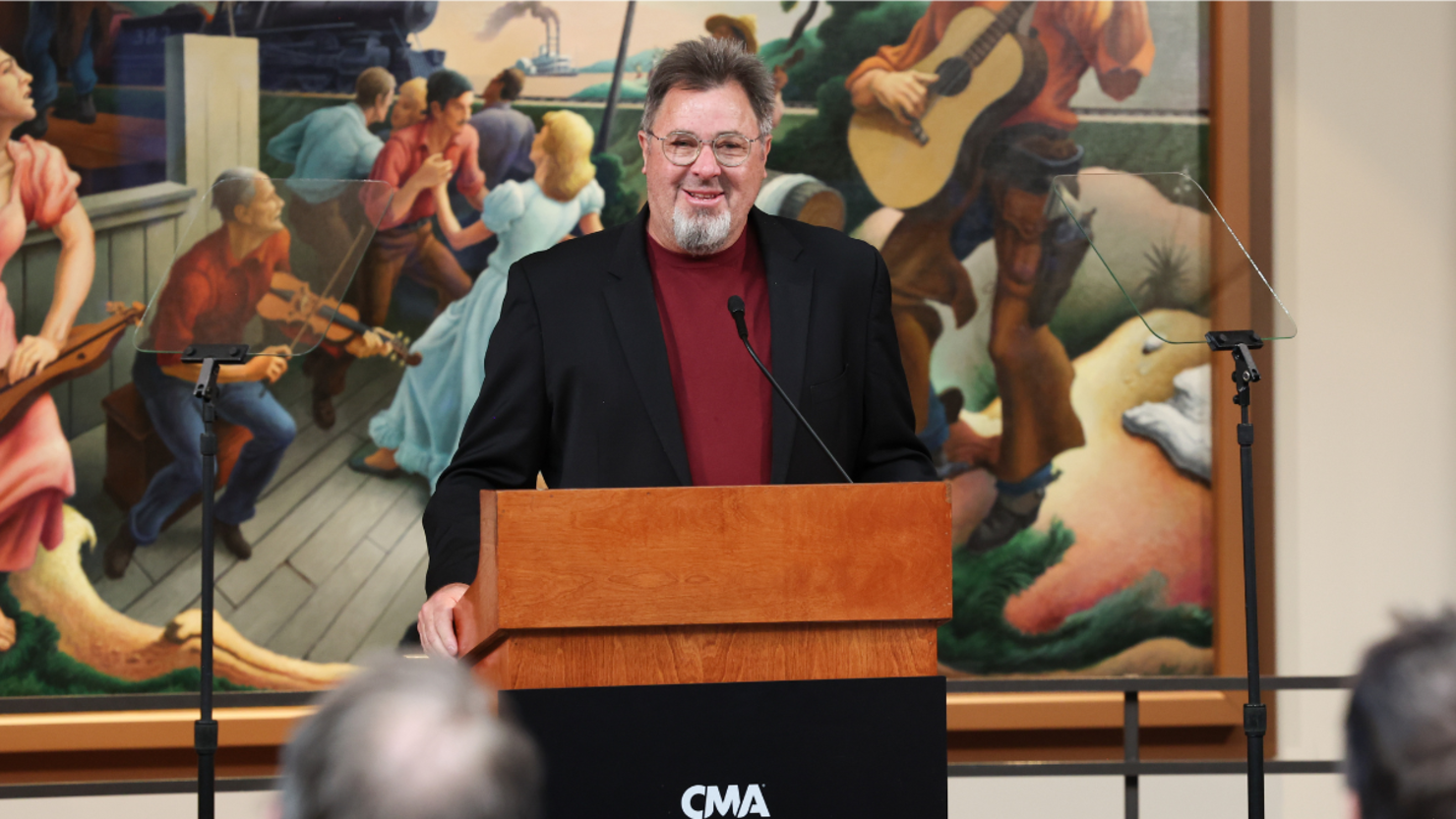 Vince Gill revealed the next class of legendary artists and songwriters to be inducted into the Country Music Hall of Fame and Museum in Nashville, Tennessee. Gill took the podium at the renowned Hall of Fame Rotunda on Monday morning (April 3) to make the live-streamed announcement that Bob McDill, Patty Loveless and Tanya Tucker would be the next class inducted into the iconic venue.
McDill — whom Gill described as "arguably one of the best (songwriters) ever" — said in a statement that he's "thrilled and honored" to be inducted into the Hall of Fame in the Songwriter category, which is awarded every third year. The category rotates with the Recording and/or Touring Musician and Non-Performer categories, per the Country Music Association. Loveless is the Modern Era Artist category inductee, and Tucker will be inducted in the Veteran Era Artist category.
"All three of this year's inductees are truly one-of-a-kind storytellers," CMA Chief Executive Officer Sarah Trahern, said in a statement, per CMA. "Tanya, Patty and Bob each have a distinctive voice and an ability to share stories that precisely represent American life. While their impact is felt in very different ways, their songs are reflective of their generation and experience, vividly illustrating an authenticity that will last forever. We are honored to welcome these three very deserving inductees into the Country Music Hall of Fame."
Loveless said the induction is a "dream come true" as she emotionally shared her remarks during the announcement on Monday morning. She added in a statement that she's "so incredibly privileged to be invited into this incredible family."
Tucker is "about as good as it gets," Gill said as he revealed the "Delta Dawn" icon as the third 2023 Hall of Fame inductee. Tucker took the mic to pay tribute to everyone who believed in her as she established her career in country music. She added: "It was wonderful to have all three of my kids beside me when I got the news. The only way it could've been any better is if my parents Beau and Juanita Tucker could have been there too. They are the reason and the root of all my success in music. And the fans — they are everything! When I walk in that Hall they will all be with me."
"Each of our three new inductees has left a deep and distinctive stamp on our genre," Kyle Young, CEO of the Country Music Hall of Fame and Museum, said in a statement, per CMA. "Tanya Tucker, originally from Texas, is a force of nature who has been blazing her way into our hearts since she was a teenager. Patty Loveless, who hails from the coal-mining hills of Kentucky, sings with mountain soul and makes music that blends tradition with invention. And Bob McDill from East Texas has written some of the most enduring and artful songs in our genre. They have all profoundly shaped our music, and we are honored and delighted that their achievements will now forever be enshrined in the Country Music Hall of Fame."
The Museum's Medallion Ceremony to induct McDill, Loveless and Tucker will take place this fall in the CMA Theater at the Country Music Hall of Fame and Museum. The date of the ceremony has not been announced as of publication time on Monday. Learn more about each inductee from the Country Music Hall of Fame and Museum here.