Missing Washington Man Found Alive In Truck Sitting At Bottom Of Ravine
By Zuri Anderson
May 22, 2023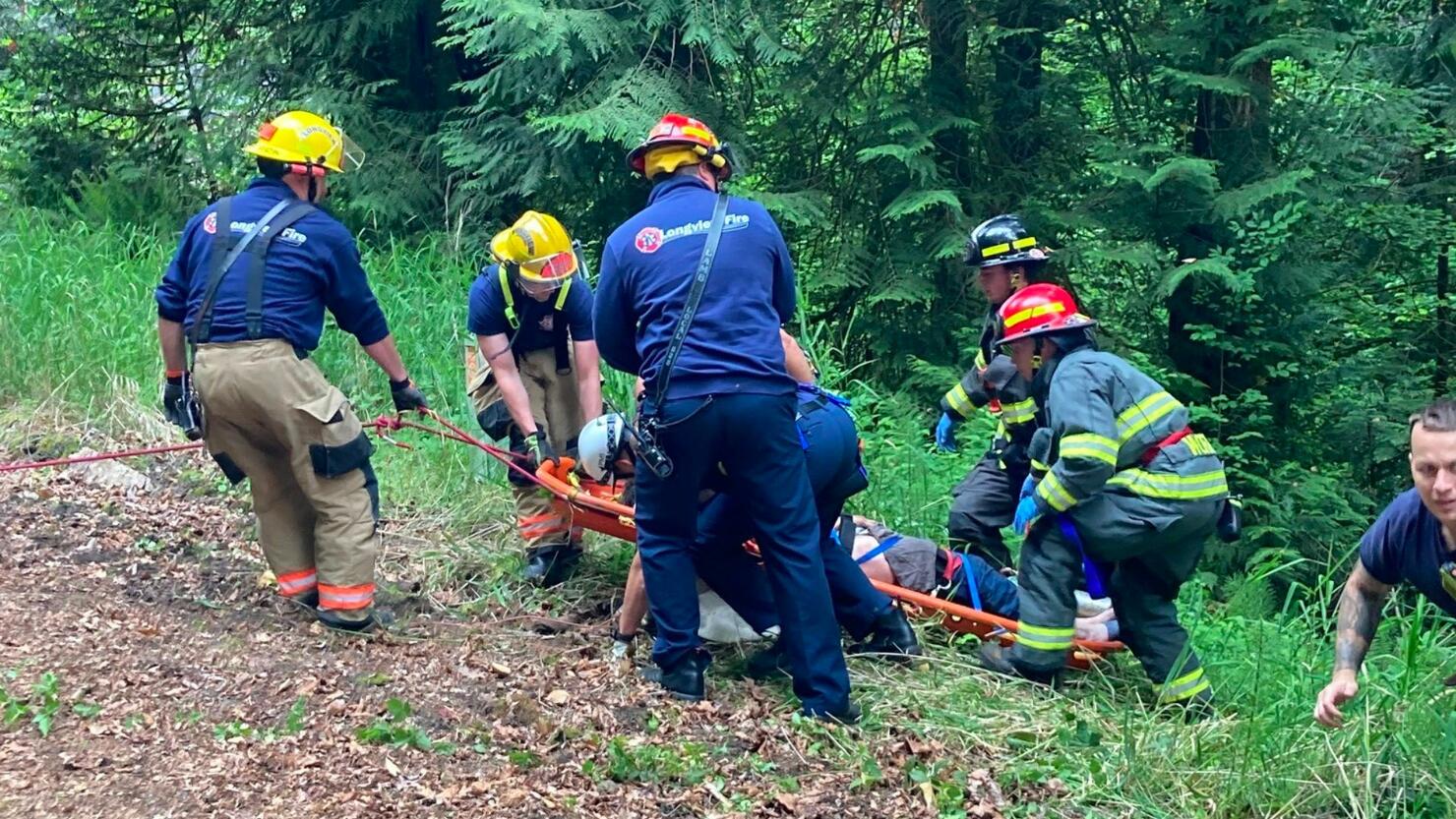 Photo: Cowlitz 2 Fire & Rescue
A Washington man who's been missing for five days was found alive inside his vehicle at the bottom of a ravine Sunday morning (May 21), per KATU. Cowlitz 2 Fire & Rescue said they discovered the man, a 56-year-old resident of the county, after getting calls from residents in the 4900 block of Sunset Way around 9:30 a.m.
Officials said a small green pickup truck went off the road and tumbled 150 feet into a heavily-wooded ravine. The residents described the vehicle as resembling that of the missing man's truck, and authorities confirmed the vehicle matched the 56-year-old's truck.
Cowlitz 2 firefighters reportedly hiked down into the hill through "waist-deep brush" expecting the worst. Instead, they were surprised to find the truck driver alive but "severely injured and ill."
Crews with the Longview Fire Department helped Cowlitz 2 conduct a rope rescue to get the victim out of the ravine. The man was then transported by ambulance to a Lifeflight helicopter, which airlifted him to Peace Health Southwest Hospital for emergency care, according to officials.
"We're just flabbergasted that he still survived," Terri Peck, a woman who's known the missing man for decades, told KATU. "I just want to cry to death just knowing that he was here. We all knew that somebody had to get to him quick because we knew he wasn't going to have much more time."
Reporters also spoke to Joe Tone, Battalion Chief with Cowlitz 2 Fire & Rescue, about the circumstances surrounding the man's disappearance.
"The Sheriff's Office had an active investigation going on, where they had multiple people they interviewed, family members, and there was even suspicion that maybe a crime had been committed. They had no idea where the gentlemen was at," Tone explained. "We know his injuries were significant."
No word about the man's condition as of Monday afternoon (May 22), but his friends and family hope he makes a full recovery.