Umphrey's McGee To Celebrate 25 Years With 'Frame x Frame' Doc Premiere
By Andrew Magnotta @AndrewMagnotta
June 8, 2023
Umphrey's McGee has seldom looked back over the past 25 years, but the hard-rocking Chicago-rooted jam outfit is making an exception for its silver anniversary in the form of the career-spanning retrospective film, Frame x Frame, arriving June 11 via nugs.net.
A fixture in the jam scene since the early-2000s, Umphrey's McGee set itself apart with a musically multilingual approach onstage and on record that is as sonically diverse as it is sublime.
Each UM album and live show is a celebration of all things rhythm and harmony. The band has cultivated a limitless musical imagination over the past two-and-a-half decades, and its live improvisations are as likely to climax in a mosh pit as they are to metamorphose into a dance party.
Frame x Frame explores Umphrey's McGee's low stakes beginnings in South Bend, Indiana, to the fan-driven movement that brought it to Chicago and then the rest of the world, as well as the triumphs and setbacks along the way.
"The point is that it's a success story, this band," drummer Kris Myers tells Q104.3 New York's QN'A. "We started out as this really college-level campus band that picked up on a certain grassroots network in jam band culture at a certain time around 2000 or the late-'90s. ...Things have changed; we've had to be creative with being our own kind of startup company, as they call it today. Here we are after 25 consecutive years together doing this crazy grind, still doing it. I'm proud of it."
Read our full QN'A with Myers below!
Frame x Frame premieres on June 11 via nugs.net at 7:30 p.m. ET. Pre-order the livestream here!
Umphrey's McGee will also host a special in-person premiere at the historic Music Box Theatre in Chicago, followed by a live Q&A with guitarist Brendan Bayliss, percussionist Andy Farag and Frame x Frame director Pete Herzog and producer Kevin Browning. Go here for tickets.
Go here for all of Umphrey's McGee's tour dates and upcoming releases.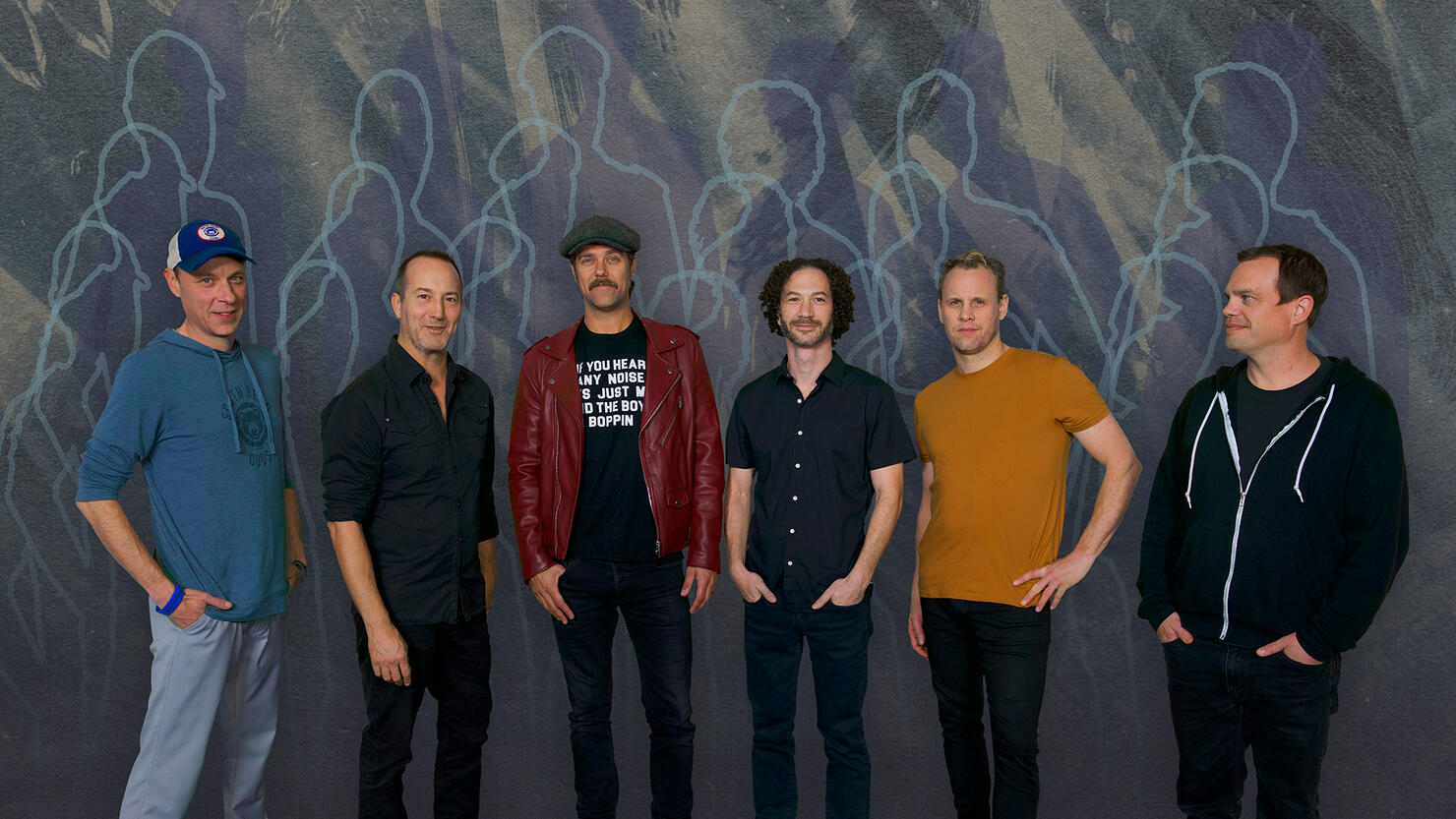 It seems like Umphrey's has even more going on this year than usual, thanks to the band's 25th anniversary. Are you able to keep up with everything?
Yeah, we're just trying to keep up with the [live] jam up, even still after COVID and all that. We're just focusing mostly on the music and the touring. We have discussions about releases and stuff like that as a band, but we keep more on top of the logistics of touring, first and foremost.
It must be wild to look back on the band's 25 years — and your 20 years — in the documentary. What do you hope people take away from Frame x Frame?
The point is that it's a success story, this band. We started out as this really college-level campus band that picked up on a certain grassroots network in jam band culture at a certain time around 2000 or the late-'90s.
That was at a very pivotal time, where bands were very fertile in where we were expanding and in our fan engagement and our awareness of technology. It was even before social media, really.
We had local fans spreading the word and us playing at festivals, opening up for other big bands at that time, and message boards, that whole thing back then. That was how people caught on to jam band culture, which was always kind of ahead of the curve compared to other genres…
Things have changed; we've had to be creative with being our own kind of startup company, as they call it today. Here we are after 25 consecutive years together doing this crazy grind, still doing it. I'm proud of it.
The band has such a loyal following. Do you see this film as more service to longtime fans or a way to expose new people to the band?
It's got a nice flow to its script and yet it's being true to its form in being both visual and oral in the interviews and through pictures and videos.
There's a lot of throwback stuff, some of it's funny and fun and some of it's more sentimental or just talking about the business aspect or the social aspect. We have people helping us out with the edits, and a lot of them are fans.
We cater to our fans mostly, we're known for that with anything we release. Mainly the hardcore fans get the first fixings, or whatever you want to call it. The rest of the intention is for it to come off, legitimately and professionally for people outside that bubble in a way that's enjoyable.
We're always trying to expand in the generations to come, not just committing to one era, per se. It's an ever-evolving thing.
I noted your use of the term 'jam band' earlier. Have you embraced that categorization or is it merely a means of concisely describing UM's world?
Yeah, the naughty word: jam band!
It [is a term] that sells a lot of bands short on what they really are. And that's typical of most organizations in the music industry, or not, where you're being labeled by the public or the industry or pigeonholed in a certain way. No one has time to give the full summary of what it is that you do.
We are a complex and eclectic bunch of musicians that have a lot of eclectic songs. Different genres and we cross them over together; it's a hybrid of things. But we build the network and the structure of a model that is that of a jam band.
It's grass roots from the get-go.
As far as a genre, if I had to describe it, I've always wondered that too. It's Americana music; it's harmonies and melodies and rhythms and live improvisation and live performance fused into the genre, which a lot of other genres don't glorify as much. The cookie cutter perfectionist, ProTools-esque approach to songs and recording and songwriting is a different look and a different feel altogether from this, which is bringing back a lot of elements of classic rock of the '70s.
[Our influences are] bands like Led Zeppelin, of course, the jam band grandfathers the Grateful Dead, parts of Allman Brothers, maybe even The Band, songwriting wise. But there's southern rock in there, too, with bands like Widespread Panic, Gov't Mule and other things. Then there's a Hendrix-y thing going on.
It's taking the roots of these artists and assimilating it to your own subculture. In our era, we had that infused with more electronic elements and pop elements that we grew up with.
If that's entertaining to the fans, you end up having a very eclectic calliope of genres. There's no other way to really categorize that in other genres, so jam band becomes the land of misfit toys situation. That's how I interpret it.
I agree that the 'jam band' label sells UM short. What I hear is a hard rock band with a deep appreciation for pop, metal and especially jazz.
Yeah, and that's where I get confused too with how limiting it is to be labeled a certain genre, 'cause the public has a tendency to identify a certain genre with a criteria … and it's not really fair to the artist, but we're not going to complain as long we're being true to ourselves and the fans keep understanding and engaging and coming to the shows.
That's what's really special about the jam band community, a lot of people come to support you and they keep coming because they enjoy being off the grid of cookie-cutter pop.
Jam bands have always been in this weird category, in terms of describing what it is. Because it's really not one thing, it's a greater sum of a lot of parts.
I try to give them kind of a reference, when they ask, 'Well, what do you sound like?' And I go, 'Oh, boy, here we go [laughs].' One day I'll say it sounds a little like Dave Matthews Band meets Pearl Jam, it's Frank Zappa meets whatever!
To that point, your latest single, "Staircase," is a super fresh feeling track that doesn't sound quite like anything else in the UM catalog.
Yeah, we've evolved. Things change. That is the beauty of our scene is that we are able to be accepted as a chameleon, as sonic shapeshifters, we can do that and still make a product that we feel proud about and people not feel like it's stale … especially after multiple decades.
Yeah, it doesn't sound like Umphrey's McGee is ever trying to deliver it's 'quintessential sound.'
Artists like us are very fortunate to do that. We're in a business that we created for the fans to chime in and be a part of it and grow with us. We're very stoked about it. It's not something to take for granted.
How do you prepare for an ever-changing setlist on tour? Do you kind of rely on having been in the band for 20 years or do you constantly have to listen to the recordings to refresh your memory?
Yeah, when it comes to preparation for the music, we've created an approach for 20-plus years now of trying to rehearse on the road very briefly and efficiently before the show or maybe during or around soundcheck. We've always had practice gear available — which is a more compact version of our rigs and our instruments — put into a backstage area. We work things out there.
We've found that it's easiest to do that while on the road so that we can all be in the comfort of our own homes and our families when we're off the road, which is just as important. Once in a while we will work with the hours off the road, collaborating on demos and using our home studios to build things or we have meetings and agendas to talk about things between tours.
Sometimes for big events, like New Year's, we will come in a day before the event at a local rehearsal space or the UMBowl event, same thing. Lots to remember, and that's in addition to rehearsing an hour before show or before soundcheck.
And that's how we remember things — just go over parts and phrases. We just have to make sure we're a well-oiled machine because there's a lot of shoots and ladders segues with the gear and shift changes we do. In order to remember it, muscle memory is best.
A lot of touring bands will go in with their lights and the full rig and rehearse for days or weeks. We don't really have that kind of time in our schedules to do that so we just make sure we're on point with the songs, first, and visually, and then on the road together.