Hilary Slams Southern California, but No Major Damage, Injuries Reported
By City News Service
August 21, 2023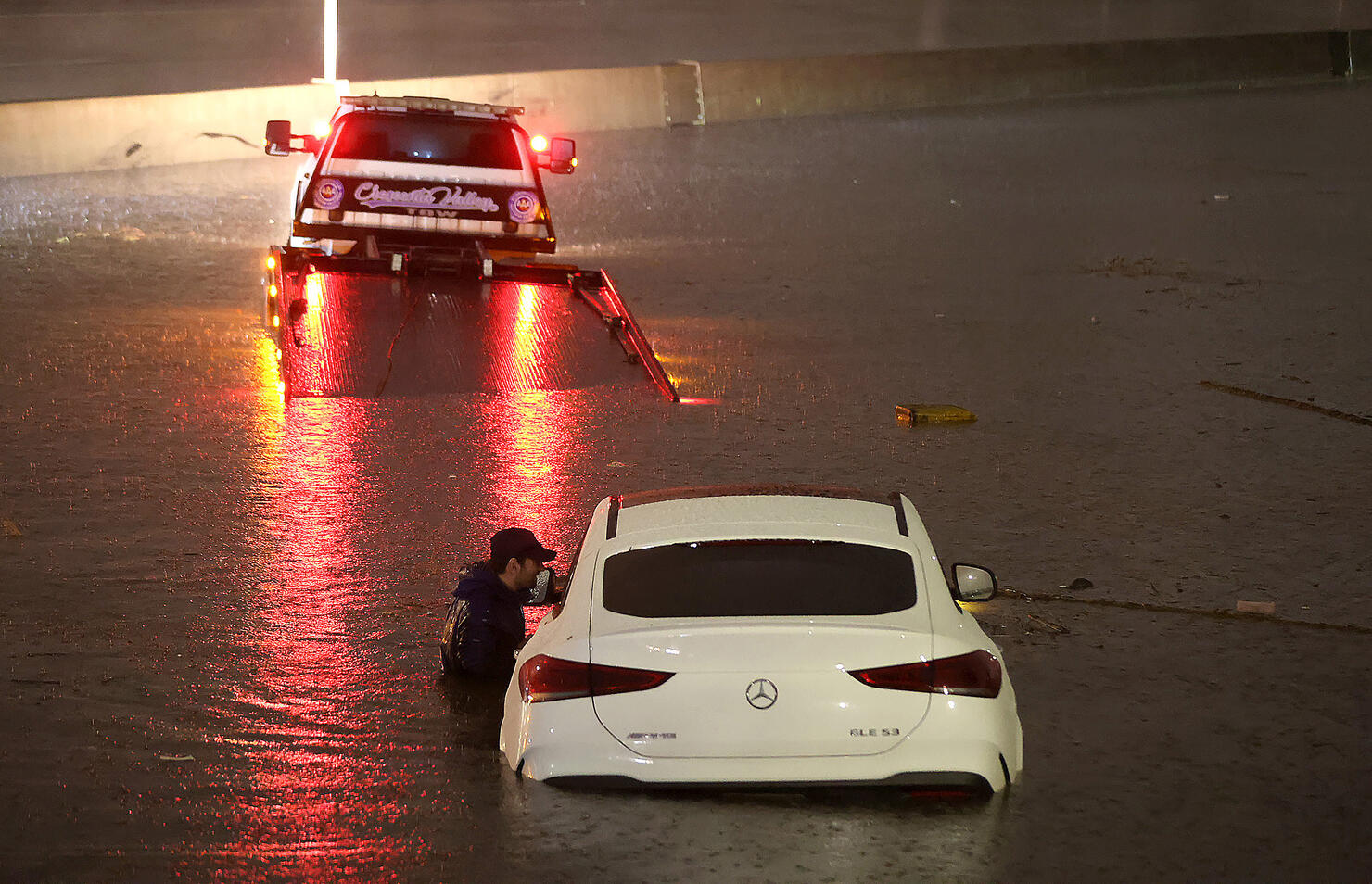 SUN VALLEY, CALIFORNIA - AUGUST 20: A tow truck driver attempts to pull a stranded car out of floodwaters on the Golden State Freeway as tropical storm Hilary moves through the area on August 20, 2023 in Sun Valley, California. Southern California is under a first-ever tropical storm warning as Hilary impacts parts of California, Arizona and Nevada. All California state beaches have been closed in San Diego and Orange counties in preparation for the impacts from the storm which was downgraded from hurricane status. (Photo by Justin Sullivan/Getty Images)
Photo: Justin Sullivan / Getty Images News / Getty Images
CLICK HERE for a list of emergency shelters for those impacted by Tropical Storm Hilary.
LOS ANGELES (CNS) - Rain from Tropical Storm Hilary tapered off Monday as the unsettled weather system moved to the north, and while no major damages were reported due to the storm, utility and repair crews worked frantically to resolve power outages, clear mud flows and remove fallen trees.
The storm unleashed its fury on the region throughout the day Sunday and into Monday morning, making driving treacherous and forcing sporadic road closures due to flooding or mud. Downed trees or branches were reported across the city, with more than 1,000 such cases referred to city crews, and only 179 of them officially cleared as of early Monday afternoon.
Part of a large tree came down overnight in the Sun Valley area and damaged some cars parked nearby.
City crews were also responding to 61 reported potholes, with only seven of them fully repaired.
The Monday morning commute was impacted by several closures, including a mudslide that blocked one lane of traffic on the Hollywood (101) Freeway near Universal Studios. Lanes on the Golden State (5) Freeway in the Sun Valley area were also blocked due to flooding.
But the rain had largely departed the region by Monday afternoon, with National Weather Service forecasters saying conditions were "slowly returning to normal."
"There is a small chance of thunderstorms through this evening across the interior, otherwise more typical weather conditions will return Tuesday with increasing night and morning low clouds and fog near the coast through the week," according to the NWS. "A warming trend is expected over the weekend into early next week."
Most local rainfall records were shattered on Sunday thanks to the almost daylong downpours brought on by the rare tropical storm. The highest rainfall total recorded over a two-day period ending at 7 a.m. Monday was at Mount Wilson, where the NWS reported 8.56 inches of rain. Lewis Ranch saw 7.04 inches, while nearly seven inches fell in Crystal Lake and 6.5 inches came down at Santa Anita Dam. Saugus also saw nearly 6.5 inches of rain.
Most other areas saw between 2 and 4 inches, with Beverly Hills receiving nearly 5 inches. About 3.5 inches fell in Santa Monica, and roughly 3 inches in downtown Los Angeles. Nearly 6 inches fell in East Pasadena, while Pasadena itself saw 2.4 inches.
According to the Weather Service, the 2.48 inches that fell in downtown Los Angeles on Sunday alone made it the wettest August day ever downtown, breaking the record of 2.06 inches set on Aug. 17, 1977.
"Hilary made Sunday a record breaking day for rainfall with almost -- if not all -- stations receiving record amounts of rainfall," according to the NWS.
Many Southland areas were also battered with strong winds overnight. A gust of 87 mph was recorded around 3 a.m. at the Magic Mountain Truck Trail, while the Newhall Pass saw gusts of about 50 mph. The Santa Clarita and San Gabriel valleys saw gusts in the 40 to 50 mph range overnight, according to the NWS.
Mayor Karen Bass on Monday morning thanked residents for heeding warnings to be prepared and stay home during the brunt of the storm. She said residents should continue to be wary of possible impacts, noting that "sometimes damage can occur in the hours and days after a storm hits, so Angelenos should continue to stay vigilant."
Los Angeles Fire Department Chief Kristin Crowley said that over a 24- hour period during the storm, the department responded to 1,833 emergency incidents and its dispatchers received more than 4,000 calls -- roughly 1,000 more than the usual daily average. But she said there were no reports of any major injuries or damage related to the storm.
She said five cars became stuck in a flooded Sun Valley intersection Sunday night, and one person had to be rescued, but no injuries were reported.
Flooding impacted a series of businesses on Melrose Avenue Sunday night, with several inches of water reported inside some of the structures. Some streets in the Palmdale and Lancaster areas were flooded by heavy downpours and remained blocked Monday. A retaining wall behind a home in Palmdale collapsed, cuasing a significant amount of mud to flow around the house.
Roughly 41,000 Los Angeles Department of Water and Power customers lost power at some point, according to the agency. As of Monday afternoon, about 10,400 customers were still without power, with Beverly Grove, Hyde Park, Harbor Gateway and Brentwood among the most impacted.
Due to the uncertainty about the storm's impact overnight, all Los Angeles Unified School District campuses were closed Monday. A handful of other districts also canceled classes or moved operations online.
LAUSD Superintendent Alberto Carvalho said Monday morning that district officials were still surveying campuses for damage, but two dozen schools were found to be without phone or internet surface -- which was restored by Monday afternoon --  and one campus experienced a minor mudslide. He said some campuses and district facilities in Sun Valley also had access issues.
But Carvalho said the district will be fully reopened on Tuesday.
Los Angeles County Board of Supervisors Chair Janice Hahn signed an emergency declaration around midday Sunday, "signaling to state and federal agencies that Los Angeles County is ready to accept any assistance they can give," she said. The Board of Supervisors will hold a special meeting Tuesday to ratify and extend the declaration.
Hahn also noted that county health officials had issued a warning for people to stay out of ocean water for at least 72 hours.
"It is not safe to be along our coastal areas," she said.
All Los Angeles County parks will remain closed through Monday.
Hahn said county officials urged residents on Catalina Island to evacuate to the mainland -- due primarily to the fact the island is served by only one power plant, and any damage to that facility would result in an island- wide electrical outage. But she said most residents opted to remain in place on the island. County resources were beefed up on the island, including the addition of another rescue boat and fire crews.
Mass transit systems continued to operate despite the rain. Hahn said all Metropolitan Transportation Authority services operated normally, but Long Beach Transit halted operations at 6 p.m. Sunday and resumed at 6 a.m. Monday.
The storm known as Hilary resulted in the first tropical storm warning ever issued for Southern California. Before Sunday, a tropical storm had not made landfall in California since 1939. With the storm dissipating, the NWS announced Monday that the tropical storm warnings had been lifted.
Along with Hahn, Gov. Gavin Newsom issued a State of Emergency for the area, and Bass did likewise and activated the city's Emergency Operations Center at Level 2 -- one level short of the most critical status.
Hilary weakened from a hurricane to a tropical storm off the coast of Baja California early Sunday, but it still brought heavy rain, strong winds and fears of dangerous flooding to some areas, particularly the mountains and the Antelope Valley.
The storm made landfall near San Diego Sunday afternoon, prompting the National Weather Service to warn of "potentially historic amounts of rainfall" that was "expected to cause life-threatening to locally catastrophic flash, urban and arroyo flooding including landslides, mudslides, and debris flows through early Monday morning."
Hahn and Bass also stressed that additional homeless shelters were being operated, and extensive outreach was done to move the homeless out of flood control channels and other areas susceptible to flooding.
Officials said the city was providing nearly 400 units of emergency temporary shelter for people experiencing homelessness through the storm. Five shelters opened Saturday in high-risk areas near waterways and potential flood zones.
Three additional shelters were opened Sunday, and the city was offering transportation to shelters as a part of outreach efforts.
Angelenos who go into emergency shelters may bring their pets and personal belongings.
The temporary emergency shelters are at the following locations:
-- Echo Park Community Center 313 Patton St.;
-- North Hollywood Senior Center 5301 Tujunga Ave.;
-- Lake View Terrace Recreation Center 11075 Foothill Blvd.
-- Central Park Recreation Center 1357 E. 22nd St.;
-- Stoner Recreation Center 1835 Stoner Ave.;
-- Lanark Recreation Center 21816 Lanark St., Canoga Park;
-- South L.A. Sports Activity Center 7020 S. Figueroa St.;
-- Glassell Park Recreation Center 3650 Verdugo Road.
State and local officials said extra resources were in place, and utilities were also fully staffed to deal with any power outage or other emergencies.
Orange County also closed all recreational facilities, trails, campgrounds, beaches and libraries during the storm. The county activated and staffed its Emergency Operations Center at 8 a.m. Sunday. Officials said "all resources and support personnel have been identified and are on standby ready to mobilize when needed."
Pasadena opened an emergency shelter at 9 a.m. Sunday at Villa Parke Community Center, 363 E Villa St.
Long Beach closed all city-run parks, trails and sports facilities for recreational use as well as beach parking lots at noon Sunday. Officials said the closures would continue through at least noon Monday.
Officials at LAX, Hollywood/Burbank Airport, Long Beach Airport and Orange County's John Wayne Airport advised travelers to check with their airlines for possible flight delays or cancellations.
Los Angeles City Council President Paul Krekorian said Monday morning that council members and city workers will be out in the community throughout the day.
"We must also commit ourselves today to looking at what has happened over the last few days and consider what can we do better," he said. "... What could we learn from this incident? I'm just asking every Angeleno to do exactly that as well. ... What can you and your family do better to be prepared for the next incident, because we know there will be one."
Adding to the mix, a strong earthquake centered in Ventura County shook most of Southern California on Sunday.
The magnitude-5.1 temblor struck at 2:41 p.m., about 4 miles southeast of Ojai, according to the U.S. Geological Survey. It was quickly followed by a series of aftershocks, the largest of them measuring a magnitude of 3.6.
There were no immediate reports of injuries or damage from the quake.
⛈️ Tropical Storm Watch ⛈️

For the first time, a tropical storm watch has been issued for Orange County and all of Southern California.

Now is the time to take the necessary precautions to ensure you and your family are ready. Watch the video for safety tips and advice. >>>>>> pic.twitter.com/74kLSNu3iI

— OCFA PIO (@OCFireAuthority) August 19, 2023
⛈️ Tropical Storm Watch ⛈️

For the first time, a tropical storm watch has been issued for Orange County and all of Southern California.

Now is the time to take the necessary precautions to ensure you and your family are ready. Watch the video for safety tips and advice. >>>>>> pic.twitter.com/74kLSNu3iI

— OCFA PIO (@OCFireAuthority) August 19, 2023