WATCH: Carjackers Steal Aston Martin As Man Pulls Into His Garage
By Bill Galluccio
September 19, 2023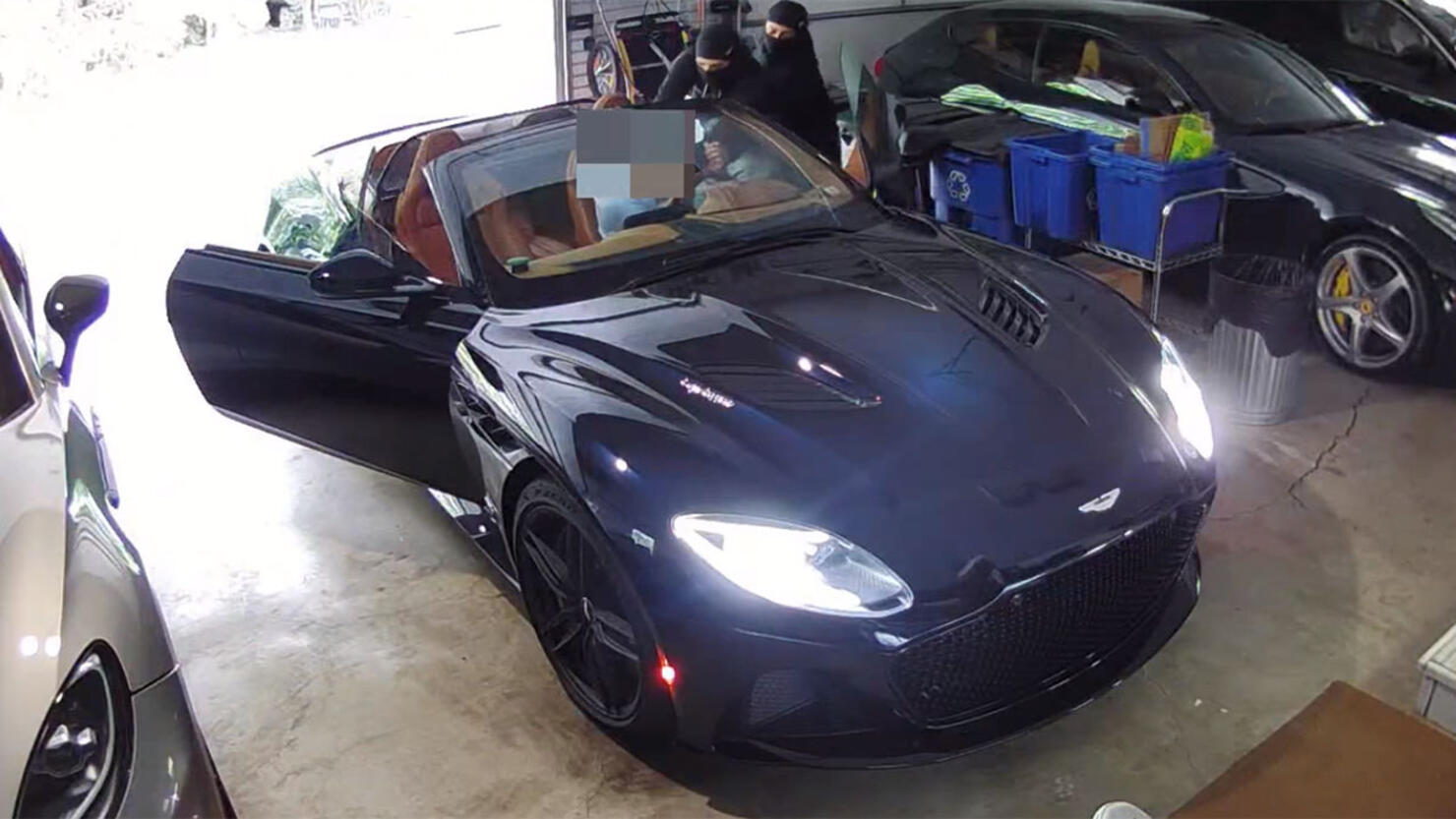 Photo: Westport Police Department
Shocking video captured the moment two masked men stormed into a garage and attacked a Connecticut man before stealing his Aston Martin on Sunday (September 17). The owner can be seen pleading with the men as they pull him out of the driver's seat and slam him to the floor.
"Stella, call the police," the man can be heard screaming as he tries to stop them from driving away. The video ends as one of the men starts attacking the homeowner again.
On Tuesday, the Westport Police Department announced that two people, 39-year-old Derrick McGill, and an unidentified 16-year-old, were taken into custody in connection with the brazen assault and carjacking.
According to the CT Post, McGill was charged with multiple crimes, including four counts of first-degree larceny and one count each of operating a chop shop, conspiracy to commit first-degree larceny, and conspiracy to operate a chop shop.
During a search of MGill's garage, officers found several vehicles reported stolen in other states.
The 16-year-old was charged with first-degree strangulation, robbery by carjacking, first-degree burglary, attempted first-degree larceny of a motor vehicle, and third-degree assault.
"By utilizing technology, inter-departmental cooperation, and good old fashioned police work, the Detective Bureau, in concert with Bridgeport Auto-theft Task Force, was able to make rapid progress in this investigation which resulted in the arrest of one of the suspects less than 36 hours after the incident occurred," Westport Police Chief Foti Koskinas said.
Westport Police Investigate Residential Burglary and Carjacking UPDATE 09/18/2023: There have been no significant developments in the investigation as of this writing. The Aston Martin has not been recovered and there have been no arrests. The dark blue BMW that was involved was later reported stolen from Norwalk. On Sunday, September 17, 2023 at approximately 3:50 PM Westport Police responded to a residential burglary and carjacking on Bayberry Lane. The complainant reported that as they returned home and pulled into their garage, two (2) suspects entered the garage. The suspects assaulted the complainant while they were seated in the vehicle and subsequently stole their blue Aston Martin after forcibly removing the victim. It is believed that the suspects arrived at the residence in a dark blue BMW, as this vehicle was seen fleeing with the stolen vehicle. The complaint suffered minor injuries as a result of the assault but declined medical attention. Broadcast messages were sent to neighboring towns and Connecticut State Police. Both of these vehicles were reported to be last seen traveling north on Route 8. The Westport Police Detective Bureau is currently investigating and anyone with information is asked to contact us at (203)341-6080. It is believed that our victim was targeted and followed back to their residence. Therefore, Westport Police are encouraging residents to be aware of their surroundings and report any suspicious behavior to 911.

Posted by Westport Police Department on Monday, September 18, 2023