25 Celebrities Eating Pizza for National Pizza Day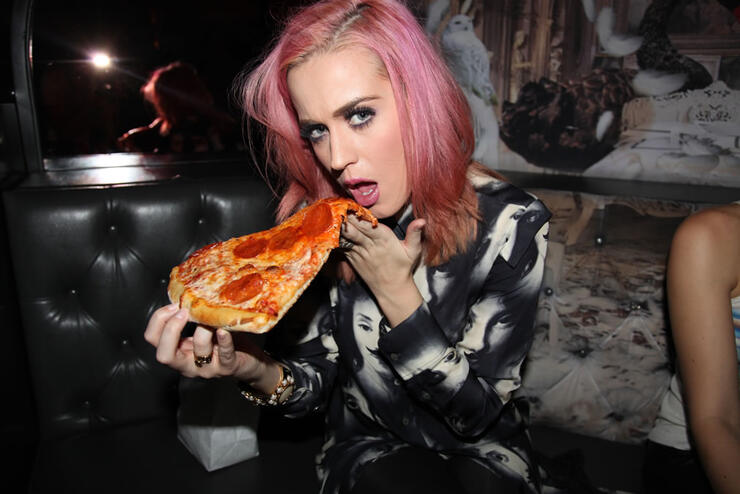 Today is National Pizza Day where we celebrate one of the best foods in existence. 
Pizza ranks as a favorite meal for millions of people and among them are some celebrities. Here are 25 stars chowing down on some 'za.
1. Gwen Stefani : The Voice judge might hollaback for some pizza:
2. Usher : He probably always says "Yeah!" to eating pizza:
3. Miley Cyrus : It seems like Miley likes her pizza with a side of spaghetti:
4. Jay Z  and Beyonce : No word on if they drink lemonade with their pizza:
5. Ryan Gosling : He even looks good eating pizza.
6. The Jonas Brothers : The guys have been enjoying pizza for years:
7. Kim  and Kourtney Kardashian : They might love their salads but they also are fans of pizza:
8. Kylie  and Kendall Jenner : Kim and Kourtney aren't the only members of the family who appreciate a slice now and then:
9. Madonna : The Queen of Pop might be more of a Pizza Girl than a Material Girl:
10. Simon Cowell : We bet Simon is a pretty harsh judge of his pizzas:
11. Niall Horan : He probably eats his pizza with slow hands: 
12. Tina Fey : On 30 Rock , she found a creative and quick way to down some 'za:
13. Justin Bieber  and Selena Gomez : Not even good pizza could keep them together:
14. Selena Gomez : She doesn't need the Biebs around to enjoy a slice:
15. Brad Pitt : He probably doesn't always eat his pizza while wearing a tux:
16. Jennifer Lawrence : J-Law is so down to earth she'll eat pizza at the Oscars:
17. Lindsay Lohan : The freckled actress likes her pizza with pepperoni freckling it: 
18. Kirsten Dunst : Hopefully pizza can cheer her up:
19. Sofia Vergara : She'll always make sure pizza is part of her modern family:
20. Katy Perry : She probably likes her pizza hot and cold:
21. Avril Lavigne : Maybe "I'm With You" was about pizza:
22. Meryl Streep : She could win an Academy Award for how she eats her pizza:
23. Kerry Washington : No scandal here - she loves her some 'za:
24. Harry Styles : Eating pizza with coconut water is just a sign of the times: 
25. Taylor Swift : There's no bad blood between Tay Tay and pizza:
Happy National Pizza Day!