Palace Insiders On Meghan Markle's American 'Say-It-As-You-See-It' Attitude
By Emily Lee
December 20, 2018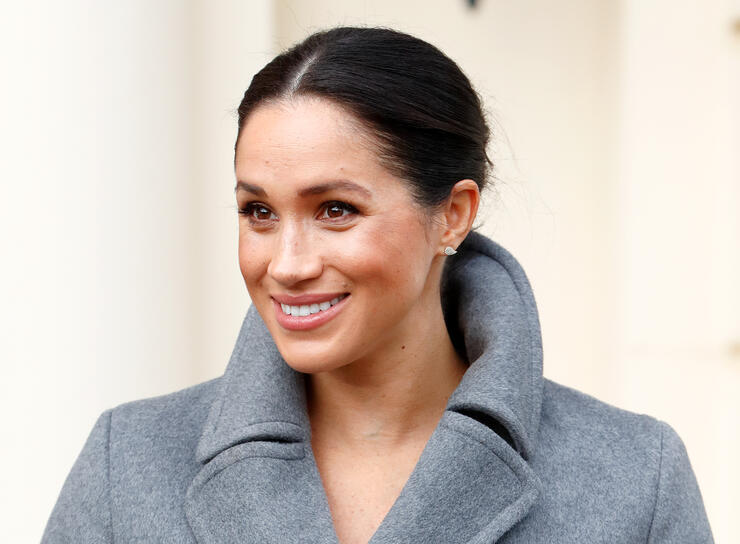 Is there a culture clash happening behind palace walls? According to People's sources, some veteran royal aides aren't "used to the 'say-it-as-you-see-it' American mentality" Meghan Markle has brought to Kensington Palace.
"The palace is a magical place, and it is also a place where all you hear is 'no, no, no,'" a palace insider revealed to People. Another source close to the family added: "The most difficult job in the royal family is to work with Meghan's ambitions and make them realizable. She will get frustrated if she is told, 'You can't do this or can't do that.'"
"There is a cultural element to all of this," royal biographer Andrew Morton told Vanity Fair. "Even with a simple thing like food: The royals eat to live, they don't cook to enjoy." Meghan, on the other hand, "likes all that kind of stuff."
Despite the cultural differences, Morton says Meghan has actually don't quite a good job establishing herself in the royal family. "Meghan has played a pretty strong hand. It's quite impressive that she's written the foreword and helped out with this cookbook for the Grenfell Tower victims. It seems to me that she's been pretty sure-footed for someone who doesn't have much to do with the culture and the history of this family, and, just a couple of years ago, wasn't able to choose between William and Harry on a quiz show about which one she'd like to date. She's done pretty remarkably, quite frankly. And people forget that."
Unsurprisingly, Meghan has often been compared to her sister-in-law Kate Middleton, despite being "very different women" and having different roles within the royal family. Kate has maneuvered herself in a different way, but she is still strong" as she prepares for her role as future Queen.
"Kate is very dignified and she knows what her position is," royal insider Bedell Smith told Vanity Fair. "She's training [to become queen consort]. She's not putting a foot wrong. She's careful, cautious, and by nature reticent. I don't think she likes to speak in public terribly much. She does it, but I don't think she enjoys it. Meghan loves having a platform. She loves speaking, and it was interesting to see the dynamic of the four of them at that Royal Foundation Forum earlier in the year. Kate spoke well, but Meghan spoke, I thought, with more confidence and self-assurance, which is not surprising because she has a lot of practice doing that."
While reports of Kate and Meghan's feud seem to be blown out of proportion, it looks like they're both finding their own way as newcomers to the royal family.
Photo: Getty
Chat About Palace Insiders On Meghan Markle's American 'Say-It-As-You-See-It' Attitude