Spring is here. Spring is here. Life is skittles and life is the Irish & Celtic Music Podcast #599.
Adam Young, The Langer's Ball, Allison Lupton, Socks in the Frying Pan, John Doyle, Charmas, Gaelynn Lea, Laughing Jack, Beth Patterson, Lily Bentley, The Ennis Sisters, Liesel Wilson, The Town Pants, Alexander James Adams
VOTE IN THE CELTIC TOP 20 FOR 2023
This is our way of finding the best songs and artists each year. You can vote for as many songs and tunes that inspire you in each episode. Your vote helps me create next year's Best Celtic music of 2023 episode.  Vote Now!
Two weeks after the episode is launched, I compile your votes to update a playlist on Spotify and YouTube. These are the results of your voting. You can help these artists out by following the playlists and adding tracks you love to your playlists. Follow us on Facebook to find out who is added each week.
Listen on Spotify and YouTube.
GET CELTIC MUSIC NEWS IN YOUR INBOX
The Celtic Music Magazine is a quick and easy way to plug yourself into more great Celtic culture. Subscribe and get 34 Celtic MP3s for Free.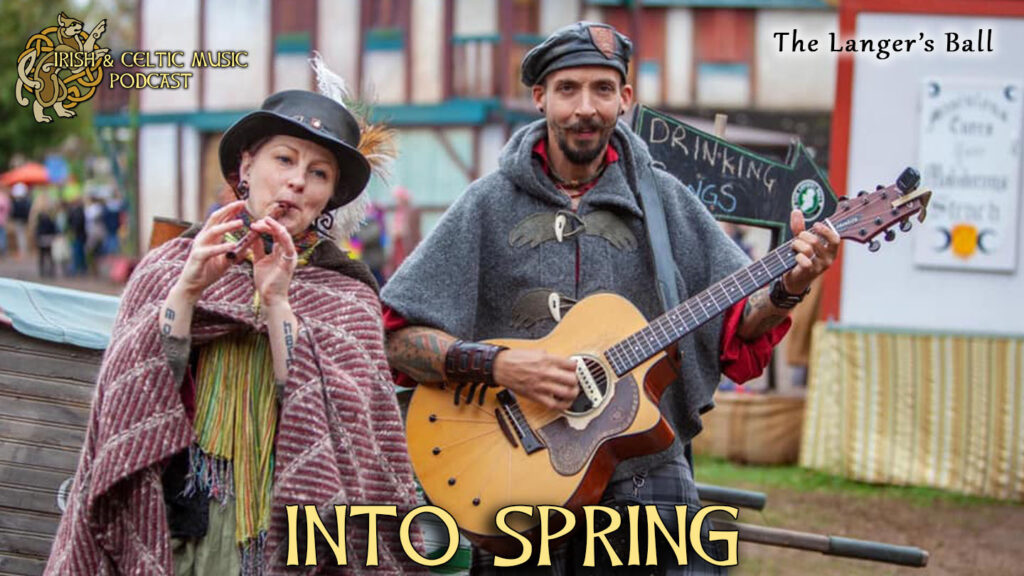 THIS WEEK IN CELTIC MUSIC
0:12 - Adam Young "Corned Beef and Garbage" from Yearbook
7:51 - WELCOME
9:53 - The Langer's Ball "Reels: Drowsy Maggie/Fermoy Lasses/Cooley's" from Appetite for Tradition
13:11 - Allison Lupton "Lost Jimmy Whelan" from Words of Love
17:12 - Socks in the Frying Pan "Funky in Theory" from Without a Paddle
21:02 - John Doyle "Her Long Hair Flowing Down" from The Path of Stones
27:25 - FEEDBACK
30:11 - Charmas "Lukey's Boat" from Songs of the Sea
33:04 - Gaelynn Lea "Tombigbee Waltz" from The Songs We Sing Along the Way
36:37 - Laughing Jack "Jolly Rovin' Tar (Live)" from Live at the Indy Folk Series
39:32 - Beth Patterson "Je M'endors (The French Blues)" from Hybrid Vigor
42:15 - THANKS
43:44 - Lily Bentley "Black Country (Death Is Not The End)" from Norwood Gothic
45:48 - The Ennis Sisters "Go Rosie Go" from Keeping Time
48:59 - Liesel Wilson "Alishan De Guniang" from The Path
51:34 - The Town Pants "Miscou Island" from Something to Say
55:36 - CLOSING
56:16 - Alexander James Adams "Your Coming Spring" from The Blue Rose Rare and Other Faerie Tales
The Irish & Celtic Music Podcast was produced by Marc Gunn, The Celtfather and our Patrons on Patreon. The show was edited by Mitchell Petersen with Graphics by Miranda Nelson Designs.
Visit our website to subscribe to the show. You'll find links to all of the artists played in this episode. You'll get access to our Best of this Year Playlist. You can subscribe to our Celtic Music Magazine and get 34 Celtic MP3s for Free. Plus, you'll get 7 weekly news items about what's happening with Celtic music and culture online. Best of all, you will connect with your Celtic heritage.
Finally, please tell one friend about this podcast. Word of mouth is the absolute best way to support any creative endeavor.
Promote Celtic culture through music at http://celticmusicpodcast.com/.
WELCOME CELTOPHILE TO CELTIC MUSIC
* Helping you celebrate Celtic culture through music. I am Marc Gunn. I'm a musician and podcaster out of Atlanta, Georgia. This Podcast is here to build our diverse Celtic community and help the incredible artists who so generously share their music with you. If you hear music you love, please email artists to let them know you heard them on the Irish and Celtic Music Podcast.
You can find a link to all of the artists in the shownotes, along with show times, when you visit our website at .css-flhdp9{display:-webkit-box;display:-webkit-flex;display:-ms-flexbox;display:flex;-webkit-flex-direction:row;-ms-flex-direction:row;flex-direction:row;font-weight:700;margin-bottom:1rem;margin-top:2.8rem;}.css-flhdp9 >:nth-of-type(2){margin-left:2.4rem;}.css-flhdp9 svg{fill:#27292D;height:1.5rem;}.css-flhdp9 .eagfbvw0{-webkit-align-items:center;-webkit-box-align:center;-ms-flex-align:center;align-items:center;color:#27292D;}