Zac Brown Band's Guest DJ Station: Foo Fighters, Adele, Luke Bryan & More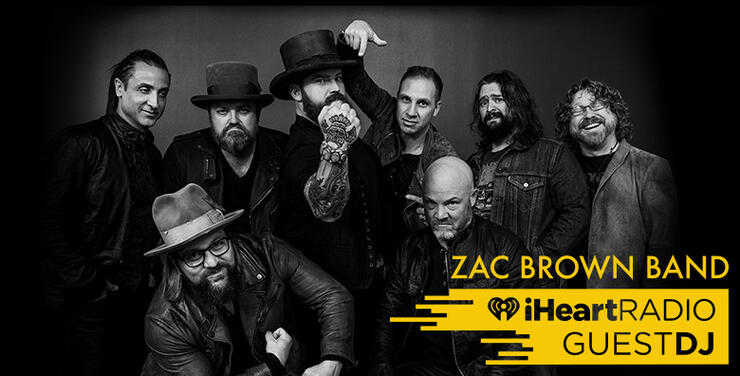 Last month (May 12) Zac Brown Band released their seventh studio album, Welcome Home, which the celebrated during their amazing iHeartCountry Album Release Party with a packed-out intimate room of fans.
Welcome Home is Zac Brown Band's first release on Southern Ground/Elektra Records. The new album was produced by Grammy-Award winning producer Dave Cobb (Chris Stapleton, Sturgill Simpson, Jason Isbell) and The Arena Productions, and was recorded at Southern Ground Nashville studio. Welcome Home follows their 2015 record Jekyll + Hyde and features ten new songs, including singles like "My Old Man" and "Family Table."
To celebrate, we passed the mic over to the band to curate their own Guest DJ station on iHeartRadio, and the band picked some of their favorite songs to share with fans.
On Zac Brown Band's Guest DJ station on iHeartRadio, fans will be able to hear songs from Welcome Home, as well as their biggest hits from previous albums. In fact, Zac shared a very touching story about "My Old Man." He said:
"'My Old Man' is a universal dad song. I hope that everybody that listens to this song can play it for their dad or somebody that was a dad for them. Just getting down to what it means to be an adult and the mistakes that you make as a an adult, or the mistakes that you'd see as a child that an adult might be making, the adult being this giant person that you have to cling on to. And then you become a giant person to your child, and hoping that you can set a good enough example for them. And it's about the generations, but it's also about that circle that you go through to give them the lessons that you've learned as a man, and trying to teach those to your kid and realize that your kid's gonna have some of the same reactions that you did when you were young. And you get old enough to realize that you don't know it all anymore, you have your own kids and you gotta watch them know it all for a while, and try to love them through it the same way you were taken care of. So, that's a really personal song. I dedicate that song to Rodney Shelton, who passed away. He was one of the dads that I have. I have an amazing dad, he's one of my best friends, and I was so excited to play this song for him, but 'Old Man,' I gave [Rodney] that nickname about ten years ago, it's what everybody called him, and he passed away a couple of years ago. So that's an honor to him, and all the good dads out there, and all the dads that are just trying."
[RELATED - INTERVIEW: 'Welcome Home,' Zac Brown Band - The Band On Going Back To Their Roots With Their New Album] Aside from Zac Brown Band's amazing music, fans can also hear artists like Luke Bryan, Blake Shelton, Jason Aldean, John Mayer, Adele, and Foo Fighters. In fact, Zac had some stories to share about recording with Dave Grohl, as well his love for Adele.
On what's like to record and party with Dave Grohl:
"Dave Grohl. He's like our hot-wired uncle. He's like your uncle on meth, basically. He's got more energy than any human I've ever met. But when you meet people that are great, like legendary musician people, which I would include Dave in that group, certain ones you can really appreciate everything you wanted to be and more. So Dave is that, and then he came and did the Sonic Highways that's on HBO, and [we] recorded 'Congregation.' He wrote it about some interviews that he did with Emmylou Harris, and I think that line actually came from her."
"You gotta watch out with partying with Dave Grohl. You end up coming back to your hotel room in a girl's shirt. We went out one night with him, we were in the studio, and he looked at my wife and says, 'Do you care if we go out and have drinks?' And I looked and her and was like 'Do you mind if I hang out with Dave Grohl tonight?' And she was like 'sure,' and I don't even think she knew the capacity of what I was capable of doing. It got weird, and I ended up coming back in a girl's small shirt, back to the hotel room somehow, and woke up the next day, and we still had to record, we were still in the studio recording. And I came back in, and I was at half percent of my normal self. Dave came back in slapping me, and was like 'Alright boys, let's do this, who's ready? Let's do it!'"
On his love for Adele:
"I love you, Adele. This is Zac Brown, I love you, Adele. When I listened to Adele's 21, that's my motorcycle record. When i'm riding my motorcycle, that's what I listen to. So I can almost feel the wind on my face when I'm here and I'm walking around. We did an event early on, and Adele sang with Darius Rucker for a thing, and she came up and said hello. And at the time I had no idea who she was. And now, in hindsight, she said, 'I really love your music,' and I was like 'Oh, thank you, that's great. I don't know who you are, but that's awesome.' And then six months later, she was the biggest artist on the planet. And I got that album, and just fell in love with that album. She's my favorite female singer."
Check out all the music on Zac Brown Band's Guest DJ Station on iHeartRadio HERE.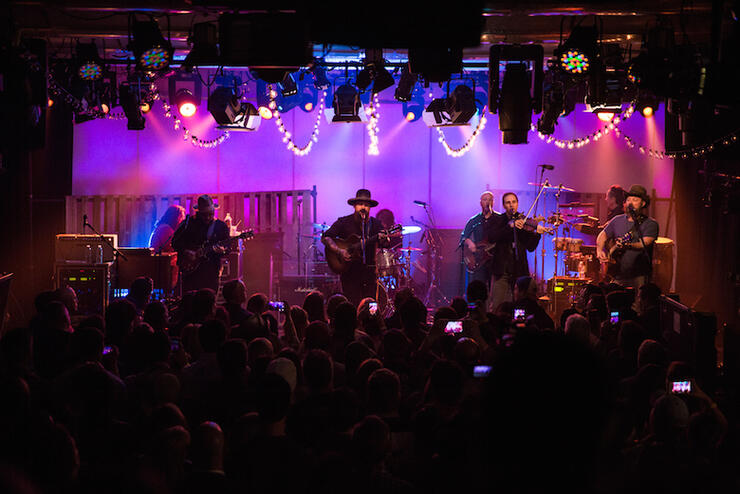 Photo: Andrew Swartz for iHeartRadio
Chat About Zac Brown Band's Guest DJ Station: Foo Fighters, Adele, Luke Bryan & More