INTERVIEW: Justine Skye Teases Debut Album & Talks 'Back For More'
By Nicole Mastrogiannis
August 21, 2017
Say hello to the Purple Unicorn herself (as noted on her Instagram). Hailing from Brooklyn, New York, Justine Skye has been writing and releasing music over the past four years. And over these last few years, she's worked with artists like Tyga, Vic Mensa, WizKid, and Wale. The latest single from Justine is "Back For More," which will be featured on her upcoming album, and it features singer/songwriter Jeremih.
"Back For More" is just a taste of what's to come for the 21-year-old singer/songwriter, as Justine is gearing up to release her debut album. She's secretly been testing out her new tunes, handing over some tracks for DJs to play to see how people respond. She tells iHeartRadio, "If I go out and I run up to the DJ, and I'm like, 'Yo play this song real quick and let people just see their reactions of the crowd, don't tell them what it is, just do it. I just want to see what they do.' So that's how I've been testing it out, and the people really have been responding so great to it. I cannot wait for the full project to come out."
iHeartRadio recently caught up with Justine during an exclusive interview. Skye opened up about everything including her new single "Back For More," what inspires her when songwriting, what fans can expect from her debut album including who she's been working with, how her hometown Brooklyn has influenced her, and she explains her love for purple. Read on below.
Tell us about your single "Back For More"?
"It was written by Yung Berg and Lyrica Anderson who are amazing, and a couple other people wrote on the record as well. When I heard the song, instantly, I just fell in love with it, because it was exactly what I was going through at the time. I felt like a lot of girls [and] a lot of my friends were also going through the same thing too. So I'm just like, this makes so much sense for me to just put this out to the world. Like, everyone, you need to hear this. It's also motivation, too because it's not a sad song. It's basically just [saying], keep doing you, because at the end of the day, they're gonna come back. Maybe it wasn't who you wanted to come back, but someone will."
We know you've been working on your debut album, so what can fans expect to hear?
"The sound is very different than what you may have heard from me. It's a little more aggressive, because in this stage, at this point of my life, I'm basically done with these guys, like I'm done. I'm done with the excuses, done with the trying to make excuses for you, and it's more about just me realizing and being okay with that. Being okay with myself. And it's everything that I wanted to say that I don't know how to say, and so I put it in these songs. And when it comes to the sound of it, my tone is different. I'm rapping a little bit in some songs, I worked with PARTYNEXTDOOR a lot too on this, and he pushed me. [He] pushed my tone up to a part that I didn't even know I could say, a part of me that I was uncomfortable with, because I didn't want to sound dumb. But he was very, very supportive and very encouraging. It's actually one of the most popping songs on the album."
Wow, so you've been working with PARTYNEXTDOOR and you have Jeremih featured on "Back For More." Who else have you worked with on this album?
"I worked with a lot of Fred Ball; he did 'Love On The Brain' for Rihanna. He was amazing to work with. And Prince Charlez, he's an amazing songwriter. We've worked together a couple of times, and now we finally got the one for the album. And, Starrah, she also did a track for the album.
It's a lot of great quality pieces to this, and I'm so excited for my debut album because I've been working on this from the day I decided I wanted to get into this music industry and take this seriously. Even though it may not be the songs that I first started with, it's changed, because I'm changing and I'm growing, and my sound's growing. I really wanted to be sure and certain about what I was doing before I presented it to the world. And this is me. This is my debut album. We're going for it. And now, I'm absolutely sure."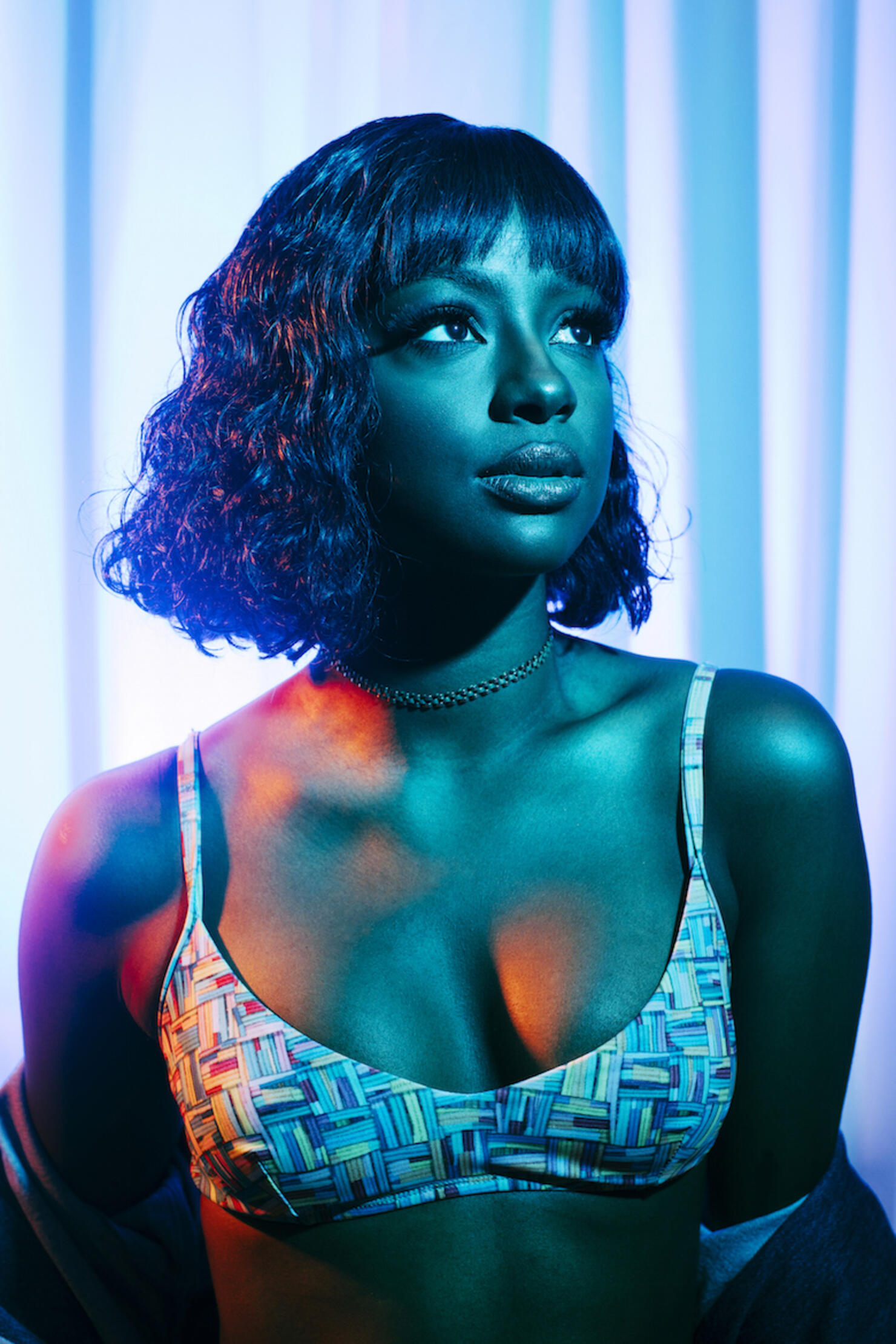 You are from Brooklyn, so how do you think that has influenced you and your music?
"A lot of people couldn't really tell where I was from, and a lot of people thought I was from LA, which is understandable because that's where I went to start recording a lot of my music. It's just that, that's where a lot of producers are, songwriters, and where the more creative side of the industry is. New York is where the hustle bustle part of it is. So a lot of people thought I was from there, but this project definitely gets rid of that whole idea together, because I had to take a step back and be like alright, these are my roots. This is where I'm from. This is the sound that I come from. This is just who I am. It's how I feel, and I realize that more and more as I travel around."
Did you have someone that you always looked up to, whether they're from Brooklyn or not, as you were getting into this industry and first started writing and recording songs?
"Someone that I've always looked up to, as a young girl, not even as a young black girl, as a female in general, everyone like looks up to Beyoncé. She's the epitome of an entertainer in all aspects. She doesn't sleep. It doesn't matter what's happening, she's always focused, always 10 steps ahead of everyone. And I feel like she's the prime example to look up to when it comes to a performer [and] entertainer. I don't want to sound cliché, but Beyoncé is one of my huge idols."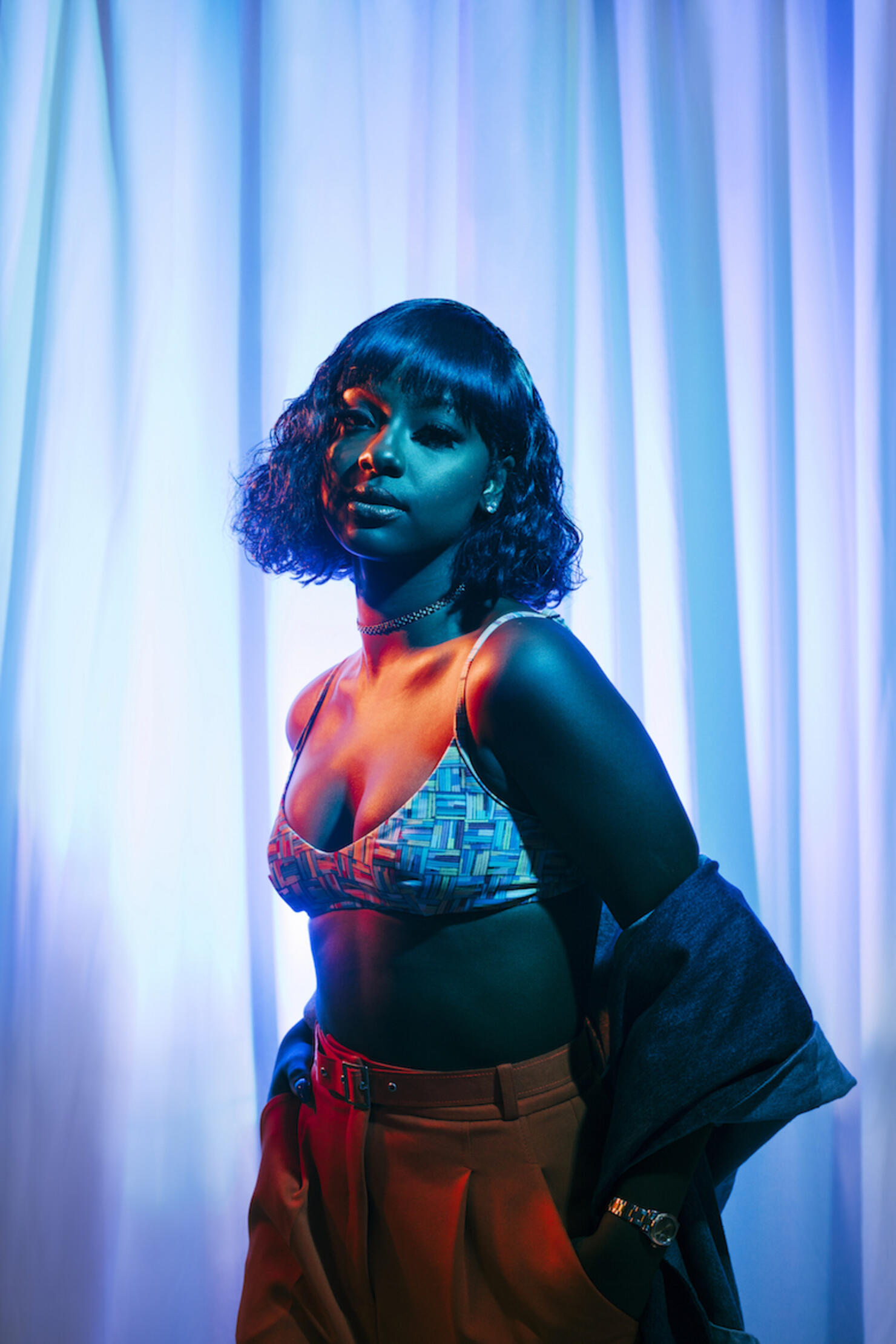 You said that this album includes variety of different sounds, but if you had to describe your music to a fan who's just discovering you, what would you say?
"I would say that if you're having problems with your relationship, girl, come to me, because I got you. I feel you. There's definitely a song, or many songs of mine, that you will be able to relate to and just realize that you're not alone. That's what music's all about as an artist. A lot of people feel like they're alone. Even artists feel like we're alone too. And then once we put all of our emotions into a song and we see people's reactions to it, and we're like 'oh s**t, we're not alone.' A lot of people feel exactly what I do, and that's how I feel when I listen to other artist's music. I'm just like, 'Man, how do they know exactly what I was thinking? And how are they just speaking?' They're speaking for me. They're saying things that I didn't even know I felt, and now I do, because you've said it in this song."
We see you really love the color purple. Why?
"When I was younger, I really wanted to dye my hair, and my favorite color at the time was green. My mom wouldn't let me dye my hair green, so I was like alright, what about purple? Because it's one of the darker colors. It wasn't that crazy. So, she was like yeah, sure fine. So, we started with the tips of my hair, and then every time I went to get my hair done, it would just get more and more and more purple, until there was nothing she could do about it, and it started to become a part of who I am. People talk to me like, 'Hey the girl with the purple hair!' I'm just Justine Skye with the purple hair! When people see purple, they're like 'oh, it has something to do with Justine Skye.' It kinda naturally just happened. God just put purple in my world. I actually hated the color purple. I wouldn't wear it. I didn't want to touch it. I didn't want to see it, and then I was just like, wait, this looks good on me."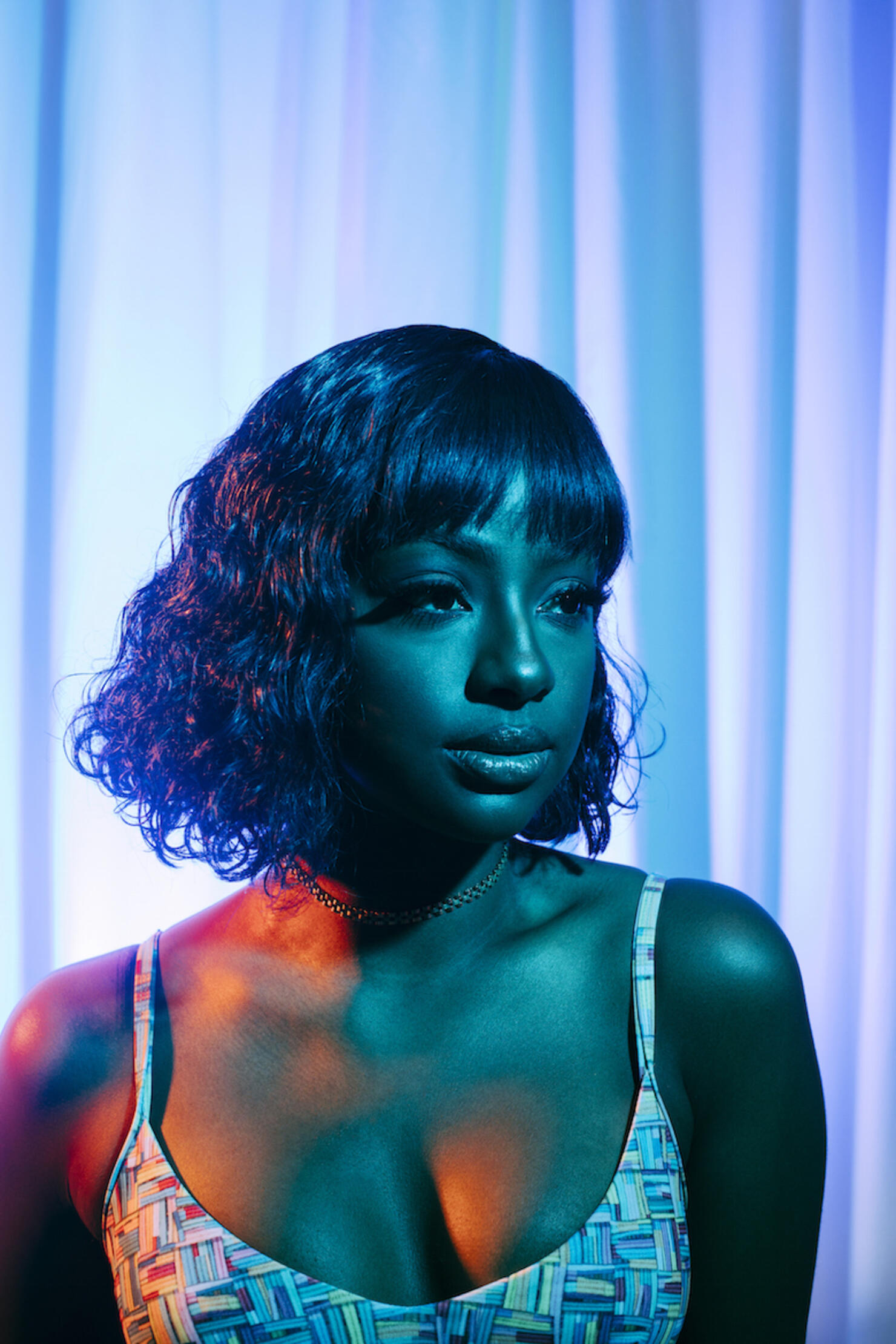 Photos: Katherine Tyler for iHeartRadio